You won't believe how tender these apple cinnamon sugar chunks are in this moist Apple Fritter Bread. And a sweet cinnamon sugar topping and drizzle adds extra glam and flavor to this old-fashioned quick bread. No one will forget enjoying a slice of this delicious homemade bread.
There's no doubt you'll enjoy this quick bread any time of the year.
It's packed with cinnamon apples as a cozy breakfast bread with coffee or for an evening dessert.
And a nice warm slice even makes a memorable afternoon snack for the kids after school. Or take a couple slices to work for a mouthwatering pick-me-up your coworkers will be drooling over.
You'll want to make this recipe again and again throughout the year.
Bake this recipe for holidays, brunches, fall festivities, and as a fun alternative on the dessert table for work parties or family gatherings.
And while baking this bread, your kitchen will smell absolutely amazing too.
This Apple Fritter Bread recipe is filled with all the delicious flavors of fried apple fritters but in a quick bread version. We also have an amazing classic deep fried apple fritter recipe on our website too.
You can't go wrong with either version and we encourage you to make both.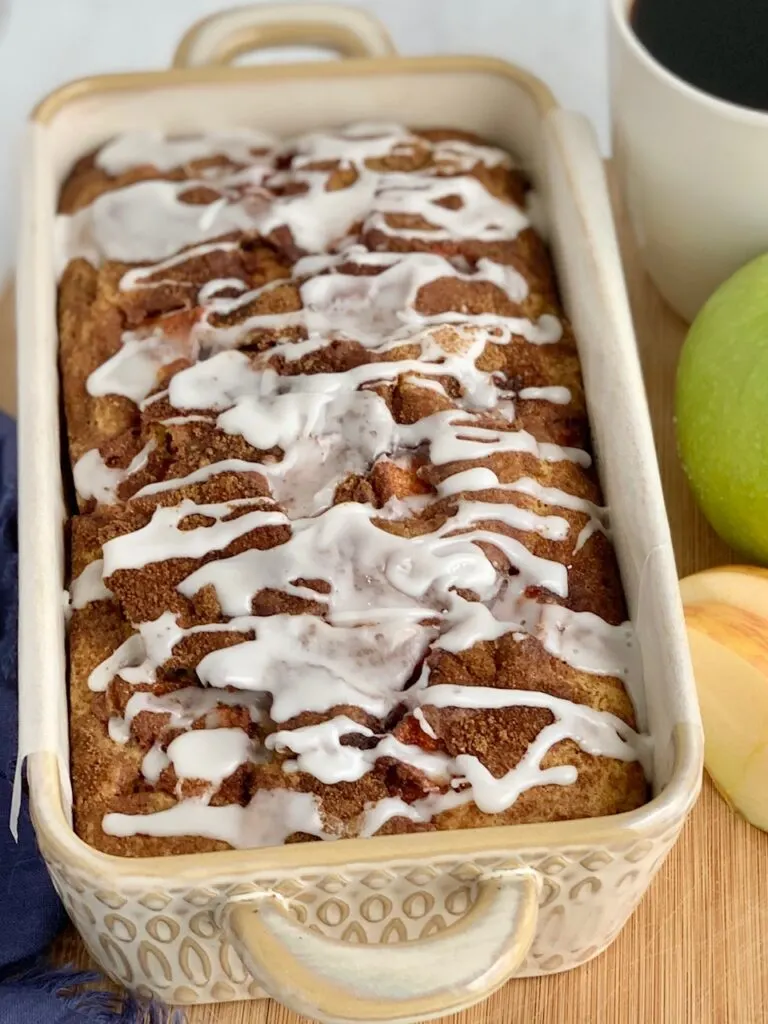 apple fritter bread ingredients
brown sugar-- packed
ground cinnamon-- always double check your ground spices are gluten and dairy free
granulated sugar
dairy free butter-- our go-to is Earth Balance Buttery Sticks in the red box; they're also soy free
vanilla extract
eggs-- room temperature
gluten free all purpose flour-- we always use Bob's Red Mill Gluten Free 1 to 1 Baking Flour. Its blend already contains xanthan gum. And we can buy it in bulk here, store it in a cool place, and save money.
xanthan gum-- omit if your gluten free all purpose flour blend has this
baking powder-- this loses its potency after the container has been opened for six months. If you don't already, consider writing on the canister the date you opened it to enjoy baking success ever single time
baking soda-- same as above
kosher salt
dairy free buttermilk-- we use this dairy free milk and vinegar for this. You can also use soy milk or coconut milk.
baking apples-- use your favorite baking apples. We like to use one Granny Smith and either a Honeycrisp or Braeburn
powdered sugar-- also known as confectioners' sugar
dairy free milk-- we keep this unsweetened almond milk on hand
nonstick spray-- coat the inside of the loaf pan so the parchment paper can easily lift out after baking
parchment paper-- lining the loaf pan with one long sheet of parchment paper will make it easier to remove the bread from the loaf pan once it's cooled. However it is not a must-do step.
9x5-inch loaf pan-- we use this pan so often in our kitchen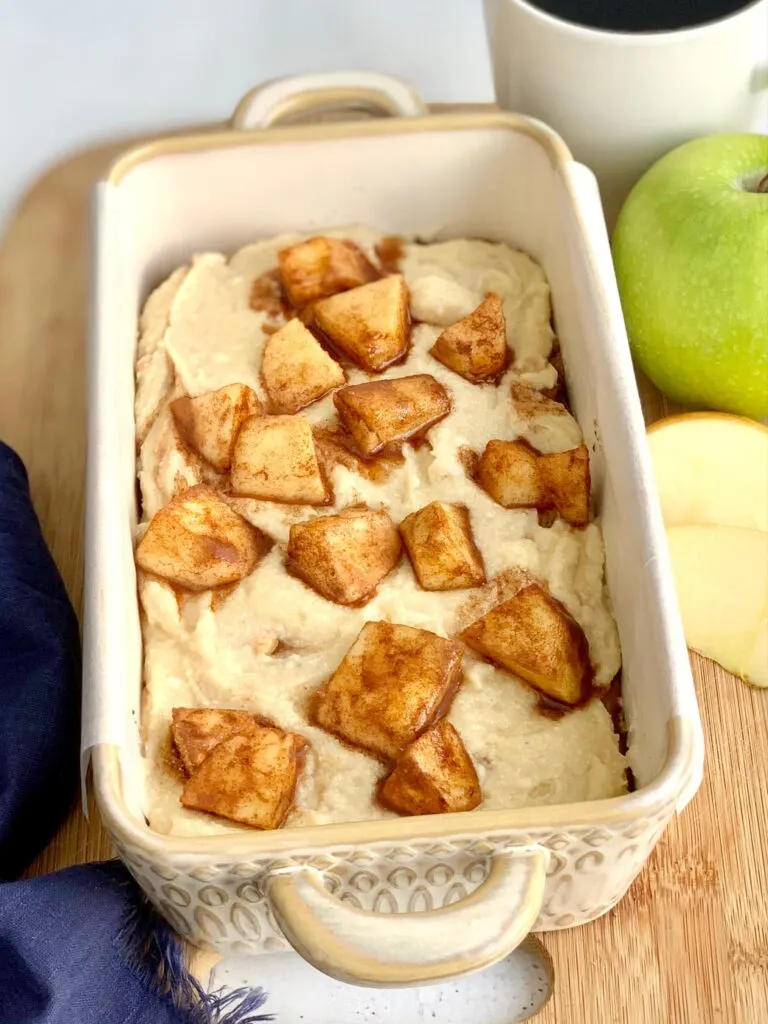 which apples should I use
The key to this layered apple bread is using delicious apples. We use a blend of tart and sweet apples. You will need 1 ½ large apples cut into chunks for this recipe.
Good apple varieties for this recipe are: Granny Smith, Honeycrisp, Gala, Braeburn, and Pink Lady
how do I make the drizzle
Once the loaf has cooled about 25 minutes from the oven, mix the powdered sugar and dairy free milk in a bowl. We enjoy a thicker drizzle so we add extra powdered sugar to the recipe card below.
You can tailor this drizzle to your liking. And if preferred you can even omit the drizzle altogether. There are times we've baked this loaf and skipped the drizzle altogether.
how long does apple fritter bread last
This moist bread loaf tastes best the day it's baked-- especially when it's still warm out of the oven. It's absolutely mouthwateringly delicious!
Store leftovers in an airtight container at room temperature up to 3 days. You can even reheat slices in the microwave to enjoy them warm.
more homemade loaf pan recipes
banana bread-- use up your old bananas with this fab homemade bread. It has all the right flavors for a cozy breakfast or midday snack treat.
chocolate loaf cake-- you won't believe this chocolate loaf cake until you've tried it. Super moist chocolaty slices with a 2-ingredient chocolate ganache topping make this quick bread incredible.
lemon poppy seed bread-- this bakery-style large sliced bread is full of addictive lemon flavor with a slightly poppy seed crunch. This loaf won't last a day in your home.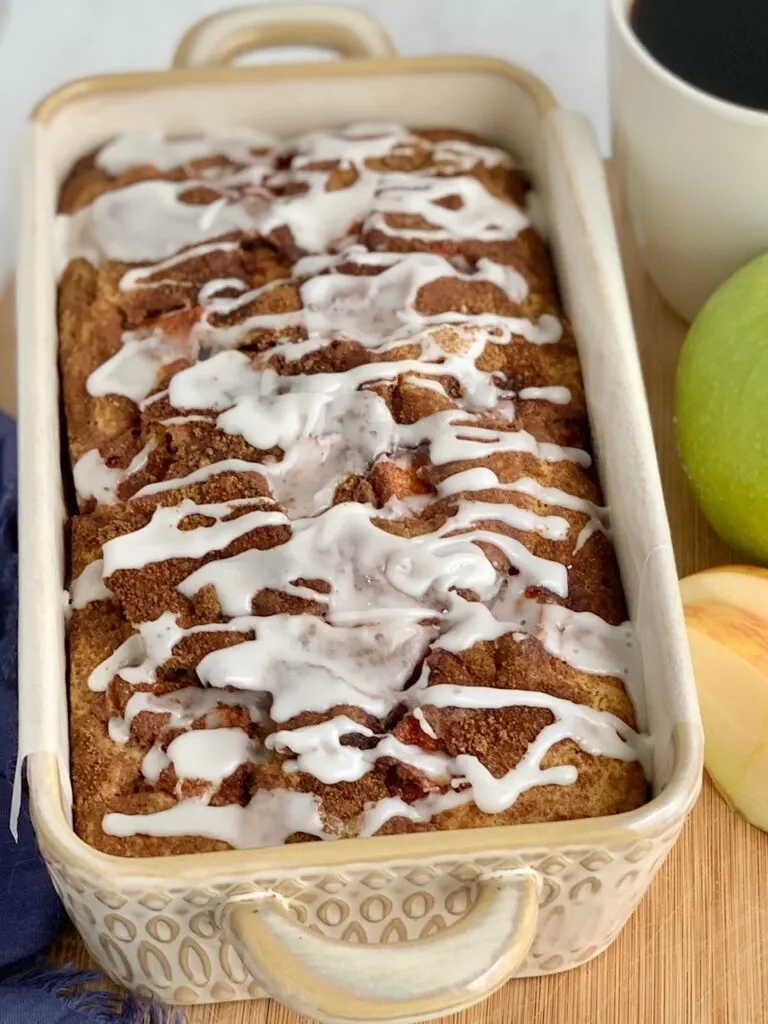 dinner recipes you'll love
lastly
You won't be able to resist this sweet, layered Apple Fritter Bread. You'll wanna enjoy slice after slice with your morning cup of coffee or as a comforting dessert.
Can you believe this recipe is gluten, dairy, and soy free?
Pin this now to your must-try recipes.
If you loved this Apple Fritter Bread, you have to try our Apple Pie Pops!
Seriously though those fresh sliced apples swirled with a sugar and cinnamon mixture are amazing.
Have you explored more delicious gluten and dairy free recipes on our website?
We also have this food camping guide and TSA approved snacks to take on your next trip.
And follow along on Facebook, Pinterest, and Instagram. Be sure to like and comment often to keep seeing our posts in your social media feeds.
You'll be alerted to new recipes, new products on the market, and other "free from" food hacks.
We don't want you to miss out on the best of eating gluten and dairy free.
Eat well and feel well,
Jill
Print Recipe
Apple Fritter Bread
Ingredients
Dairy Free Buttermilk
½

c

dairy free milk

suggestion in post

½

tablespoon

vinegar
Cinnamon Sugar Mixture
⅓

c

brown sugar, packed

2

teaspoon

ground cinnamon
Loaf Batter
¾

c

granulated sugar

½

c

dairy free butter

1 stick, room temperature, suggestion in post

2

teaspoon

vanilla extract

2

eggs

room temperature

1½

c

gluten free all purpose flour

scooped and leveled, suggestion in post

½

teaspoon

xanthan gum

omit if all purpose flour blend contains this

1

teaspoon

baking powder

1

teaspoon

baking soda

¼

teaspoon

salt

½

c

dairy free buttermilk
Apple Mixture
1½

teaspoon

ground cinnamon

3

tablespoon

granulated sugar

1¾

c

large apples

1 ½ apples, peeled, and sliced
Old Fashioned Drizzle
½

c

powdered sugar

use less for a runnier drizzle

2

teaspoon

dairy free milk
Instructions
Preheat oven to 350°F. Spray the inside of a 9x5-inch loaf pan with nonstick spray. Lay a piece of parchment paper inside the loaf pan with some hanging over both sides for you to grab onto and lift out the loaf pan.

Make the buttermilk by combining both ingredients in a small bowl and placing in the refrigerator for 10 minutes.

Combine the cinnamon sugar mixture ingredients in a small bowl and set aside.

In a stand-up mixer, or using a handheld mixer with a large mixing bowl, cream together the sugar and butter well. Scrape down the sides and bottom of the bowl often.

Add in the vanilla extract and eggs one at a time. Again scrape down the sides and bottom of the bowl.

In a large bowl combine the flour, xanthan gum if needed, baking soda, baking powder, and salt. Slowly add this to the wet mixture, scraping down the sides and bottom of the bowl often.

Add in the buttermilk and combine.

In a medium-sized bowl, mix the cinnamon, sugar, and apples.

Then add half of the loaf batter to the bottom of the loaf pan.

Next add in a layer of half the apple mixture, followed by half of the cinnamon sugar mixture.

Transfer the remaining loaf batter on top of that.

Then layer again with the apple mixture and remaining cinnamon sugar mixture. Lightly press down apples into the loaf batter.

Use a knife to gently swirl the mixture together.

Place in the oven for 60 minutes or until a cake tester inserted into the center of the pan comes out clean.

Transfer to a cooling rack. Prepare the the old-fashioned drizzle by stirring together the ingredients in a medium-sized bowl.

Once the quick-bread has cooled enough to be touched, remove from the pan and drizzle the top with the powered sugar mixture.

Slice and serve. This bread is best the day it's baked.

Store leftovers in an airtight container on the counter up to 3 days.