These Carrot Cake Bars are packed full of fresh grated carrots, crushed pineapple, chopped nuts, and golden raisins topped with a rich brown sugar cream cheese frosting everyone will love.
Forget the fuss of baking and icing a layered cake and opt for these easy Carrot Cake Bars instead. This is an easy peasy, yet delicious recipe no one will forget.
Carrot Cake Bars, or sometimes called Carrot Sheet Cake, are where it's at for Easter and the spring.
This is a gluten and dairy free recipe you want to hold onto and not misplace.
And you can leave out what you don't like--- not a raisin fan then skip adding those. Not a walnut or pecan fan then leave those out too.
Or if you love those ingredients-- add in more! This recipe could easily handle another cup of raisins and more chopped nuts for the topping.
One thing you will definitely love about these Carrot Cake Bars is the brown sugar cream cheese frosting. And if you've tried my Pumpkin Bread with Cream Cheese Frosting you know I love cream cheese frosting.
But if you're wanna shake things up try this luscious Brown Sugar Cream Cheese Frosting as pictured. It tastes amazing with this carrot cake recipe!
carrot cake bars ingredients
gluten free all-purpose flour-- we use Bob's Red Mill Gluten Free 1 to 1 Baking Flour. I purchase it in bulk to save money here. This blend contains xanthan gum.
xanthan gum-- if your all-purpose flour blend contains this or guar gum skip this ingredient
granulated sugar
baking powder-- use fresh, this looses it's potency after 6 months
baking soda-- again this ingredient looses it's power after 6 months. Consider labeling the date you open a new container. Nothing is worse then baking a cookie or a cake and it doesn't come together because ingredients were old.
ground cinnamon-- double check all your spice brands are gluten and dairy free
ground nutmeg
ground cloves
ground allspice
salt
unsweetened applesauce
canned crushed pineapple
oil
eggs-- or use your go-to egg replacement
vanilla extract
peeled fresh shredded carrots
chopped walnuts or pecans-- nuts are optional. Extra nuts can also be added to the top of this frosted cake
golden raisins-- another optional ingredient that can be omitted. Or the recipe card amount can be doubled for those who love the taste of golden raisins
brown sugar cream cheese frosting ingredients
dairy free cream cheese-- we prefer the plain Kite Hill Cream Cheese brand
dairy free butter-- we bake with Earth Balance Buttery Sticks in the red box, which are also vegan and soy free
brown sugar-- fresh and packed, light or dark
vanilla extract
powdered sugar
molasses-- this adds to the intensity of the brown sugar flavor, but can be skipped if needed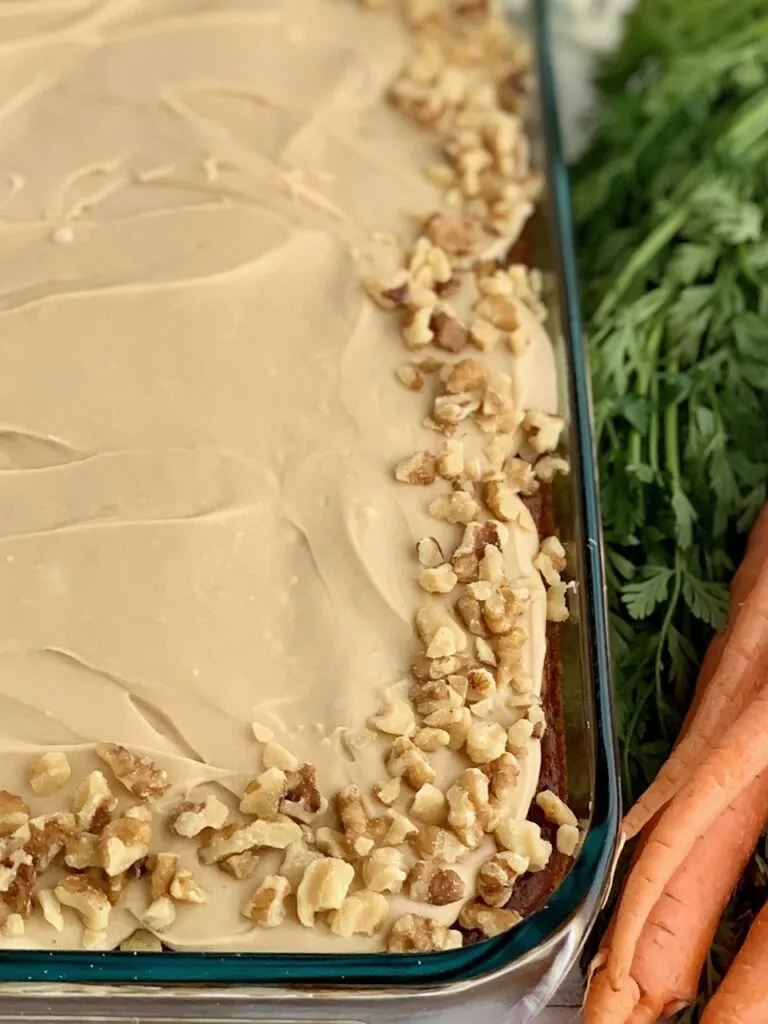 carrot cake bar recipe notes
first you will use one very large bowl to mix these ingredients together. I use a stand mixing bowl to hold all the ingredients, then mix by hand
this recipe is perfect for a 9 x 13 inch baking pan
and after you have removed this cake from the oven allow it to completely cool before frosting and topping with chopped nuts
there is no doubt this cake and frosting tastes the best when baked and frosted 1-2 days before enjoying
keep in mind you can enjoy this Carrot Cake Bar recipe as a 3-tiered cake too. Use the same cake ingredients to fill 3, 9" cake pans. Adjust the bake time. And ice with this brown sugar cream cheese frosting.
this recipe was adapted from a traditional carrot cake recipe by Rachel at The Stay At Home Chef blog here. Her recipes always look amazing including this carrot cake recipe. You'll notice there are a few changes including more crushed pineapple and the successful substitution of gluten and dairy free ingredients. We increased the crushed pineapple amount because Bob's Red Mill Gluten Free 1 to 1 Baking Flour tends to absorb liquids and can leave baked goods dry.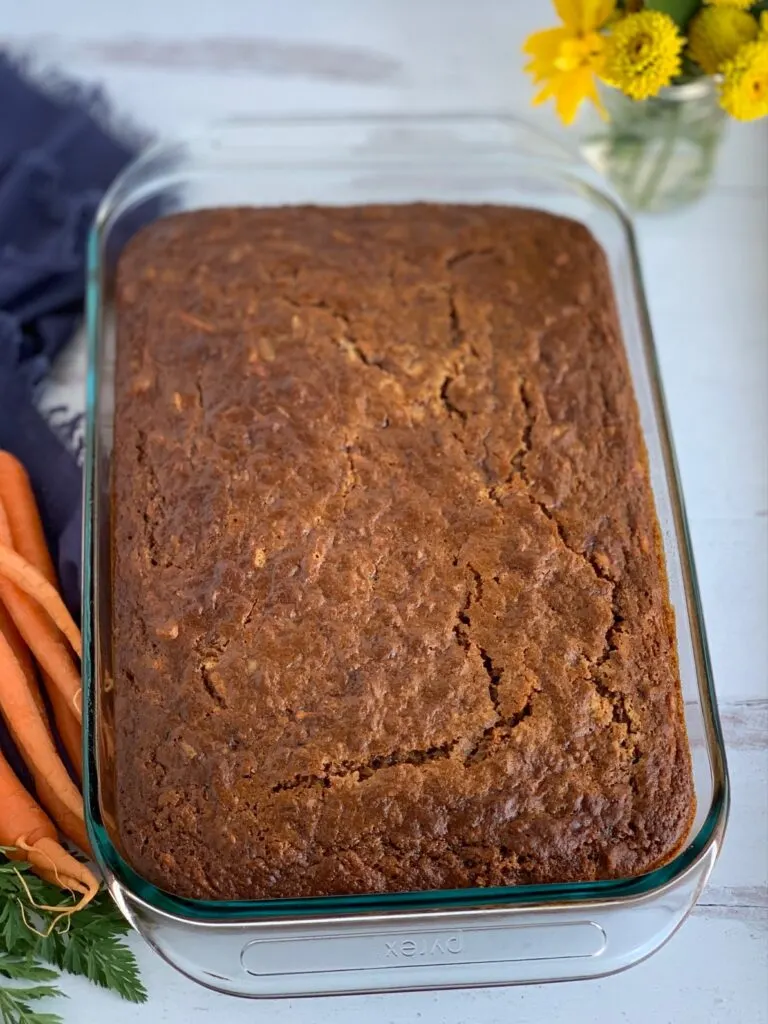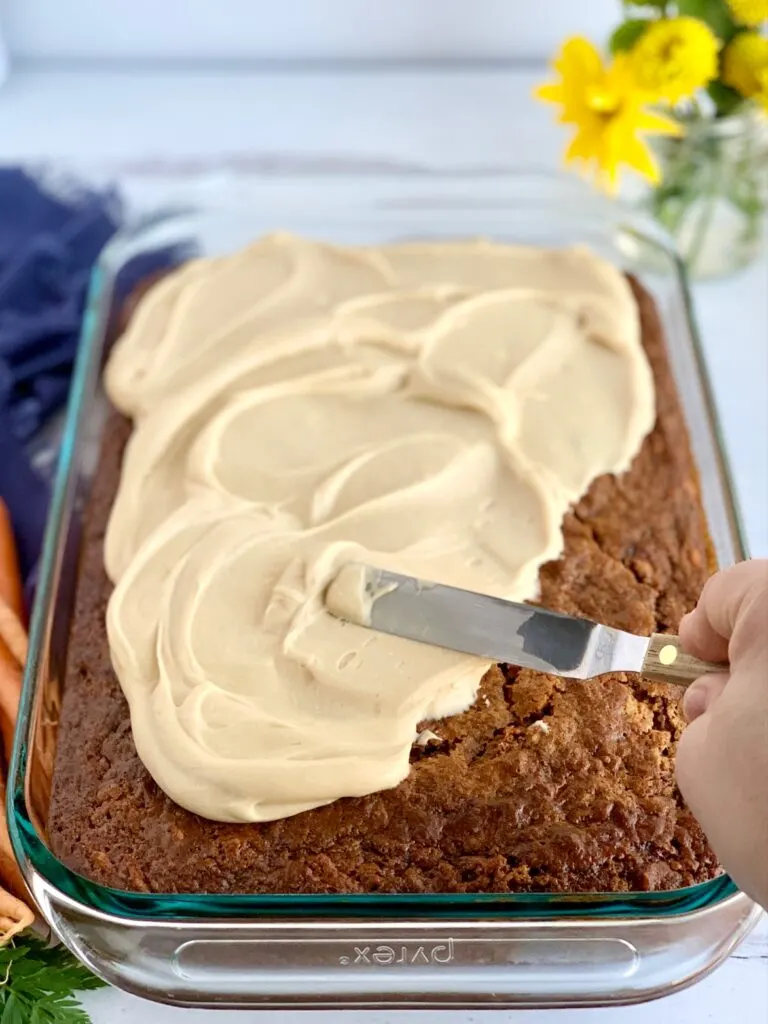 can this be baked and frosted ahead of time
Definitely YES-- this recipe even tastes better when baked, frosted, and refrigerated 1-2 days before serving.
can I use a traditional dairy free cream cheese frosting
Yes-- follow the gluten and dairy free cream cheese recipe we use here. Double this recipe to frost the top of this cake. This recipe is also best when made a day or two before needed.
do I have to use nuts in these bars
No, if nuts aren't a favorite of yours or is an allergen concern, omit it from the recipe.
can I leave out the golden raisins
Yes, you definitely can omit the raisins from this recipe. This cake will still taste wonderful without them.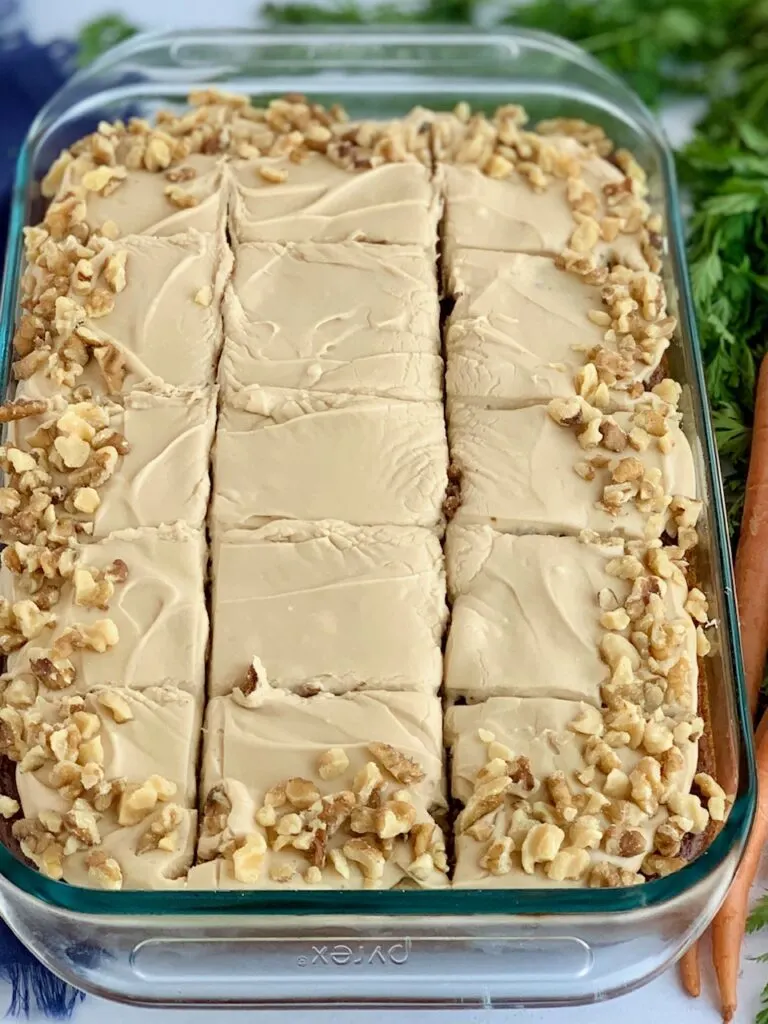 more springtime recipes you'll love
lastly
These moist Carrot Cake Bars have the great spiced flavor of a traditional 3-tiered layer cake without the hassle. This recipe is so easy to bake and frost.
And this cake can be frosted with a traditional dairy free cream cheese frosting or give this decadent Brown Sugar Cream Cheese Frosting a try.
If you are looking for more gluten and dairy free Easter-themed recipes and tips, consider these DIY Homemade Reese's Peanut Butter Eggs like you find in the grocery store.
Also try these Easter Basket Treat Ideas if you're looking for safe, allergen friendly prepacked goodies to place in your families Easter baskets.
Be sure to follow along on Facebook, Instagram, and Pinterest. Like and comment often to keep receiving our posts-- we don't want you to miss the best of eating gluten and dairy free.
Eat well and feel well,
Jill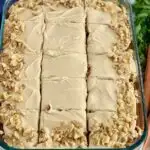 Print Recipe
Carrot Cake Bars
Servings:
15
slices of cake
Ingredients
Carrot Cake Bars
3

c

gluten free all-purpose flour

suggestion in post

¾

teaspoon

xanthan gum

omit if your gluten free flour blend contains this or guar gum.

2

c

granulated sugar

2

teaspoon

baking powder

3

teaspoon

baking soda

2

teaspoon

ground cinnamon

1

teaspoon

ground nutmeg

1

teaspoon

ground cloves

1

teaspoon

ground allspice

1

teaspoon

salt

1

c

unsweetened applesauce

1¼

c

canned crushed pineapple, lightly drained

½

c

vegetable oil

5

large

eggs, room temperature

or use an egg replacement

1½

teaspoon

vanilla extract

3

c

peeled fresh shredded carrots

2+

c

chopped walnuts or pecans, optional

more nuts for decorating the top of the cake

1

c

golden raisins, optional
Brown Sugar Cream Cheese Frosting
8

oz

dairy free cream cheese, room temperature

suggestion in post

4

tablespoon

dairy free butter, room temperature

¾

c

brown sugar, packed

½

teaspoon

vanilla extract

2

c

powdered sugar, add more if needed

1

teaspoon

molasses, optional
Instructions
Carrot Cake Bars
Preheat oven to 350°F. Lightly spray a 13" x 9" baking pan with nonstick spray and set aside.

In a very large bowl, combine the gluten free flour, xanthan gum if needed, sugar, baking powder, baking soda, cinnamon, nutmeg, cloves, allspice, and salt.

Then add in the applesauce, pineapple, oil, eggs or replacement, and vanilla extract.

Using a hand mixer or large spoon, beat 1-2 minutes or until combined. Use a spatula to scrape down the sides and bottom of the bowl as needed.

Next add in the shredded carrots, nuts and raisins if using, by hand.

Pour the cake batter into the baking sheet. Transfer to the oven for 60 minutes.

Check the cake with a cake tester inserted into the middle of the cake. If the cake tester comes out clean, remove the cake from the oven.

When the cake tester comes out clean remove from the oven and allow to cool completely on a cooling rack before frosting.
Brown Sugar Cream Cheese Frosting
Place the cream cheese, butter, and brown sugar in the bowl of a stand mixer. Using the paddle attachment, beat for 1-2 minutes. Scrape down the sides of the bowl and bottom of the bowl often.

When the mixture is light and fluffy, add in the vanilla extract and 1 cup of powdered sugar.

Next slowly add in the remaining powdered sugar and molasses into the mixture. Beat until smooth. Add in more powdered sugar if you'd prefer the frosting to be thicker.

Cover the frosting and refrigerate at least 1 hour or 1-2 days before icing the cake.

Using an angled spatula transfer the icing to the cake pan. Spread evenly over the cake and then top with chopped nuts.

Refrigerate the cake for at least 2 hours before serving. This cake tastes the best when it's been refrigerated for one to two days.

Cover and refrigerate leftovers up to 4 days.