These warm Apple Crumble Cinnamon Rolls are breakfast comfort food at its absolute finest. This recipe is infused with tender apple cinnamon bits throughout a buttery crumble topping over gooey cinnamon rolls and then completely drizzled with a rich icing. This gluten free and dairy free recipe ready in under an hour is one to print and pin now.
Our yeast free cinnamon roll recipe means there is no long wait time for dough to rise.
Instead, this soft and ooey gooey cinnamon roll recipe with tender apple chunks, sweet crumble topping and decadent icing is ready before the whole family is out of bed for breakfast.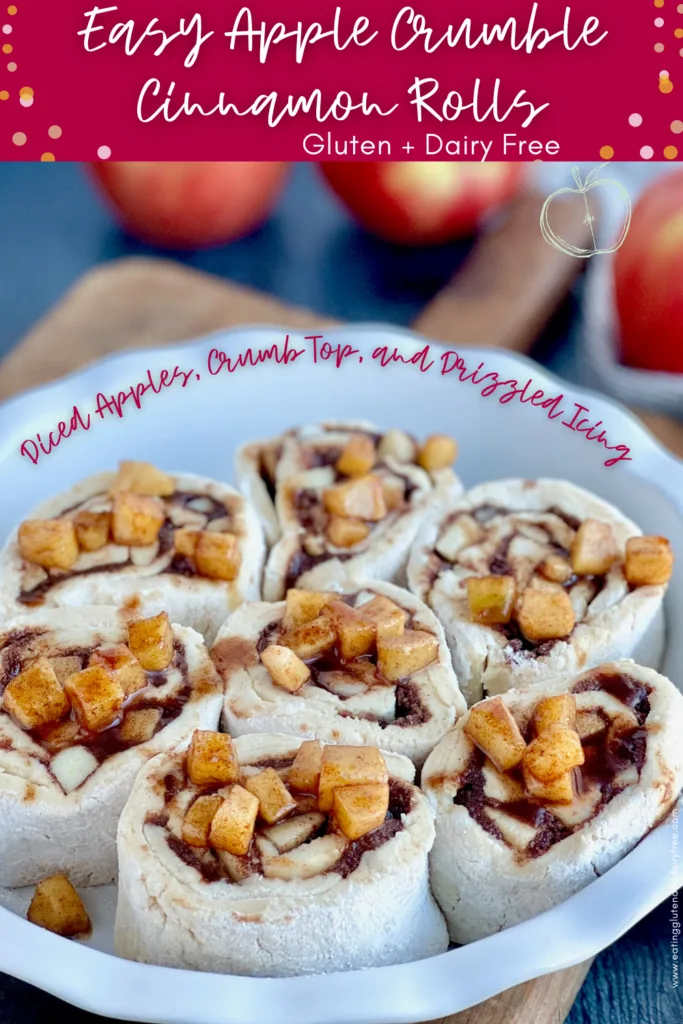 This must-try breakfast recipe is a blend of our soft yeast-free cinnamon rolls and an apple crumb cake recipe.
Each roll has generous amounts of apple, brown sugar, cozy cinnamon, crumble topping and even a rich drizzle.
Or you can load these cinnamon rolls with the tender cinnamon apple chunks and frost with our mouthwatering dairy free cream cheese frosting.
Either way you can enjoy these warm out of the oven while you are still dressed in your cozy, flannel pajamas alongside your morning cup of fresh coffee.
Long gone are the days of not having enough gluten free and dairy free breakfast recipes.
As an added bonus this recipe calls for everyday staples -- no fancy or hard to find ingredients.

apple crumble cinnamon roll ingredients
Get more info on all of these ingredients in the recipe card below.
gluten free all-purpose flour-- use the spoon and level method. Scroll down to learn more. Our go-to is Bob's Red Mill Gluten Free 1 to 1 Baking Mix. We purchase this blend here in bulk to save money. This flour blend contains xanthan gum.
xanthan gum-- omit if your gluten free all-purpose flour contains this or guar gum
baking powder-- once opened this loses its potency after 6 months. We always suggest labeling your container with the date you open it.
kosher salt
granulated sugar
dairy free butter-- room temperature for 20 minutes, our go-to is Earth Balance Buttery Sticks
large eggs-- room temperature
dairy free milk-- we use refrigerated unsweetened almond milk
dark brown sugar-- packed
diced apples-- washed, peeled and sliced into small cubes
ground cinnamon
powdered sugar
vanilla extract-- we use homemade gluten free Vanilla Extract or the McCormick brand
optional-- chopped pecan bits added to the filling and crumble topping
nonstick spray-- this works well in our home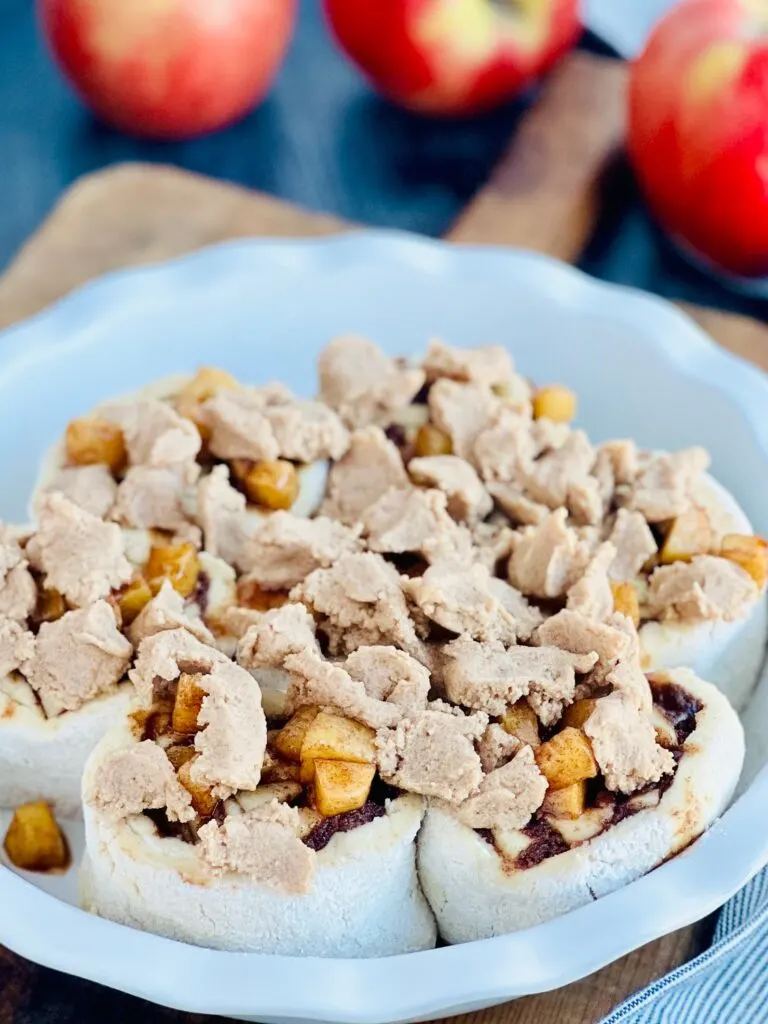 If you're in an apple mood. Try our delicious Apple Salsa! It's a great snack, appetizer, or side dessert.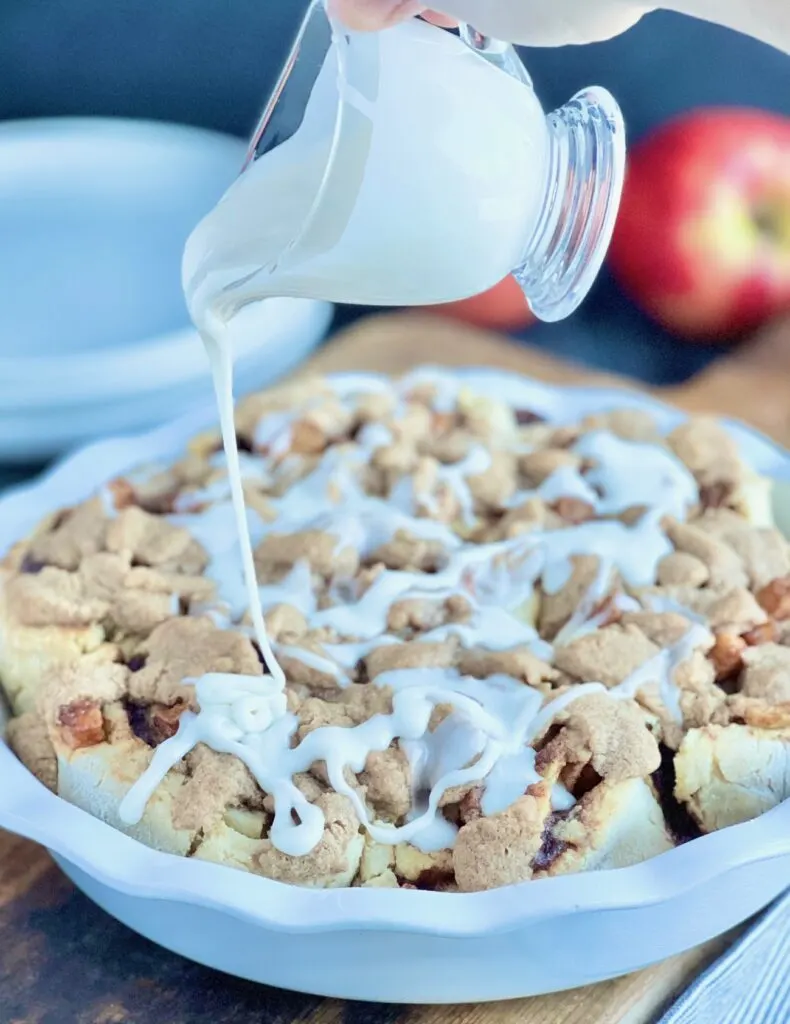 kitchen essentials and gadgets for this recipe
mixing bowls
rolling pin
8x8-inch pie plate or round baking pan
kitchen tape measurer-- we use this soft retractable tape measurer during this recipe
pie serving spatula- -this is similar to what we use and love
frequently asked questions
what is the spoon and level method
This is so important to follow when using flour in any recipe.
Flour must be accurately measured for recipes to turn out. However many have been measuring flour inaccurately (including us for a time!).
For instance, if a recipe calls for one cup of flour, and you scoop the flour out of the bag with the measuring cup, you could end up with 1.25 times as much flour instead!
By scooping the flour directly out of the bag, one is essentially packing extra flour into the measuring cup.
This can make a huge difference in the taste and appearance of recipes.
Instead "spoon†the flour out with a large spoon and level the top of the measuring cup by scraping a knife across the top.
what kinds of apples can I use
Any kind really, although our favorites are Granny Smith, Pinky Lady, Braeburn, and Honey Crisp.
can I skip the crumble topping
Yes! We have enjoyed this homemade gluten free/dairy free recipe with diced apples rolled up in the cinnamon roll and topped with our decadent and luscious cream cheese frosting.
You can also use our homemade cinnamon sugar glaze!
You have so many wonderful choices with this easy to enjoy recipe.
how long should I soften the butter
Don't make the same mistake we've made in the past – assuming "room temperature†butter means placing the stick on the countertop for hours.
Instead room temperature means on the countertop for 20 minutes (still lightly chilled.)
download our eBook, The Classics
Have you heard the fantastic news? We have gathered a collection of 16 breakfast, dinner, and dessert recipes available here for instant download right into your inbox.
It has never been a better time to eat gluten and dairy free. Buy your eBook today and start menu planning. You will even find a wonderful bonus Blueberry Coffee Cake recipe exclusively available only on the eBook-- no where else on our website or social media.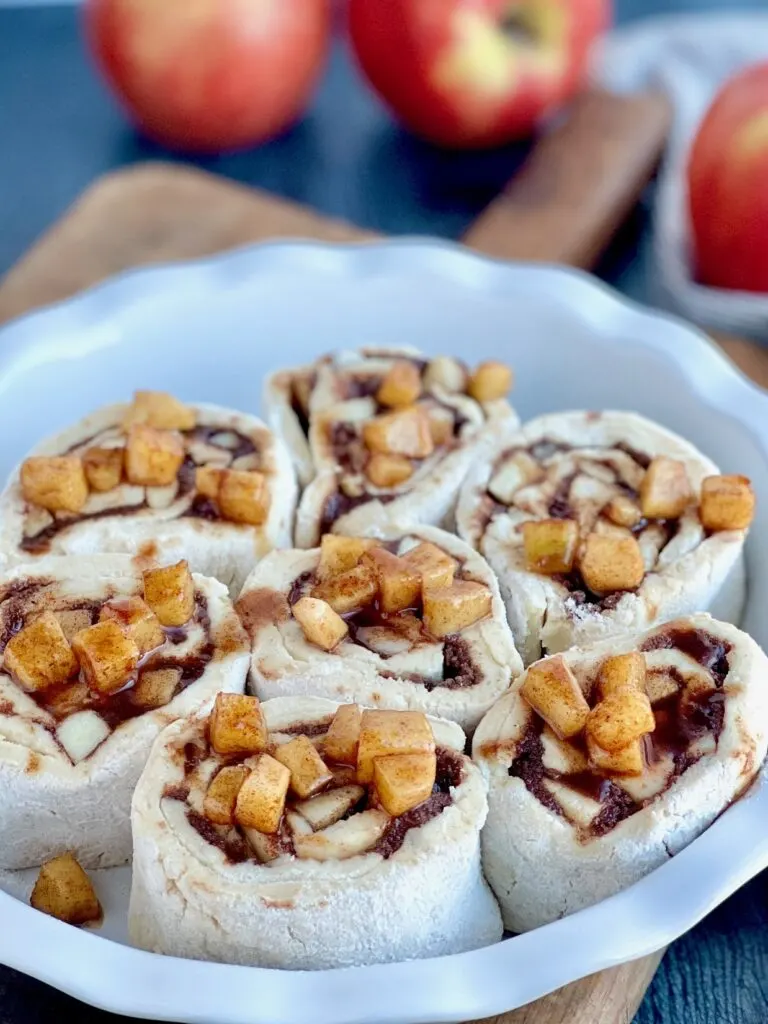 more must-try breakfast recipes
lastly
These gluten free and dairy free Apple Crumble Cinnamon Rolls have the perfect amount of apple bits, gooey cinnamon rolls, brown sugar, crumble topping, and drizzle.
There is no doubt the tender apple bits add so much wonderful cozy flavor to this recipe.
Plus you will find even more safe recipes on our website, Eating Gluten and Dairy Free. Not only will you find more breakfast recipes, but also dinner, side dishes, and mouthwatering holiday recipes too so you are never without.
Follow along on our Facebook, Pinterest, and Instagram. Like and comment often so our helpful posts keep showing up in your scroll.
We don't want you to miss out on the very best of eating gluten and dairy free.
Eat well and feel well,
Jill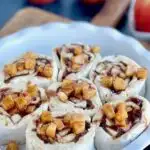 Print Recipe
Apple Crumble Cinnamon Rolls
Ingredients
Cinnamon Roll Dough
3½

c

gluten free all-purpose, more for rolling dough

spoon and level method

2

teaspoon

xanthan gum

omit if your gf all-purpose flour contains this or guar gum

2½

teaspoon

baking powder

¼

teaspoon

kosher salt

½

c

granulated sugar

7

tablespoon

dairy free butter

room temperature 20 minutes

2

large

eggs

room temperature

1+

cup

dairy free milk

room temperature, add more if needed
Apple Filling
1

c plus 1 tbsp

dark brown sugar

packed

5

tablespoon

dairy free butter

melted and cooled

2

tablespoon

ground cinnamon

⅛

teaspoon

salt

½

medium apple

washed, peeled, sliced into small cubes

3

tablespoon

optional-- cut up pecan pieces
Crumble Topping
½

c

gluten free all-purpose flour

spoon and level method

⅓

c

dark brown sugar

packed

½

teaspoon

ground cinnamon

¼

c

dairy free butter

room temperature for 20 minutes
Icing
1

c

powdered sugar

1

tablespoon

dairy free butter

melted

¼

teaspoon

vanilla extract

2-3

tablespoon

dairy free milk or dairy free heavy cream
Instructions
Dough Instructions
Preheat oven to 350°F. Grease an 8-inch pie plate with nonstick spray.

In a large bowl, whisk flour, xanthan gum if needed, baking powder, salt, and sugar.

Add the butter, eggs, and milk. Mix with a spoon and then your hands until you have a smooth ball. Add in more milk or flour depending if the dough is dry or sticky.

Transfer the dough to a lightly floured countertop.

Roll the dough into a 12-inch by 15-inch rectangle with a rolling pin, adding in more flour underneath the dough as needed so it doesn't stick.

With a knife trim the dough on the edges so you have a nice rectangular shape.
Apple Filling Instructions
In a medium-sized bowl, combine all the apple filling ingredients. Remove ¼ cup and set aside.

With your hand or an angled spatula spread the filling evenly over the rectangle, leaving a ¼-inch clean edge all around the dough.

Roll the dough on the long, 15-inch side into a tight log with your hands. If the dough starts to crack, gently pull it back together and keep rolling.

Then with a sharp knife slice the roll into 7 equal slices and place into the pie plate. Top with remaining ¼ apple filling. If you wish to skip the crumble and icing, transfer the pie plate to the oven for about 32-36 minutes.
Crumble Topping Instructions
In a medium bowl, add the flour, sugar, cinnamon, salt and butter. Combine mixture.

Sprinkle evenly over the cinnamon rolls.

Transfer to the oven for 32-36 minutes. Remove and allow to cool slightly before icing.
Icing Instructions
In a medium bowl using a handheld mixer, combine the powdered sugar, butter, vanilla extract and milk until smooth.

Drizzle icing over gluten free/dairy free Apple Crumble Cinnamon Rolls.

Cover and refrigerate leftovers.
Keep scrolling to sign up for our exclusive emails below.