Enjoy a taste of heaven with this Easy Lemon Pepper Chicken. A class chicken recipe that is simple to put together and is truly delicious. You will be making this time and time again.
You know those days when you want a tasty and delicious easy recipe that will ensure the whole family is satisfied? This is the recipe!
]You can enjoy Lemon Pepper Chicken Breasts from the refrigerator to the table in 30 minutes. How great is that? An easy dinner that is also a bit of a crowd-pleaser.
Juicy chicken breasts with that tangy lemon flavor it is the perfect way to enjoy incredible food and the best part is there is minimal effort required.
This recipe is super easy to follow, but there are some great ways you can adapt it. The one thing we love about this recipe is its versatility of it.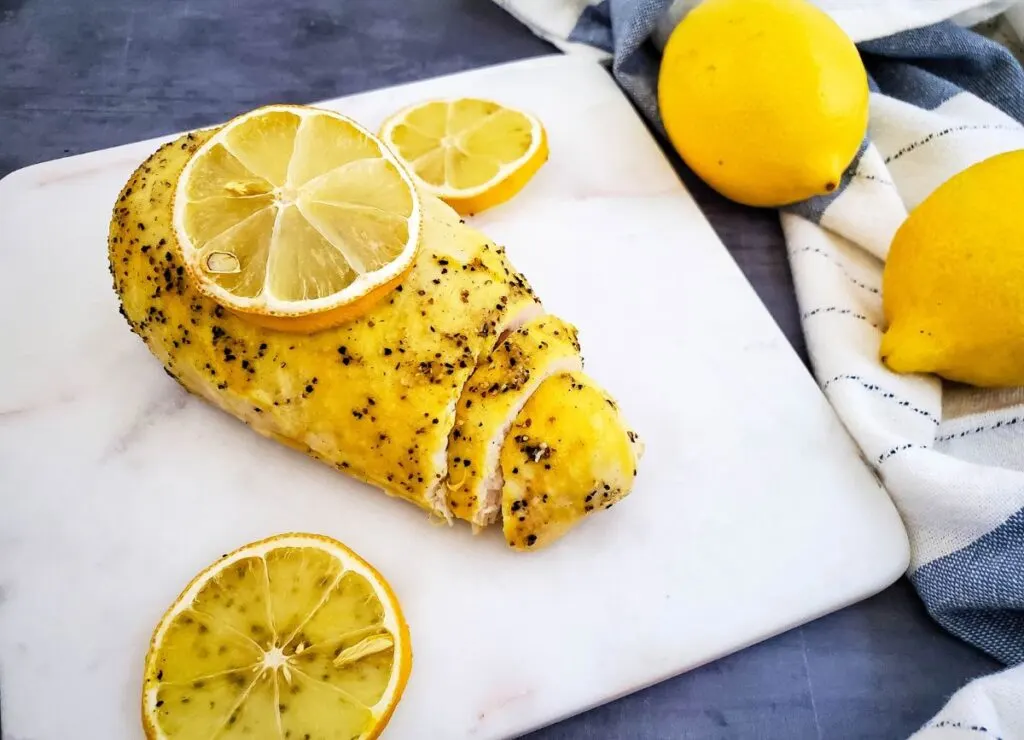 From what you serve it with to how you can double up and make more.
This is a lemon pepper chicken recipe that you are going to have in your back pocket for those busy days when you just want something tasty.
If you like the idea of easy chicken recipes then you have to try this Chicken Noodle Soup recipe.
The ultimate hug in a bowl and the best part is it uses gluten-free noodles. It is super tasty and we know you are going to love it.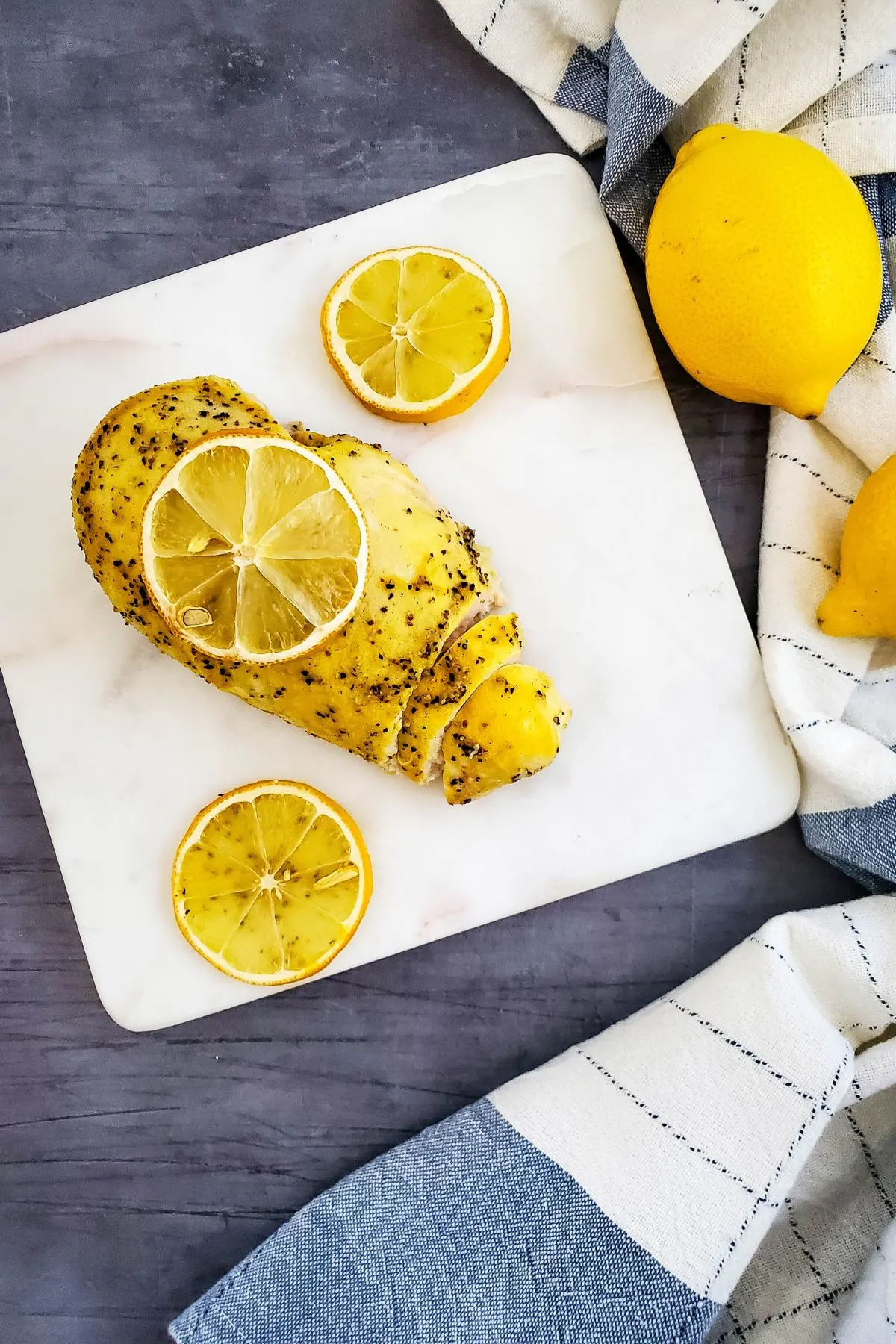 💕 Why You'll Love This Easy Lemon Pepper Chicken
Simple and easy - a delicious meal ready in just under 30 minutes for everyone to enjoy.
Family-friendly - The lemon flavor is one the whole family can get on board with.
Quick and effortless - Perfect for busy nights
Customizable - You can batch cook, add things to it, and serve it with different options.
Minimal ingredients - Just a few ingredients will make a dish packed full of flavor.
🍋 Ingredients Needed
Boneless chicken breasts
Olive oil
Lemon pepper
Fresh lemon
Helpful Tools
Cutting Board & Sharp Knife
Measuring Cups and Spoons
No products found.
9-inch Casserole Dish
Pastry Brush
How To Make The Lemon Pepper Chicken
This is the full recipe to make the best lemon pepper chicken.
Preheat the oven to 375 degrees.
Use a pastry brush to brush olive oil on both sides of the chicken. Coat thoroughly.
Sprinkle lemon pepper on both sides of the chicken breasts before putting them in a 9-inch casserole dish.
Using a knife and cutting board, slice the lemons, and place them on top of the chicken.
Bake for 25 minutes, or until chicken is cooked, with the internal temperature reaching 165F.
Allow chicken to rest for 5 minutes, before slicing and serving.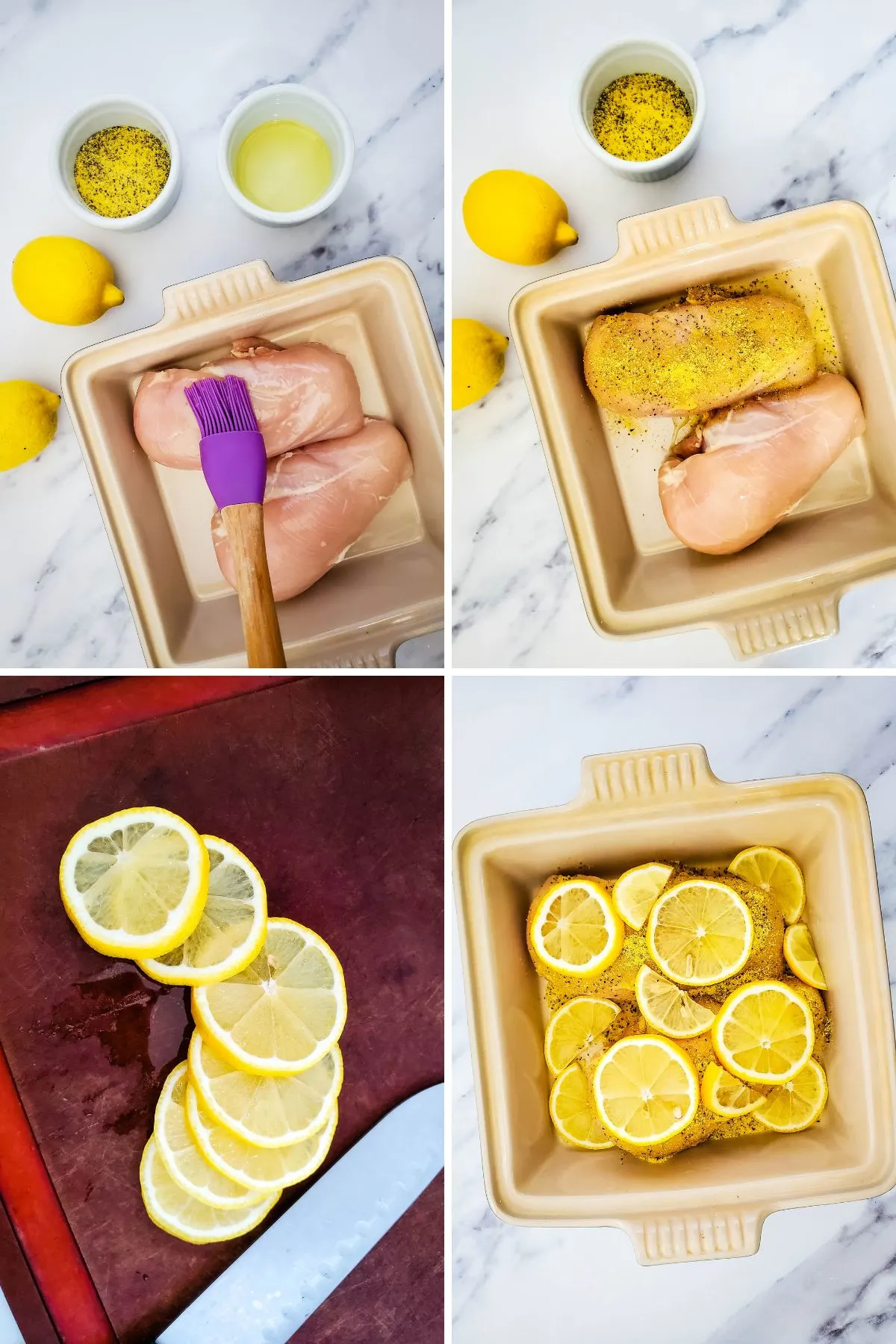 Recipe Variations
Use flavored olive oil. If you want to add to the flavor then you could use flavored olive oil. Chilli is great for a bit of a kick but garlic-infused olive oil can add a different depth of flavor to the chicken.
Can I make my own lemon pepper seasoning? Sure thing! You can make a batch o your own lemon pepper seasoning if you wish.
You can have a little more control over what goes into it and there are lots of recipes to help you create yours.
What other seasonings or additions can I add to this lemon chicken recipe? If you wanted to mix things up a little then you could add things like Italian seasoning, some black pepper, onion powder, garlic powder, or crushed garlic.
In the casserole dish, you could also add things like vegetables to cook at the same time.
This can help give the best flavor not just to the chicken but the other ingredients. Making it a one-pot dish.
Vegetables like zucchini, mushrooms, bell peppers, and broccoli would all work well. Why not add whole bulb o garlic and allow it to roast with your chicken?
Can I use other cuts of chicken? While this recipe calls for boneless skinless chicken breasts you could use this recipe with another cut of chicken.
Things like chicken tenders, chicken pieces, chicken legs, or chicken thighs. You might have to adjust the cooking time but it will still be a super speedy recipe.
Will this work with other meat? Yes, it will! Turkey and pork will also work well with the lemon pepper flavor.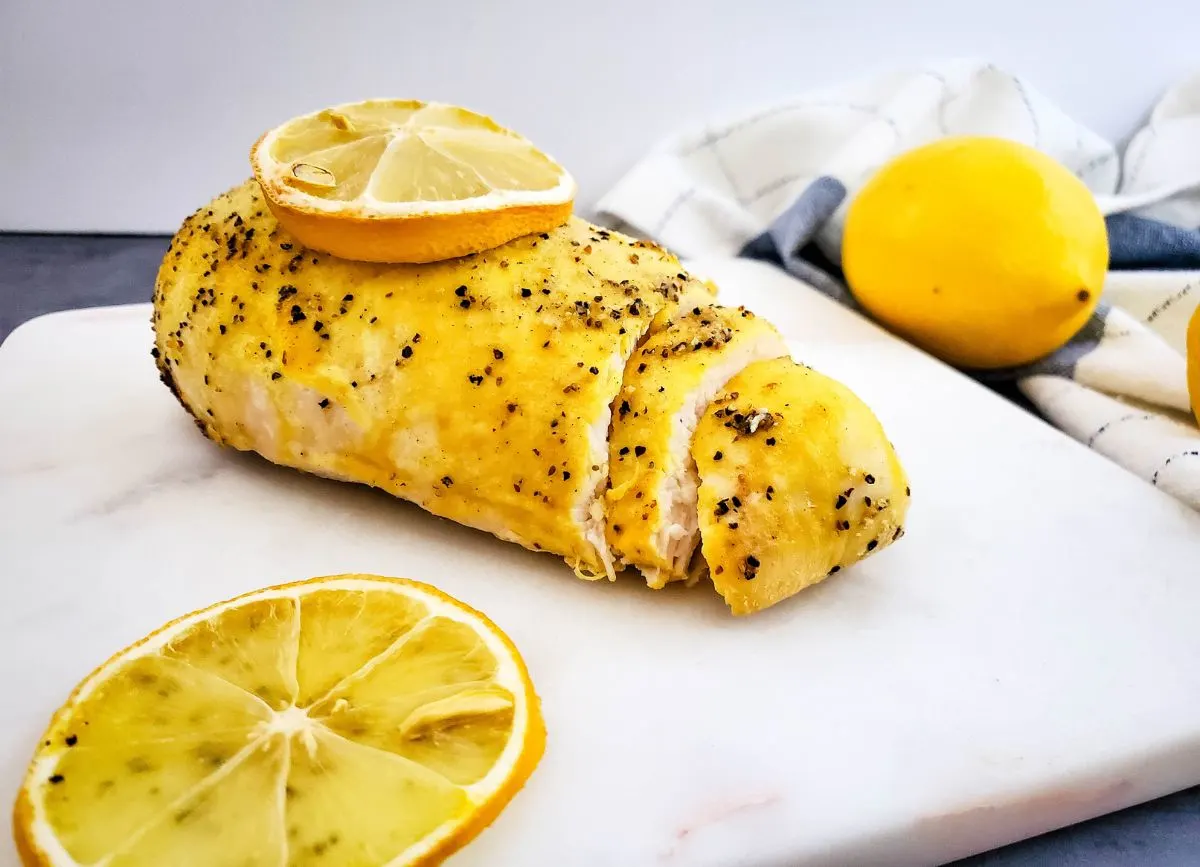 Tips & Tricks
Make sure you give the chicken time to rest before serving. This helps the chicken to remain juicy and take on all of the flavors, even after cooking.
Don't over-add the seasoning. Stick with what you are happy with. If you want a bold flavor then add more but add less for a more subtle taste.
Use a meat thermometer to make sure your chicken is safe to eat before serving (internal temp should be 165F)
The baking time required may change based on the size of your chicken breasts.
Storage
If you have any leftovers then you can store them in the refrigerator for 3-4 days.
You can add the lemon pepper chicken to an airtight container or use plastic wrap to keep them fresh. You can reheat it in the oven or use the microwave.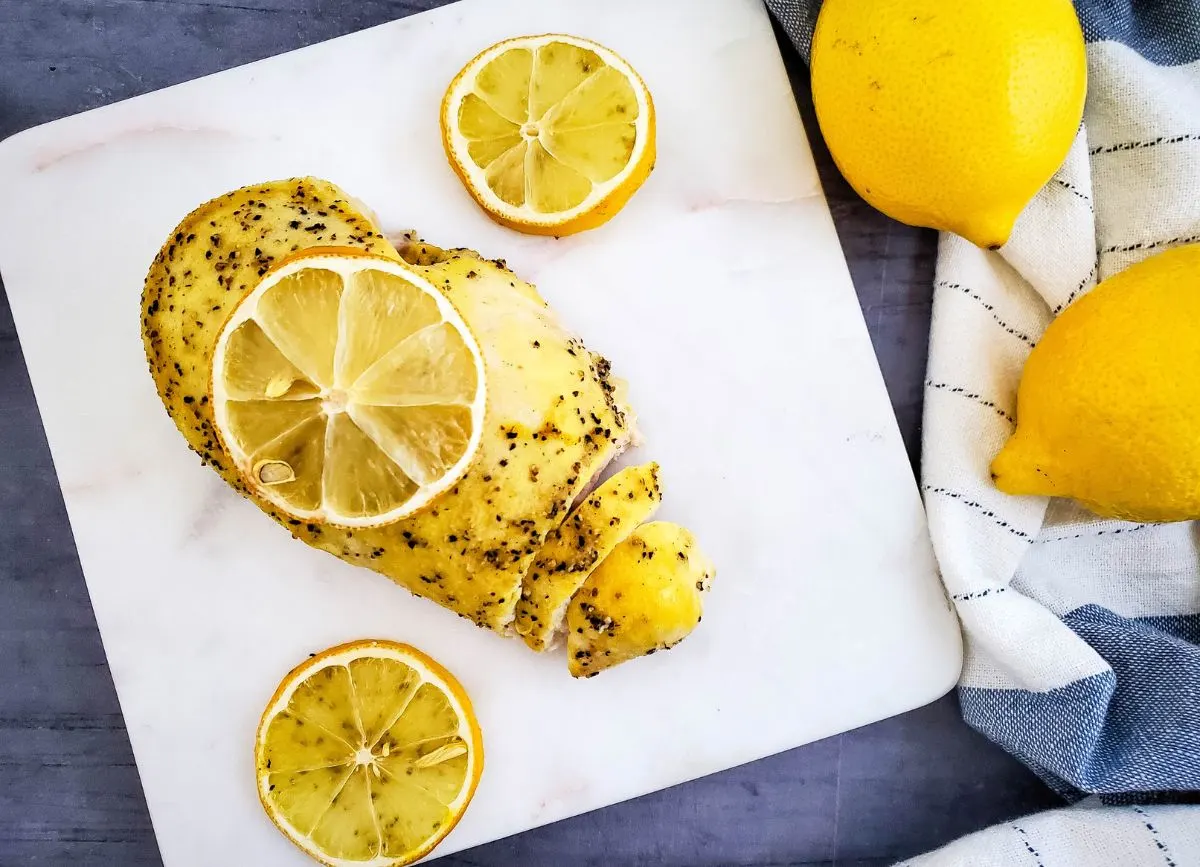 FAQ
What does adding lemon juice to chicken do?
The lemon juice adds a zesty flavor but the acidity also plays another role. It helps to tenderize the chicken.
This works really well with leaner cuts of meat like chicken breast ensuring you get a juicy and flavorsome dish.
Is lemon pepper spicy?
Although it can be seen, and taste, like a peppery seasoning, the lemon pepper isn't spicy.
You do get a subtle warmth from the pepper but it isn't unmanageable and even children or adults with a mild pallet will enjoy the flavors.
What can I serve with my lemon pepper chicken?
This is a great recipe to have when you are looking for an easy chicken dinner. You can serve it with anything like potatoes, pasta, and rice.
We especially think it works well with roasted potatoes and seasonal vegetables.
Add a spring of fresh parsley or garnish. A wonderful lemony chicken dish.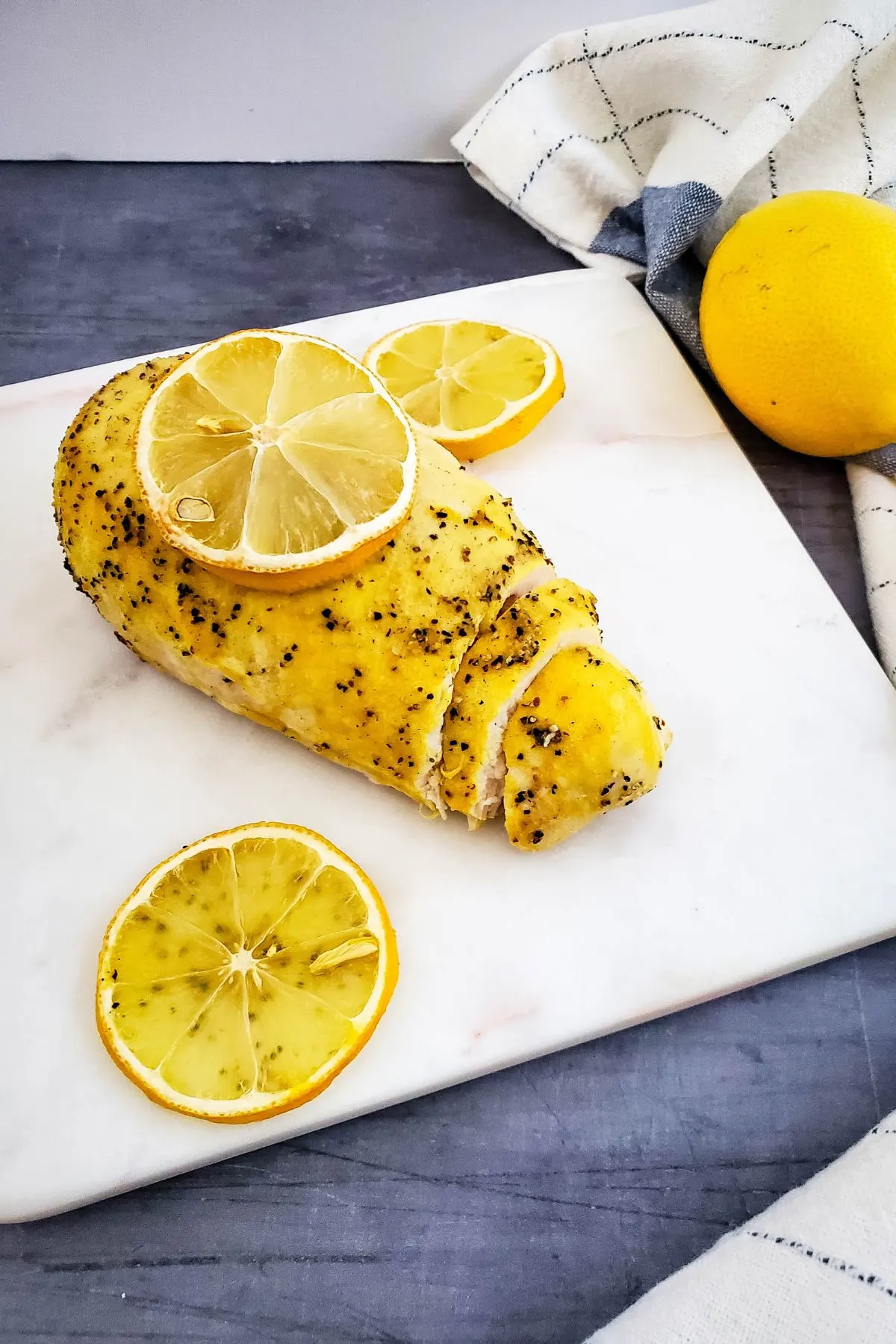 Other chicken recipes
Chicken Noodles - Cozy, tender egg noodles and chicken in a thick, rich broth served over a large helping of the creamiest mashed potatoes is super easy to prepare with just a handful of basic ingredients.
Oriental Chicken Salad - This copycat of Applebee's Oriental Chicken Salad is a "main dish" kind of salad with comforting yet energizing fresh flavors.
The Best Chicken Pot Pie - packed with shredded rotisserie chicken, and all nestled in a flaky, buttery crust.
Make sure to follow us on Instagram and Pinterest to keep up with all our new recipes. Tag us if you make the recipe on IG or share your thoughts by commenting on the pin on Pinterest. If you try this recipe, feel free to give it 5 🌟 below
Eat Well and Feel Well
Pin It For Later