What beats a warm soothing bowl of Chicken Noodle Soup loaded with flavorful seasonings, chicken broth, fresh cut-up veggies, shredded chicken chunks, and the best tender gluten free egg noodles?
Using gluten free and dairy ingredients, this soup will warm you from the inside out. This is also our family's go-to recipe for cold nights or when someone is feeling under the weather.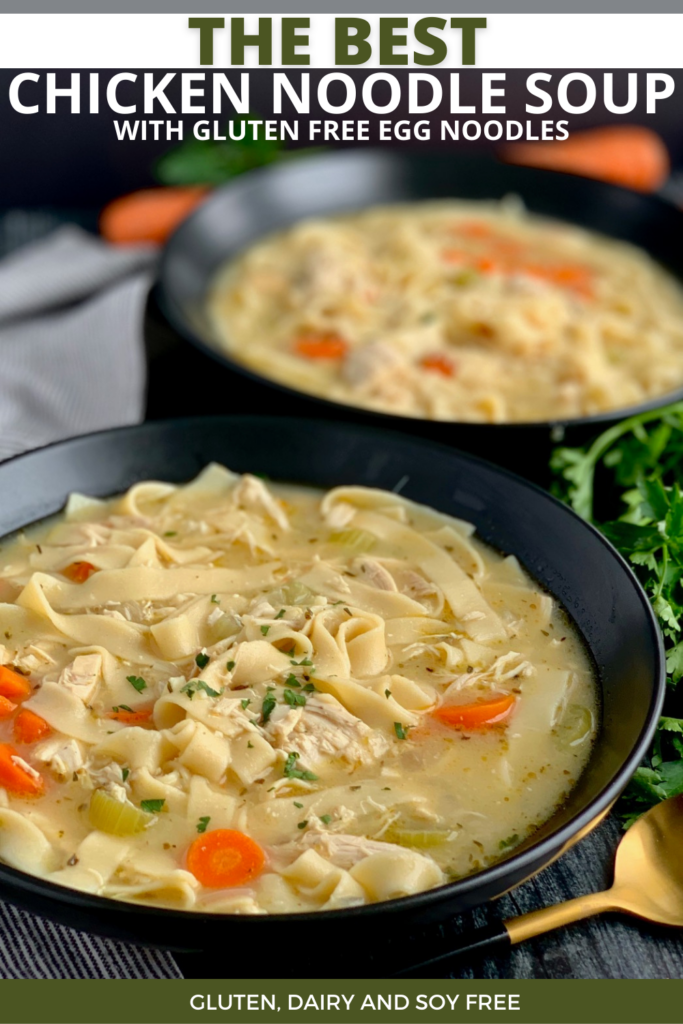 This warm, cozy, soup is comfort food at its best and ready in under 40 minutes.
And how long has it been since you have enjoyed homemade chicken noodle soup? We had not enjoyed it for years until we came across these gluten free egg noodles.
Now we keep the staple ingredients on hand during the winter months, especially since canned chicken and these egg noodles have a long shelf life.
chicken noodle soup ingredients
dairy free butter— our go-to is Earth Balance Buttery Sticks
fresh carrots— whole, peeled and sliced; frozen works as well
fresh diced celery ribs
sweet onion
garlic— fresh minced
chicken broth or stock— use a good quality broth such as Pacific brand. We prefer broth but use chicken stock when we are out of broth and don't want to make a trip to the grocery store
shredded chicken— baked, canned, or rotisserie. We typically use canned chicken for this recipe, but also use leftover baked chicken.
dried thyme— we stock our pantry with McCormick brand spices
ground black pepper
kosher salt
gluten free egg noodles— we use Jovial brand egg tagliatelle noodles in this recipe and others such as our chicken noodle dinner
optional add-ins— peas, green beans, or broccoli
optional garnishes— fresh chopped parsley or fresh dill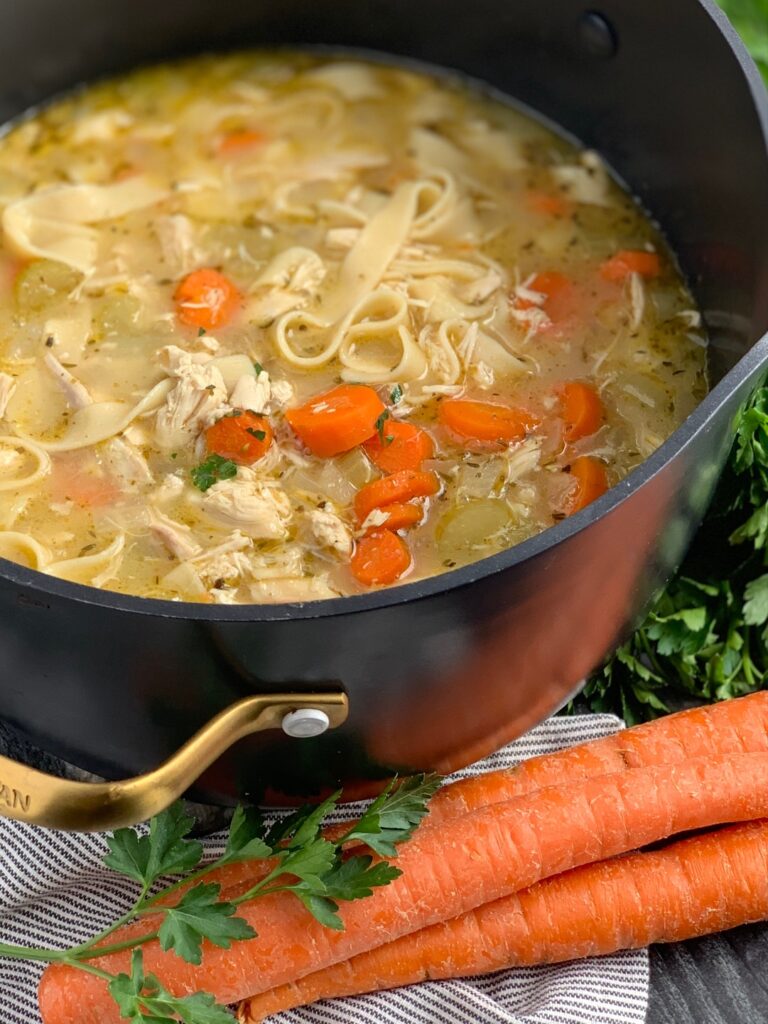 kitchen utensils
cutting boards
sharp utility knives
garlic mincer
large stock pot
ladle
frequently asked questions
what are the best gluten free egg noodles to use
We use the Jovial brand gluten free egg tagliatelle noodles. We have found them at several local grocery stores, including Walmart. They are also available from Amazon.
And we like to keep an extra 2-3 boxes on hand at all times. They are inexpensive, have a long shelf life, and make for a quick meal with this soup and our Chicken Noodle recipe over mashed potatoes.
what is the difference between egg noodles and pasta
First, egg noodles require eggs in the ingredients, not to mention 2-3 times more eggs are used to make egg noodles than pasta noodles. Also egg noodles are known for their classic shape– long thin strips of dough while pasta noodles come in all lengths and fun shapes.
when should the egg noodles be added to the soup
To ensure you get it just right, make sure the soup is nearly cooked before adding the noodles. Egg noodles soak up broth readily so ensure you serve the soup as soon as it's cooked.
Alternatively, you could cook the noodles separately and add to the soup at the last moment.
what to serve with chicken noodle soup
This soup is easily a hearty meal all on its own. You can also warm up rolls, baguettes, or biscuits and serve with dairy free butter. We also enjoy toasting slices of bread.
can this be made ahead of time
Yes, you can make this soup ahead of time and store in an airtight container in the refrigerator for up to 3-4 days. We recommend waiting to add in the egg noodles until you are ready to serve as they will continue to soak up the broth as they sit.
Once you are ready to eat this soup, heat it up in a large stock pan, add in the noodles and cook until tender.
can this soup be frozen
Yes. If you plan on freezing leftover soup, don't add the noodles until the soup has been thawed, reheated, and you are almost ready to serve. Otherwise if you freeze the soup with the noodles, they will get soggy and fall apart into pieces.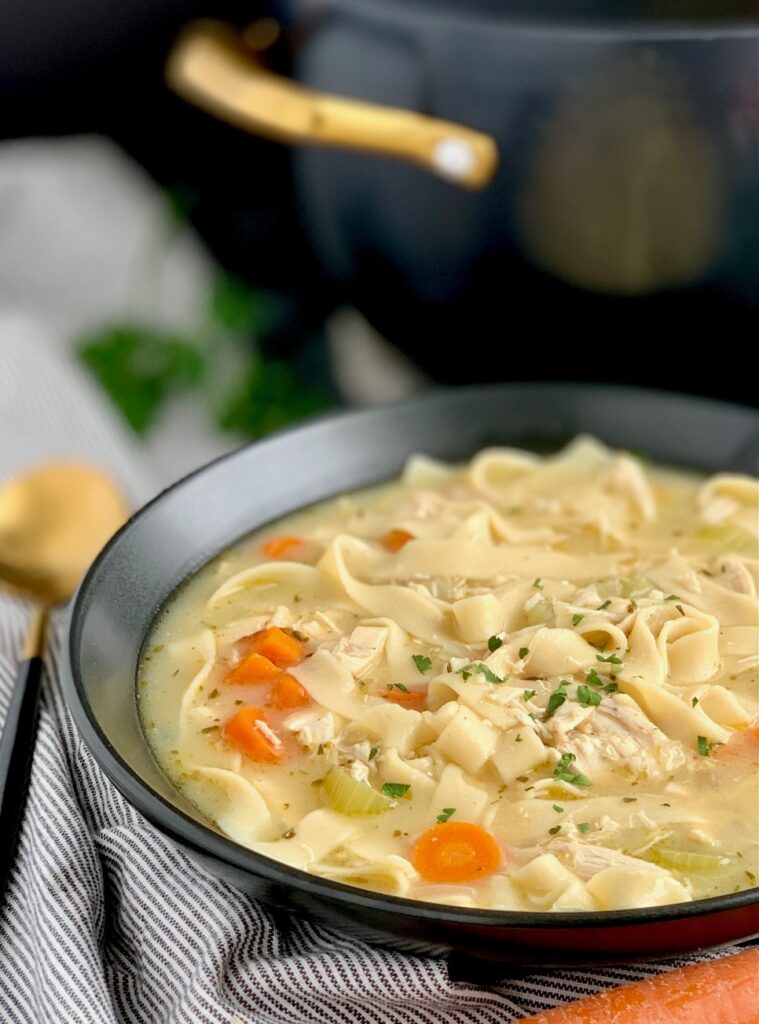 more easy dinner recipes
buy our cookbook
Here is your chance to purchase our eBook, The Classics, now. You will receive 16 of our favorite classic recipes instantly downloaded to your inbox. These are recipes we have enjoyed for years and are so excited to share them with you.
We have included a breakfast recipe not available anyplace else on our website or social media, exclusive to this cookbook.
lastly
Gluten free, dairy free, soy free Chicken Noodle Soup is a warm, cozy recipe you want to try now. Loaded with fresh veggies, flavorful broth, and the best seasonings, this no-fail recipe is a healthy comfort food for the entire family to enjoy.
Plus you will find more gluten free and dairy free recipes on our website, Eating Gluten and Dairy Free. Here is a sneak peak of several safe Thanksgiving Day Recipes and Christmas Desserts. And if you are a fan of cinnamon rolls, you have to try our yeast free, gluten free, soy free, and dairy free recipe. They are a must.
Follow along on Facebook, Pinterest, and Instagram. We regularly post our new recipes, product alerts, favorite brand giveaways, and tips for living your best while eating free from.
Like and comment often so our posts keep showing up in your feed. We don't want you to miss the very best of eating gluten and dairy free.
Eat well and feel well,
Jill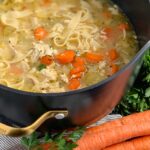 Print Recipe
Chicken Noodle Soup
Ingredients
2

tbsp

dairy free butter

1

c

carrots

sliced

1

c

celery

diced

1

sweet onion

diced

1

tbsp

garlic

minced

8

c

chicken broth or stock

2

chicken breast

shredded (baked, canned, or rotisserie)

¼

tsp

dried thyme

¼

tsp

dried oregano

½

tsp

ground black pepper

1

tsp

kosher salt

add more to taste

1

box

gluten free egg noodles

suggestion in post

optional– top with fresh chopped parsley
Instructions
In a large stock pot melt the butter over medium heat. Add in the carrots, celery, onion, and garlic to sauté until veggies are tender.

Pour in remaining ingredients except for the egg noodles.

Bring to a boil and add in the egg noodles. Cook until egg noodles are tender.

Garnish with chopped parsley with added salt to taste.

Cover and refrigerate leftovers.

If you are making this ahead of time, we suggest preparing the soup as directed, then adding the noodles to the soup and boiling just before serving. The noodles will continue absorbing the soup liquid.
Keep scrolling to sign up for our exclusive emails below.