Our incredibly moist and fluffy, Gluten Free Blueberry Muffins are loaded with fresh juicy blueberries sprinkled with a hint of fresh lemon. Plus they puff up perfectly in the cupcake liners for an absolutely irresistible muffin. The recipe couldn't be any easier!
As an after school snack, grab-and-go breakfast, brunch option, or dinner side, these gluten-free muffins will disappear quickly.
This gluten free, dairy free, and soy free sweet snack is always a good idea to share with your family and friends.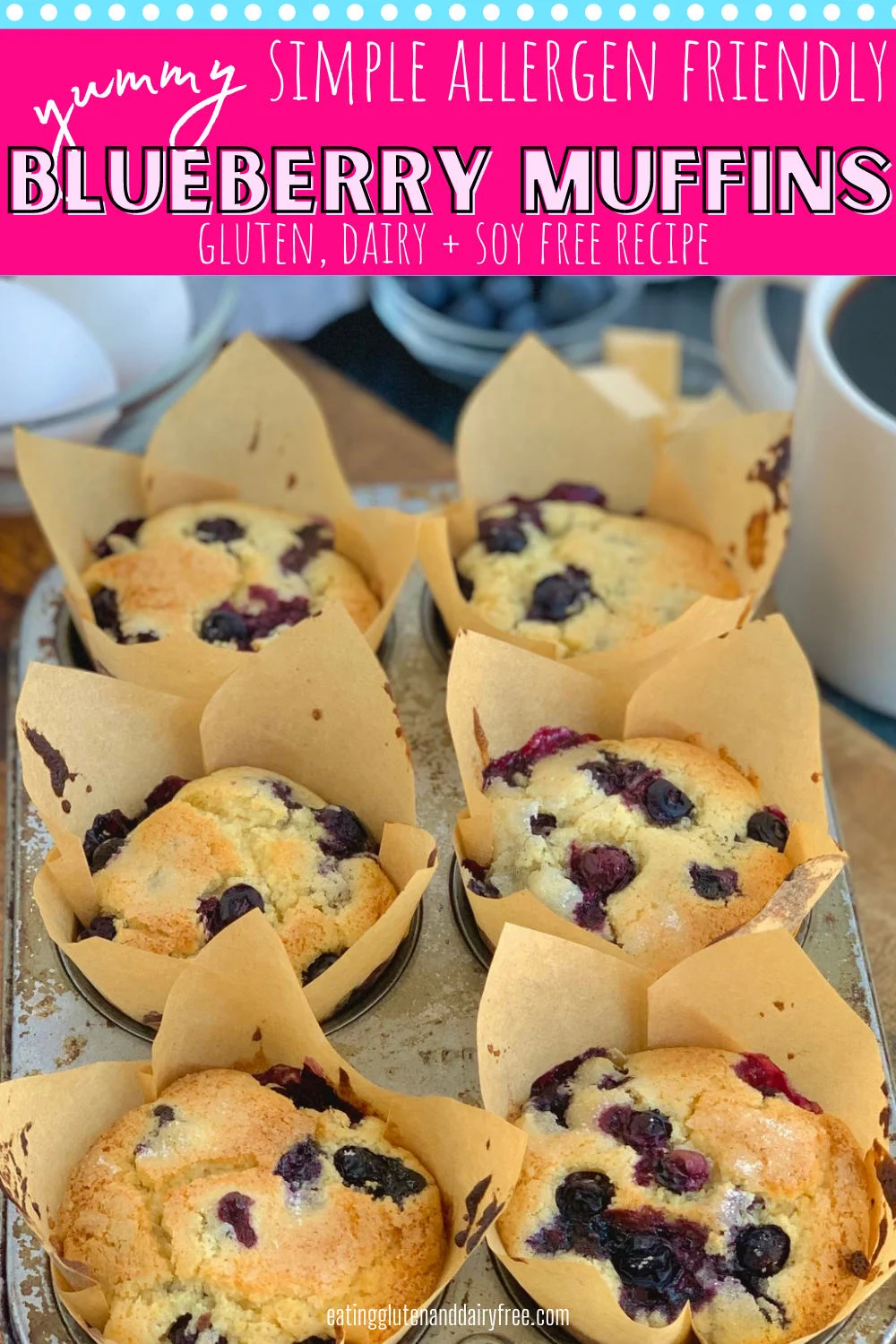 Besides the fact they have great flavor, these are great to pack for road trips, flights, or after-game snacks on the road.
Using a combination of everyday baking staples, you can make bakery-quality muffins without spending bakery prices!
Why You'll Love These Muffins
The texture is unstoppable, both moist and fluffy
You only need gluten and dairy free baking essentials for our muffin recipes
They're ready with only 15 minutes of prep work, and a total of 40 minute from start to finish
These tasty fluffy muffins are loved by both kids and adults
Perfect to make during berry season
Super easy breakfast, snack, or dessert
Ingredients Needed
Get more info on these simple ingredients to make these in the recipe card at the bottom of the post.
dairy free butter— softened for 20 minutes on the countertop. We use the Earth Balance Buttery Sticks brand.
granulated sugar -- see subs in the tips and tricks section
large eggs— room temperature large eggs
fresh lemon juice— using fresh lemon juice is always best and it enhances the delicious blueberry flavor of these muffins
lemon zest— using lemon zest is an optional step, but we won't skip it. Do you love subtle lemon flavor in recipes? If yes, then don't skip this ingredient.
dairy free sour cream— use your favorite go-to sour cream. We have successfully baked with WayFare Foods, Kite Hill, and Tofutti.
gluten free all-purpose flour— use the spoon and level method. We use Bob's Red Mill Gluten Free 1 to 1 Baking Flour with xanthan gum in the blend. You can save money buy purchasing it in bulk here. But you can use any gluten-free flour blend that you enjoy baking with.
xanthan gum— omit if your gluten free all-purpose flour contains this or guar gum
kosher salt
baking powder— did you know this loses its potency after the container has been opened for 6 months? We suggest labeling the container with the date when you open it to make sure you are always using fresh powder.
fresh blueberries— whie we prefer fresh blueberries for this gluten-free blueberry muffin recipe, frozen and thawed works too if it isn't blueberry season and you're craving some of these fantastic muffins
kitchen gadgets and utensils for this recipe
stand mixer with a paddle attachment or large bowl with hand mixer
measuring cups and spoons
citrus juicer— we use our citrus juicer several times a week for dinner and dessert recipes
spatula
muffin tin— use this recipe with a mini muffin tin, traditional size, or jumbo muffin tin
bakery-style muffin liners— we love these tulip-style cupcake liners. They work perfectly for baking jumbo size muffins or cupcakes in a traditional-sized muffin pan, and they look just like the liners bakeries use.
How to Make Gluten Free Blueberry Muffins
Preheat the oven to 375°F. Line the muffin tin with nonstick spray or cupcake liners.
In a stand mixer with the paddle attachment or a large bowl with a hand mixer, cream the butter.
Add in the sugar and then the eggs one at a time.
Next add in the vanilla extract, lemon juice, lemon extract, and sour cream. Mix until combined.
Using the spoon and level method, add in the gluten free flour, xanthan gum if needed, salt, and baking powder. Blend, but do not over-mix the thick batter. This is crucial, especially in gluten-free baking.
Then gently fold the blueberries into the muffin batter.
Line and fill a 24 cavity mini muffin tin, 12 cavity standard size tin, or 6 cavity jumbo tin with cupcake liners.
These muffins will rise, so allow ⅓ space for batter to rise in the muffin liner.
Add 2-3 additional blueberries to the top of the muffin batter.
Transfer to the oven and bake for 33-35 minutes for jumbo size, 25-30 minutes for traditional size, 16-18 minutes for mini muffins. These times are approximate and dependent on bakeware and oven temperature.
Remove muffins from the oven when an inserted toothpick comes out clean and the muffins are lightly golden brown in color.
Let muffins cool while sitting on a wire rack.
Storage
For best results, allow your delicious blueberry muffins to cool and store them in an airtight container on the counter for up to 3 days for the best flavor.
frequently asked questions
Can frozen blueberries be used
Yes. You need 2 cups of fresh or frozen blueberries for this recipe, plus more for topping batter just before baking. While we prefer using fresh blueberries, you can use frozen if that is what you have on hand.
If using frozen berries for this gluten-free muffin recipe, thaw them first and remove any excess liquid before adding them to the muffin batter.
Can these be made with traditional dairy ingredients
Yes. We are often asked what should be changed in our recipes if you are baking with traditional dairy products.
For this recipe, you can equally substitute with traditional sour cream or even buttermilk for the sour cream, and use your go-to traditional unsalted butter.
Can we freeze these
After these gluten free and dairy free Blueberry Muffins have completely cooled, place them in an airtight container and freeze for up to 2 months.
When ready to consume, allow to thaw in the refrigerator.
What size muffin tin works best
This Blueberry Muffin recipe will work with any size tin, but remember to adjust the bake time accordingly. Our favorite hack is to use bakery-style tulip cupcake liners placed into a traditional size muffin tin for jumbo muffins.
We modified this Blueberry Muffin recipe with gluten, dairy, and soy free ingredients from a traditional recipe found on the Sweet C's website.
Tips and Variations
If you are watching your sugar intake and want to decrease the use of granulated sugar, you can use maple syrup in place of the white sugar.
If you are finding that your blueberries are sinking to the bottom of your muffin batter, all you have to do is place your blueberries in a small bowl and sprinkle with some gluten free flour before placing them in your muffin batter. This is the best way to prevent them from sinking.
Having trouble transferring muffin batter to your liners? Here's our easy hack- grease your ice cream scoop with some dairy free butter or coconut oil and use the scoop to transfer your batter to the tins.
Before handling your muffins, let them cool for a few minutes so you can easily and safely pick them up to transfer them to a cooling rack.
Want to make these egg free? You can use your favorite egg replacement in place of the egg mixture. We haven't tried it personally, but a few readers have successfully made these using flax eggs and other egg replacements.
We find using room temperature butter (dairy free) is easiest to cream and makes for the best gluten-free blueberry muffins.
If you don't want to use the dairy free sour cream, you can use dairy-free milk (like almond milk, coconut milk, oat milk) or dairy free butter milk.
You can add a few extra blueberries to your muffin batter in the muffin liners as you put them in the oven.
If this is the first time you're making these dairy free blueberry muffins, be sure to keep an eye on them as they bake since every oven bakes a little differently.
delicious muffin and quick bread recipes
If you love the dairy-free blueberry muffins, you'll love these treats.
You can also find more of our favorite recipes on our eBook, The Classics, available for instant download. In this eBook we share 16 easy breakfast, dinner, and dessert recipes everyone loves and prepares time and time again.
We also have our physical copy of this cookbook that has been updated to have 20 recipes (5 breakfasts, 5 dinner recipes, and 10 desserts!) See it below.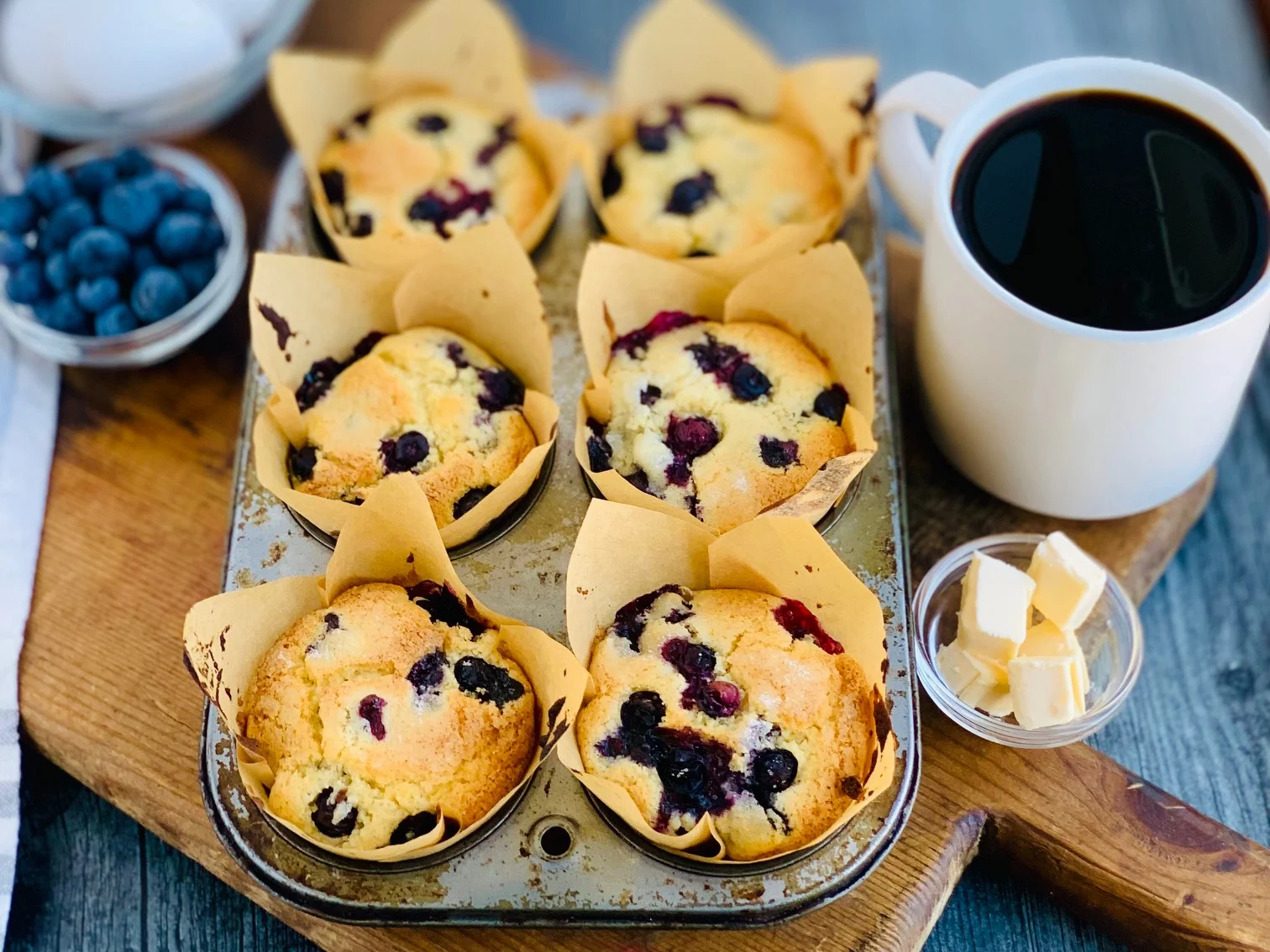 lastly
Gluten and Dairy Free Blueberry Muffins are always a good idea for snacking, adding as a side dish to your dinner, brunch, or even taking with you for a weekend away.
They are packed with juicy blueberries and a hint of lemon, making these muffins out of this world YUM.
Make sure to follow us on Instagram and Pinterest to keep up with all our new recipes. Tag us if you make the recipe on IG or share your thoughts by commenting on the pin on Pinterest. If you try this recipe, feel free to give it 5 🌟 below
Eat Well and Feel Well
Pin It For Later