These Cranberry Apple Walnut Chickpea Salad Pinwheels are perfect as a snack, lunch idea, or as part of a party buffet or spread. Full of refreshing flavors and super easy to make, you are going to love them.
When you think of pinwheels, you might think about pastry and a hot snack or side dish. But these Cranberry Apple Walnut Chickpea Salad Pinwheels are a cold alternative and are lighter than the usual pinwheels you might find recipes for.
The chickpea is a great source of protein making these a meat-free option. The flavor from the cranberries and the walnuts are a great addition to the chickpeas, and combined with the mayo and salad, along with the seasonings, and you have a very flavorful pinwheel.
These make a great alternative to a sandwich. Ideal for a party, a packed lunch, or a picnic in the summer. We love how light they are and the flavors really work well. The cranberries and walnuts add a bit of texture.
If you like the idea of the cranberry flavor and are looking for more recipes to use this ingredient then you must try these Cranberry Orange Scones. They are zesty and delicious. The perfect sweet treat and ideal if you have cranberries leftover from this recipe.
💜 Why You'll Love the Cranberry Apple Walnut Chickpea Salad Pinwheels
Super tasty - Cranberries, walnuts, and chickpeas are a great combination.
Kid-friendly - They will love the taste but also can get involved in making them.
Simple ingredients - You will likely have most of them in your pantry ready
Ingredients Needed
Chickpeas-- these are naturally gluten and dairy free. We like to use this brand, but any brand will do.
Mayonnaise-- you can use whatever brand of mayo you like that is gluten and dairy free. We like to use this one and this one for something different.
Small apple-- any variety of apple will do, red or green, sweet or tart, they'll all work
Small celery rib
Dried cranberries-- these are our go to cranberries. If you want frozen cranberries, we use these.
Chopped walnuts
Spices- Garlic powder, Onion powder, Salt, and Black pepper. Always check that your spices are gluten and dairy free
Lettuce
Gluten Free flour tortillas-- these are some of our favorite tortillas, bu any ones that are gluten free will work
Helpful Tools
Serrated knife
Mixing bowl
Measuring Cups and Spoons
How To Make Cranberry Apple Walnut Chickpea Salad Pinwheels
Grab your apple and dice it into small pieces and be sure to leave the skin on.
Use a knife to cut the celery lengthwise and then chop them into small pieces, similar in size to your apple pieces.
Drain and rinse the can of chickpeas and add them to the mixing bowl.
Use a fork to mash the chickpeas some, while leaving some larger pieces.
Add mayo to the chickpea mash and mix before adding the rest of the ingredients to the mixing bowl. Mix until well combined.
Lay out 4 tortillas and divide the mixture between them evenly. Spread the mixture out and leave some room towards the edge.
Add the lettuce and roll them into the pinwheels.
Use a serrated knife to slice, serve, and enjoy.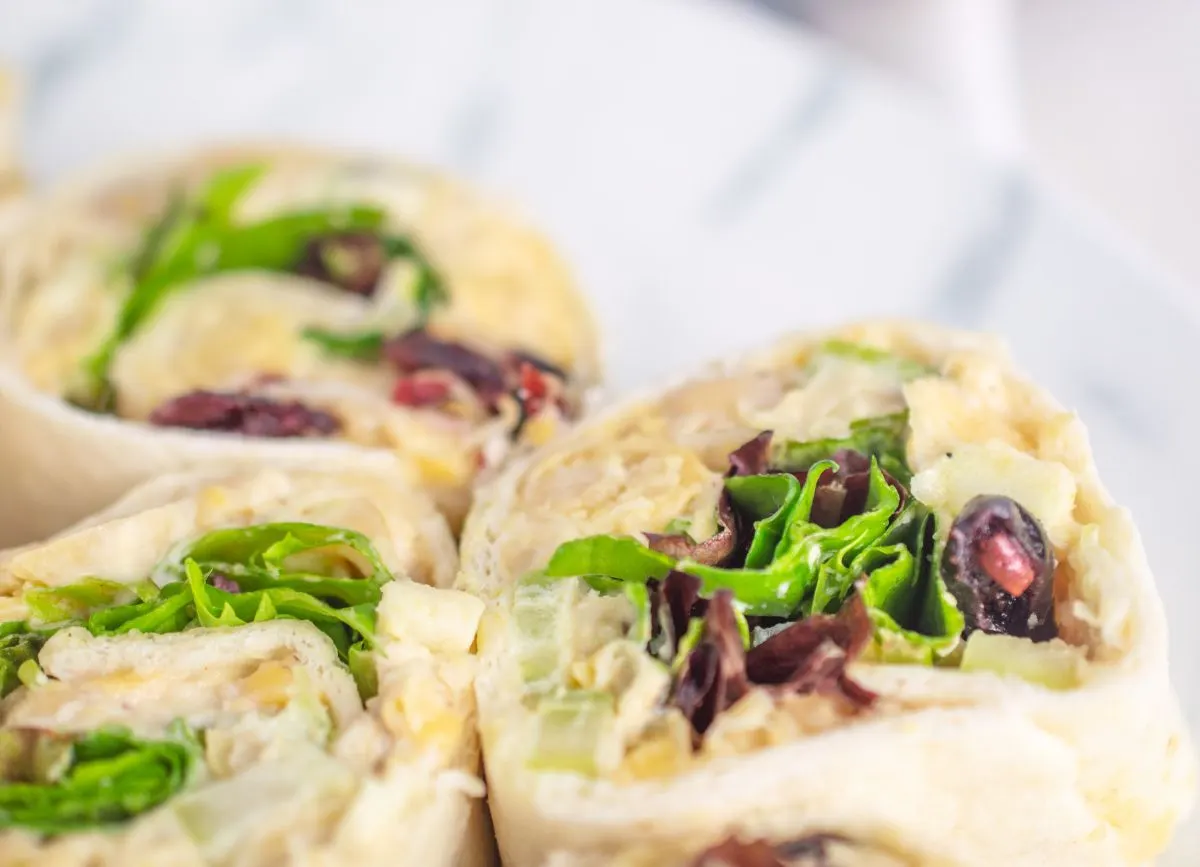 Recipe Variations
Want to reduce the calories? You can swap out the mayo and use low-fat greek yogurt instead.
Want to add some meat to this? Then why not look to make a chicken salad option and add that to the pinwheel. Cooked chicken will be a great addition and will work well with the flavors.
Would any other ingredients work well with this? You could look at adding red onion, goat cheese, a creamy dressing, kale salad, fresh herbs, bell peppers, feta cheese, and even some cooked wild rice to make things a little different.
Can't get any fresh cranberries? You could use cranberry sauce instead.
What could I use instead of the mayonnaise? You could make it vegan by using vegan mayo, or you could look at using a cream cheese mixture instead. A sprinkle of fresh lemon juice will also work well with the flavors.
Try different tortillas. You could use spinach tortillas instead to add a bit of extra nutrition and added flavor.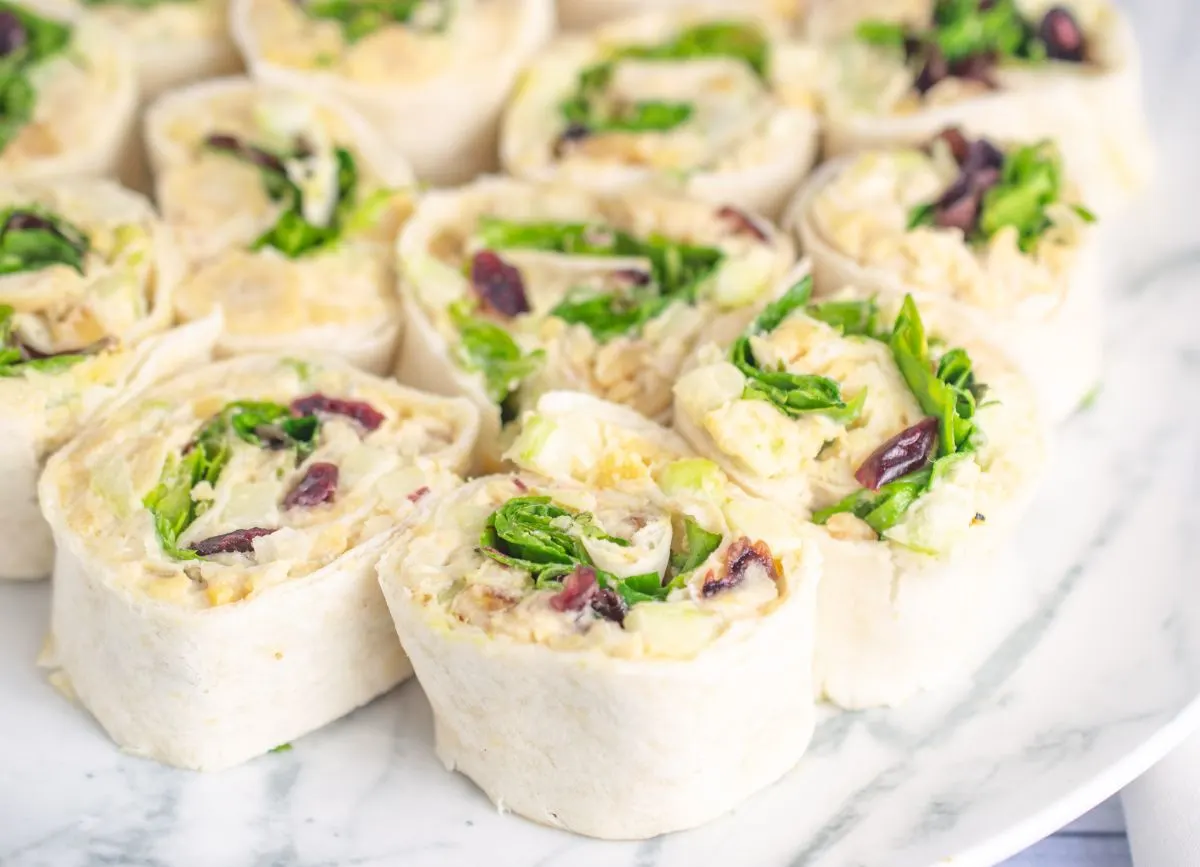 Tips & Tricks
The size and number of pinwheels will depend on the tortilla you are using and also the amount of salad you use.
Be mindful that the ends won't be as full as the center cuts. You may just want to trim the ends.
This is a really versatile method to use and you could try it or so many different healthy lunch ideas. You could make tuna melts, add a hard-boiled egg, crunchy celery, and a different bed of greens to make this more unique to you. Make sure you are dressing ingredients with some sort of dressing or seasoning.
Storage
These pinwheels will need to be stored in an airtight container in the refrigerator and will last up to four days. They are not suitable for freezing but can be made ahead of time if you need to.
FAQ
How do you keep a tortilla pinwheel from going soggy?
If you are dealing with wet ingredients and are conscious of having a soggy pinwheel don't despair. You can avoid this by creating a moisture barrier layer. Well-dried-out lettuce or spinach as an addition could work really well with this recipe. If you are eating them straight away then you shouldn't have a problem with sogginess.
Can you make these ahead of time?
Sure! You could make these Cranberry Apple Walnut Chickpea Salad Pinwheels up to 24 hours in advance. It could save time if you are preparing them for a party.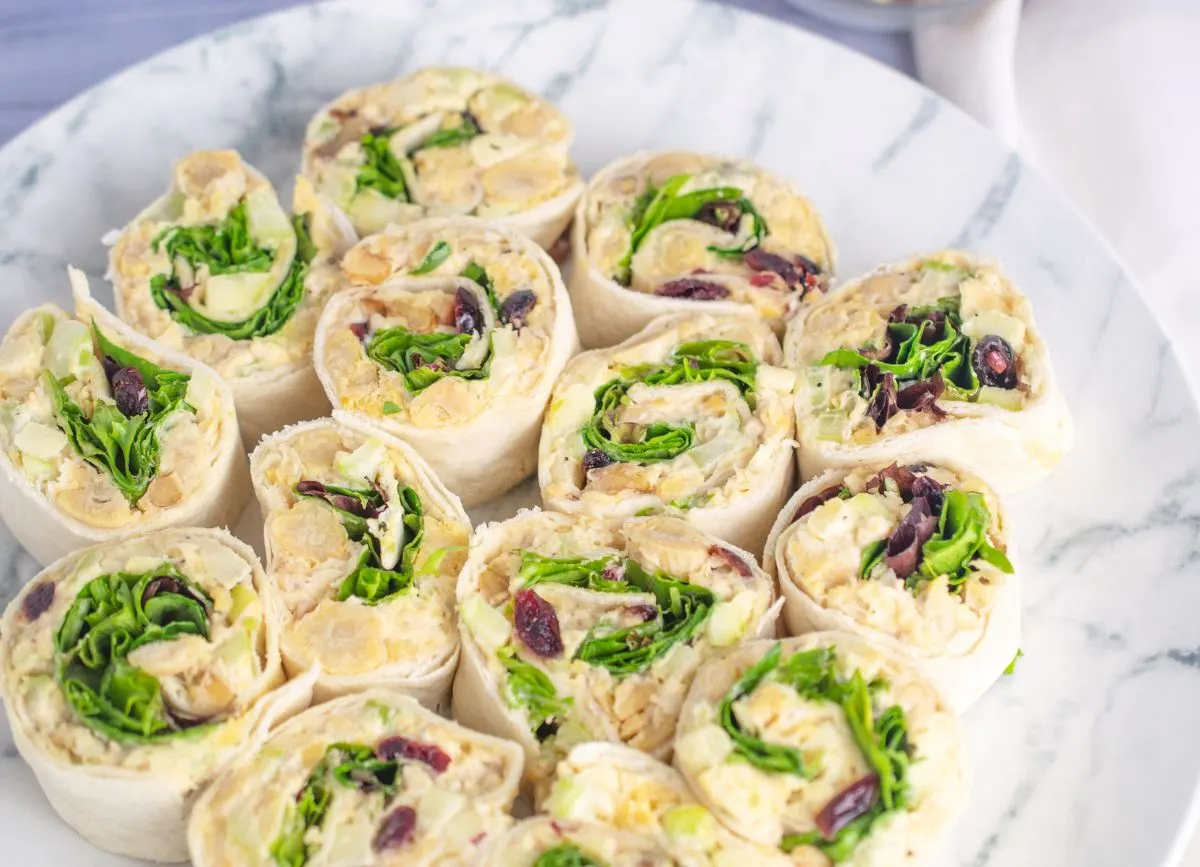 Other Nutty recipes
Walnut brownie sundae - A delicious chocolate brownie with the flavor of walnuts running through it. An incredible dessert that you have to try. Yum!
Strawberry salad - Strawberry Bleu Cheese Salad is prepared with loads of fresh, sweet, sliced strawberries, toasted nutty pecans, paper-thin red onions, crunchy salad greens, dairy free bleu cheese crumbles, and a tangy homemade balsamic vinaigrette everyone goes wild for.
Chocolate peanut butter layer brownies - These bars are stacked with 3 layers of heaven. The bottom layer features a soft, fudgy brownie topped with peanut butter. Then a top layer of sweet chocolate and marshmallow mixture for the perfect brownie treat.
Make sure to follow us on Instagram and Pinterest to keep up with all our new recipes. Tag us if you make the recipe on IG or share your thoughts by commenting on the pin on Pinterest. If you try this recipe, feel free to give it 5 🌟 below
Eat Well and Feel Well
Pin It For Later