Tender gluten free spaghetti lathered in an egg sauce with plenty of dairy free parmesan cheese and chunks of bacon in every bite. This easy Gluten Free Spaghetti Carbonara is not only incredibly simple to make, but it is incredibly delicious!
You no longer have to get upset when you're living a Gluten and Dairy Free life and are craving Italian food! How, why you ask?! Well, let me introduce you to one of our favorite Gluten Free Artisinal Pasta- made by Charlie's Table.
This pasta tastes just like traditional wheat pasta and is made from eggs and a few other ingredients, that really enhances the taste of the egg sauce in this Pasta Carbonara.
This post was sponsored by Charlie's Table, but all opinions expressed here are our own.
🍝 Why You'll Love This Pasta Dish
Ready in about under 30 minutes
Super simple to throw together
Made with dairy and gluten free ingredients
A dinner meal the whole family will love
Ingredients Needed
gluten free spaghetti- we like to use Charlie's Table pasta, but you can use any gluten free brand you prefer
bacon- always be sure you're getting gluten-free bacon. Our favorite safe go-to brands for gluten free bacon are Applegate's Sunday Bacon, Dietz and Watson, Welshire Farms, and Hormel. Grab whichever you have available to you.
garlic cloves
eggs- we like farm fresh eggs from our own chickens, but you can grab them from the store if needed
salt- we like kosher or sea salt
fresh ground black pepper- the more the merrier in this dish
lemon- we used juice and zest for more flavor
dairy free parmesan cheese- use your favorite dairy free parmesan cheese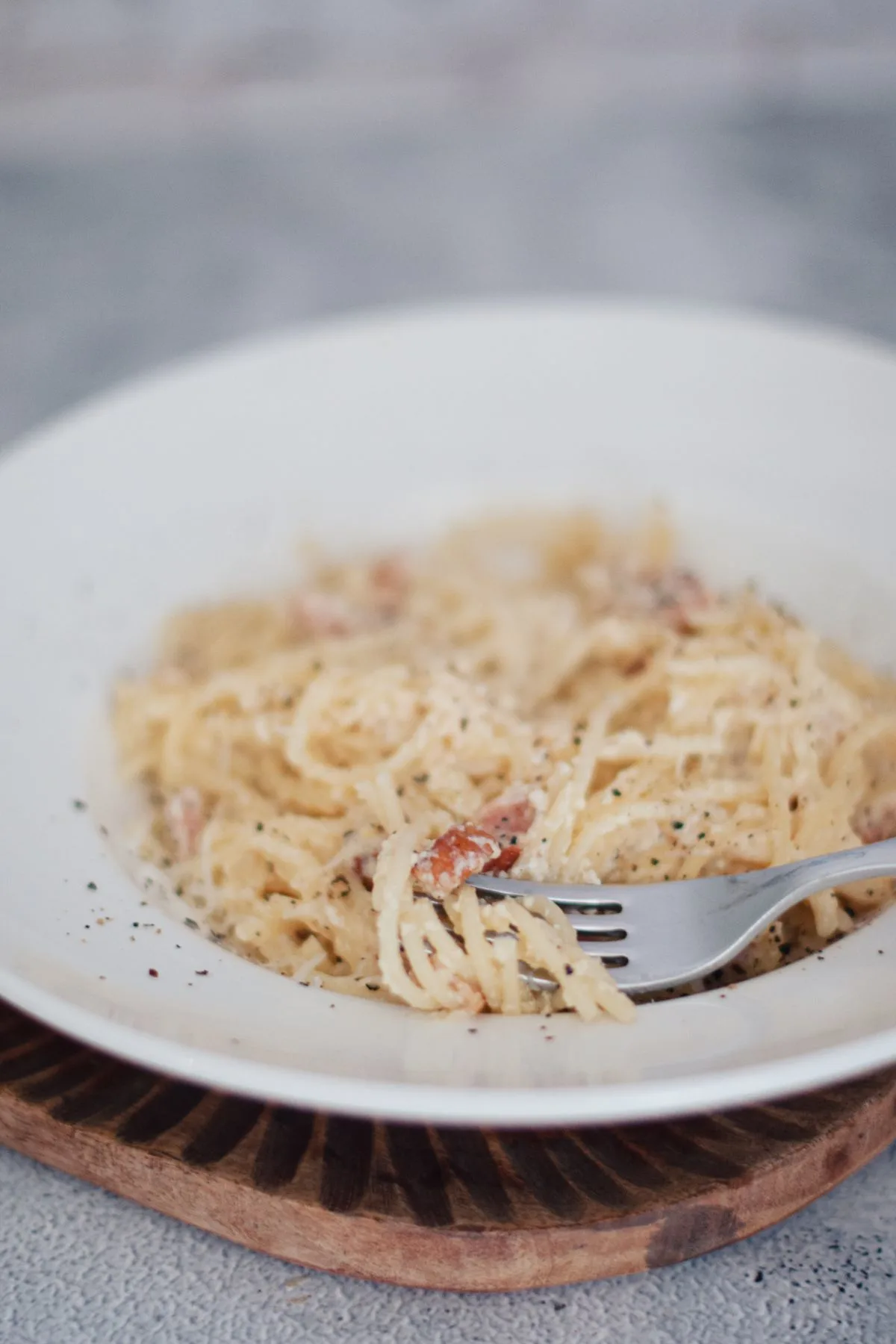 Helpful Kitchen Tools
Large pot
Collander
Measuring Cups and Spoons
Large Skillet
Mixing Bowl
Whisk
How to Make Gluten Free Pasta Carbonara
Cook spaghetti according to the instructions on your pasta container in a pot of salted water. Once the pasta has cooked, reserve about a half cup of hot water to use for sauce, strain the pasta and dump the rest of the water out.
In a large skillet over medium-high heat, add bacon and cook until it reaches your desired level of crispiness. Add garlic to skillet and cook until fragrant, about 30 seconds to a minute. Remove from heat and break up bacon into bite size pieces. Drain excess bacon grease.
In a medium mixing bowl, whisk eggs, salt, lemon juice and some zest (if desired) and parmesan cheese. Carefully pour in the hot water to this mixture and whisk again until all is well mixed.
Add cooked pasta to the bacon and garlic and then carefully pour this mixture over the top. Stir everything together to ensure the sauce mixture covers the pasta well. The sauce will thicken as it coats the pasta.
Add as much fresh ground black pepper to your pasta as desired, salt to taste.
Garnish with more parmesan cheese and enjoy.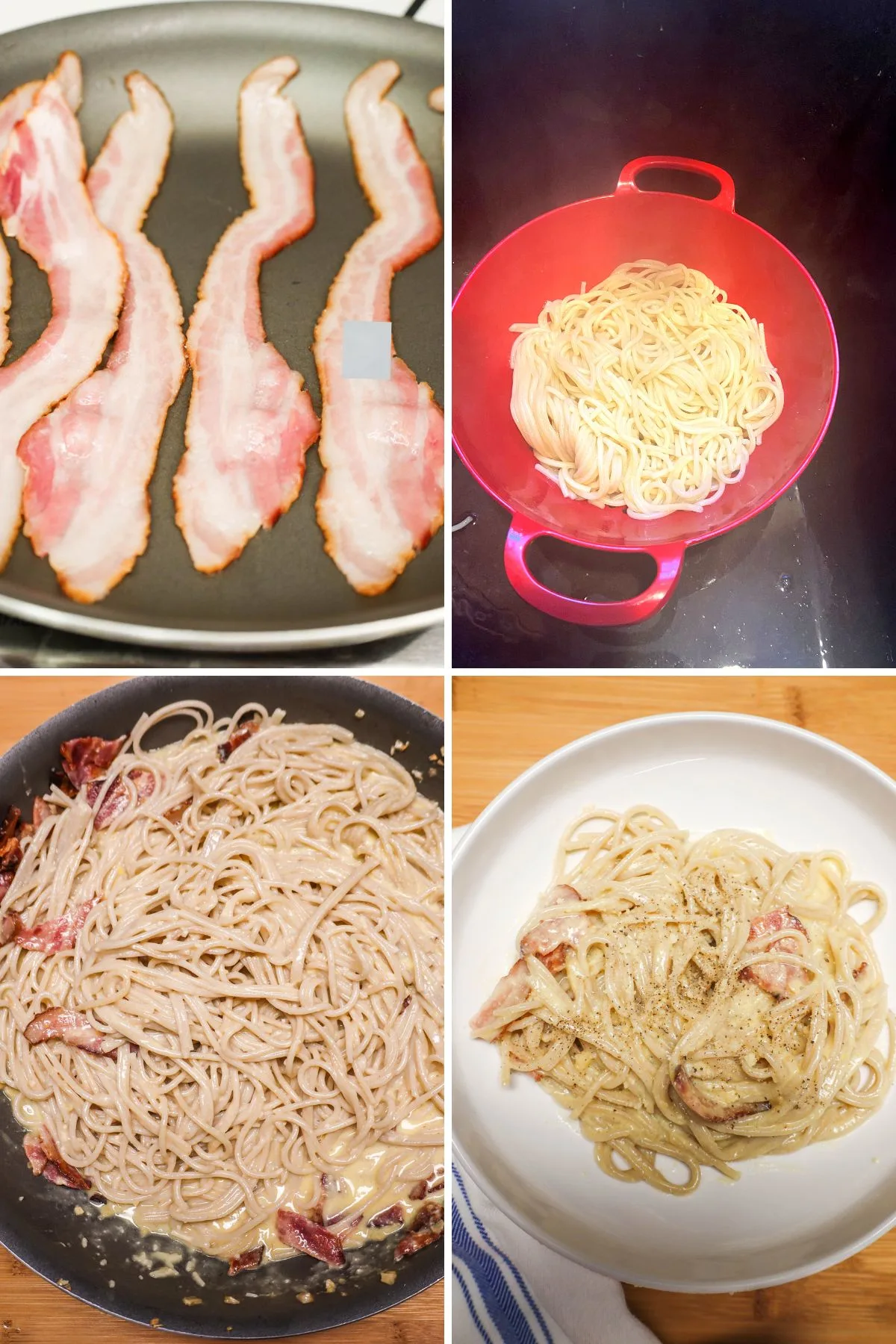 Storage
Leftover carbonara needs to be stored in an airtight container and kept in the refrigerator for up to 3 days. Because of the ingredients, it needs to be refrigerated when you aren't serving it.
Reheat the leftover pasta carbonara in the microwave, or preferably on the stovetop with some fresh eggs.
Tips and Variations
We like to really load this up with fresh cracked pepper, but you can change this up to fit your taste buds. You can also add other spices and herbs for other flavorings.
We like to add dairy free parmesan cheese, but you can add other dairy free cheese options like romano or maybe a dollop of a dairy free cream cheese (Kite Hill is our go to brand) and see if you like that.
Always follow the pasta directions on the container that you're using, especially with gluten free pasta. The cook times can vary widely depending on what they use as the base of the pasta. We realllllly like Charlie's Table because they cook up so nicely and evenly. Plus, you can cook them straight from the freezer!
Don't forget to check your spices and bacon for any hidden allergens.
Be sure to work quickly when whisking the egg mixture and then adding it to the pan with the pasta and hot water. You want your pan still hot and the pasta still hot to help cook the egg yolks so they're safe to eat.
If you don't want to use pasta water, you can use chicken broth, beef broth, or vegetable broth or stock.
You can omit the lemon juice and zest altogether if you don't like it.
Some carbonara recipes just use yolks, we use both the egg yolk and white to get the full nutritional benefits that you get from them both. But, you can choose to just use yolks if desired.
What type of pasta is used in carbonara?
Typically Pasta Carbonara is made with spaghetti pasta. But, as always, you can change this out to other gluten free pasta varieties.
Should you add cream (dairy free cream) to your carbonara?
Traditionalists will say NO to adding cream or dairy free cream alternative to your carbonara as the only creamy type factor you should get should be from the eggs.
What to Serve with Pasta Carbonara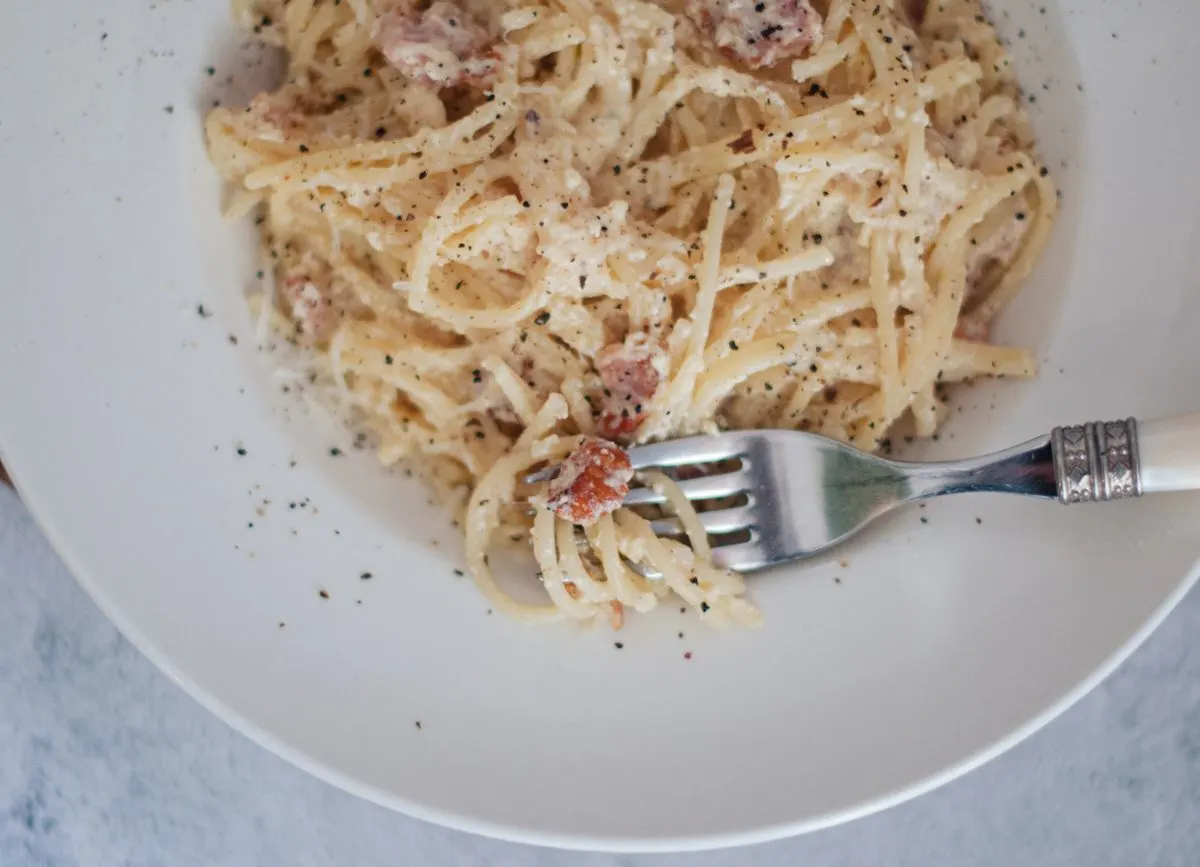 Other Pasta Dishes You May Like
Manicotti— stuffed manicotti noodles filled with soft spinach and creamy ricotta filling in a pan of perfectly seasoned ground beef and marinara sauce, then topped with fresh parsley. The whole family enjoys this.
Shrimp and broccoli pasta-- another favorite made with Charlie's Table pasta. Perfect way to enjoy some seafood and veggies.
Chicken Noodles-- a hearty and filling way to make dinner. Comfort food at its finest.
Spaghetti Pie-- take your classic Italian spaghetti and put a unique yet delicious twist on it with this easy recipe.
Sundried Tomato Alfredo Sauce-- the perfect Italian inspired sauce to put on your pasta- but made with gluten and dairy free ingredients!
Make sure to follow us on Instagram and Pinterest to keep up with all our new recipes. Tag us if you make the recipe on IG or share your thoughts by commenting on the pin on Pinterest. If you try this recipe, feel free to give it 5 🌟 below
Eat Well and Feel Well
Pin It For Later