This Air Fryer Squash is such an easy way to cook this vegetable and gives you incredibly tasty results. An ideal side dish or use it as the main ingredient for a wonderful veggie dish. Such an easy recipe, you will love it!
When it comes to cooking vegetables they can often get sidelined for the other elements of the meal. A vegetable side dish can be incredible just as much as the main ingredient itself, and this is where the Air Fryer can transform how you cook vegetables.
Tryst me when I say, this Air Fryer Squash is going to blow your mind.
As with many Air Fryer recipes, it is simple to make with only a handful of ingredients to add flavor, the Air Fryer will cook up this squash so much faster than it would take to cook it in the oven.
By speeding up the princess it means that you can feel confident adding squash as a side dish for your main meals or even using it in other ways once the air fryer has done its thing.
We love the taste and flavors and the best part is you are only using staple seasonings that you will have in your pantry. How great is that?
If you really enjoy using your air fryer then you must try these Air Fryer Mushrooms. They are simple yet so delicious. A great side dish that will work with so many dishes.
💛 Why You'll Love this Air Fryer Squash
Simple to make - The Air Fryer does all the hard work for you.
Simple ingredients - No need to rush out to the grocery store with a long list. These are common pantry staple ingredients
Kid-friendly - It opens up their taste buds to new and exciting vegetables to try.
Quick - This is a fast side dish recipe that is ready in under a half hour
🧂 Ingredients Needed
Yellow squash
Paprika - always check to make sure you're using a gluten free spice, we like McCormick spices
Garlic powder
Black Pepper- we love to use this black pepper grinder for our recipes.
Salt- we like to use kosher salt, but you can use sea salt as well
Olive oil - you could also use grapeseed or avocado oil
💪 Helpful Tools
Air Fryer
Mixing bowl
Measuring cups and spoons
How To Make the Air Fryer Squash
Gather all of the ingredients together and turn on the Air Fryer. Preheat your Air Fryer to 400 F.
Grab a knife and slice the squash into ¼" thick slices or pieces so that you can ensure they cook evenly.
Add the sliced squash to a mixing bowl. Toss in the oil and spices. Make sure you take the time to fully coat the squash in the large bowl. You want to ensure that every bit of the squash will get the flavor of these spices and herbs.
Place each slice of squash in the basket of your Air Fryer in a single layer. Avoid placing any of the squash on top of one another. You may need to cook the squash in batches depending on the size of the squash and how many slices you have.
Cook each batch at 400°F for 15 minutes. The cooking time might vary depending on your fryer.
Once the Air Fryer has finished, make sure you let the squash cool and then serve. Enjoy!
Recipe Variations
Want to add a bit of spice? You could use chili flakes or chili powder as an extra seasoning when coasting the squash to give it an extra kick,
Keep it basic. Even though we suggest using different seasonings you can definitely stick with basic salt and pepper flavoring and the Air Fryer Yellow Squash will still taste amazing.
What about other vegetables? You could follow this simple recipe or other vegetables. You could make air fryer butternut squash in the same way, or even mushrooms, green zucchini, or bell peppers.
Want to add more flavor? Some cho[pped fresh herbs could be a great addition. Italian seasoning is another wonderful way to add flavor to this delicious side dish.
What if I don't have an air fryer? You could use a convection oven. Lay all of the squash slices on a baking sheet and drizzle with the oil and seasoning. Cook until they are golden brown.
Can I use frozen squash in Air Fryer? You could, but this will be a recipe that is best using fresh yellow squash. You will need to adjust the cooking times for frozen vegetables.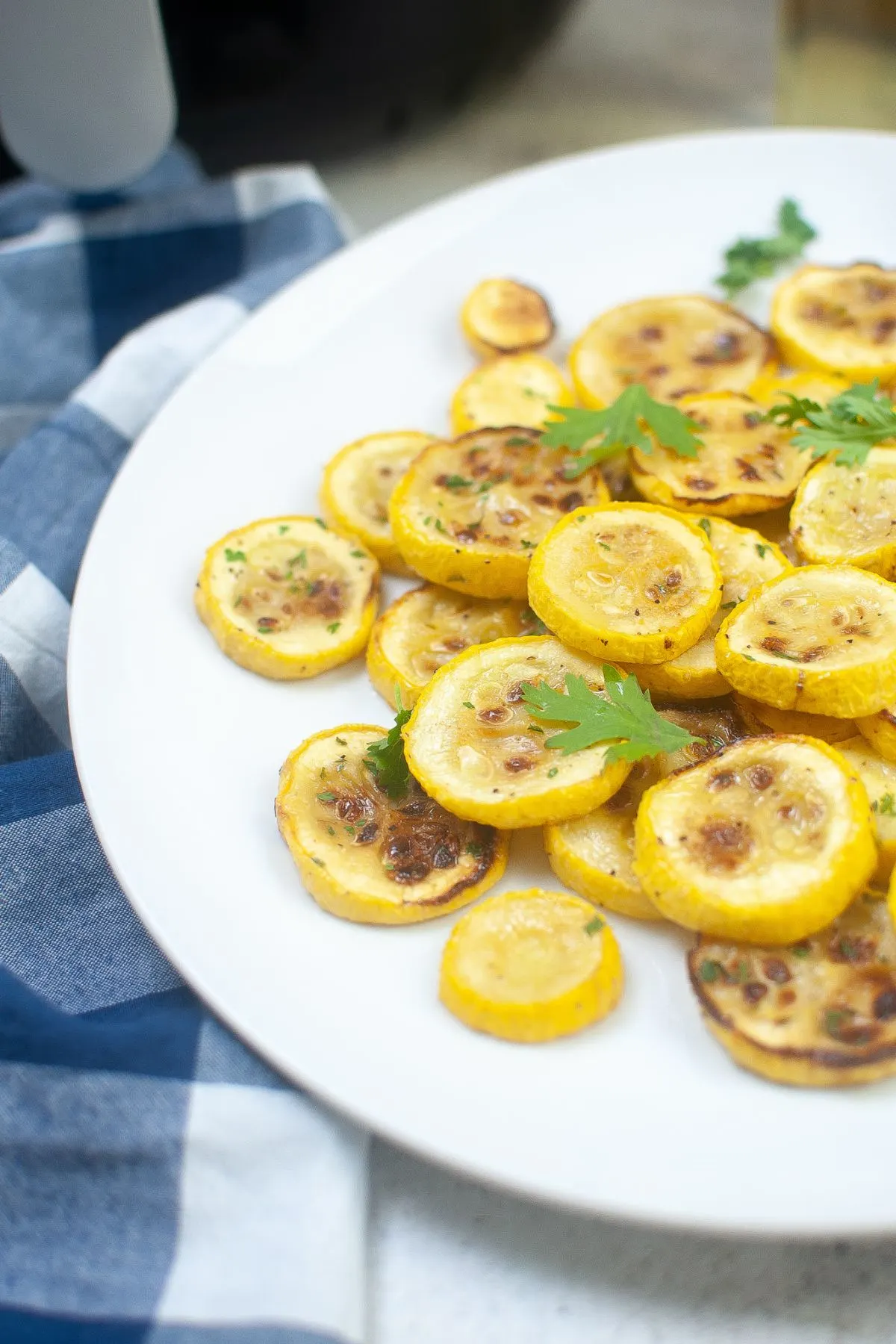 Tips & Tricks
Preheating the Air Fryer is important to ensure that you can cook the squash quickly and evenly.
Don't put squash slices on top of each other. If you need to then cook the squash in batches. If the squash is stacked you can't guarantee that they will all cook evenly.
Don't overcrowd the Air Fryer basket, you need to make sure the Air Fryer has enough room around the food to circulate the hot air around to cook your squash.
Air Fryer temps may vary depending on the make and model, so check on your squash as it cooks and adjust cooking time as necessary.
Always check your seasonings, spices, and herbs for any hidden gluten or dairy.
Storage
If you have leftover squash that you want to store then you will need to let them cool completely before adding them to an airtight container.
You can then reheat your Yellow Squash in Air Fryer recipe when you want to enjoy the leftovers. They will last in the refrigerator in an airtight container for 3-5 days.
We don't suggest trying to freeze this yellow squash.
FAQ
Does squash really work in an air fryer?
We think so! It is so quick and easy to cook a vegetable that traditionally would take a little longer to prepare and cook. The Air Fryer does all of the hard work for you and it is super tasty! You can also add flavors to it which makes this dish very versatile.
Is it unhealthy to air fry vegetables?
When you have ingredients that are nutrient-dense like vegetables, whole grains, fatty fish, and lean meats you will generally find that they are just as nutritious when cooked in the air fryer as they would be in the oven.
An air fryer uses less energy, is quicker, and although it is fried as such, you really do use a minimal amount of oil. You may find that it is a great way to embrace healthy eating.
How do I reheat the squash?
You can pop it back in the air fryer for 3 - 4 minutes for it to reheat and crisp up. Yum!
What should I serve with this healthy side dish?
This simple side dish goes amazing with some of our favorite main dishes:
Other side dish recipes
Wedge Salad – The crunchy, crisp taste of this loaded Wedge Salad is unbelievable. Perfect for lots of main dishes.
Green bean casserole – The perfect comfort food side dish with homemade creamy mushroom soup, tender green beans, and crispy French fried onions.
Baked potato wedges – These taste delicious. Baked wedges are the perfect side dish for lots of main dishes and will be a staple in your meal plan.
Make sure to follow us on Instagram and Pinterest to keep up with all our new recipes. Tag us if you make the recipe on IG or share your thoughts by commenting on the pin on Pinterest. If you try this recipe, feel free to give it 5 🌟 below
Eat Well and Feel Well
Pin It For Later