These Mickey Mouse Christmas Cupcakes are so festive and incredibly easy to make. Using dairy free and gluten free ingredients you can make cute cupcakes that taste amazing.
You may have seen these adorable cupcakes around Disney World or Disney Springs. They're so popular and all the rage, so we knew you'd want to be able to make your own, safe cupcakes at home!
The festive period is full of lovely treats and things to eat, and these Mickey Mouse Cupcakes not only look incredible but they are super tasty as well. Perfect for the holiday season and any Disney fan.
It is really easy to recreate the Mickey ears sticking out from the festive-colored frosting. These will look gorgeous on your table as a dessert for a festive get-together or a sweet treat the kids will love. The magic of Disney can shine through at any time of year, especially Christmas.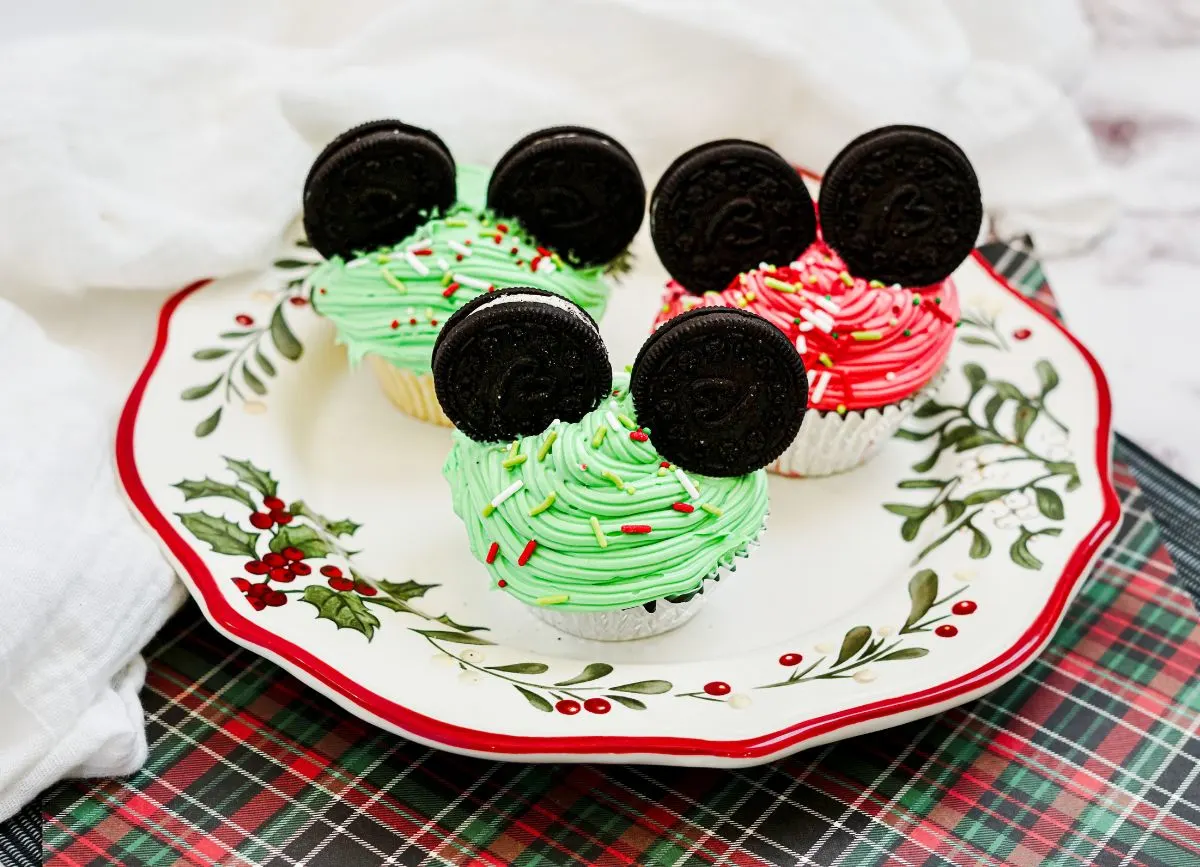 Usually, cupcakes are full of ingredients you would need to avoid but we have taken extra care to ensure that you can create tasty cupcakes using dairy-free and gluten-free alternatives during the baking and decorating processes.
These will be perfect or a Christmas party or get together with your family. A festive cupcake is an ideal way to finish off any meal that the whole family will love.
If you are looking for more sweet treats to devour then look no further than the Gluten and Dairy Free Mississippi Mud Cake. It is the ultimate and only chocolate fix you will need when craving something sweet.
💖 Why You'll Love the Mickey Mouse Christmas Cupcakes
Safe to enjoy - Using gluten and dairy free ingredients
Kid-friendly - who doesn't love a Mickey Mouse cupcake? A fun recipe to make.
Tasty and delicious - The cakes are super tasty and are the perfect sweet treat
Ingredients Needed
Oreo Cookies - (gluten and dairy free brands include Glutino and Kinnikinnick KinniTOOS chocolate cream sandwich cookies. Keep in mind Glutino does manufacture their "oreo" cookies with other dairy products and doesn't clarify their manufacturing process in regards to dairy, while KinniTOOS is a very allergen-free friendly brand. You will find their long list of "free froms" on their website along with their manufacturing processes here. If you are sensitive to dairy cross-contamination, we would suggest the KinniTOOS brand. These are what we will use as oreo ears)
Red food coloring
Green food coloring
Baking powder
Vanilla extract-- always ensure you're using allergen friendly vanilla extract
Eggs
Melted dairy free butter-- We used Earth Balance Buttery Sticks)
Gluten-Free Flour-- We prefer Bob's Red Mill Gluten Free Baking Flour. We buy it in bulk here. Doing so can save you so much money. Just for your information, this mix does contain xanthan gum in the blend.)
Granulated Sugar
Dairy-free milk -- use an unsweetened kind, whatever one you prefer. We tend to use coconut milk or almond milk
Dairy and gluten-free Vanilla buttercream frosting-- (You can buy a dairy and gluten free version of you can use this buttercream frosting recipe from our site and make your own)
Christmas sprinkles-- (our favorite gluten and dairy free brands are Sweets Indeed and Supernatural. The best thing about them is you can get them on Amazon (Sweets Indeed Sprinkles and SuperNatural Sprinkles). How convenient is that? The Supernatural sprinkles allergen statement is here, and a must read if you have life-threatening responses to cross-contamination. Also, we recommend these safe holiday sprinkles as another option.)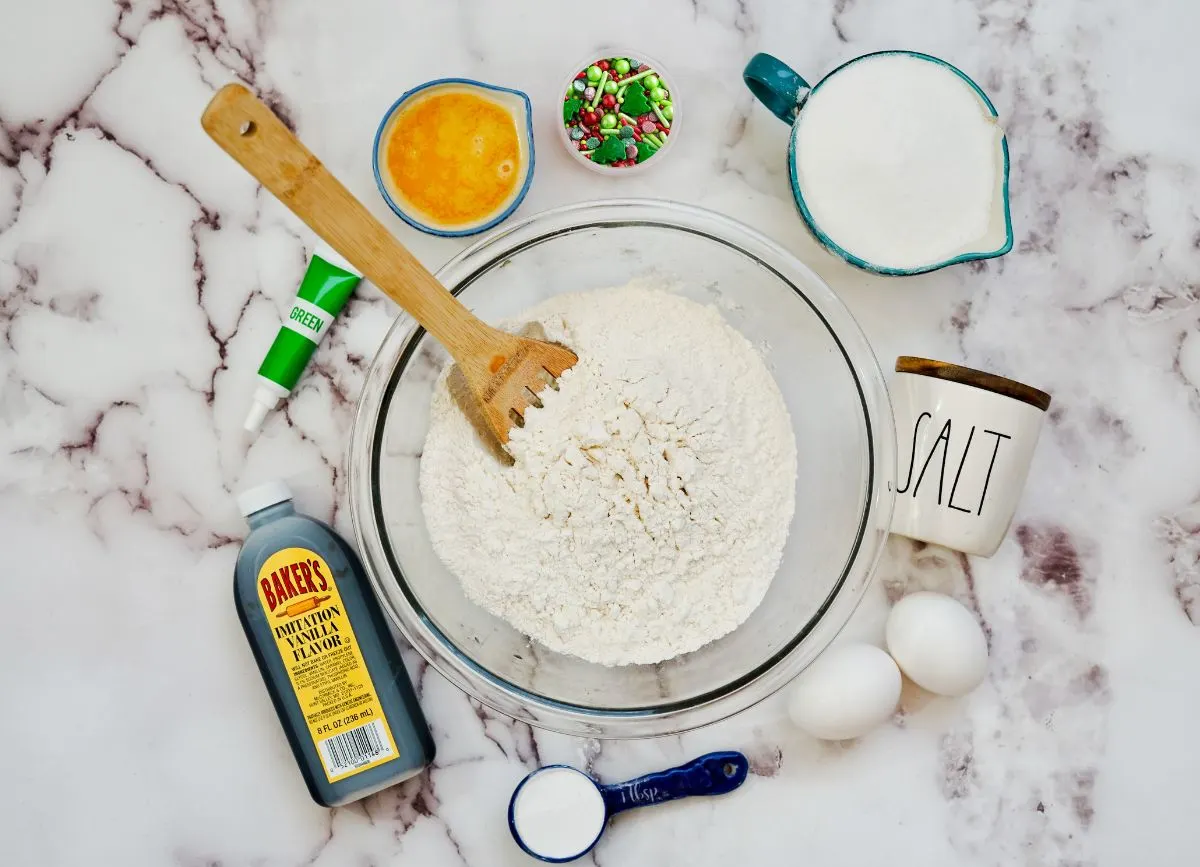 Helpful Tools
Cupcake liners
Measuring Cups and Spoons
Piping bag
Cupcake pan or tin
Spatula
Mixing bowl
Whisk
How To Make the Mickey Mouse Christmas Cupcakes
Preheat your oven to 350°F.
Line your cupcake tin and with your cupcake liners.
In a mixing bowl, combine flour blend, sugar, salt, and baking powder together. Make sure all of the dry ingredients are combined.
Now add the eggs, dairy-free milk, vanilla & melted dairy-free butter, and make sure you mix everything well. You could use an electric mixer to speed things up.
Pour the batter into the cupcake liners equally and then bake for 15-20 minutes.
While the cupcakes are baking, you can get to work with your decorations. Add red and green food coloring to the frosting and mix in a separate bowl to get the desired color.
Once the cupcakes are finished let them cool on a cooling rack before decorating. To frost, add the frosting into a pastry bag or piping bag to create a fun design and pipe them in a swirl over each cupcake.
Place two Oreo cookies (or the other gluten and dairy free ones that you choose) on each holiday cupcake to create your Mickey's ears. This will create your cute Christmas Mouse cupcake. Then add your sprinkles to finish them off.
Serve and enjoy.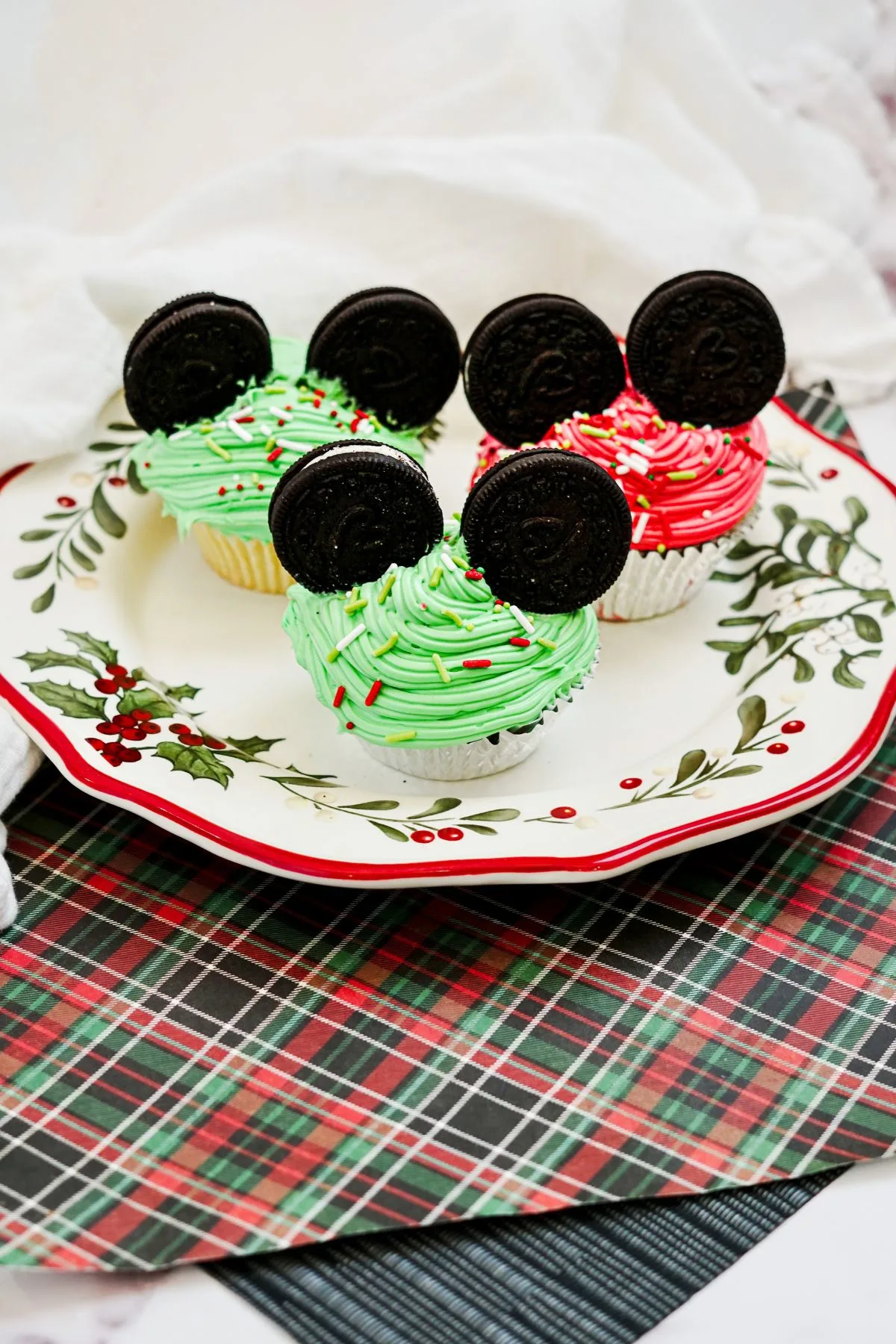 Recipe Variations
Want to use a specific dairy-free milk? We like refrigerated unsweetened almond milk, but any dairy-free milk alternative will work with this recipe. What is your favorite?
Could you make these Christmas Cupcakes vegan? There is a way to make these cakes vegan. The eggs are the only other animal product in this recipe as you are using dairy-free alternatives. So you can use a vegan alternative to eggs to make these Mickey Mouse Christmas Cupcakes vegan.
I don't want to use holiday sprinkles, what else could I use? We think holiday sprinkles add to the festiveness of these cupcakes but you don't need to use them. You can grate some dairy-free chocolate and sprinkle that on top, or crumble up some peppermint candies or cookies instead.
Do I need to add the Mickey ears? If you want to decorate these cupcakes differently then you can use this cupcake recipe and decorate for all sorts of occasions. Add a small candy cane instead, add candies with a theme, rushed mini Oreos, or sprinkle on some edible glitter.
You can also use different food coloring for different occasions. They also don't need to be saved for Christmas. You could have vanilla cupcakes for a Mickey Mouse birthday party. The Mickey cupcakes will look perfect and will go with all things Disney.
What sort of cupcake liners should I use? Red cupcake liners will look super festive but use what you have.
Could you make Minnie Mouse cupcakes? If you can pick up safe bow candies or create some out of dairy-free red frosting then absolutely.
Tips & Tricks
Make sure you check the ingredients you are using to ensure that they are gluten and dairy free. We have made some suggestions in the ingredients list to help you out.
You need to ensure that the cupcakes have completely cooled before adding the frosting. Otherwise, the frosting will melt away and you will end up with one big mess.
Mix the cupcake mixture well to get as much air into it as possible. The more air bubbles, the lighter and fluffy the cupcakes will be. Yum!
Storage
These are great cupcakes to enjoy and will last for up to a week when stored in an airtight container. You might want to store these in the refrigerator because of the frosting.
You can freeze these cupcakes for another day.
If you want to do that just refrain from frosting them and freeze them just as the cake. Take them out and frost them when you want.
They will last in the freezer in an airtight container or ziploc bag for up to 2 months. Ideal if you have a Disney birthday party coming up.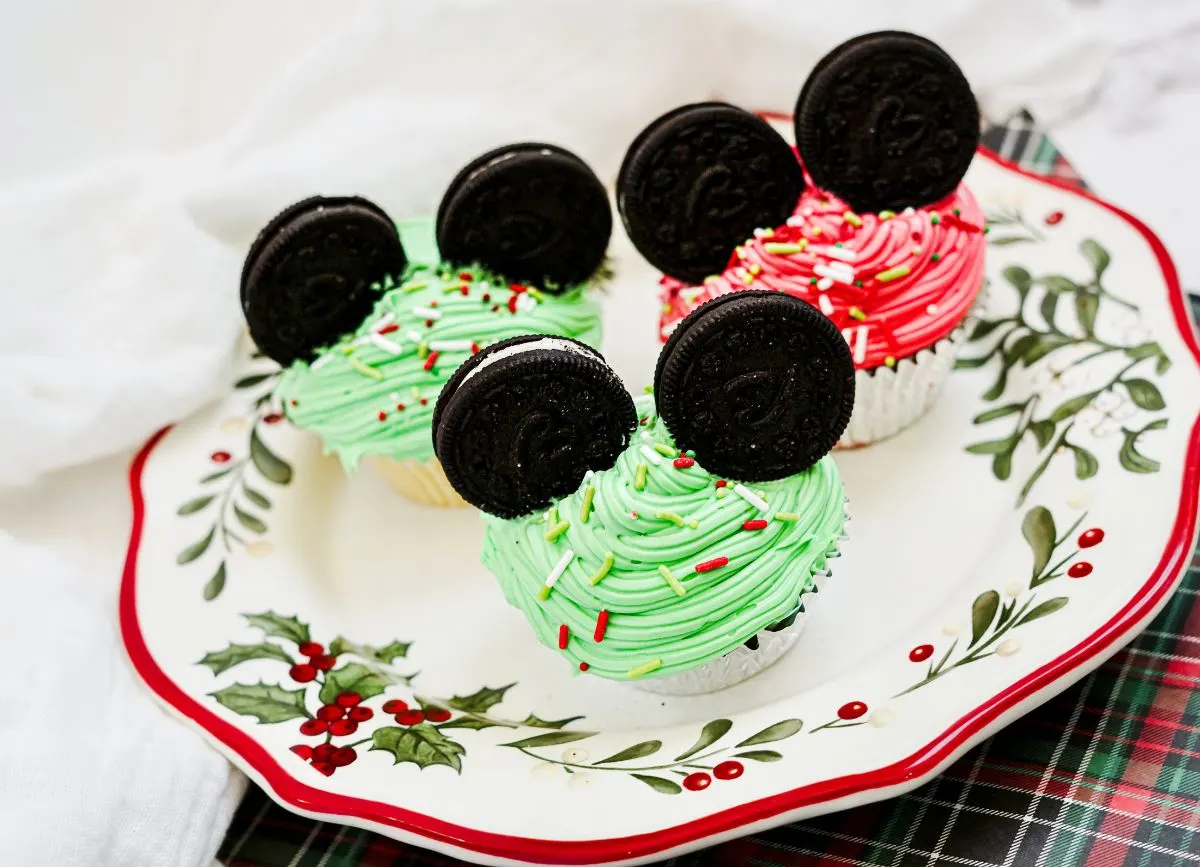 FAQ
What is the secret to a moist cupcake?
It is all about getting air bubbles in your cake mixture. This is what will make your cupcake light and fluffy. Make sure you mix your cupcake mixture well and add some air to it as you whisk and stir.
Could you add fruit to this cupcake recipe?
Absolutely. Blueberries work well as well as other berries. You can even add some frozen berries if you have them. Crushed bananas also work well and are super delicious. You can still turn them into Disney cupcakes.
More Christmas Desserts
Other cake recipes
Blueberry Muffins - Our incredibly moist Blueberry Muffins are loaded with fresh juicy blueberries sprinkled with a hint of fresh lemon.
Chocolate Loaf cake - Calling all chocolate lovers to this moist and decadent Chocolate Loaf Cake topped with homemade ganache.
Lemon Poppy Bundt Cake - a moist and tender Lemon Poppy Seed Bundt Cake with Lemon Cream Cheese Frosting. Super tasty!
Make sure to follow us on Instagram and Pinterest to keep up with all our new recipes. Tag us if you make the recipe on IG or share your thoughts by commenting on the pin on Pinterest. If you try this recipe, feel free to give it 5 🌟 below
Eat Well and Feel Well
Pin It For Later