You have got to try The Best Easy Eggnog Cake recipe that you are ever going to make. This incredible cake has the decadent flavor of eggnog and is a real crowd-pleaser. Perfect for your holiday parties.
We all know that during the holiday season we like to indulge in delicious treats and this creamy eggnog cake is going to be one that you are going to love. The cake is moist and crumbly, and the creamy eggnog frosting transforms the bake and creates a taste sensation.
There is no right or wrong amount of eggnog to enjoy during the holiday season and the best part is that you can enjoy it in cake form. It is the perfect dessert that will work for a sit-down meal or as part of a spread of party food.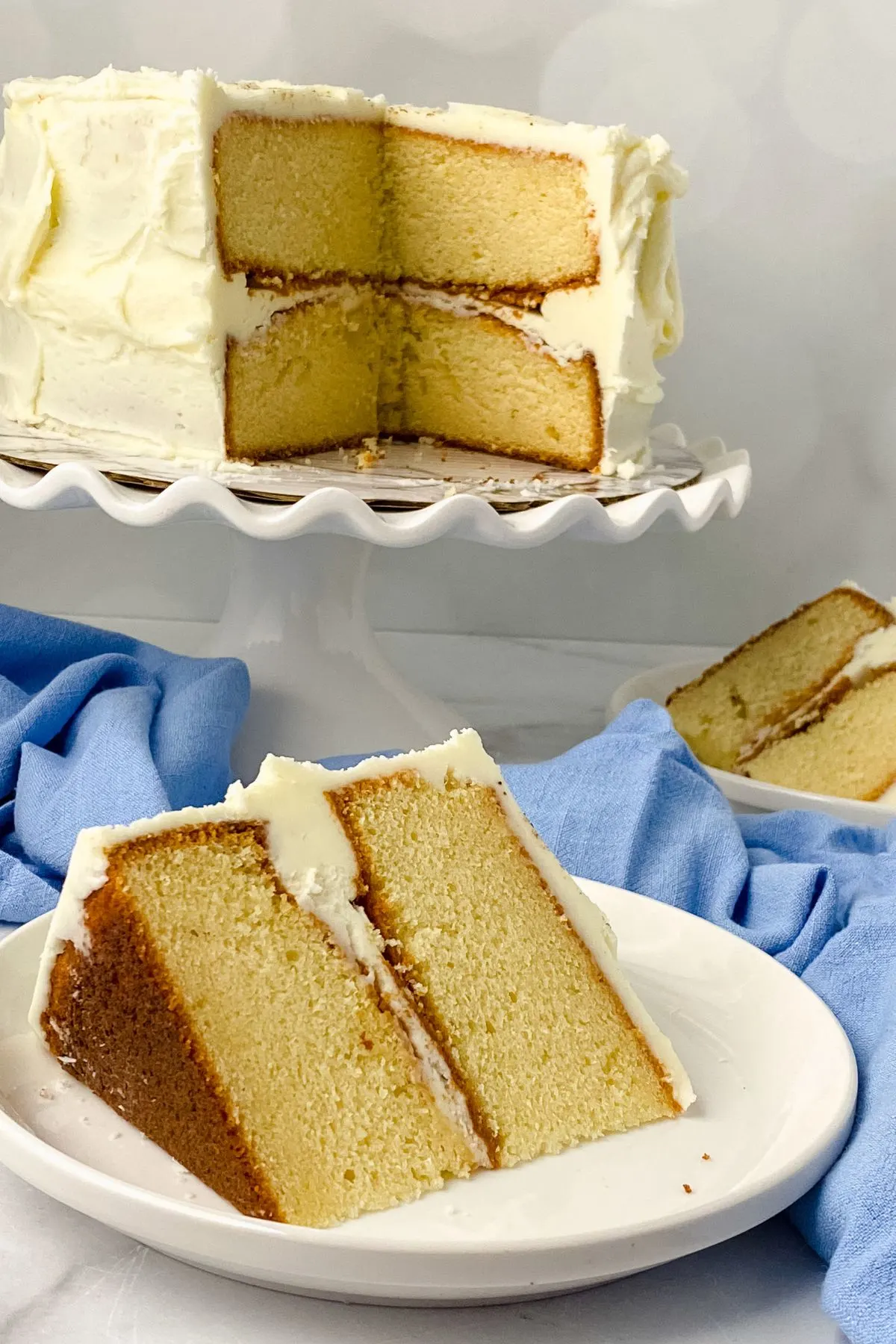 💜 Why You'll Love This Easy Eggnog Cake Recipe
Very festive - The perfect holiday cake recipe
Crowd pleaser - This will wow the guests. Perfect for a Christmas Eve party or other festive celebrations
Easy to make and you'll love that it's gluten and dairy free
Ingredients Needed
Dairy-free butter- we like to use Earth Balance Vegan Buttery Sticks - room temp butter is helpful and creams easier
Granulated sugar
Light brown sugar
Large eggs- room temperature eggs are best to use, we have suggestions on how to do that below
Vanilla extract- always check that your vanilla extract is gluten and dairy free, we us this brand
Dairy-free milk- we like to use either refrigerated almond milk, or shelf stable almond milk. Here's a favorite brand suggestion
Dairy-free egg nog- this brand is a favorite in our house, it's gluten, dairy, and soy free!
Gluten-free cake flour- we use this brand, if you can't find a gluten free cake flour, you can use a regular 1 for 1 gluten free flour choice
Baking powder
Kosher salt
Confectioner's sugar
Helpful Tools
Cake pans
Electric mixer
Measuring cups and spoons
Baking spray
Medium bowl
Angled offset spatula
How To Make The Eggnog Cake
This is the full recipe to make your very own Eggnog Cake with Eggnog Frosting.
Make the cake
Preheat the oven to 350F.
Prepare baking pans with non-stick baking spray, easy-off or dairy free butter, and Gluten-free flour.
In a medium sized mixing bowl with warm water, add eggs for 5 mins to bring them to room temperature.
In a large bowl, cream butter and both sugars until light and fluffy, which typically takes about 5-6 minutes.
Add in the eggs, one at a time, mixing the mixture well after adding each egg.
In another bowl, combine milk, eggnog, and vanilla.
Combine the flour, baking powder, and salt in a medium bowl.
Add half of the dry mixture to the butter mixture, followed by half of the wet ingredients. Be sure to mix well before adding in the next mixture.
Add the second half of the dry ingredients and the remaining wet ingredients.
Mix until just combined yet do not over-mix.
Divide the cake batter evenly between the two prepared cake pans.
Bake for 25-35 minutes or until you can insert a toothpick into the center and it comes out clean.
Remove cakes from oven and let them cool for 10 minutes, inside their pans and then flip them onto a cooling rack to finish cooling.
Make the frosting
Beat butter until it is creamy in a large mixing bowl.
Add in ⅓ of the powdered sugar, 2 tablespoons of egg nog, and vanilla extract to the butter.
Then add another ⅓ of the powdered sugar and 2 more Tablespoons of egg nog, mixing until combined.
Scrape down the sides of the bowl to make sure everything is getting mixed properly.
Add the final ⅓ of powdered sugar and egg nog to the mixture and mix on high until fluffy. Typically this takes 4-5 minutes.
The frosting should be soft and spreadable to add to your cooled cake when ready.
Assemble the cake
Place one cooled cake layer on a serving platter. Spread about ⅓ of the frosting over the top using an angled spatula.
Gently place the second cooled layer of cake on top of the egg nog frosting.
Spread the remaining frosting over the top and sides of the cake using your angled spatula.
Use your offset spatula or spoon to create a rustic pattern on the outside of the cake if desired.
Slice, serve, and enjoy.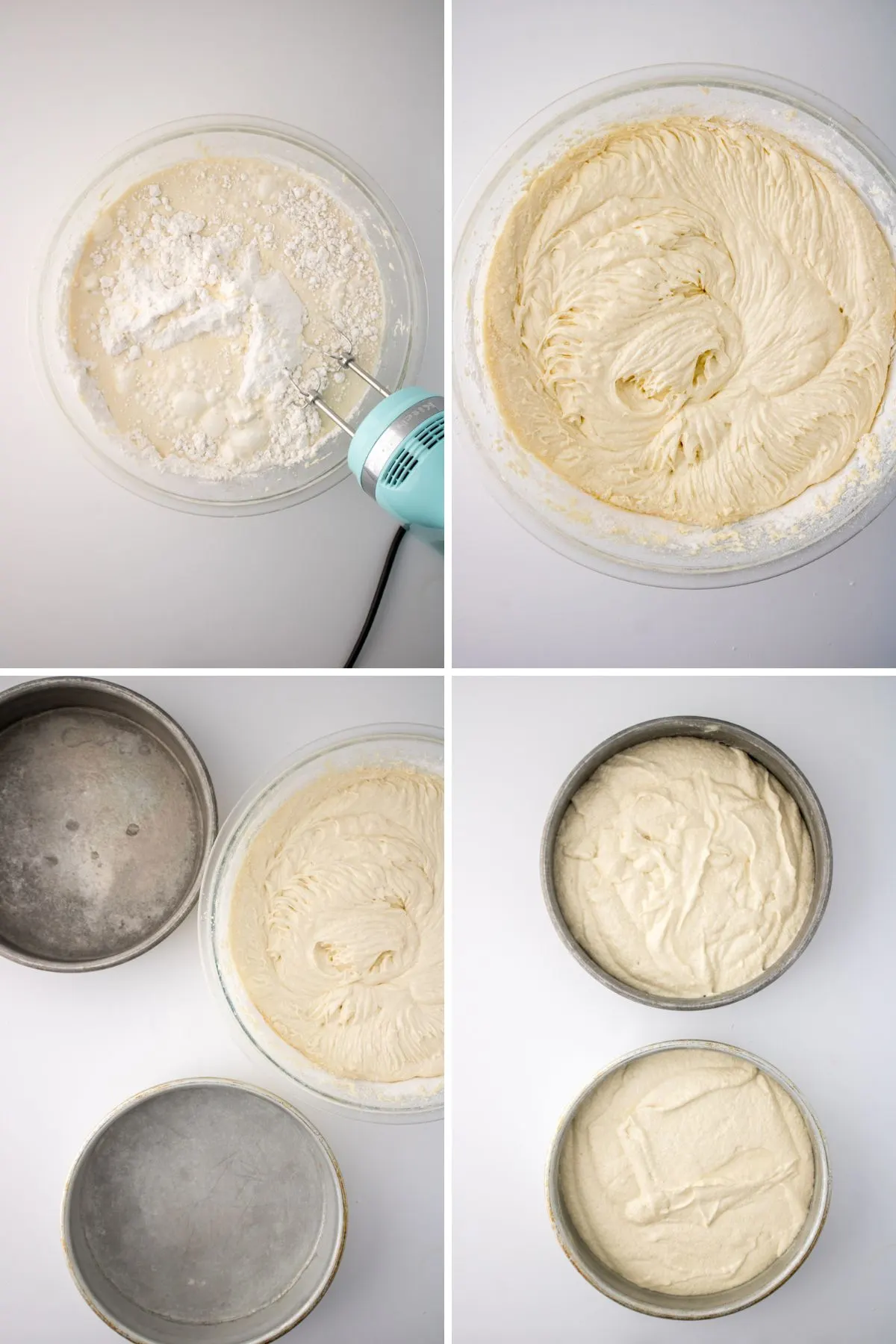 Recipe Variations
Do I need to use cake pans? If you want to present this cake differently then you could use a bundt pan. Bundt cakes look super festive and are perfect for the holiday season. This can still become a great eggnog bundt cake recipe.
Want to make it more decadent? Why not spike the cooked cake mixture with your favorite liqueur? You could add a little something extra to the sponge mix to make it moist and delicious. Make sure to do this once the cake has cooled on a wire rack.
Tips & Tricks
It is easiest to frost a frozen cake, it helps eliminate the crumbs. If time permits, freeze the layers of the cake before frosting.
A stand mixer or hand mixer will make light work when creating this cake batter.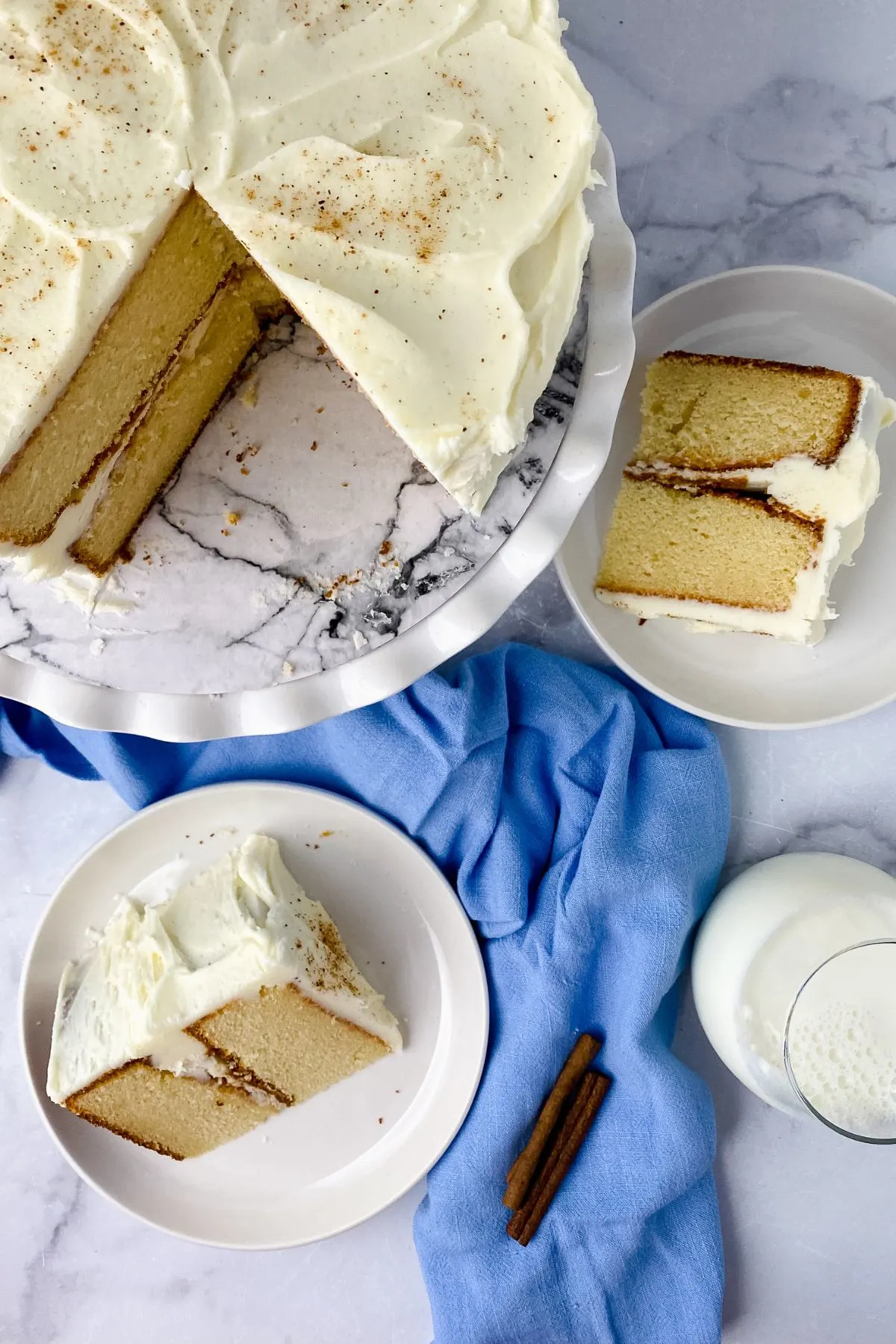 Storage
This eggnog cake is perfect to make ahead. You can double-wrap it with p[plastic wrap and store it in the refrigerator for 3-4 days. it will also keep in the freezer for up to 3 months.
You can add the frosting to an airtight container and also refrigerate it until you need it. If you have leftovers then add slices to an airtight container.
FAQ
How should you decorate the festive eggnog cake?
There are so many ways that you can decorate this eggnog cake with eggnog frosting. As it is, it looks delicious, but you could always add some grated chocolate over the top of the cake. The time of year also lends itself to some festive decorations that you might want to use.
What should I serve with the eggnog cake?
A lovely glass of eggnog (our recipe on our sister site, coming soon) would be nice but you could also serve it with some dairy-free ice cream as well.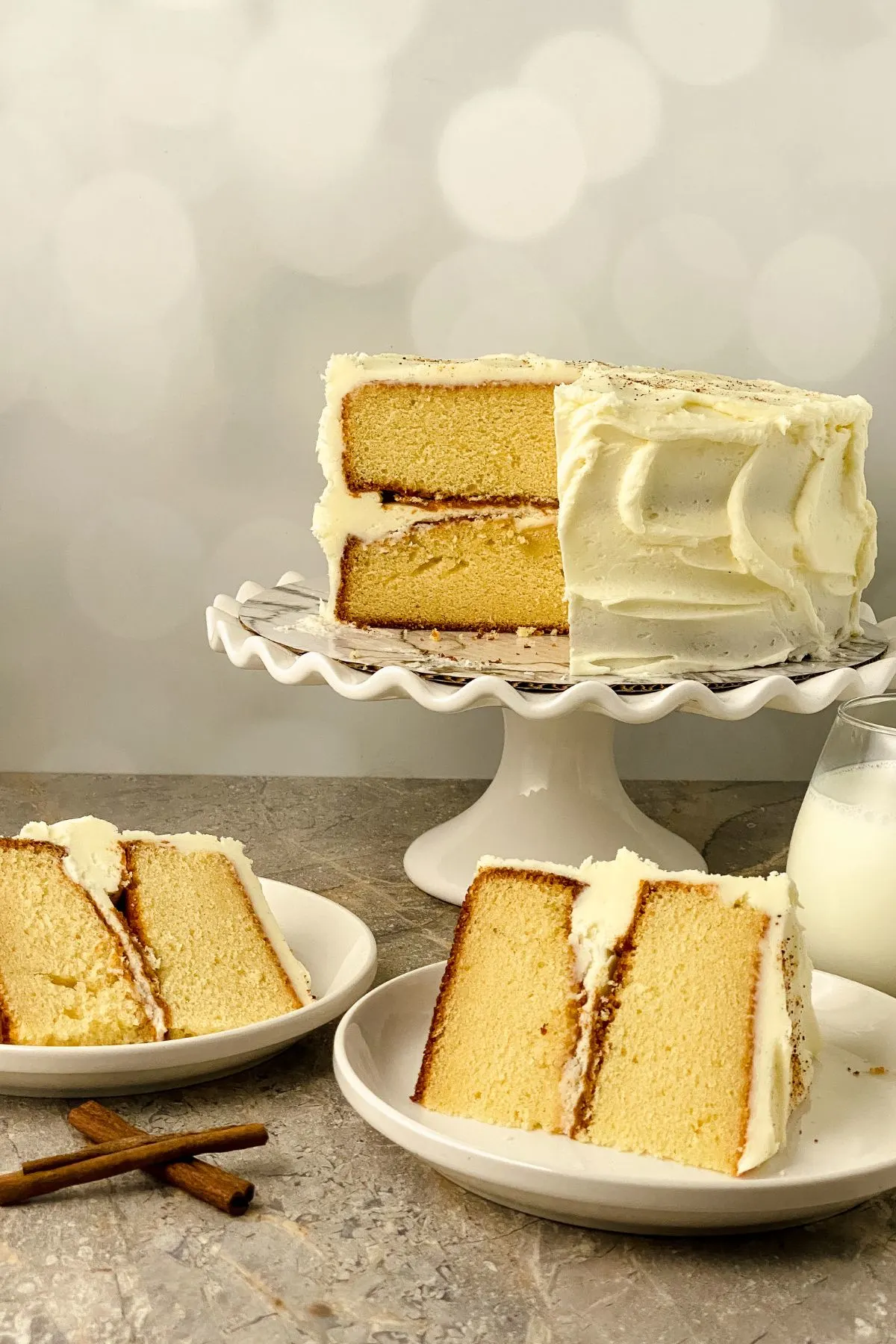 Other Christmas recipes
Christmas snack mix - This Christmas Snack Mix offers all the seasonal tastes– Chex mix cereal coated in peanut butter, melted chocolate, and powdered sugar. Combined with candy that has an outside crunchy coating with an inside of soft chocolate that tastes like mint chocolate.
Christmas Tree Brownies - Transform this homemade fudgy brownie mix into the most festive dessert at Christmas. These Christmas Tree Brownies will have the kids and adults squealing with delight this holiday season.
Christmas Dessert Board - No one will go home hungry after grazing on this at your next Christmas party or on Christmas Day.
Make sure to follow us on Instagram and Pinterest to keep up with all our new recipes. Tag us if you make the recipe on IG or share your thoughts by commenting on the pin on Pinterest. If you try this recipe, feel free to give it 5 🌟 below
Eat Well and Feel Well
Pin It For Later