This Crockpot Taco Soup is bursting with flavor. Made with juicy chicken, tender onion and peppers, tomatoes, beans, peppers, and more, you can't beat this Slow Cooker Taco Soup. Add in all your favorites and make it exactly what your Mexican food dreams are made of!
Mexican food... is the best.
Mexican food is its very own food melting pot of awesomeness. Just like this Crock-Pot Taco Soup recipe.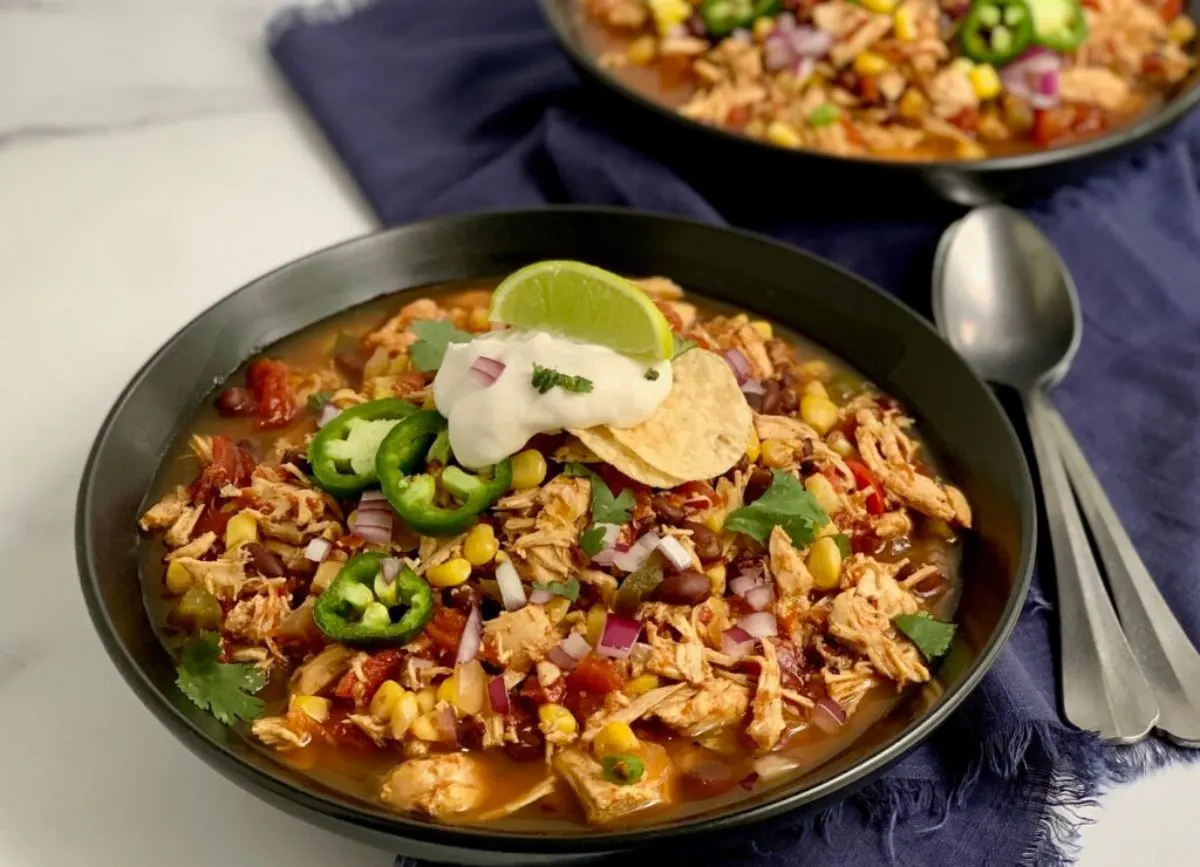 Why you'll love this recipe
Incredibly versatile and easy to customize
You won't know that it's dairy free and gluten free
Uses pantry staple ingredients- things you already have on hand
Smells incredible as it's cooking
Why else is this gluten and dairy free taco soup all that?
First, it's fabulous-tasting. It's packed with vegetables and protein. It tastes fresh and is filling.
The heat from the fire-roasted tomatoes makes this dish taste authentic… as in south-of-the-border authentic.
It's also the perfect comfort food on a cold winter night.
This is one of my favorite meals to make during our cold Montana winters.
The combined texture and warmth of this soup will make it hard to stop eating one bowl.
Why else about this soup is so amazing you'll want to bust out your Crock-Pot right now? It's so, so easy to prepare!
It's one of the easiest dinner recipes I make.
There's nothing better than preparing this in the Crock-Pot the night before and then just turning it on in the morning as you head to work.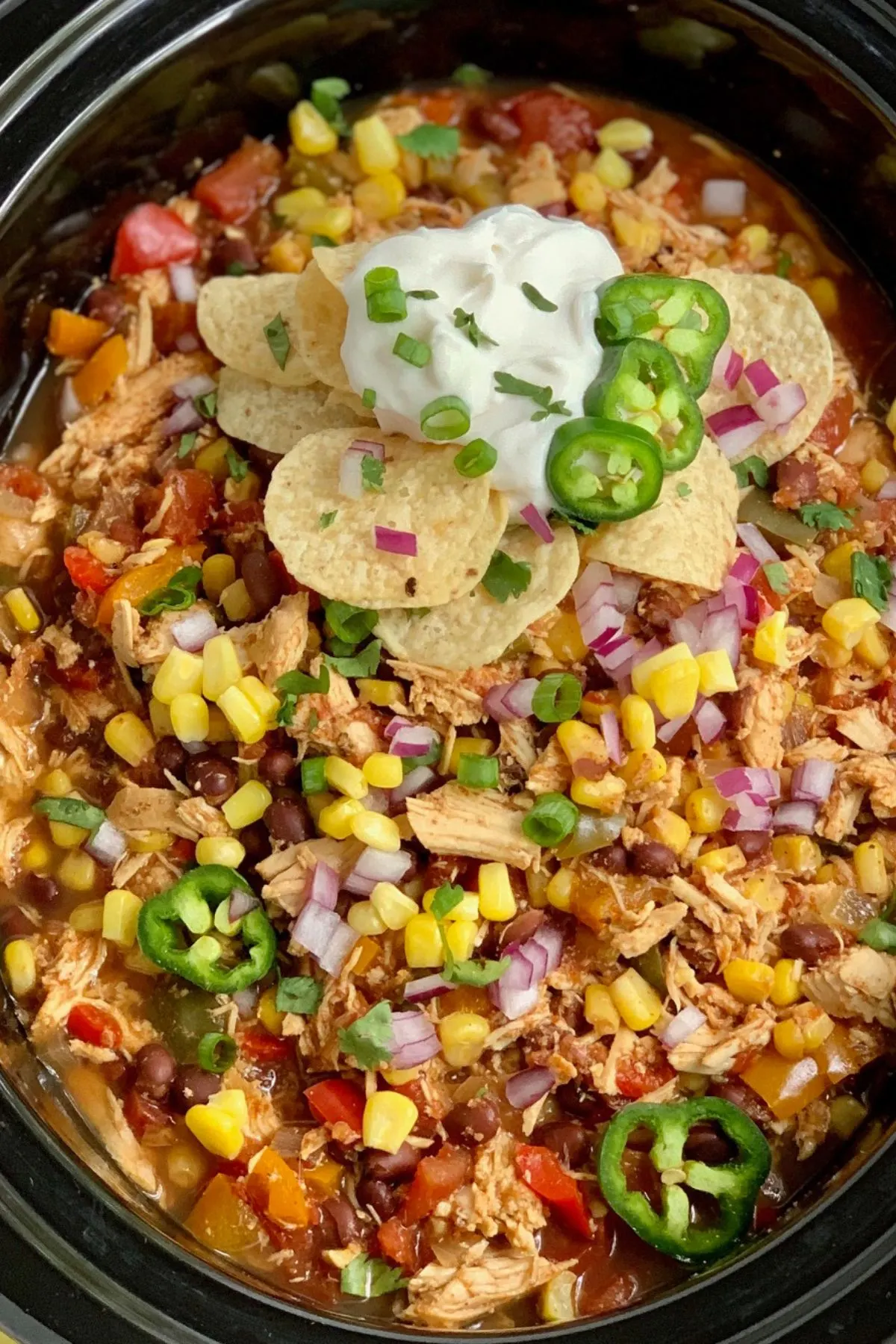 Recipe ingredients
chicken breasts- you can use ground beef or ground pork if desired- or a combo
onion
bell peppers
corn
black beans
Muir Glen organic diced tomatoes
chicken stock
spices
optional--green onions, cilantro, jalapenos, dairy free sour cream
this soup is delicious served with tortilla chips
How to Make Slow Cooker Taco Soup
Place chicken in Crock-Pot. Place all other ingredients on top of the chicken.
Lightly stir ingredients and place lid on the pot.
Set the Slow Cooker temperature setting to HIGH for 4-6 hours, or LOW for 8 hours.
When just about ready to serve, carefully remove the chicken breasts and shred into small pieces using a pair of forks. (Careful! The chicken will be hot. Using tongs can be helpful!)
Stir the shredded chicken back into the soup.
Dish into serving bowls. Add garnishes and serve with tortilla chips.
Helpful Kitchen Equipment
These things are helpful to have on hand to make your time in the kitchen even more efficient!
Measuring Cups and Spoons
Slow Cooker
Tongs
Meat Shredding Claws
Tips and Variations
This is your go-to recipe if you're taking a road trip and looking to travel with pre-made meals.
Once the soup prepare a meal-size portion and freeze it. When we're set to travel, I place it directly into our cooler from the freezer—yes, still frozen. It's that amazing and easy!
Always check your spices to ensure they're dairy and gluten free.
Once you close the lid to start the soup, do not keep opening it to check on the soup, no matter how tempting it may be. Doing this causes a drastic drop in temperature as the food cooks which could make it unsafe to eat.
Use a good soup ladle to ensure you get enough broth and all of the goodies with each scoop.
Storage
Any leftover soup should be transferred to an airtight container and kept in the fridge for up to 4-5 days.
Can you freeze this soup?
Yes friends, that's another glorious thing about this taco soup recipe.
Once your soup has cooled down to room temperature, you can place it in a freezer safe container or bag.
We like to store this in single serving portions or meal size portions so when we want to enjoy it again later, we only have to thaw the necessary amount.
No wasting this fantastic soup!
Remove your soup and place it in the fridge overnight to thaw and then reheat in the microwave, or on the stovetop (our preference) until heated thoroughly.
In fact, this is the perfect road trip meal to bring along.
Simply place your frozen container of soup into your cooler- this also helps keep everything else in the cooler cold, too.
When you arrive at your destination, it's either thawed or partially thawed.
In the past year we've had both a 14 hour car ride and a 6 hour car rides.
This pre-made soup worked perfectly on both trips. We've heated it up in hotel microwaves, and in a saucepan at an Airbnb. Woot woot!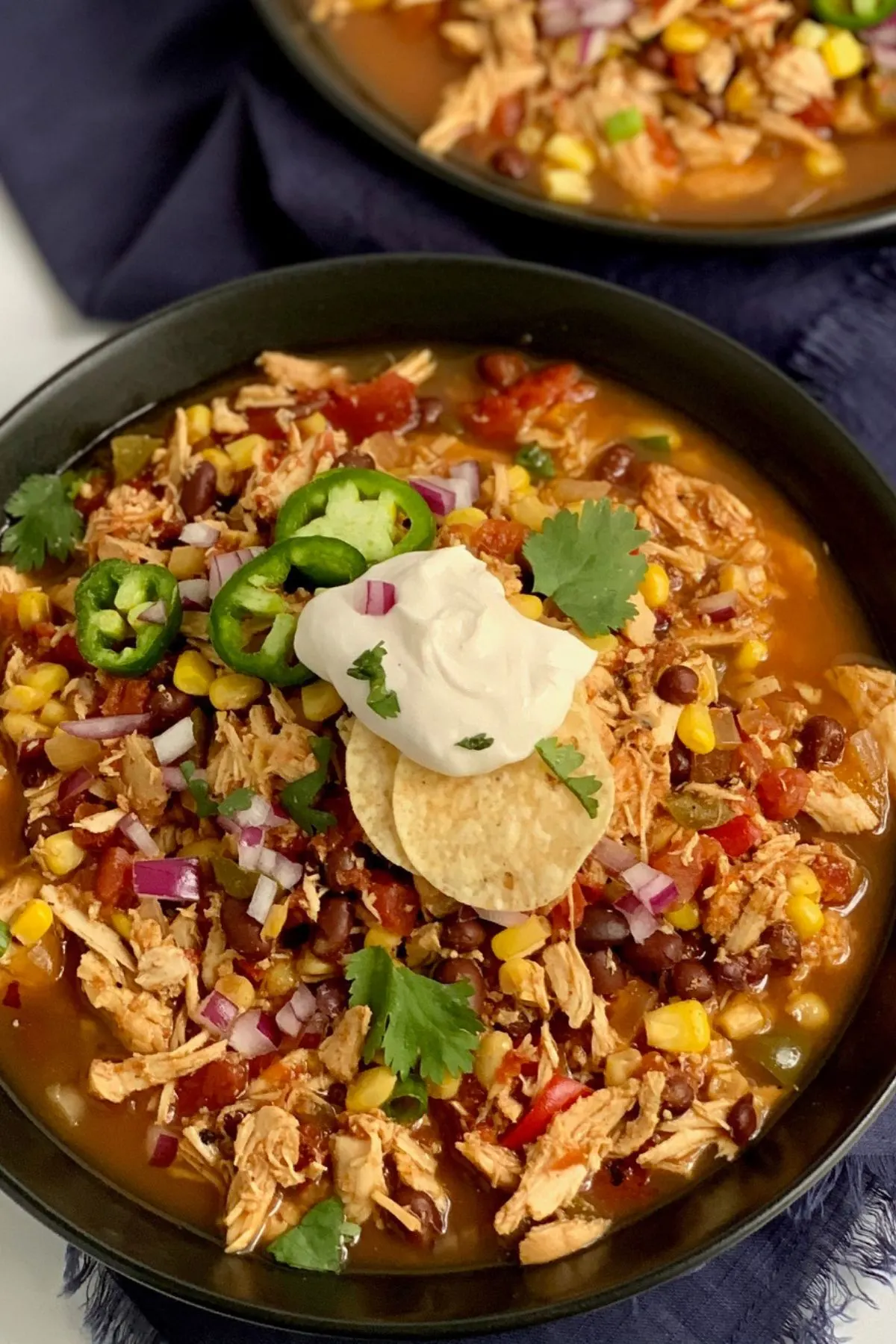 How can I boost the heat factor?
We do like to add a little fire to our soup.
I either use fire-roasted diced tomatoes or diced tomatoes fire-roasted with chipotle peppers. If you like heat that will make you break out in a sweat, then use 2 cans of fire-roasted tomatoes.
I tried 2 cans with my family before, and it was a little too much heat for my kids.
So I adjusted the recipe to 1 can fire-roasted and 1 can diced tomatoes.
What else can I add to this Crockpot Taco Soup?
This Slow Cooker Gluten Free Taco Soup is so simple to customize. Literally add what you love and ditch the rest.
My kids get crazy excited about taco soup because they know we'll be busting open a bag of tortilla chips, too. We love to put chips in this soup recipe right before we enjoy it.
We sometimes garnish with a dollop of dairy free sour cream on top of each serving.
Sprinkle with fresh cut cilantro or green onions to add extra flavor as well.
Some might like to add guacamole or dairy free cheese.
How else can I serve this?
I've seen a few recipe readers take this soup and turn it into almost a gumbo or a slightly different dish.
Make a large pot of rice and serve this soup over a heaping pile of rice.
The rice will absorb some of the flavor and really help spread this soup even further!
It's a great way to help make this soup serve even more servings.
More recipes you'll love
Lastly
The taste of this soup will have everyone wanting several servings. And if there are leftovers, they taste wonderful the next day as the flavors have had more time to meld together.
Make sure to follow us on Instagram and Pinterest to keep up with all our new recipes. Tag us if you make the recipe on IG or share your thoughts by commenting on the pin on Pinterest. If you try this recipe, feel free to give it 5 🌟 below
Eat Well and Feel Well
Pin It For Later