You are only minutes away from enjoying your next Mexican meal in these fun and creative taco salad shells. Transform your typical Taco Tuesday and impress your family and friends with this fun meal idea.
Notably if you're anything like our family, you can't get enough Mexican food in the week. And as you can tell by my frequent taco recipe blogging, I'm not exaggerating. Taco salad shells are the perfect way to recreate a family favorite.
With this in mind plan on serving these taco salad shells at your next big shindig too. Remember these shells are easily made ahead of time and will wow your friends, family, and coworkers.
events to serve taco salad shells
at ladies' luncheons
a bridal or baby shower
in a taco bar
for a Super Bowl party
at family gatherings
for a church meal with a Crock-pot of taco meat
during Taco Tuesday with your family
to celebrate Cinco de Mayo
at a work potluck and keep in mind....
I recently read a lady baked over 150 of these for a luncheon she was having! #thatsalotofshells #soundslikefun
ingredients and tips
first utilizing these nonstick fluted tortilla shell makers make this recipe eeasy peeasy. And did I mention your shells will look perfect every time? Lastly you won't need to use any nonstick spray with these.
also use your go-to gluten free tortillas. For our family we prefer the Mission Gluten Free Tortillas. Typically I find these in the end sections of large retail grocery stores. They are also available from Amazon here.
and for the best taco filling I always follow my taco tater tot meat recipe. Click here for this flavorful and quick taco meat recipe.
lastly top your taco salad shell with all your favorite taco toppings. That could be back beans, corn, guacamole, salsa, green onions, bell peppers, olives, cilantro, favorite greens such as iceberg, a dollop of dairy free sour cream, shredded dairy free cheese, peppers, and so much more. Go all out filling these shells, no need to hold back.
more Mexican recipes you need
this taco tater tot skillet has been such a hit on my blog. People can't get enough of it. Have you tried it yet? If not, do now. This is a delicious and filling meal idea.
easy enchiladas that are full of flavor. My kids request this meal every.month.
breakfast burritos are perfect for feeding a crowd or when needing an on-the-go breakfast. These can be made fresh or ahead of time and frozen.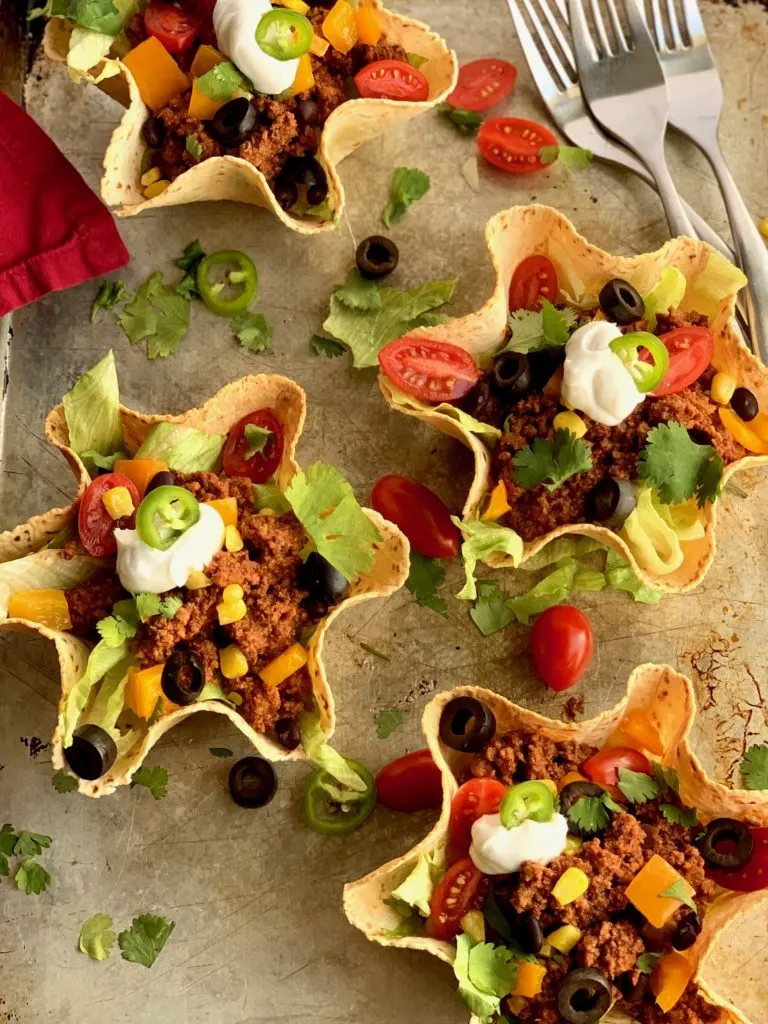 Lastly let me say again you can't go wrong with this fun and inspiring meal idea. This recipe is a great way to mix up how you do tacos. Taco salad shells are perfect for your family dinner, next party and more.
Let's connect on social media. When you make one of my recipes, tag @eatingglutenanddairyfree on Instagram. I wanna see. And leave me a 5 star rating if you enjoyed the dish.
Eat well and feel well,
Jill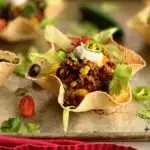 Print Recipe
Taco Salad Shells
Ingredients
favorite brand gluten free tortillas
Instructions
Place gluten free tortillas in the shell mold on a cookie tray.

Place in the oven for 10-11 minutes. If using a different tortilla brand, you may need to adjust the bake time.

Remove from the oven and immediately fill with your favorite taco stuffings and toppings.

Carefully store leftover shells in an airtight container or Ziploc bag for up to 2 days.