How many of us grew up enthralled with old-fashioned sour cream donuts?
You know these were the bomb diggity.
You can understand my exuberance when I discovered dairy free sour cream a few years ago. #celebrate
Now, we (you and I) can bake our very own gluten and dairy free sour cream donuts. It's time to bring back this nostalgic donut into our lives. ♥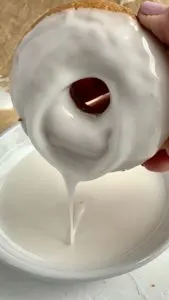 Although, if you're not familiar with sour cream donuts, let me brag on them. They're slightly more dense than other donut flavors. I'd describe them as dense and cakey with a soft, flaky glaze. The sour cream keeps these delectable donuts moist. Each bite has a hint of nutmeg, too. You could even eat these donuts without any glaze.
However, if you're gonna go all out on donuts, you might as well enjoy them glazed. Right??!
And the glaze can be any flavor you fancy... chocolate, maple, or vanilla. I've included our favorite vanilla glaze with the donut recipe.
You can't go wrong with these. The recipe is straightforward with common pantry ingredients, no cray cray ingredients to order in.
And truth be told, these gluten and dairy free breakfast treats are more than just a blast from the past. They're about enjoying a morning delicacy not easily available.
These donuts are a food celebration.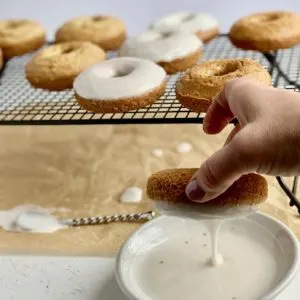 Eleven years ago I wouldn't have dreamed our grocery store aisles would be stocked with delicious gluten and dairy free alternatives. That's a reason to celebrate!
Tips for the best old-fashioned sour cream donuts:
Invest in a good donut pan like the one found here. Wilton is a fabulous name brand, and you receive two donut pans. I almost always double my donut recipes for 12 donuts. They go so fast when there's four of us eating them. Homemade donuts can be conveniently frozen, too!
It's worth the extra step to place your batter in a Ziploc bag. Then squeeze the batter into the donut pan. Just do it. This will be a time-saver in the long run. And your donuts look much cleaner after they've baked. The donuts will appear more even, too.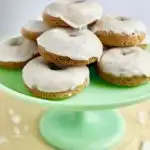 Print Recipe
Old-Fashioned Sour Cream Donuts
Ingredients
½

c

dairy free sour cream

1

egg, room temperature

½

teaspoon

vanilla

¼

c

oil (grapeseed works well)

½

c

sugar

1

c

gluten free all purpose flour (I use Mama's Almond Blend)

1

teaspoon

xanthan gum (omit if your all purpose flour has this in it)

½

teaspoon

baking soda

¼

teaspoon

salt

⅛

teaspoon

nutmeg
Vanilla Glaze
2

c

powdered sugar

1

teaspoon

corn syrup

⅛th

teaspoon

salt

¼th

teaspoon

vanilla

⅓

c

hot water, add more for thinner glaze
Instructions
Preheat oven to 350 F.


Spray donut pan with cooking spray.


Whisk together: sour cream, egg, vanilla, oil, and sugar in medium bowl.


Add to bowl: flour, xanthan gum, baking soda, salt, and nutmeg. Stir until well combined.


Place donut batter in Ziploc bag. Snip off one corner of bag and pipe donuts into donut pan.


Bake 12-15 minutes until set and sides of donuts are golden brown. Remove from oven and cool.


While donuts cool mix all frosting ingredients in a bowl. Add in more hot water if you'd like a thinner glaze.
Remove donuts from pan and place on cooling rack. Place parchment paper under cooling rack.


Dip donut in bowl of glaze and allow to set. Optional: Dip both sides of donuts.


Store in an airtight container up to a few days.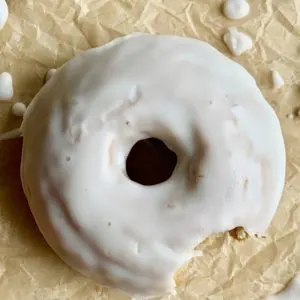 I know you're going to love these classic old-fashioned sour cream donuts.
They're everything a donut should be... dense, cakey, and moist.
Best of all they're gluten and dairy free.♥ You'll want to pin this recipe now
I was inspired to create this recipe from The Semisweet Sisters recipe for baked sour cream donuts found here. In addition to substituting gluten and dairy free ingredients I added a couple ingredients to the vanilla glaze like corn syrup. It seemed to give it that extra wow I felt the glaze was missing.
Lastly, I want to leave you with one more gluten and dairy free recipe. With so many holidays around the corner, these Oh Henry Bars are a fantastic dessert idea. And they're addicting.
You've been warned.
They're easy to make and are a hit with a large crowd. Best of all, they don't have to be kept refrigerated, making them easy peasy at your BBQ or family gathering.
Click here for your Oh Henry Bar recipe.
Eat well, feel well and celebrate gluten and dairy free!
Jill