Homemade Chewy Snickerdoodle Cookies are perfectly soft and so chewy with a crispy cinnamon sugar coating. This classic crinkle-top cookie recipe has been around for years. And the recipe's simple, inexpensive ingredient list make this a hit with bakers everywhere.
These cookies are widely enjoyed by family and friends any time of the year.
Who can turn down a cookie rolled in cinnamon sugar and baked until the edges are crispy and centers chewy?
No one, that is who. So add these homemade chewy snickerdoodle cookies to your baking list now.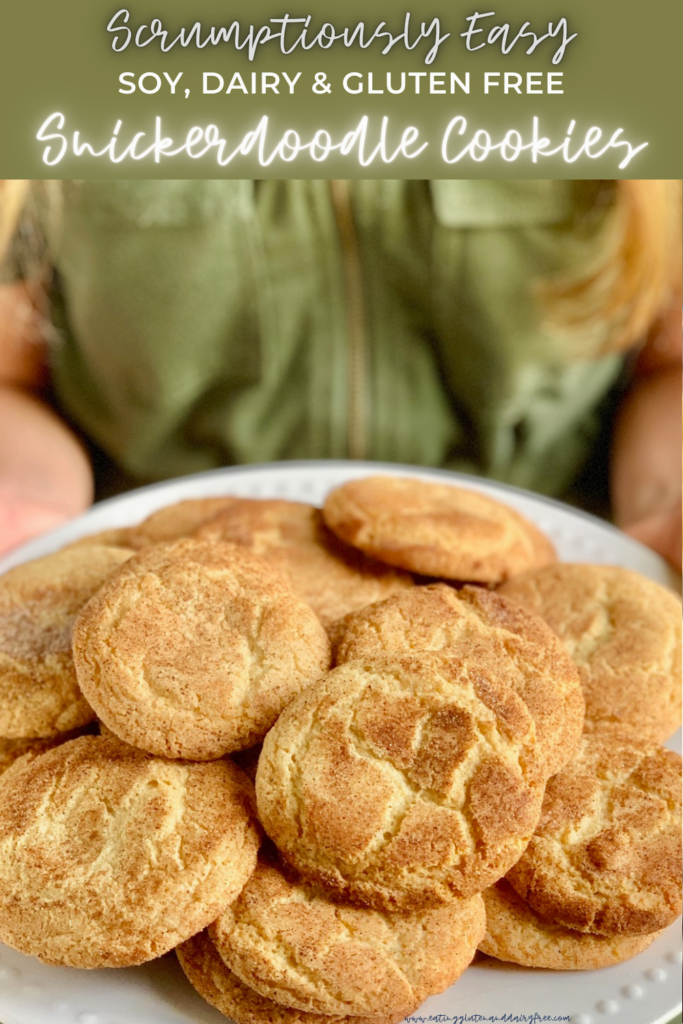 Loaded with great cinnamon sugar flavor and a ting of tang, these homemade cookies are the real deal.
And these are definitely one of the more easy, affordable free from cookies to bake.
You won't find any expensive add-ins or fancy ingredients you cannot find locally.
homemade chewy snickerdoodle cookie ingredients
gluten free all-purpose flour— use the spoon and level method mentioned below. We use the Bob's Red Mill Gluten Free 1 to 1 Baking Flour. We purchase it in bulk as it keeps for quite awhile.
xanthan gum— omit if your gluten free all-purpose flour blend contains this or guar gum.
cream of tartar— this is the star ingredient for these cookies to have their classic look and taste; you don't wanna skip this
baking soda–keep in mind this loses its potency after it has been opened for more than 6 months. We suggest writing the date you open the container so you always know if you have fresh baking soda to work with.
kosher salt
dairy free butter— at room temperature for 20 minutes. We use the vegan and soy free Earth Balance Buttery Sticks. Most importantly, please do not melt the butter as it will significantly change the cookies. The dough will be super soft and harder to work with, plus the cookies will spread out across the baking sheet.
granulated sugar
large eggs
ground cinnamon
kitchen baking utensils for this recipe
large bowl
whisk
stand mixer with the paddle attachment or large bowl with a handheld mixer
parchment paper or silicone baking mats
small cookie scoop— this scoop will give you the perfect size cookie for this recipe; however, if you don't have one, you can also use your hand and roll the dough into a ball
Storage
Leftover gluten free snickerdoodle cookies should be stored in an airtight container for up to 4-5 days.
These homemade dairy free snickerdoodle cookies are so good, it wouldn't surprise us if your cookies do not last that long!
frequently asked questions
oops, I accidently melted my butter… can I still use it
No, not as it is. The cookie dough will be largely impacted by melted butter and the cookies will run on the cooking baking sheets.
Instead if you accidentally melt your butter (yes, I have done this many times too), pop it into the refrigerator to make it more firm.
why do I need cream of tartar for snickerdoodles?
Cream of tartar is slightly more acidic than baking powder, so it gives the cookies a slight sour-flavored tang, making these classic delicious cookies a favorite of many.
do you chill snickerdoodle dough
This recipe does not call for chilling the dough.
However, if your dough seems extra soft from high humidity, etc. you can chill it for 20 minutes in the refrigerator.
what is the spoon and level method
The spoon and level method is considered the most accurate method for measuring flour.
Use a spoon to scoop the flour into your measuring cup.
Then, you will level off the top with the back of a knife so the flour is level with the top of the measuring cup.
If you scoop your dry measuring cup into the flour bag, you can end up packing the flour and surprisingly increase the flour in recipes by 1/4 cup. Yeeks!
We have been guilty of this over the years, but now that we know, you won't find us making that mistake again.
It is always worth it to take the extra step and grab a large spoon and knife.
We adapted this recipe from a traditional recipe found on the Life, Love, and Sugar website.
You would not even guess these cookies are gluten free, dairy free, and soy free.
more must-try cookie recipes
You will find more delicious gluten free and dairy free cookies like this Homemade Chewy Snickerdoodle Cookie recipe on our website!
get our cookbook
In our recipe book, The Classics, we share several of our favorite family recipes. These are not only delicious recipes but also easy to make.
It is a win-win idea! So let us take the stress out of cooking and baking by using our recipes today for easy, safe meals and desserts. Click HERE.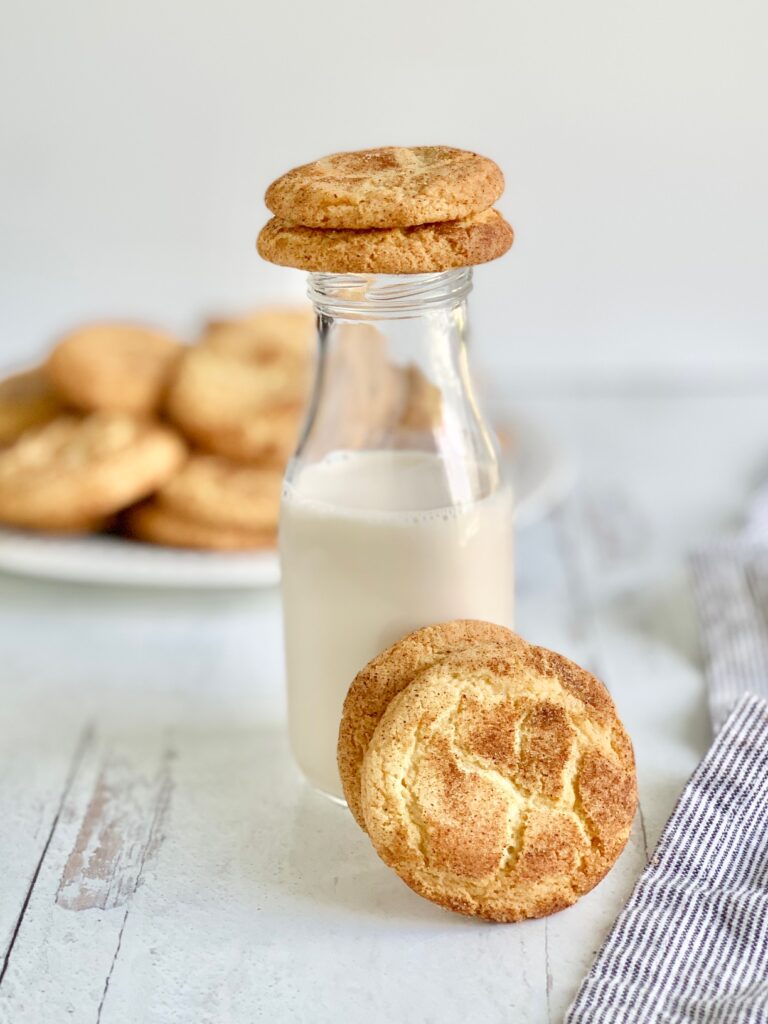 lastly
Here are Homemade Chewy Snickerdoodle Cookies that taste delicious, chewy, and are so satisfying.
Plus these cookies are gluten and dairy free. You can even transform these cookies into an ice cream sandwich by adding a thick layer of dairy free ice cream to the middle of two cookies. Hello fun summer vibes!
You will find recipes for every occasion on our website, Eating Gluten and Dairy Free, including breakfast, lunch, dinner, dessert, brunch, and even the holiday.
And did you know we also have travel tips on our website?
If you are flying anytime soon, check out our Best TSA Approved Airline Snacks post. We promise you won't be hungry if you follow our tips when flying.
Follow along on Facebook, Pinterest, and Instagram. We don't want you to miss out on the very best of eating gluten and dairy free.
That way you won't miss our newest recipe drops, product alerts, and tips for living your best while eating free from.
Eat well and feel well,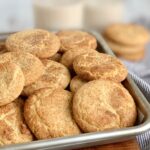 Print Recipe
Homemade Chewy Snickerdoodle Cookies
Servings:
4
dozen cookies
Ingredients
2¾

c

gluten free all-purpose flour

spoon and level method

½

tsp

xanthan gum

omit if your gf all-purpose flour blend contains this or guar gum

2

tsp

cream of tartar

1

tsp

baking soda

½

tsp

kosher salt

¾

c

dairy free butter

room temperature for 20 minutes, not melted

1½ plus ¼

c divided

granulated sugar

2

large

eggs

1½

tsp

vanilla extract

1

tbsp

ground cinnamon
Instructions
Preheat oven to 400°F and place parchment paper or baking mats on cookie baking sheets; set aside.

In a large bowl, whisk together the flour, xanthan gum if needed, cream of tartar, baking soda, and salt; set aside.

With a stand mixer and paddle attachment or large bowl and handheld mixer, cream the butter and 1½ c sugar until combined and fluffy, 2-3 minutes.

Then add in the eggs one at time. Scrape down the sides and bottom of the bowl as needed.

Add in the vanilla extract and dry ingredients until just blended.

In a small bowl, combine the ¼ c sugar and ground cinnamon.

Using your hand or a small cookie scoop, gather about 1 tablespoon of dough and drop it into the bowl. Roll it around the cinnamon sugar mixture until the entire ball is well covered. Place 12 balls on a cookie baking sheet and bake for 6-8 minutes. Watch the cookies very carefully as they can easily burn if accidently left in the oven longer than 8 minutes.

Remove the cookies from the oven and allow to cool for 3-4 minutes on the pan, then remove to a cooling rack.

Store the cookies in an airtight container on the countertop up to a week or freeze for 2 months.