Dessert charcuterie boards are all the rage. And what's not to love? I mean, why settle for just one dessert when you can enjoy a bite or two from several? Sounds like brilliant dessert planning to me. In this post you'll find how to assemble the dessert charcuterie board of your dreams-- all gluten and dairy free.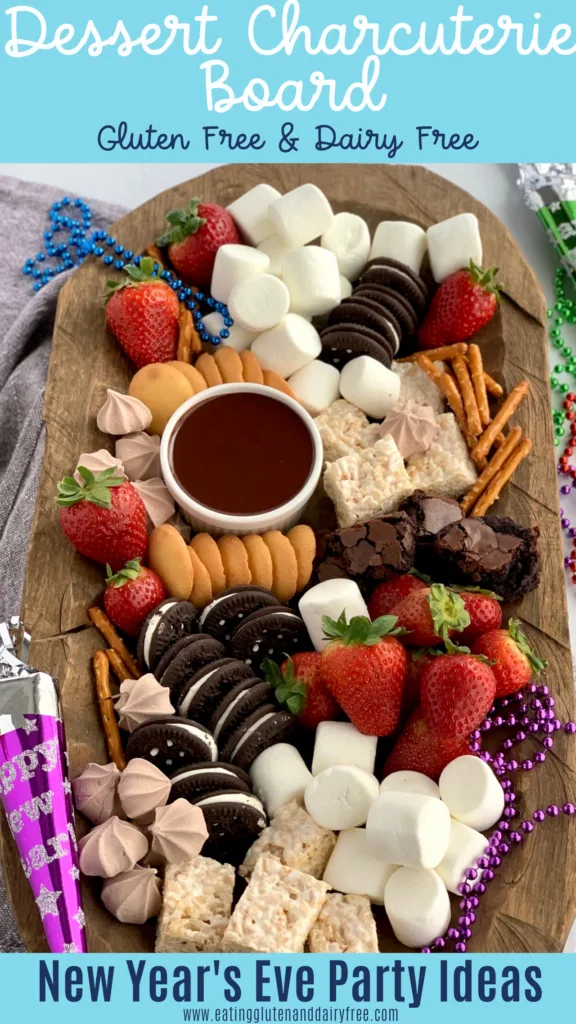 Assembling my dream charcuterie board is almost as much fun as eating from it. Believe it or not it's thrilling to see how many of my favorites can fit on one small board. When starting to plan my dessert board, I always consider:
my audience -- customize the board to include one of everyone's favorites
the texture -- include a variety of textures--hard, soft, and crunchy
food taste -- your taste buds will thank you for having sweet and salty items
food color -- spread pops of color throughout your board. It will be even more appealing to the eye
dipping sauce -- always have some sort of dipping sauce -- or two
Keeping these five tips in mind, you'll be on your way to enjoying the best dessert board yet! Now let's discus those yummy dessert ideas.
dessert charcuterie board suggestions
one or two dipping sauces such as my "perfect chocolate ganache" recipe found here. This ganache recipe is rich, smooth, and goes with about anything. Another dipping idea is So Delicious Coco Whip found in the freezer section of most grocery stores. This product is wonderful to dip any fruit in on your board.
loads of fresh fruit such as strawberries, apple slices, cherries, raspberries, peeled oranges, pineapple slices, blackberries, sliced bananas, and even kiwi
gluten and dairy free "oreo" sandwich cookies- two popular brands are Glutino and Kinnitoos. Glutino does manufacture their "oreo" cookies with other dairy products in the same plant. However Kinnitoos has detailed allergen information on their website about their manufacturing process. If you are sensitive to any degree of dairy cross contamination, I would suggest the Kinnitoos brand (read here). Both brands sell chocolate and vanilla creme cookies.
vanilla wafers- these gluten and dairy free wafers taste just like the original wafers
pretzel rods- Hanover of Snyder's is our favorite; they are egg free too
marshmallows
mini brownie bites- use our fudgy brownie recipe
mini rice krispie treats- follow my gluten and dairy free recipe here. Always read labels when purchasing rice krispie's. Some brands use barley malt in their ingredients, which commonly comes from barley grain and is not gluten free. Suggestions: Nature's Path Crispy Rice cereal found here, I've heard favorable reviews about Walmart (called Crispie Rice), Aldi, and Harris and Teeter's rice krispie cereal too
meringue cookies- I purchased mine at Sprouts Supermarket
gluten free angle food cake bites
chocolate bars- Hu Kitchen bars are absolutely amazing. Pricey but a decadent treat
gluten and dairy free peanut butter cookies
graham crackers- Schar Honeygrams are both gluten and dairy free
and always check your labels as manufacturers are known to change ingredients without warning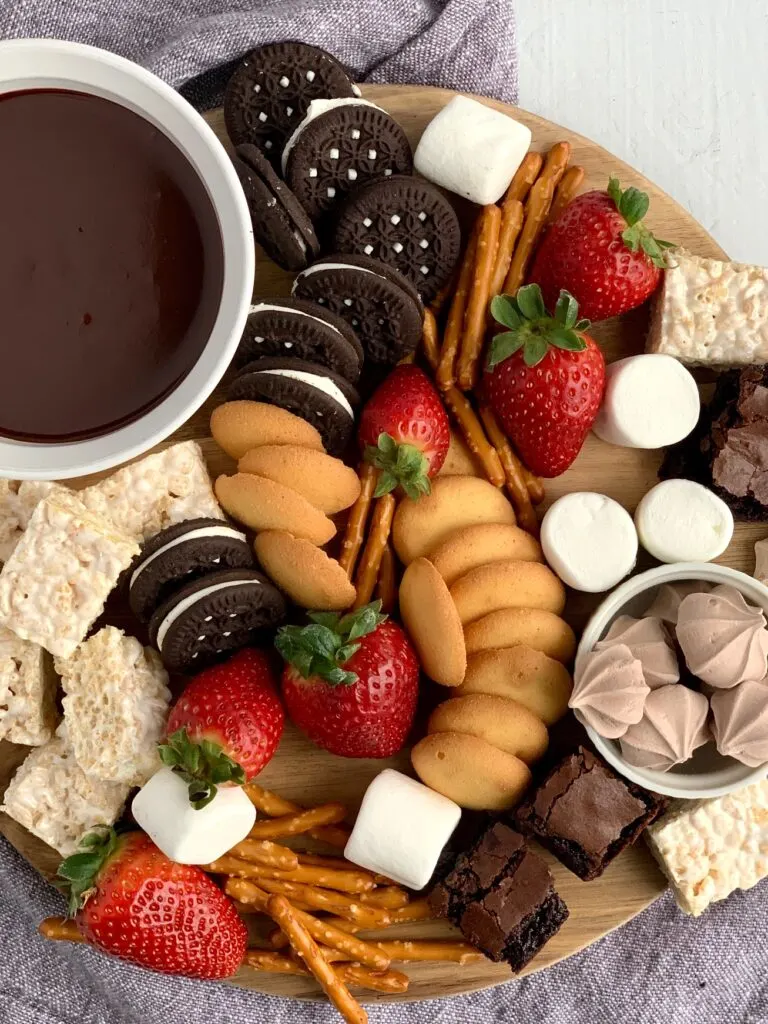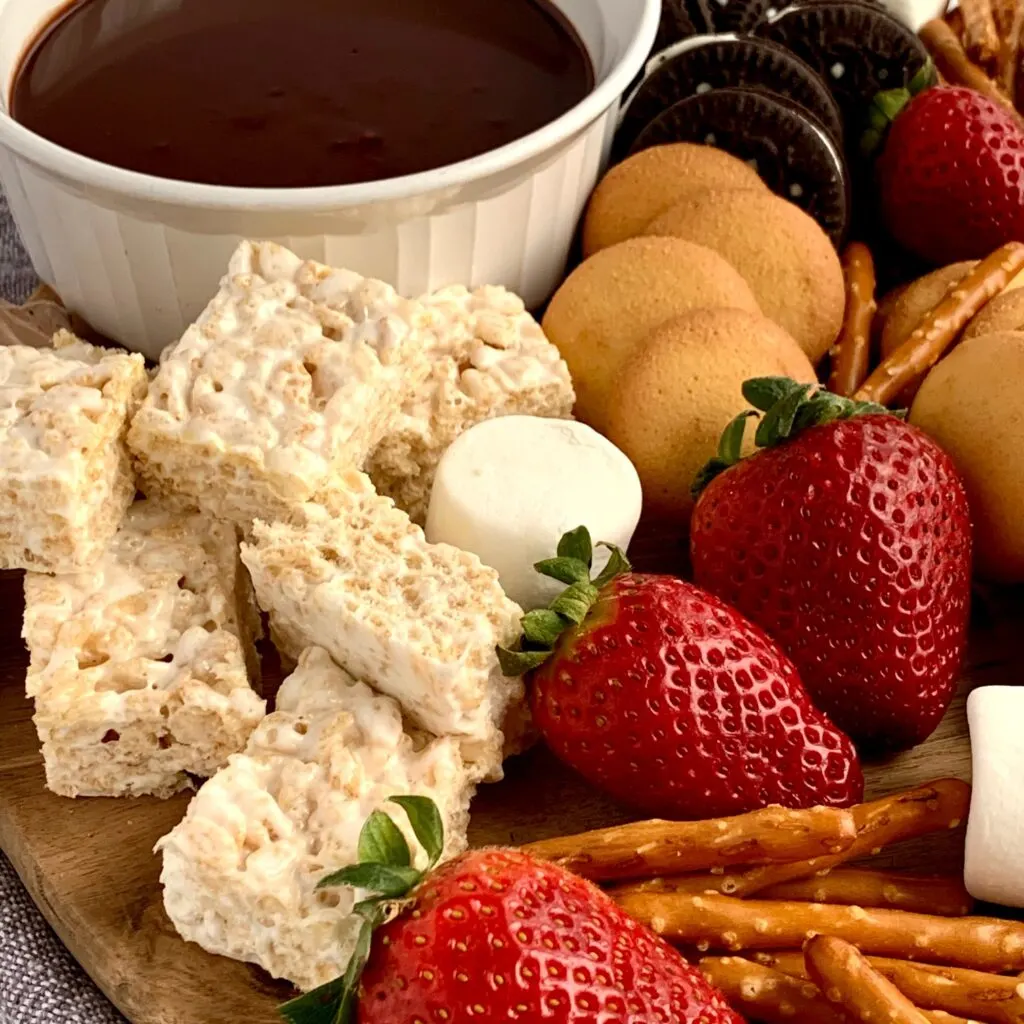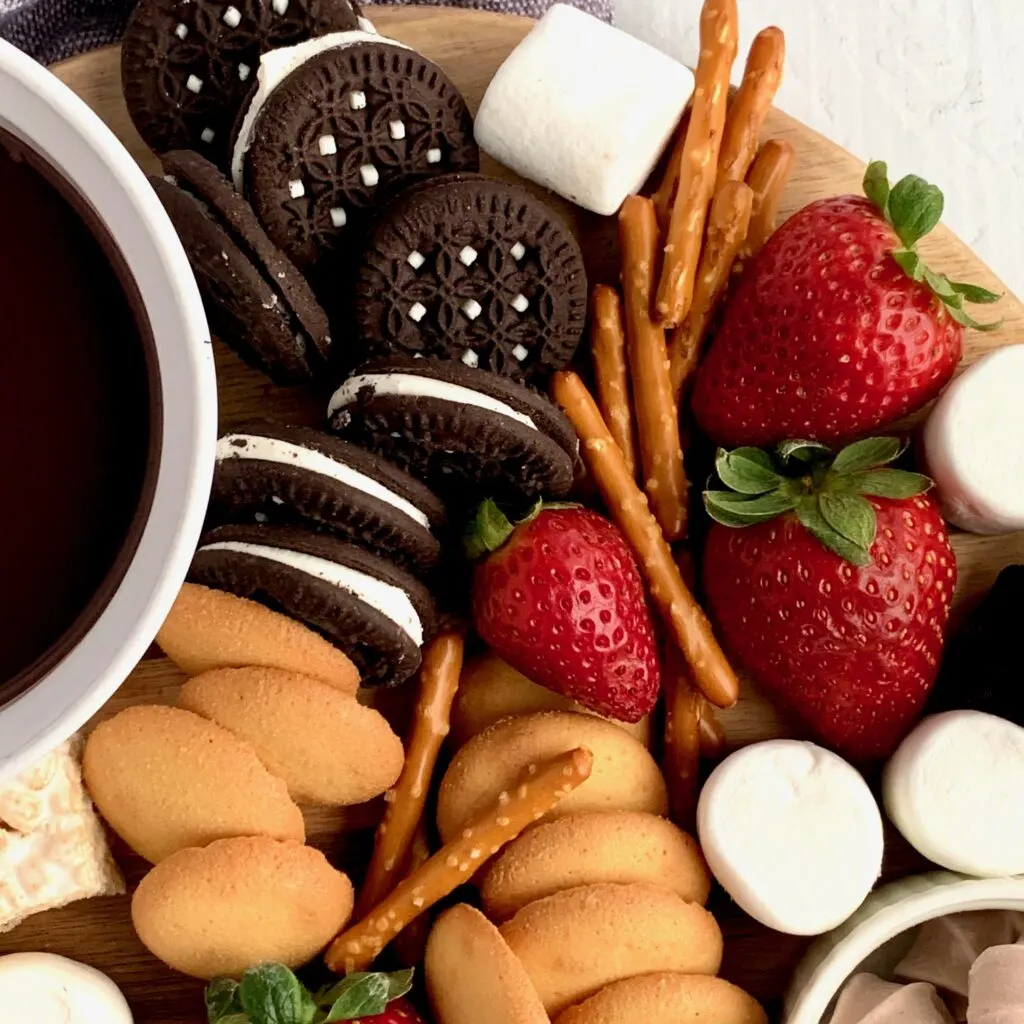 more gluten + dairy free desserts
walnut brownie sundae is one of the easiest and yummiest dessert recipes on my website
chocolate bundt cake perfect for your next birthday party, Mother's Day celebration, or Christmas party
s'more cookie bars -- now you can enjoy s'mores year round. Other readers are loving this layered ooey gooey recipe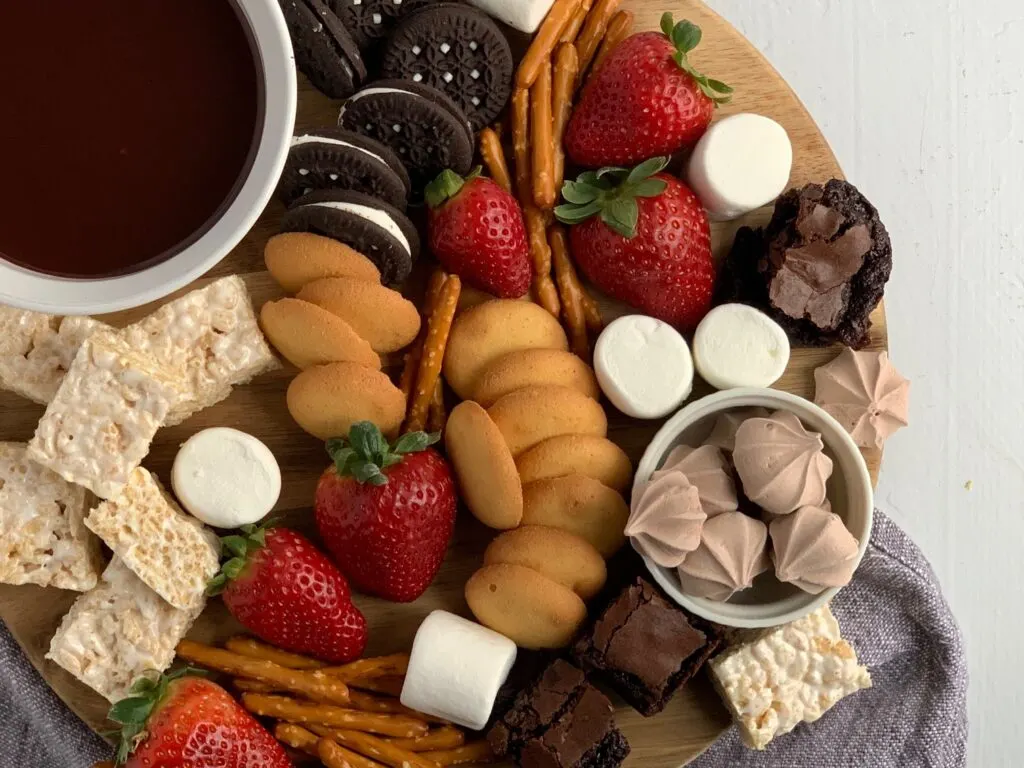 in conclusion
In case you need an excuse to prepare this decadent dessert charcuterie board, might I suggest this for your next game night, potluck, birthday celebration, or even to celebrate on Valentine's Day.
There are so many mouthwatering flavors on this board. Personalize it to include your favorites. And as an added bonus -- these suggestions can be enjoyed by those who can and can't have gluten or dairy. Making this a go-to dessert board for everyone at the table.
Let me know in the comments your dessert charcuterie board must-haves.
Lastly, you'll find many more dessert ideas on my website and Pinterest boards. Be sure to follow me on Pinterest as I'm adding new gluten and dairy free recipes every.single.week.
Eat well and feel well,
Jill