Every Valentine's Day my kids and I indulge in the most decadent treat — chocolate covered strawberries. Because we love this tradition so much we've even started to make them for Mother's Day too. I mean, let's be real-– you can never have enough chocolate covered strawberries. We're all about the chocolate in my house.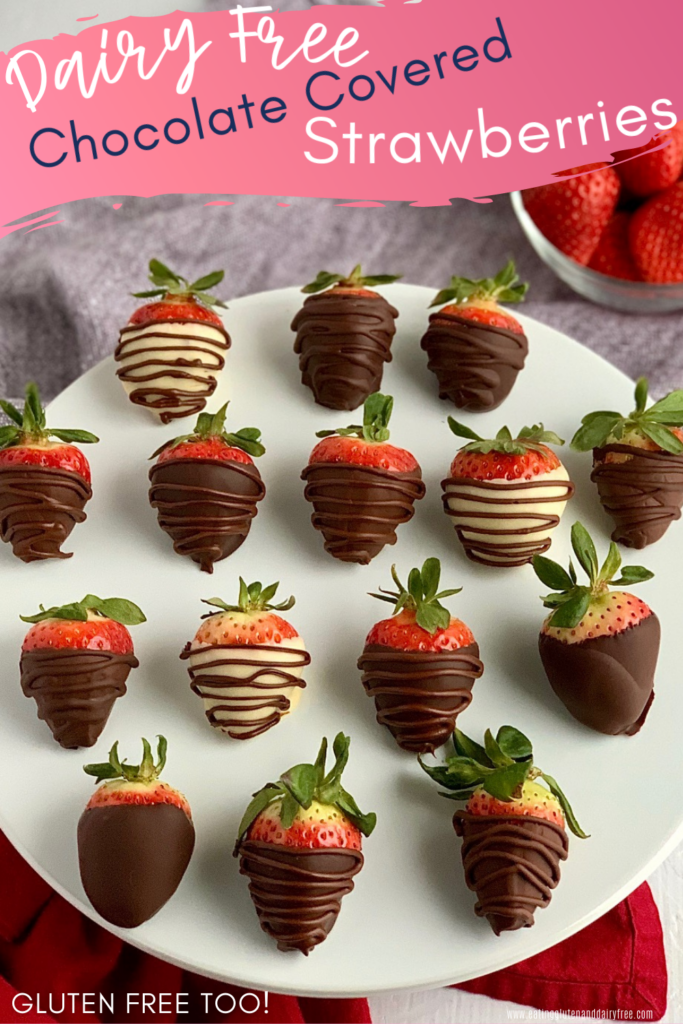 Moreover this simple dessert is ready in minutes. Following these important tips can guarantee you the best results.
tips for enjoying the best chocolate covered strawberries
always purchase the best quality strawberries you can find; they'll look better, taste better, and hold up better
and buy more than you think you'll need. You'll find that some in the carton are mushy or have bruises. These strawberries tend to leak faster and should be avoided.
also carefully wash and allow your strawberries to dry completely before dipping them. Keep in mind melted chocolate and water are not friends and they don't play well together. Only dip completely dry strawberries in melted chocolate.
before dipping your strawberries, arrange them on the dish you'll be serving them on. That way you'll know just how many you need. Pro tip — if I'm serving this dessert at a fancy party, I try to serve strawberries that are similar in size and shape. I dip and keep back the extra large or small strawberries for the kids to enjoy at home.
melt the dairy free chocolate and coconut oil either in the microwave or over the stove top on low, stirring often until there are no clumps. For every 1/2 cup of chocolate chip morsels you use add in 1/2 tsp of coconut oil.
speaking of dairy free choices–

semi-sweet morsels taste the best to the kids and I. Let me know in the comments which chocolate you like best.
white chocolate morsels — this chocolate by far gives me the most hassle. If you're using the Simply Delicious White Chocolate morsels, be prepared for some of them not to turn out. The chocolate seems to separate more often. I'm going to keep experimenting with other dairy free white chocolate morsel brands. I will update this when I find one that consistently melts well.

once the chocolate has melted and is smooth, dip each strawberry to their "shoulder" line
next gently drag the bottom of each strawberry across the lip of the bowl to remove excess chocolate
then place the dipped strawberries on parchment-lined baking sheets
if desired top chocolate covered strawberries with sprinkles, chopped nuts, shredded coconut, crushed gluten and dairy free "oreo" bits, or even gluten free graham cracker crumbs
otherwise allow chocolate to harden completely at room temperature
serve these delicious chocolate covered strawberries OR drizzle them with more melted chocolate.
to drizzle strawberries with chocolate: after the chocolate on the strawberries has hardened at room temperature, place melted chocolate in a Ziploc bag. Make a small corner cut and drizzle lines back and forth across each strawberry.
or you can use a Wilton 3 Piping Tip in a disposable icing bag found here to drizzle too. That is to say I've found using the piping tip gives a much cleaner drizzle line.
then allow chocolate drizzle to harden at room temperature, uncovered until serving
finally it's super important these dipped strawberries be consumed the day you dip them. Otherwise the chocolate pulls out the liquid from strawberries, and they start to leak and well…they get gross. And we just don't want to go there. So do yourself a big favor and only dip these the day of.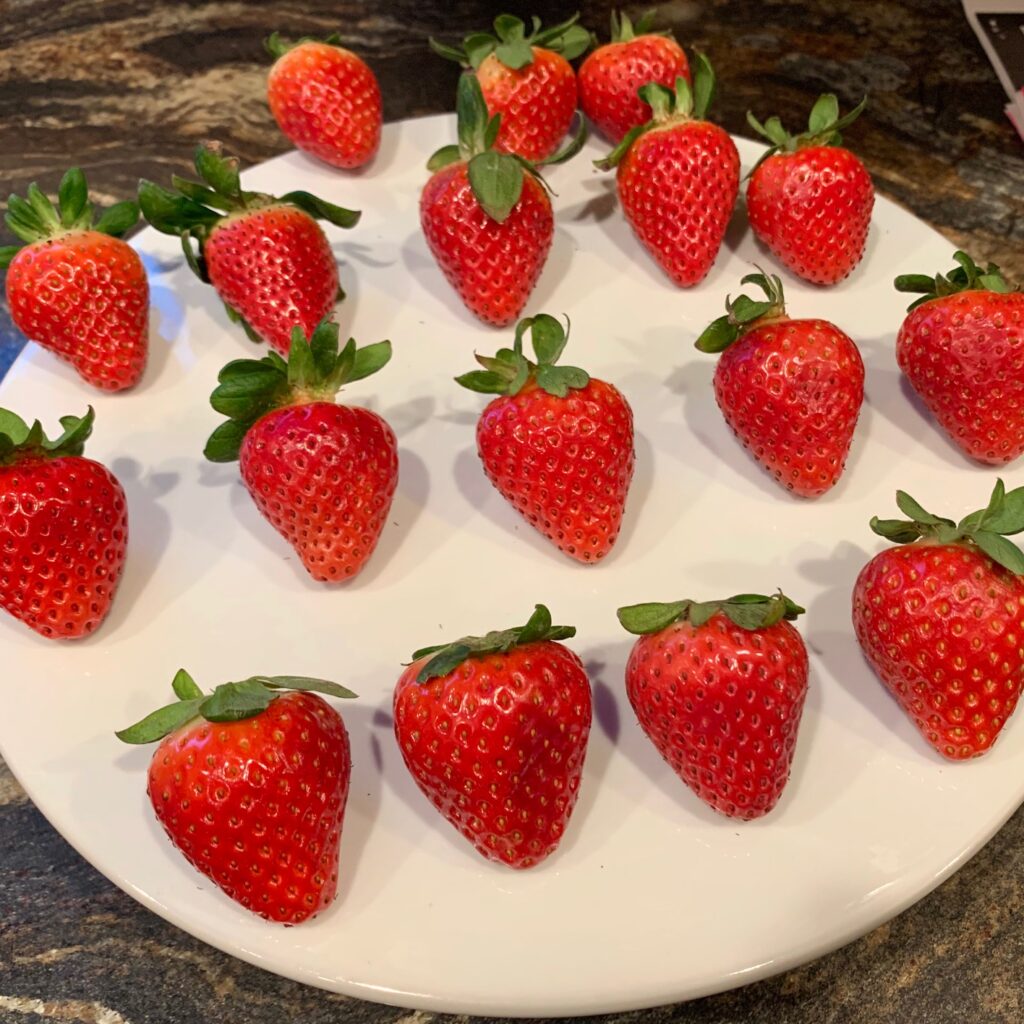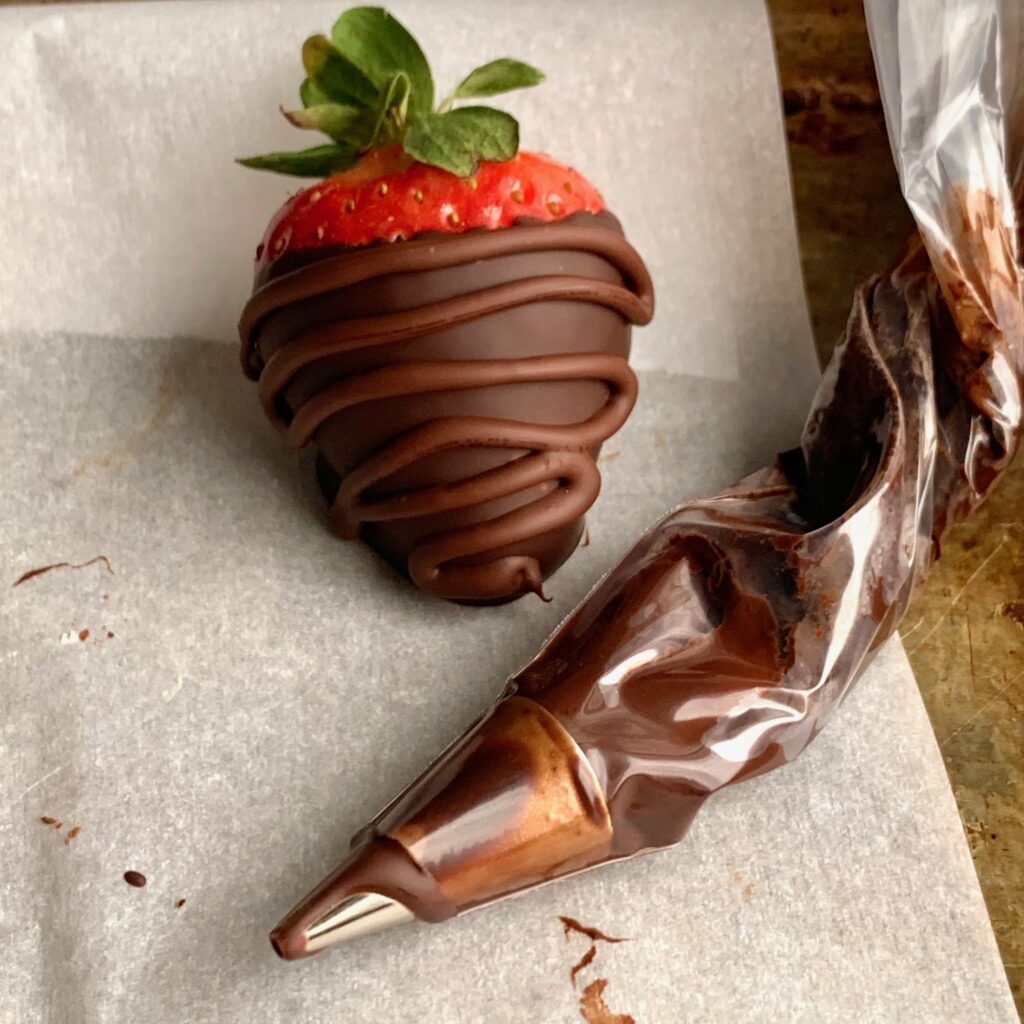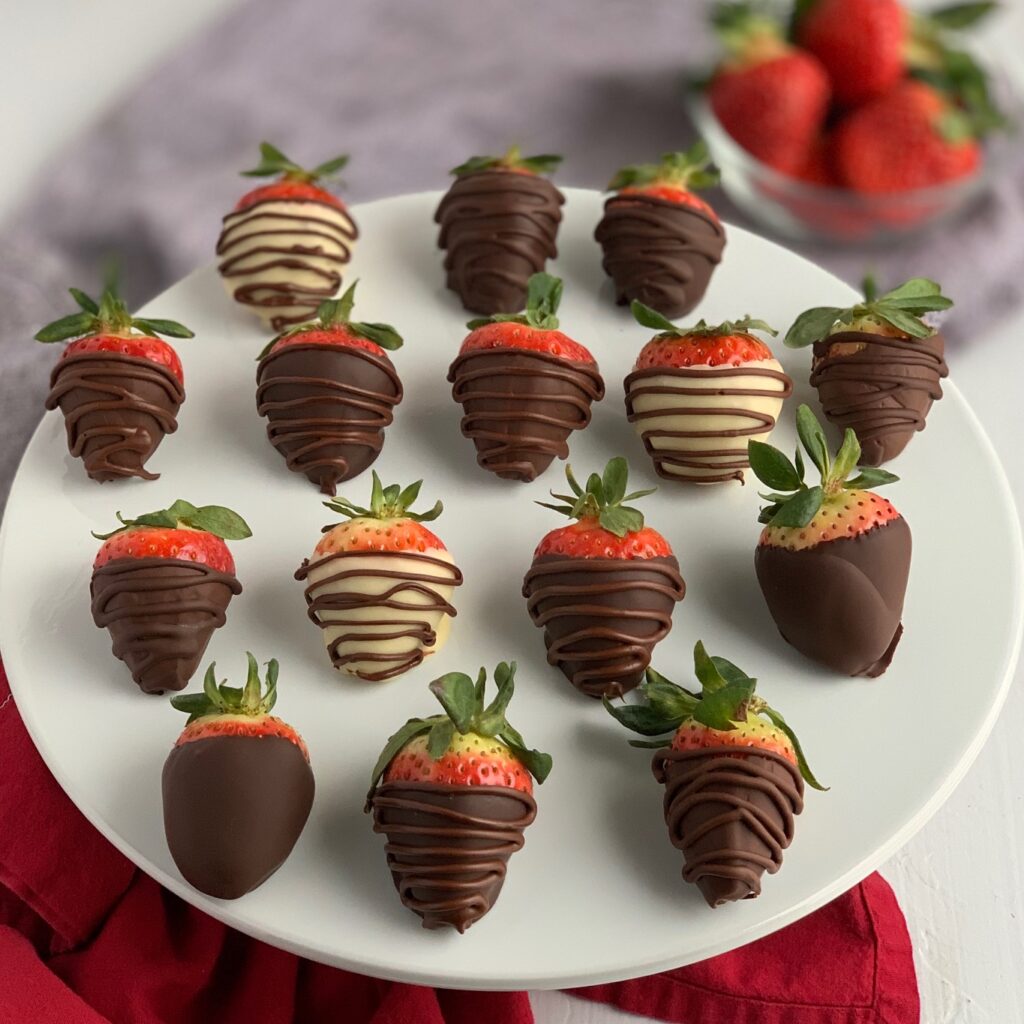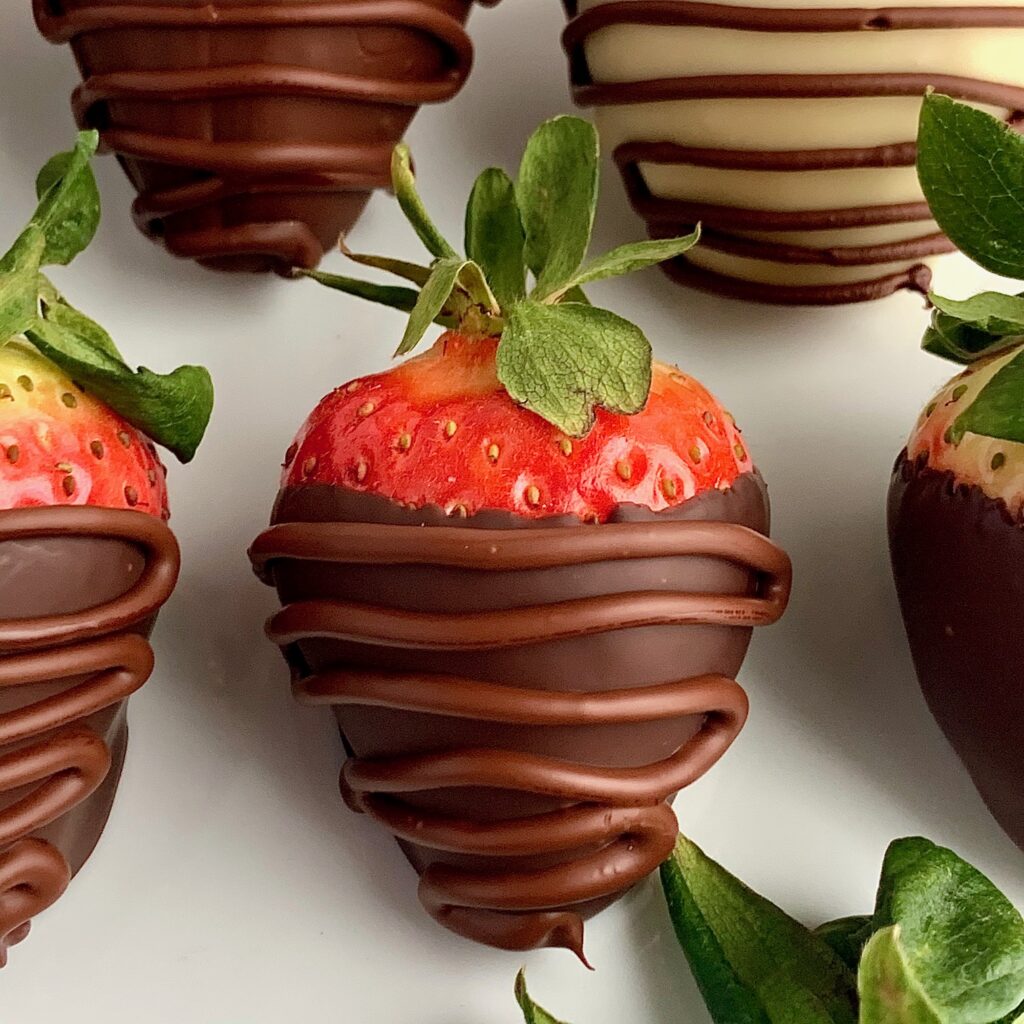 more gluten + dairy free dessert ideas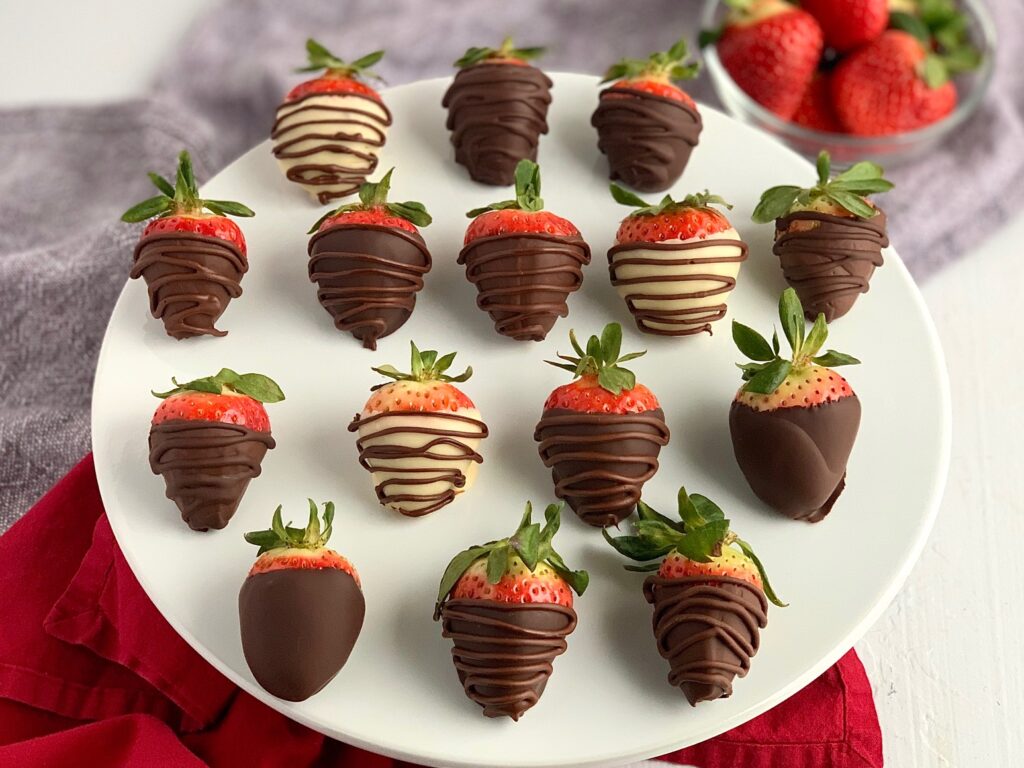 In the end this is one dessert you will always look forward to and yet won't be able to get enough of. Honestly, it's always a sad moment when the last chocolate dipped strawberry is consumed. Of course that's why my family is creating more "traditions." So make these a family tradition…every Valentine's and Mother's Day like us.
Likewise let's connect on Instagram, Facebook, and Pinterest. After all you'll want to see my latest gluten and dairy free recipes and new product announcements.
And it goes without saying — if you found these chocolate covered strawberry tips helpful, please leave me a 5-star rating. Thank you.
Eat well and feel well,
Jill