Are you ready to indulge in a dreamy, decadent chocolate dessert? This homemade Cookies and Cream Parfait dessert is so good you'll even second guess how it can possibly be gluten and dairy free. I mean, how could something so mouthwatering be free of anything?
Each bite combines a spoonful of sweet, thickened homemade chocolate pudding with Oreo-like cookie crumbles and a rich whipped topping.
You are in for a heavenly dessert experience with this layered parfait.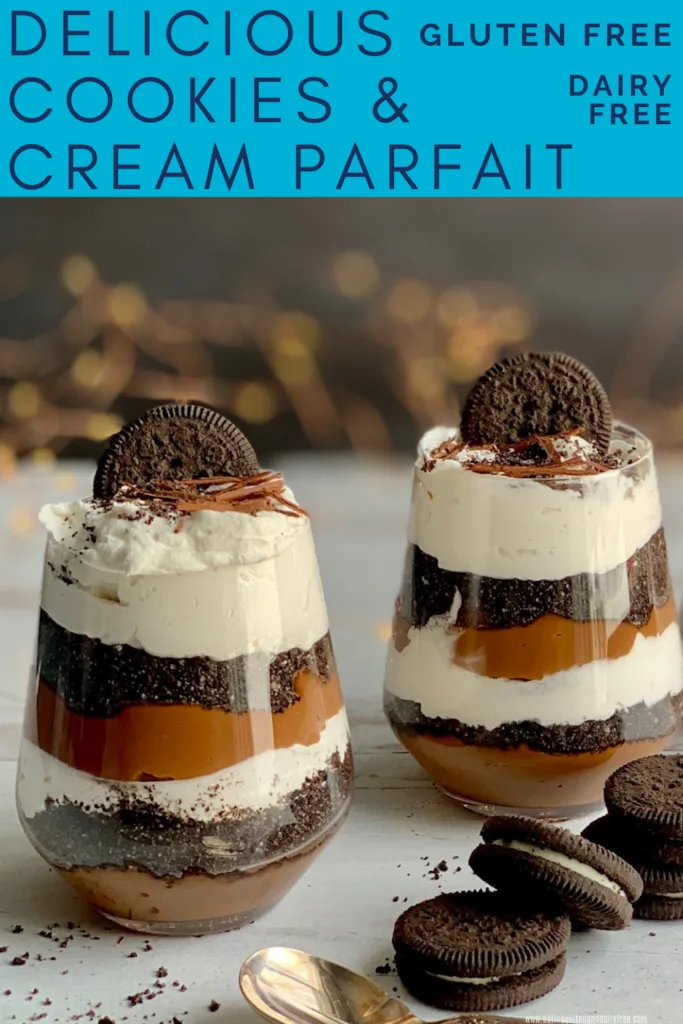 This parfait is layered with a thickened homemade chocolate pudding, crushed Oreo-like cookies, and a whipped topping. You can serve this in mini glass jar, small drinking glasses, and plastic dessert cups.
First, the base to this parfait is a homemade chocolate pudding that is unlike any other pudding recipe. It's thicker, more dense, and so, so rich. And my family could easily eat it by the spoonful. This pudding is even the base in my decadent Chocolate Cream Pie recipe here.
Next, it's ideal to use a food processor to crush the cookies quickly and evenly. But, you can also place cookies in a Ziploc bag and, using a rolling pin, smush cookies into little crumbles.
Then use a creamy whipped topping. This adds so much smooth texture and fresh taste to this parfait. It also looks gorgeous next to the chocolate pudding when served.
These Cookies and Cream Parfaits spruce up a special dinner night at home, the dessert table at a potluck meal, Mother's Day brunch, summer BBQ, or dinnertime with family and friends.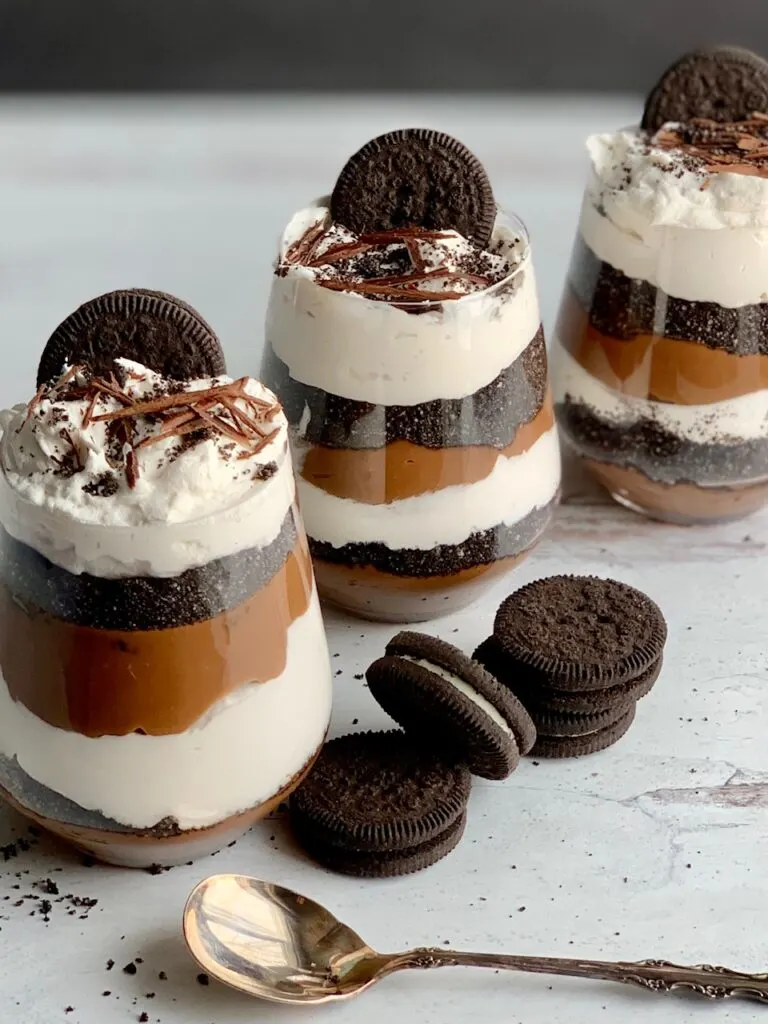 recipe notes and ingredients
gluten + dairy free cookies and cream-- here are 3 great "Oreo-like" brands with varying ingredients and manufacturing processes. First, I use the KinniTOOS Chocolate Sandwich Creme Cookies from the Kinnikinnick brand. These are free from gluten, dairy, nuts, peanuts, and soy. They are manufactured in a 100% GF facility. They are available for purchase here. Another brand is Glutino Chocolate Vanilla Cream Cookies found here. They are manufactured in a 100% GF facility; however, they do not state they are DF. Lastly, Nabisco introduced a gluten free Oreo cookie to their line up of cookies. These can be purchased online or at Walmart and major grocery stores. They are certified gluten free; however, some with celiac disease have had reactions to this brand while others haven't. For this recipe you will crush the cookies into small pieces.
granulated sugar
dairy free whipped cream-- we use Silk Dairy Free Heavy Whipping Cream; it's GF, processed in a facility with tree nuts and soy.
6 egg yolks
dairy free butter-- we use Earth Balance Buttery Sticks. Their red boxed butter is also soy free and vegan
dairy free semi-sweet morsels-- two safe brand recommendations are Enjoy Life Semi-Sweet Chocolate Chunks and Nestle Tollhouse Allergen Free Semi-Sweet morels.
vanilla extract
dairy free whipped topping-- our favorite brand is So Delicious Cocoa Whip found in the frozen section of grocery stores. For this recipe I prefer to thaw this topping a couple hours before serving. If refrigerated for too long, this product can become runny.
optional: top with fresh raspberries, dairy free chocolate curls
mini glass dessert jars-- I use these almost every week, and they help this recipe to stretch further with smaller servings
mason jars-- these work well too for a decadent, larger serving as shown dessert treat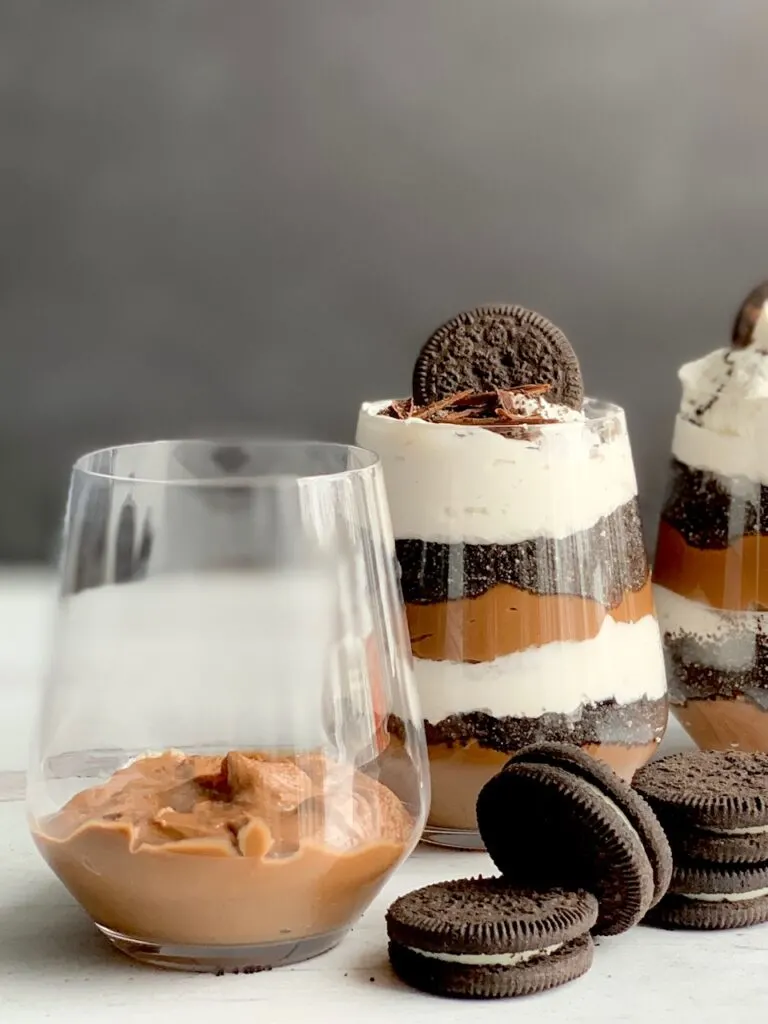 To enjoy this recipe: prepare the homemade chocolate pudding ahead of time and refrigerate for 4 hours or even overnight. It thickens as it cools so I prefer making this chocolate pudding recipe the night before and assembling the parfaits just before serving. Thaw the So Delicious CocoWhip a couple of hours before serving.
First, layer your parfaits with the thickened chocolate pudding.
Then add in crushed cookies and cream cookies, followed by a few dollops of CocoWhip. Repeat this process as desired.
Lastly, serve your Cookies and Cream Parfaits topped with a few more cookie crumbs and chocolate curls. Garnish with an Oreo-like cookie and serve.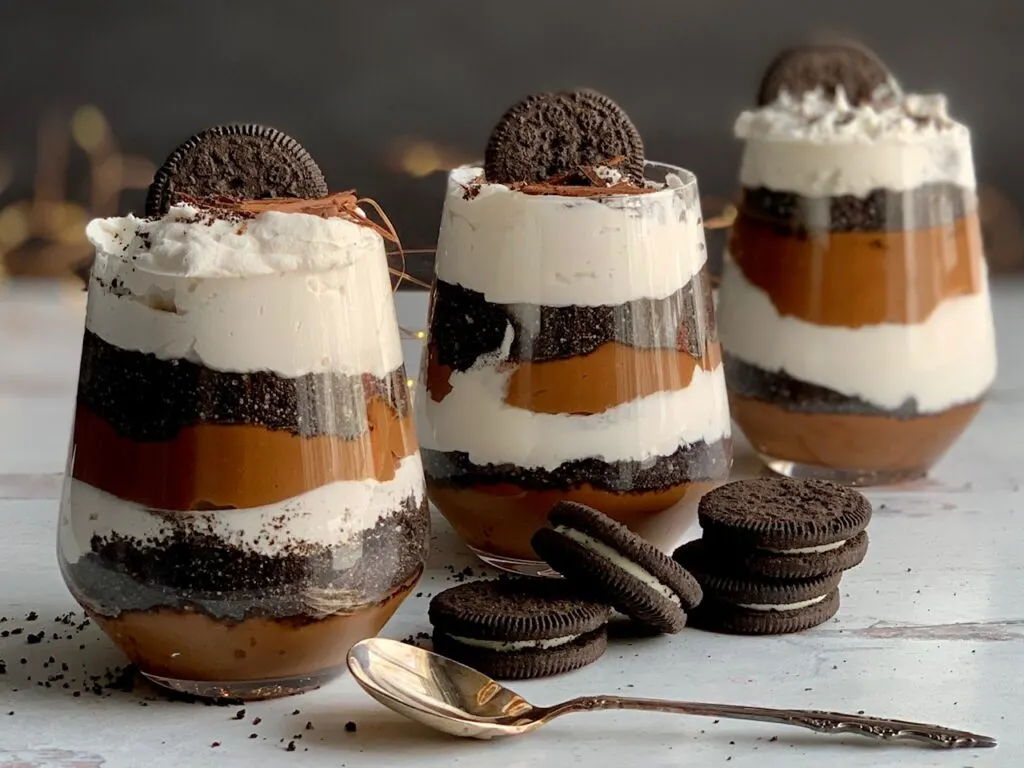 what to do with leftovers
If you have leftovers, store them covered in the refrigerator. This parfait dessert is best the day of because the CocoWhip can become runny after refrigeration for several hours.
bonus cookie and cream recipes
more reader favorite recipes you'll love
lastly
This Cookies and Cream Parfait recipe makes such delicious individual desserts. It will satisfy everyone's chocolate cravings.
And note this is a recipe you can serve to those who are gluten and dairy free and those who aren't. So this is a dessert I serve often when friends and family are joining us for dinner.
Have you checked out more of my delicious recipes yet? Start exploring here.
You'll quickly notice recipes for every meal, occasion, and holiday. PLUS-- here's my food camping guide, TSA approved airline foods to fly with, and cake baking, frosting and decorating tutorials.
Then you'll want to sign up for my exclusive emails below.
Enjoy every decadent bite of this Cookies and Cream Parfait.
Eat well and feel well,
Jill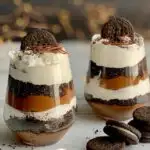 Print Recipe
Cookies and Cream Parfaits
Ingredients
Crumbled Cookie Pieces
10

cookies

gluten + dairy free chocolate and cream sandwich cookies, well crumbled

suggestions in post
Chocolate Filling
⅓

c

granulated sugar

2

c

dairy free heavy whipping cream

suggestions in post

½

c

dairy free milk

suggestions in post

6

egg yolks

2

tablespoon

cornstarch

6

tablespoon

dairy free butter, cut into small cubes

suggestions in post

9

oz

dairy free semi-sweet morsels

suggestions in post

1½

teaspoon

vanilla extract
Whipped Cream
1

9 oz

dairy free whipped topping container

suggestion in post
Instructions
Preparing the Chocolate Filling Ahead of Time
In a medium saucepan over medium heat, whisk the sugar, heavy whipping cream, and milk well.

Meanwhile in a small bowl, place egg yolks and cornstarch. Whisk until smooth.

Once the saucepan mixture is simmering, but not boiling, add two spoonfuls of the hot liquid mixture into the egg yolks and whisk. Then add two more spoonfuls of the hot liquid into the egg yolks and mix again.

Now slowly whisk the egg yolk mixture into the saucepan. Whisk constantly until the mixture thickens and comes to a gentle boil.

Turn the heat to very low and immediately whisk in the cubed butter, chocolate morsels, and vanilla extract. Whisk several minutes to rid of any lumps.

Pour the filling into a bowl. Once cooled cover and refrigerate 4 hours or overnight.
Assembling the Parfaits
Using a spoon add layers of chocolate filling, crushed cookie crumbs, and whipped topping to your parfait cup.

Garnish with more cookie crumbs, an Oreo-like cookie, and even fresh raspberries.

Leftovers-- cover and refrigerate any leftovers up to 1 day. Once assembled parfaits taste best the day of.
Notes
This recipe provides 4 large servings. If you're serving this Cookies and Cream Parfait in mini glass jars, you will be able to have 8-10 servings.