The holiday season is upon us, and I'm looking forward to Christmastime favorites. As we head into the coveted cookie, dessert, and snacking season, I wanted to find a way to incorporate 3 family favorites into one addictive snack mix. And so this Christmas Snack Mix is the ultimate grab and go mix. I mean, why not... let's go big or go home this holiday season with a puppy chow and No Whey Foods Peppermint No No's mixture to send our taste buds a-wild.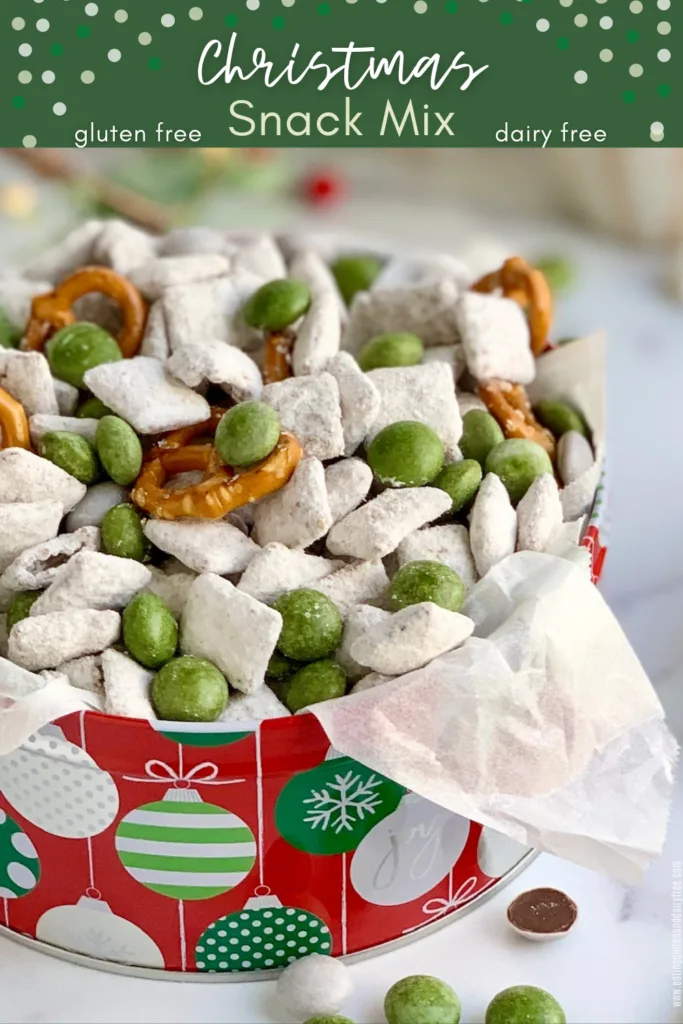 This Christmas Snack Mix offers all the seasonal tastes-- Chex mix cereal coated in peanut butter, melted chocolate, and powdered sugar. Combined with candy that has an outside crunchy coating with an inside of soft chocolate that tastes like mint chocolate. These Peppermint No No's are the best and reminiscent of M&M's.
And with a little planning ahead you can enjoy this mix in minutes! Order these Peppermint No No's now-- enjoy them in this recipe, as treats to pull from your purse, and as stocking stuffers. You'll find links below to order yours.
Christmas snack mix ingredients + recipe notes
puppy chow-- also known as muddie buddies, has been a family favorite for years. Traditionally I prepare this mix for Christmas Eve and even throughout the year. Follow the easy recipe for homemade puppy chow on my website here.
No Whey Foods Peppermint No No's-- easily the star of this recipe! These are free of the common 8 allergens and are vegan too. Available for purchase on their website and on Amazon here. These taste delicious in this snack mix and right out of the bag.
pretzels-- Snyder's of Hanover are certified gluten free, dairy free, egg free, soy free. Available for purchase on Amazon and local grocery stores.
more suggestions-- mini marshmallows, chocolate chunks, popcorn
note-- add the pretzels just before serving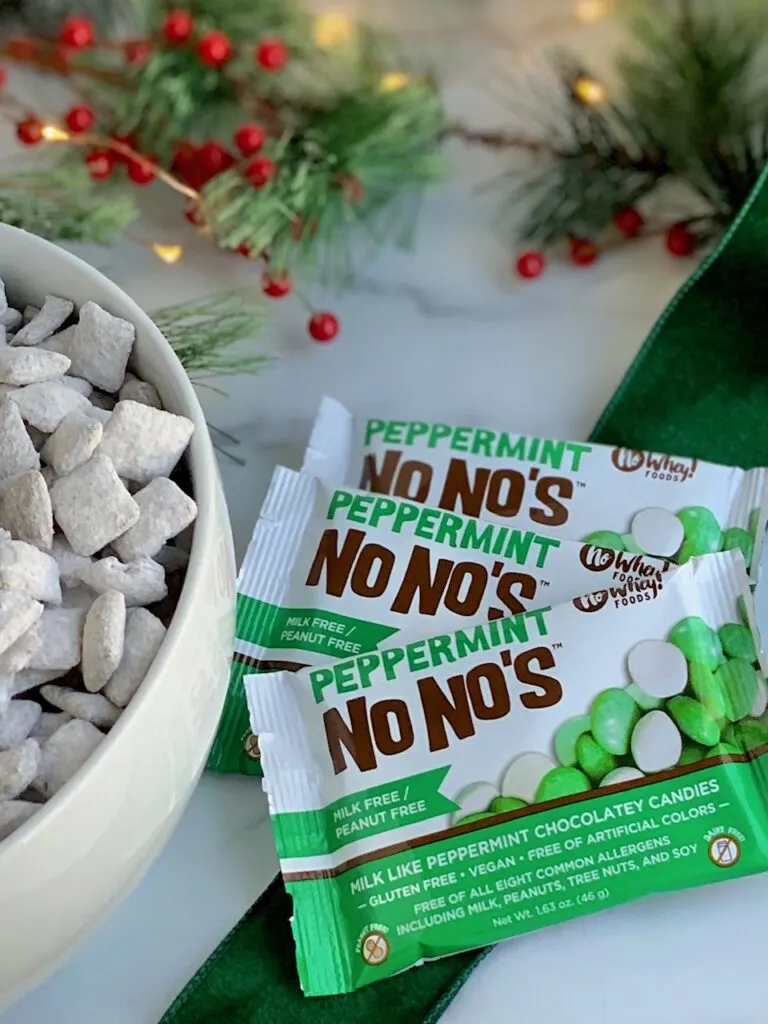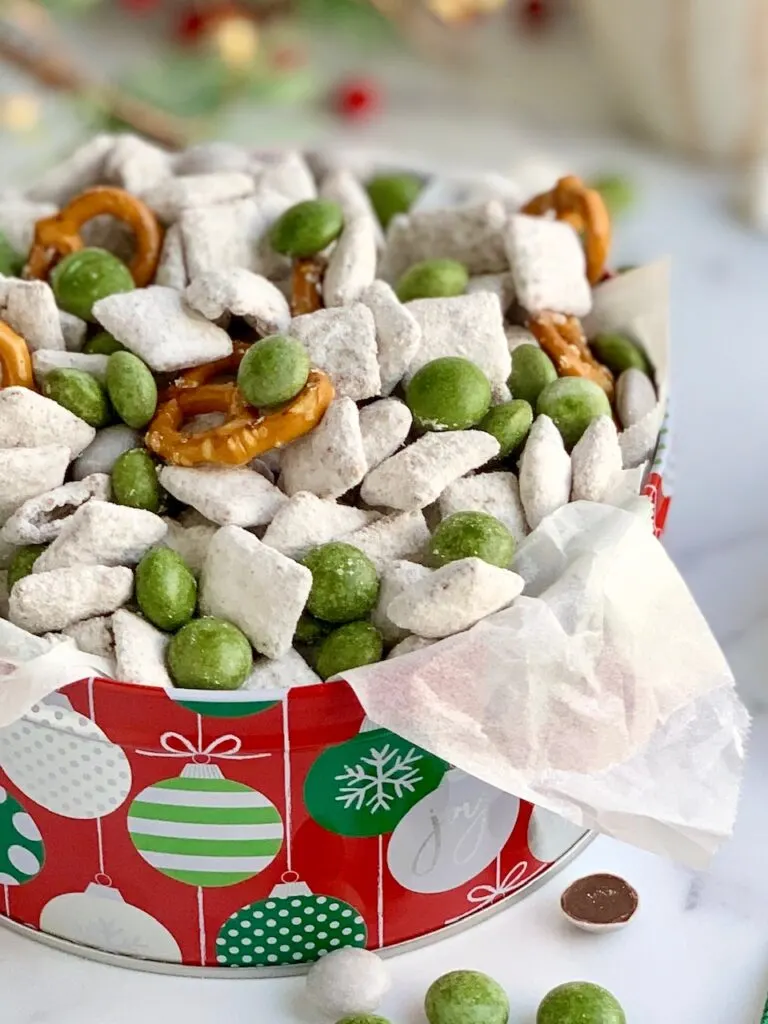 more Christmas recipes you'll love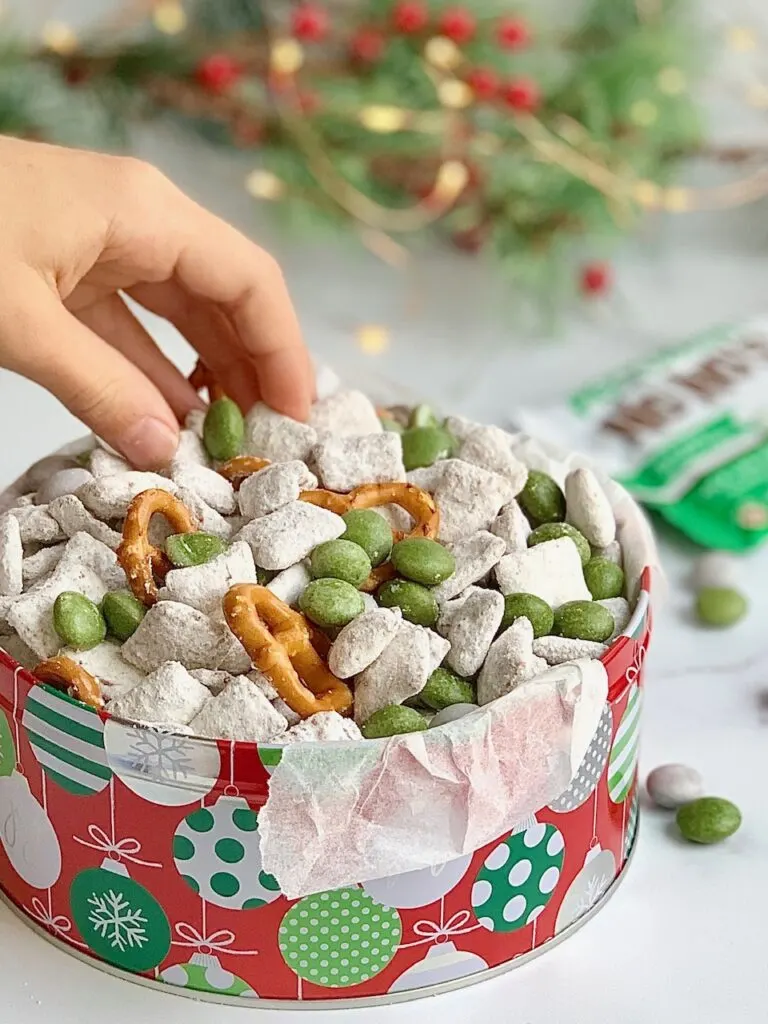 lastly
This go-to Christmas Snack Mix will leave your holiday taste buds in a cozy place of total happiness. The flavors of this mix make for a wonderful sweet and refreshing combination. Trust me-- you will love this mix and make it holiday tradition.
Do me a favor and check out more of my Christmas recipes. You will find you can safely eat the best holiday foods and desserts this season! You won't even guess these recipes are gluten and dairy free.
Follow along on Facebook, Instagram, and Pinterest. Be sure to let me know you're there and use #eatingglutenanddairyfree in any of my recipes you're posting on Instagram. I love, love, love seeing and commenting on your Eating Gluten and Dairy Free Food pics!
Eat well and feel well,
Jill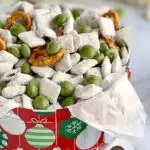 Print Recipe
Christmas Snack Mix
This Christmas Snack Mix has all the holiday flavors we love-- chocolate, peanut butter, crunchy pretzels, and peppermint candies. You'll quickly find yourself addicted to this mix.
Ingredients
Puppy Chow, approximately 10 cups

recipe link in post

3

1.63 oz bags

No Whey Foods Peppermint No No's

link in post

1

c

Gluten free pretzels, rods or twists

see suggestions in post

optional- popcorn, dairy free chocolate chunks, mini marshmallows
Instructions
Prepare puppy chow according to the recipe and place into a large serving bowl with the Peppermint No No's.

Just before serving stir in the pretzels.

This mix can be prepared 2-3 days ahead of time and placed in an airtight container. Add in pretzels just prior to serving to prevent them from softening.