Take fudgy warm, mouthwatering brownies to the next level with a couple extra supplies in this easy-to-follow Mummy Brownie guide.
How festive would you say these spooky mummy brownies are? And what if I told you, they are not only allergen friendly but easy to make?
Undoubtedly these mummy brownies are a definite win-win for everyone-- kids and adults alike.
My kids squealed with delight when they saw these decorated.
Well, that's after I explained what a mummy was. Our family isn't into much of the spooky Halloween happenings.
But I couldn't resist baking these festive brownies.
I really wanted my family and yours to enjoy these fun treats. They're just too festive not to make and eat.
Besides who can turn down gluten and dairy free fudgy brownies?
For one thing my family can't... they go crazy over them. Secondly the King Arthur box mix is so delicious you can easily serve these to those who can and can't eat gluten and dairy. They won't even guess it's "free from."
So let's grab the ingredients and get baking! These will be perfect for your fall festival event, family night or Halloween party.
mummy brownie ingredients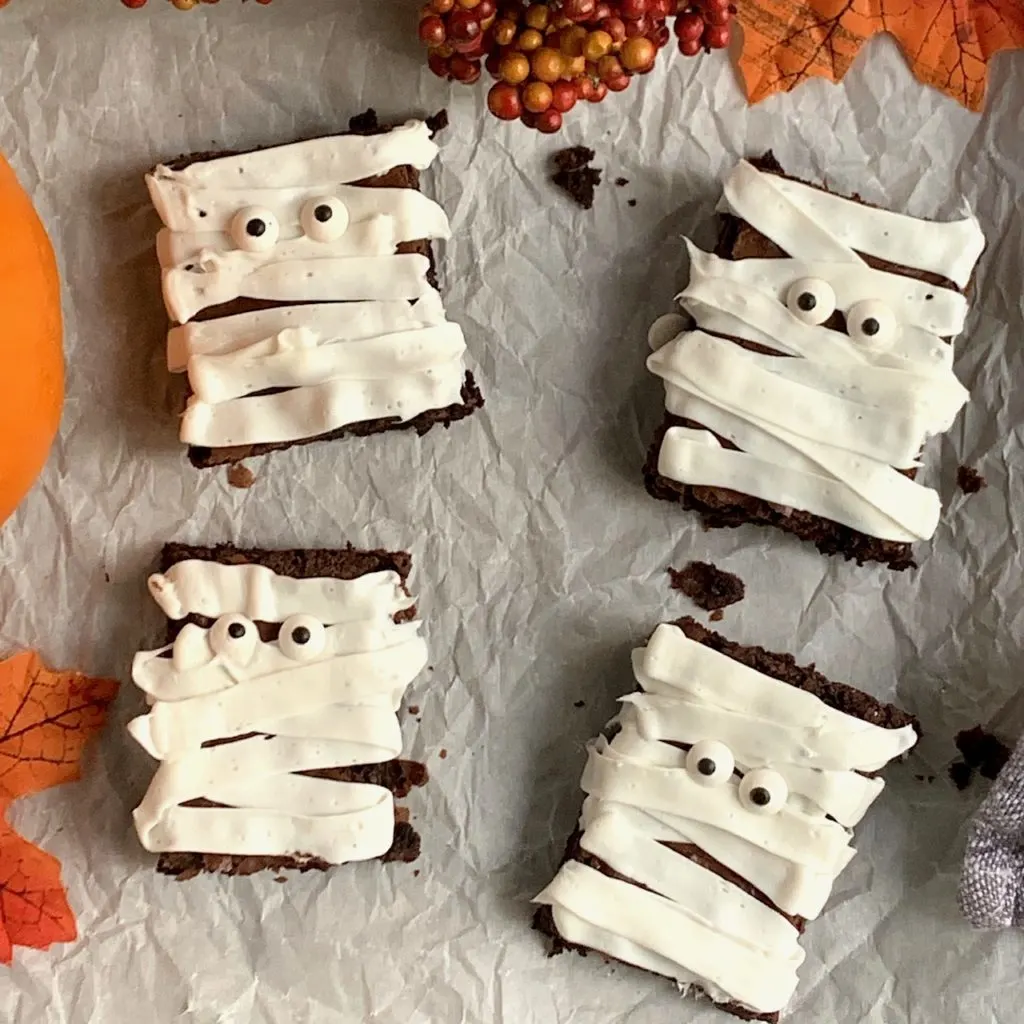 more fall recipes you will love
classic apple crisp-- enjoy this cozy recipe year round with tender cinnamon apple chunks covered in buttery, brown sugar oats and a scoop of dairy free ice cream for the after dinner family treat
candy corn brownies--perfectly delicious for any fall party
deep fried apple fritters--you will drool over
Halloween trail mix-- you won't believe this festive mix. It's loaded with so many favorites that each handful is mouthwatering.
apple caramel cookies-- soft, melt in your mouth cookies with fresh grated apple, apple cider, and a rich caramel frosting
The Best Halloween candy-- this guide has suggestions for all of your must-have safe Halloween candy
Thanksgiving Day recipes every will enjoy
lastly
These Mummy Brownies not only taste fudgy and delicious they are also the talk of the party.
And these can easily be baked and decorated at home with a couple simple ingredients.
Did you know our website, Eating Gluten and Dairy Free, has recipes for every occasion and holiday.
You never need to stress about what to eat again.
And if you will be traveling anytime soon, read up on our TSA Approved Foods to take through security.
Follow along on Facebook, Pinterest, and Instagram. Be sure to like and comment often so our posts keep showing up in your feed.
Be don't want you to miss the very best of eating gluten and dairy free.
Eat well and feel well,
Jill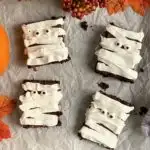 Print Recipe
Mummy Brownies
Servings:
8
mummy brownies
Ingredients
1

9x9-inch

gluten and dairy free brownie mix

ingredients to prepare mix, suggestion in the post

1

c

vanilla buttercream frosting

ingredients to prepare, suggestion in post

16

candy eye treat toppers
Instructions
Preheat oven to 350°F. Place parchment paper over a 9 x 9 baking pan; set aside.

Prepare brownies according to directions.

After removing brownies from the oven allow to completely cool.

Remove brownies from pan by lifting up on the parchment paper.

Cut brownies into 8 rectangles. Wipe your knife in between each cut for nice clean lines.

Place decorating tip in Ziploc or icing bag and fill with icing.

Using a crisscross pattern, pipe frosting across each mummy.

Place two eyes onto each mummy.

Serve brownies right away or store in an airtight container for a couple of days. Add mummy eyes just before serving.
Keep scrolling to sign up for our exclusive emails below.