This post may contain affiliate links. Read the full disclosure here
Who else agrees it can get "tricky" finding safe ways to enjoy seasonal treats? For instance Halloween and Fall Harvest parties can easily get one with food allergies feeling flustered, overwhelmed, or even sad. It can be frustrating to come up with something festive and yet safe as a family or at a party.
No need to worry… I've got your fall dessert needs covered! Prepare to be the hit of the party when you show up with these Candy Corn Brownies! It's no surprise each bite is chewy, gooey, and full of everyone's favorite candy corns, not to mention how festive they look. When I've served these to guests, they can't contain their giddiness over candy corn brownies. Likewise, this dessert screams let's have some fall fun!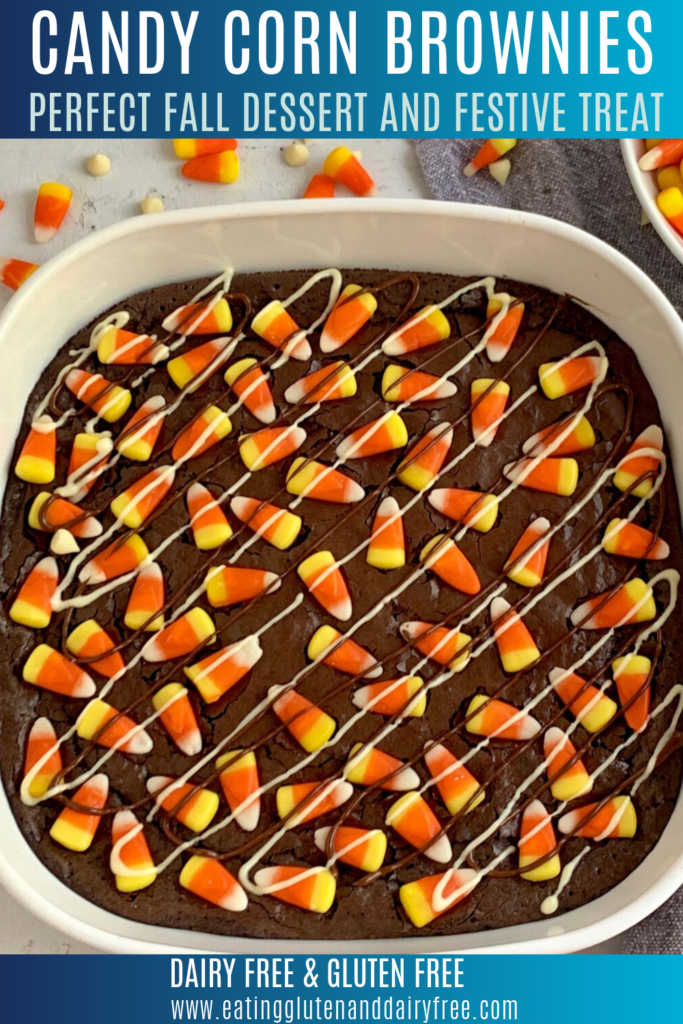 As a matter of fact, this dessert will have you drooling before you even serve it. You won't believe how hard it is to place the candy corns and drizzle with chocolate and white morsels while not enjoying one small bite. Ugh, you won't want to prepare this on an empty stomach. Now let's discuss the allergen safe products I used to create this recipe.
Recipe Ingredients:
First, use your favorite 9 x 9 boxed brownie mix. King Arthur Gluten Free Fudge Brownie Mix is a fabulous option. If you reside in the States and these aren't available for you locally, this brand is worth purchasing on Amazon. You can check them out here.
Second, your choice of candy corns depends on your "free from's."

Brach's candy corns are the iconic brand you find in most every grocery store this time of year. While they're candy corn ingredients are gluten and dairy free the manufacturing facility isn't. Their candy corns are produced in a facility with milk and wheat. You can check them out here on Amazon. And beware many of your local stores sold out of these candy corns last year.
However, if you need a brand that is gluten, dairy free and produced in a facility free from those, then consider YumEarth. I have not found these locally. However, through Amazon you can purchase a bag with 24 individually wrapped candy corn Halloween snack packs. You will only need a few of the 24 wrapped packs for this brownie recipe. The leftover snack packs would be ideal for trick or treating and such. If you have specific questions, please see the YumEarth website here. They have a wonderful FAQ page. Please note… not all of their products are produced in a gluten free facility. Thankfully, these organic candy corns are. Lastly, YumEarth candy corn treats have the same shape and color scheme as Brach's. However, they are more naturally colored and thus not as vibrantly.

Next, to prepare the chocolate drizzle you can melt dairy free chocolate chips. Two recommended name brands are:

Enjoy Life mini morsels found here.
And the Nestle Simply Delicious brand which is free from gluten, dairy, peanuts, tree nuts, eggs, soy, fish, and shellfish.

Lastly, theses candy corn brownies use white morsels from the Nestle Simply Delicious brands. This is a fairly new product on the market. If this or another dairy free white chocolate morsel isn't locally available, skip it. No one will even guess it's missing.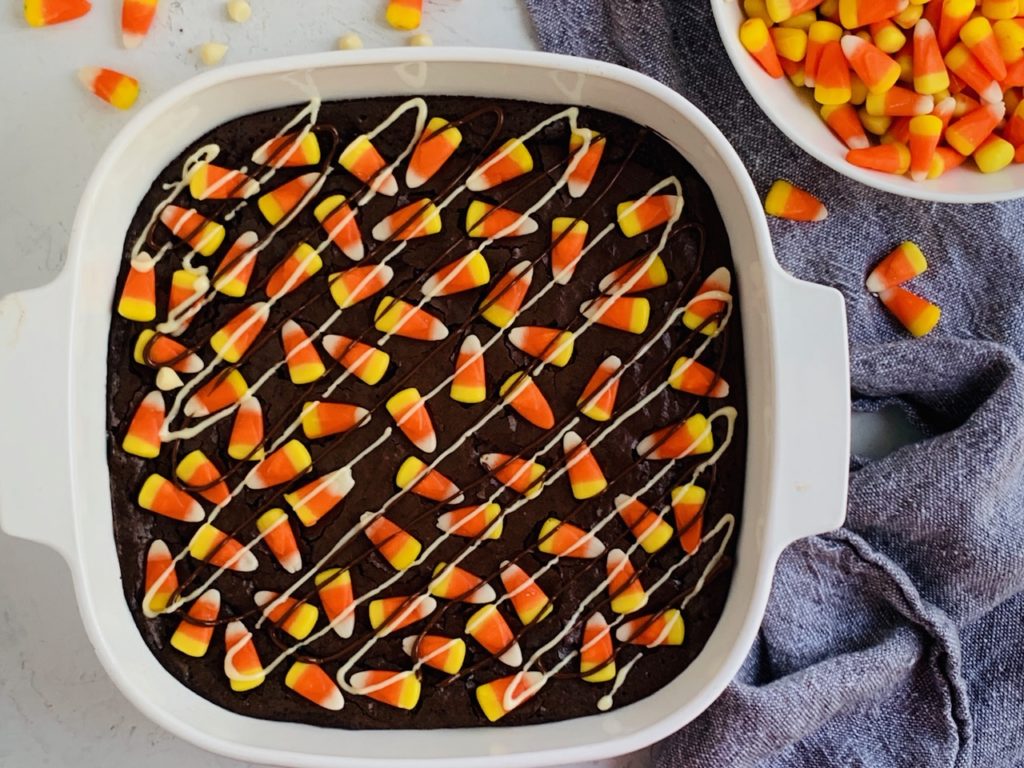 Candy corn brownies are the perfect Halloween or Fall Harvest party dessert. Keep in mind this recipe also works well for your child's classroom party. And if peanut allergies are a concern, then prepare this recipe with YumEarth candy corns. Their candy corns are peanut free. Lastly, you could also take this to any work potluck or save it for a special dessert the whole family will enjoy.
Other Fall Recipes You'll Love:
Halloween Trail Mix — wait until you see the delicious variety in this trail mix.
Homemade Deep Fried Apple Fritters that taste identical to the fall fair food. You will want to splurge and fry these now.
The most delicious Shepherd's Pie you've ever tried. You'll want to eat this often this fall.
In Conclusion:
It's not surprising these gluten and dairy free candy corn brownies are a win-win for everyone. These have delicious and addictive flavor. Also consider they offer several other safe "free from" options like peanuts and tree nuts. This dessert is a safe bet for your Halloween or Harvest Party needs. And everyone will love them. Gluten and dairy free can taste so good!
If you have any product questions or comments, please drop me a line below. And let me know the occasion for which you made these candy corn brownies.
Eat well and feel well,
Jill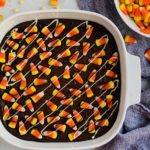 Print Recipe
Candy Corn Brownies
Ingredients
1

9 x 9 box

your favorite brownie mix prepared according to the box directions

½

c

candy corns

½

c

dairy free semi sweet chocolate morsels

½

c

dairy free white morsels, optional
Instructions
Prepare brownies according to the package and bake as directed.

After removing brownies from the oven place candy corns by gently pressing them into the brownie.

Once brownie is covered with candy corns set side. Melt chocolate using the microwave or a stove top pan carefully melt chocolate. Then lightly drizzle melted chocolate over the pan. Set aside.

Lastly, melt optional white morsels in the microwave or over the stove top and drizzle as well.

Cut and serve prior to enjoying.

Store brownies up to 2-3 days in an air tight container.