For years I struggled to find a yummy treat or two to surprise my kiddos with in their Christmas stockings. There just weren't many options years ago. However recently there's become an abundance of Allergen Free Stocking Stuffer Ideas available in local stores or online.
This one-of-a-kind list provides you with the best gluten and dairy free stocking stuffer ideas-- many suggestions are free from many other allergens too such as soy, egg, and peanuts. You will bring shocking surprise and thrilled smiles to your loved ones' faces.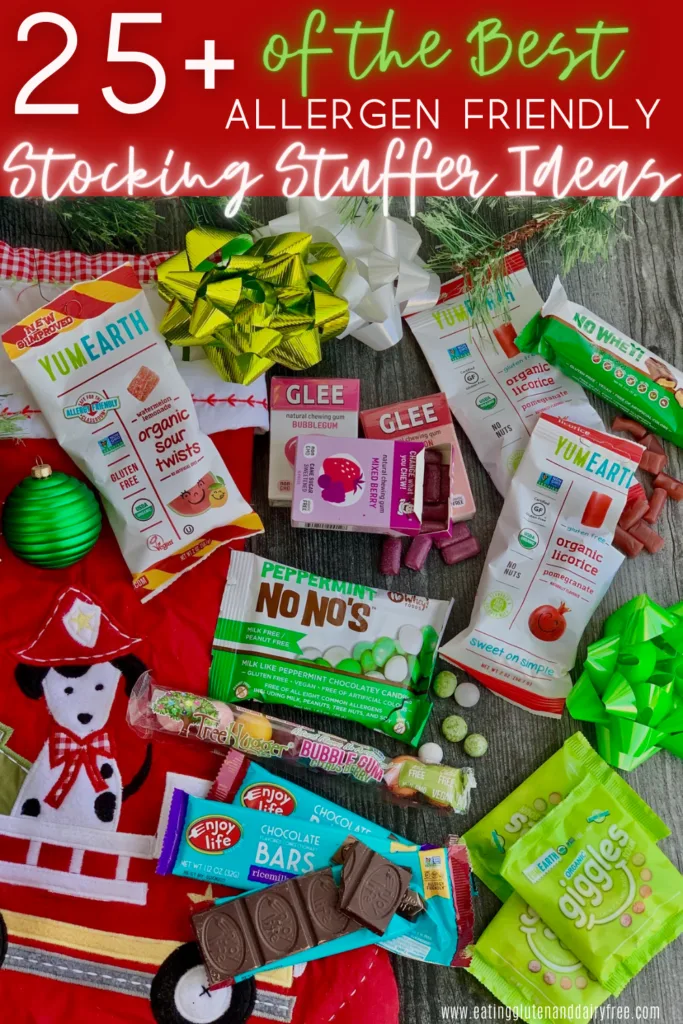 allergen free stocking stuffers
You'll notice I've included brand allergen statement links and links to purchase products online when available.
No Whey Foods-- have fun shopping this brand's festive suckers, truffles, Peppermint No No's and No Whey Candy Bar (our favorite). Purchase from their website or Amazon.
Wholesome Candy-- their Jelly Beans, DelishFish, and Gummies are kid favorites
Enjoy Life Foods-- this brand has mini seasonal holiday bars and traditional size chocolate bars everyone enjoys
Hu Kitchen-- large, delectable chocolate bars suggested for teens and adults, the crunchy mint bar is amazing
Tree Hugger Bubble Gum-- you can always find this in my purse
YumEarth-- chewy candy, chocolate, gummy bears, fruit snacks, hard candy, jelly beans, licorice, and sour candy options
Skinny Pop Popcorn-- certified gluten free, however some products do contain seasonings made with dairy; please check the ingredient statement packaging. Here is the FAQ regarding their manufacturing processes.
Synder's of Hanover Pretzels-- these mini bags are a huge hit with kids. There isn't allergen information available on their website. You can purchase mini bags in bulk here.
Glee Bubble Gum-- FAQ allergen statement is here
Amanda's Own Confections-- free of the top 14 allergens and a variety of seasonal chocolates
Honey sticks-- made with real clover honey, we buy these in bulk from Amazon here
you will find traditional candy suggestions in this Best Halloween Candy Post here-- such as Starburst, Laffy Taffy, Swedish Fish and many more ideas
follow your favorite brands on social media to know about special sales, free shipping events, and new products.
and while this gluten free play dough isn't food-- it is fun to gift in stockings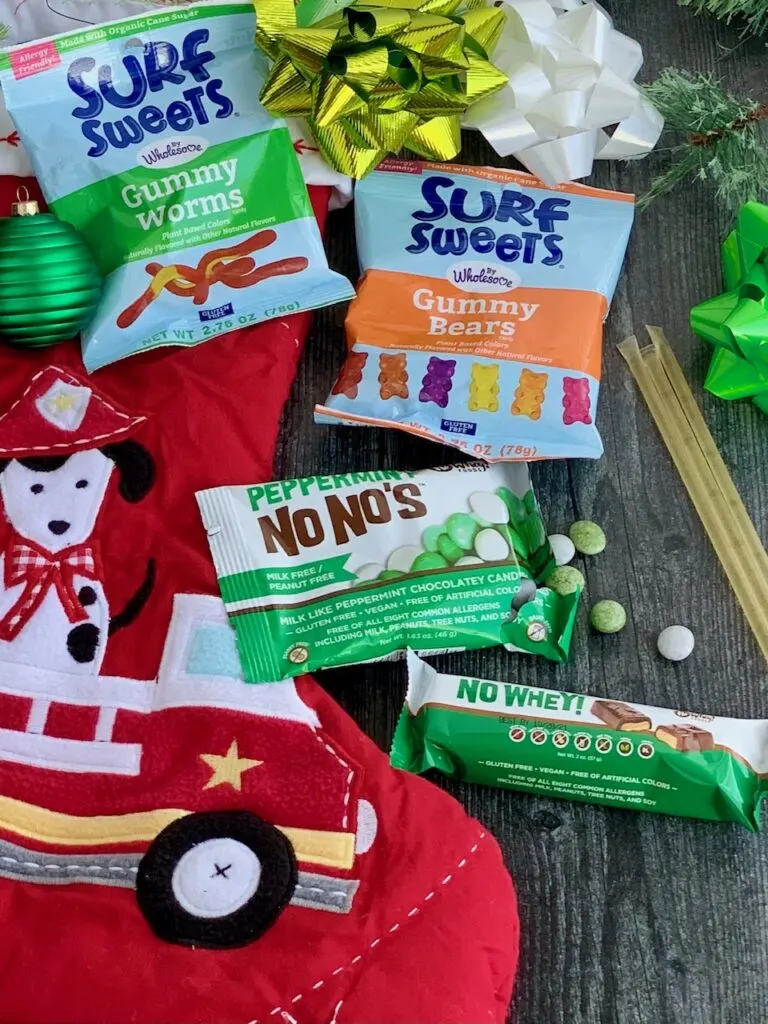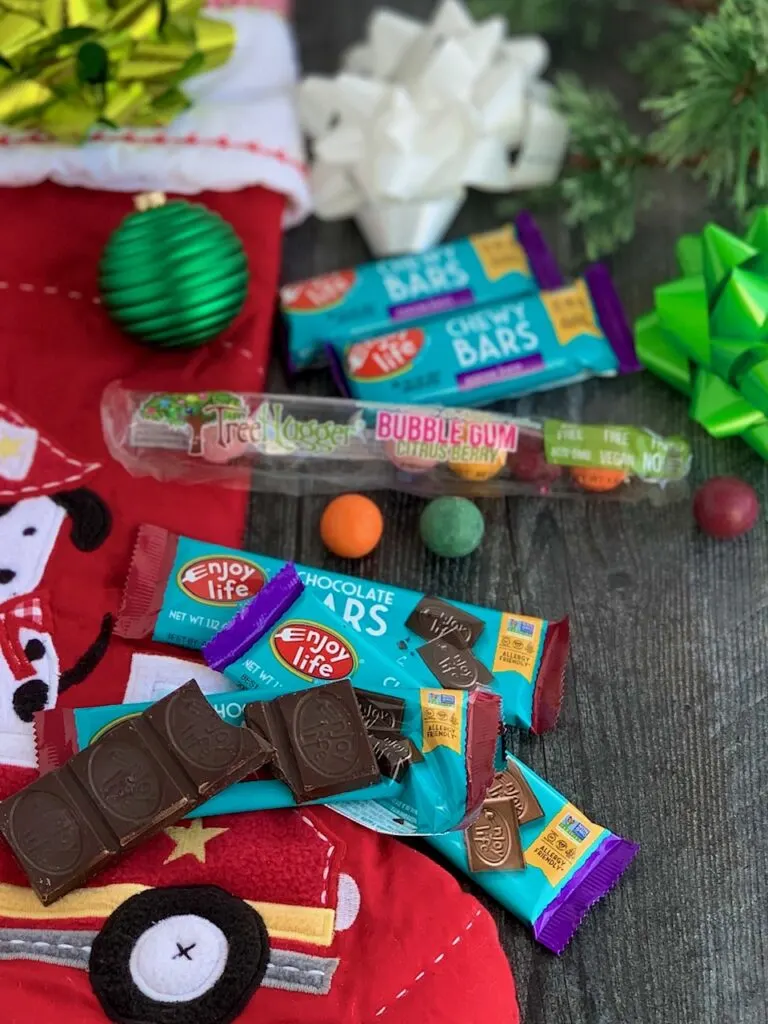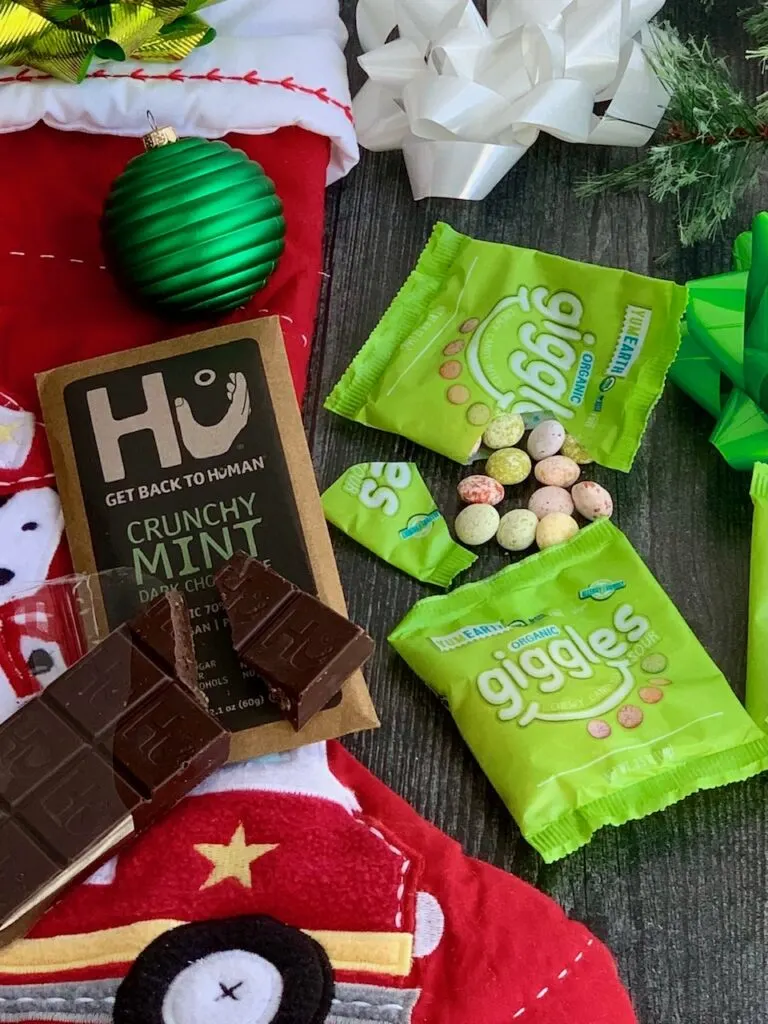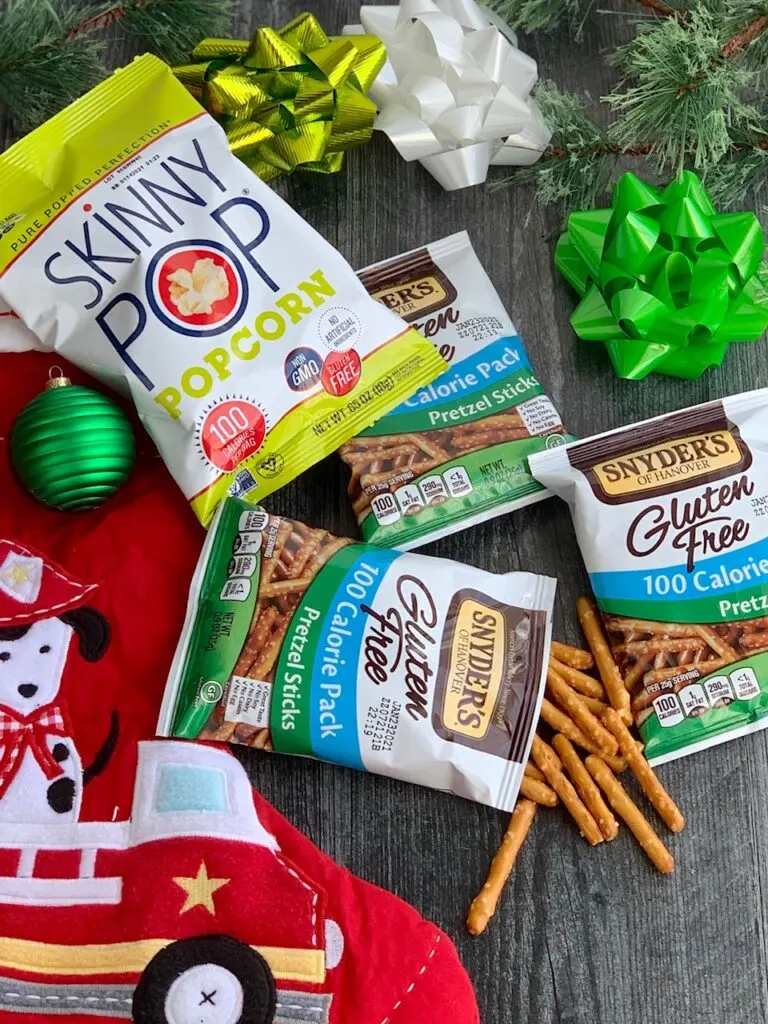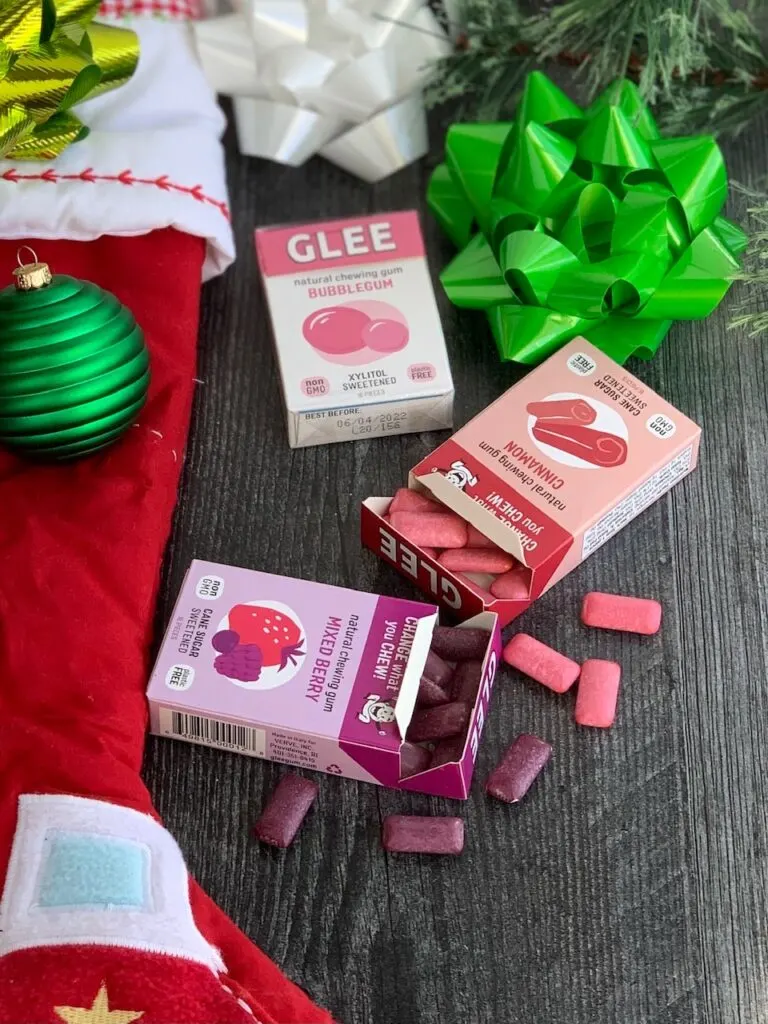 bonus pro tip
Purchase extra mini Halloween candies for stocking stuffers. I like to buy extra of the Enjoy Life Mini's in October for stocking stuffers in December. While most brands have mini sizes available for Halloween, not as many have mini sizes in December.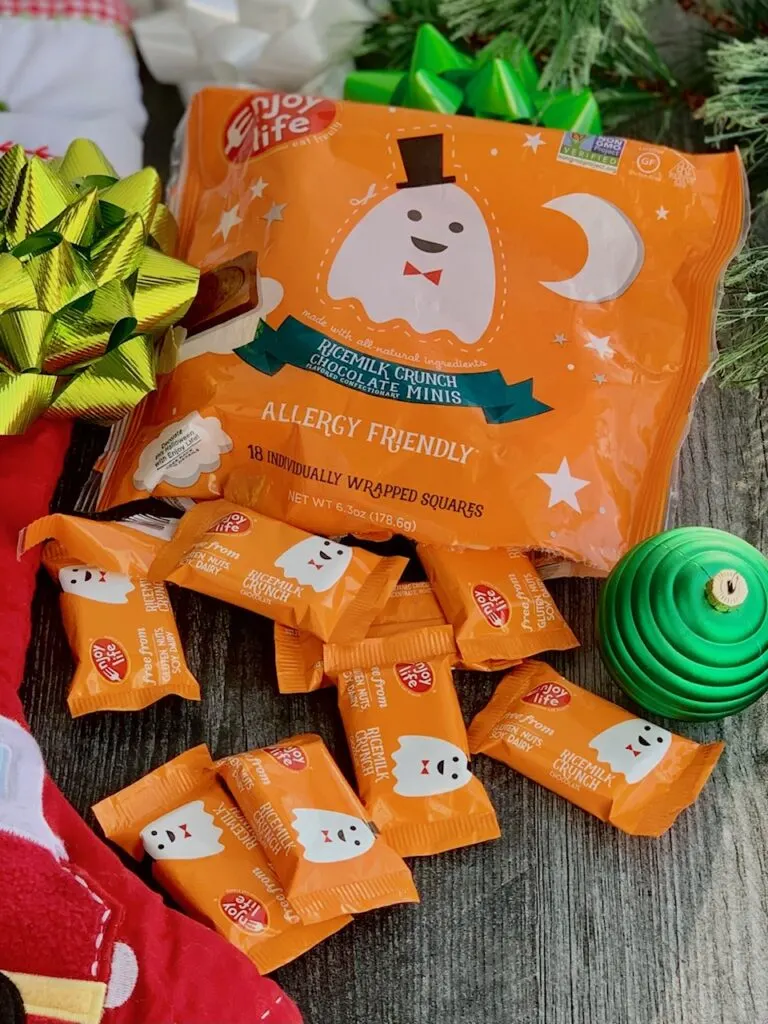 Christmas recipes you'll love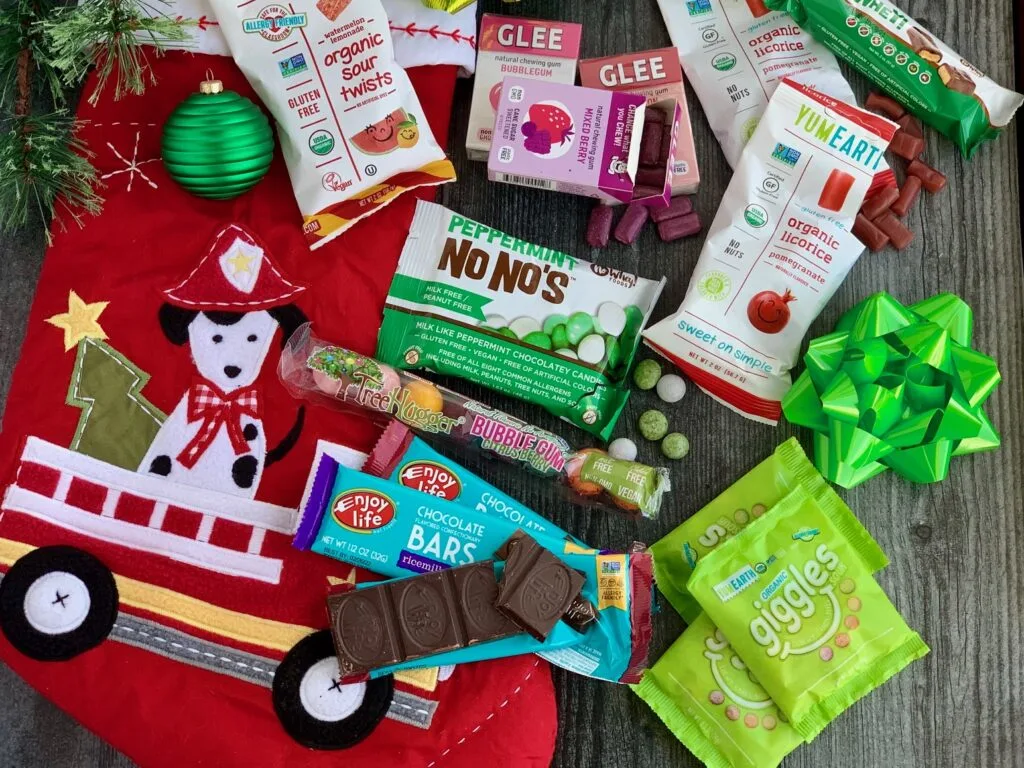 lastly
This Allergen Free Stocking Stuffers list provides you with so many of my favorite go-to safe brands. You'll find they have great options year round too for other holidays.
Enjoying bringing smiles to faces as stockings are opened this year with some of these fab ideas. And none of these stocking ideas will make a mess or clutter bedrooms.
You'll also find gluten and dairy free recipes for every occasion on my website. Please follow along on my Facebook, Instagram, and Pinterest. Sign up for my emails below so you don't miss the best of eating gluten and dairy free.
Eat well and feel well this Christmas,
Jill