Let's jump into hot chocolate season with these fluffy and soft pink Homemade Peppermint Marshmallows. Enjoy these marshmallows with a hint of peppermint dropped into a cozy mug of delicious hot chocolate for the ultimate Christmastime beverage. Lastly plan to prepare a second batch of marshmallows tucked inside cellophane gift bags for gifting loved ones.
This recipe is really quite straightforward and easy despite any preconceived fears of making your own marshmallows. These favorable treats are completely worth the homemade time and effort. And trust me-- you'll never look at store-bought marshmallows the same after tasting these.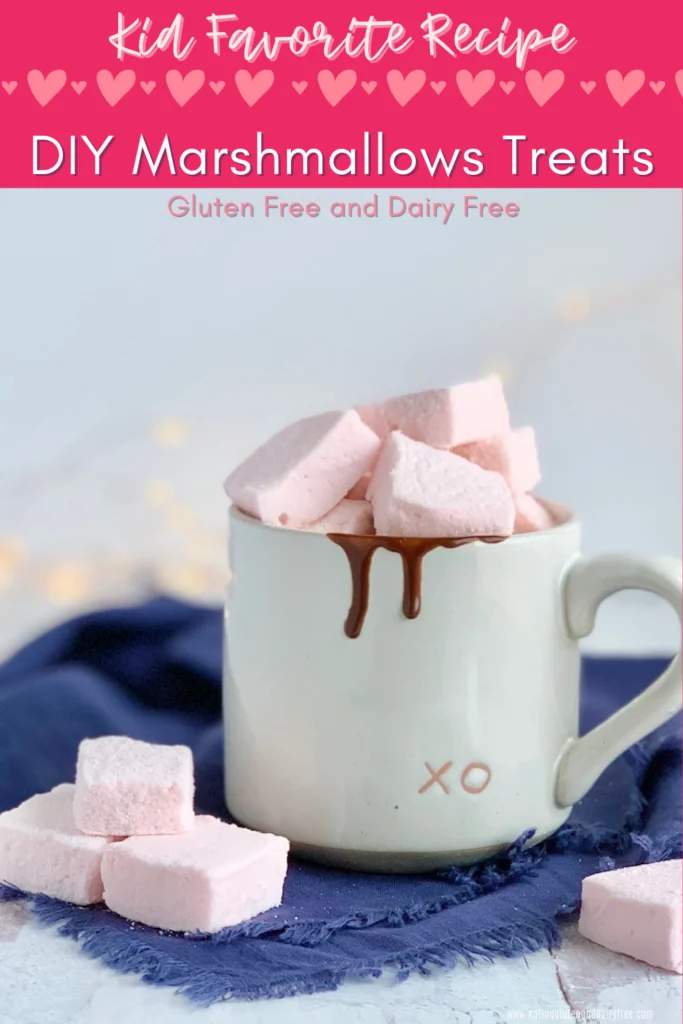 Years ago a friend gifted me a lovely holiday jar of marshmallows similar to this peppermint recipe. I enjoyed the entire gift as little snacks over the course of a week-- they never even made it into a mug of steamy hot chocolate. Instead I nibbled on them, savoring every bite. And I thought I'd died and gone to Heaven. I didn't even know you could make these in your own kitchen-- I was convinced they were a specialty item saved for manufacturing companies with fancy ingredients and kitchen machinery. Needless to say I was stunned and absolutely delighted to learn differently. The following Christmas I enjoyed preparing this Homemade Peppermint Marshmallow recipe from a Family Circle publication.
And nowadays my kids love helping prepare these hot chocolate toppers.
After just one batch you will have mastered this homemade recipe too! Yes, this recipe is that easy.
homemade peppermint marshmallow ingredients + tips
confectioners' sugar
cornstarch
water
unflavored gelatin-- Vital Proteins Beef Gelatin unflavored is available to purchase here. Also consider Great Lakes Unflavored Gelatin, but I found their labeling and allergen statement wasn't as clear as I'd hoped. Use the brand best for your "free froms."
granulated sugar
light corn syrup-- the Karo brand is gluten free; see their allergen statement here
crushed candy canes-- YumEarth is an allergen-friendly brand available in most grocery stores and here. This recipe uses 6 large crushed candy canes.
salt
optional-- cut these with a cookie cutter coated in the sugar-cornstarch mixture for an ultra festive flare
handheld mixer-- I've tried this recipe with an electric stand mixer and the results were not the same. You need to use a handheld mixer for this recipe so the beaters can get to the bottom and sides of the bowl, unlike with an electric stand mixer. The peppermint sugar and corn syrup mixture will quickly harden at the bottom or sides of the bowl if not continually mixed into the rest of the marshmallow mix.
lastly-- I'd suggest using a timer for the 10 minutes needed to mix the marshmallow mixture
here's the handheld mixer and sifter similar to what I use in my kitchen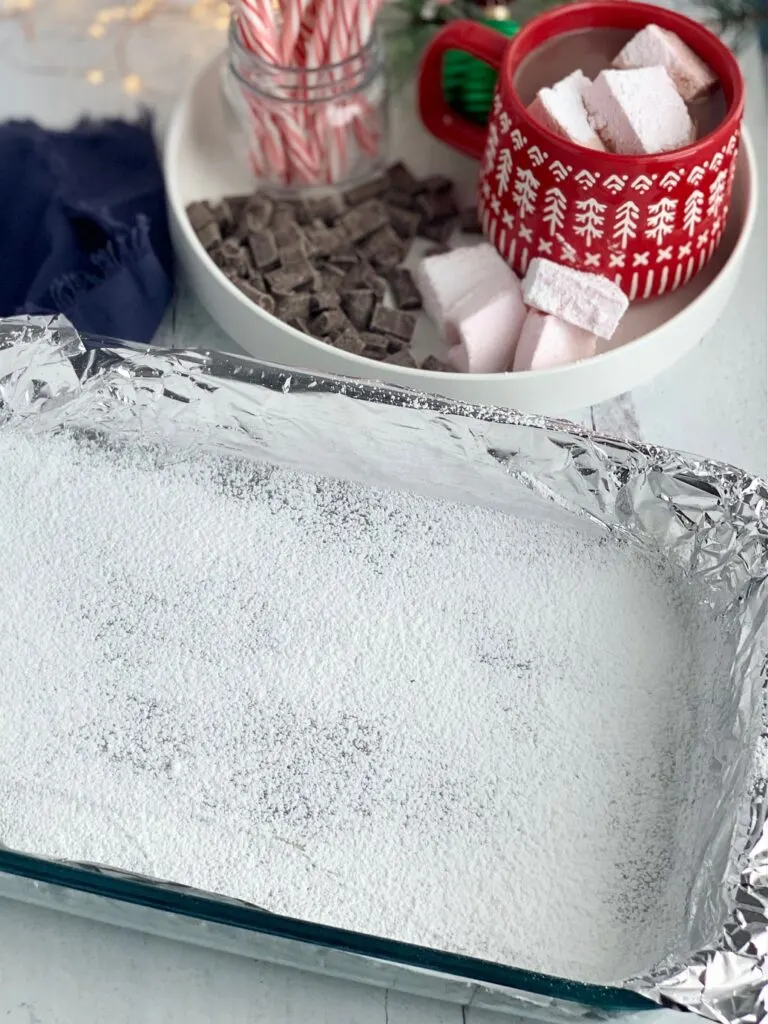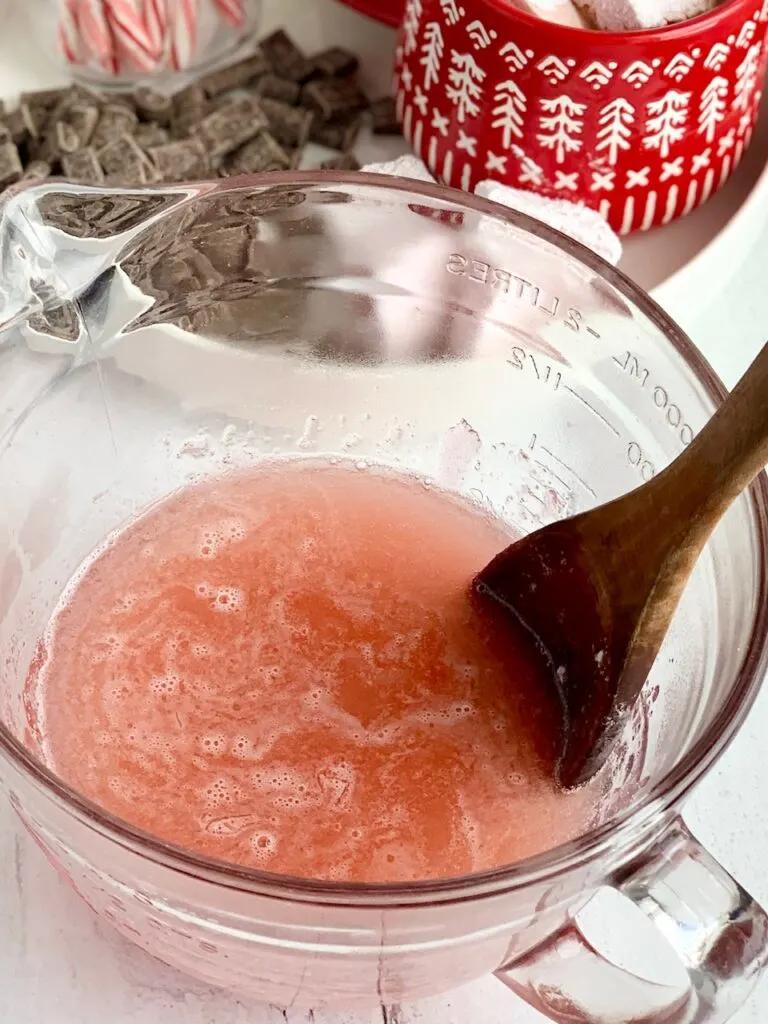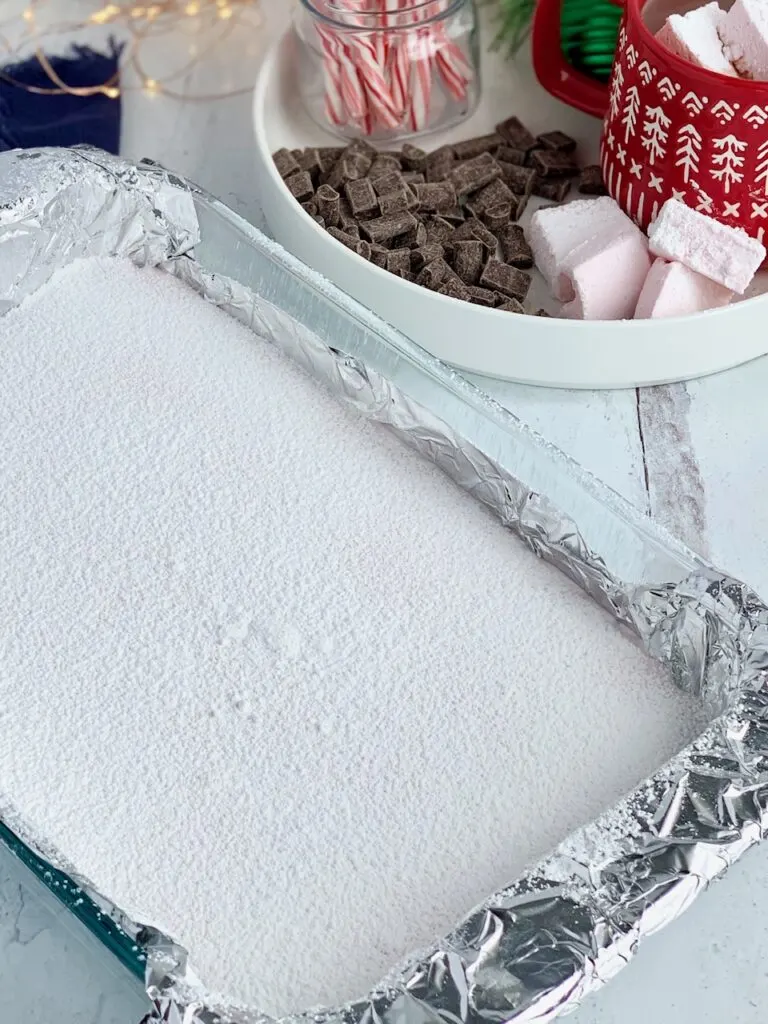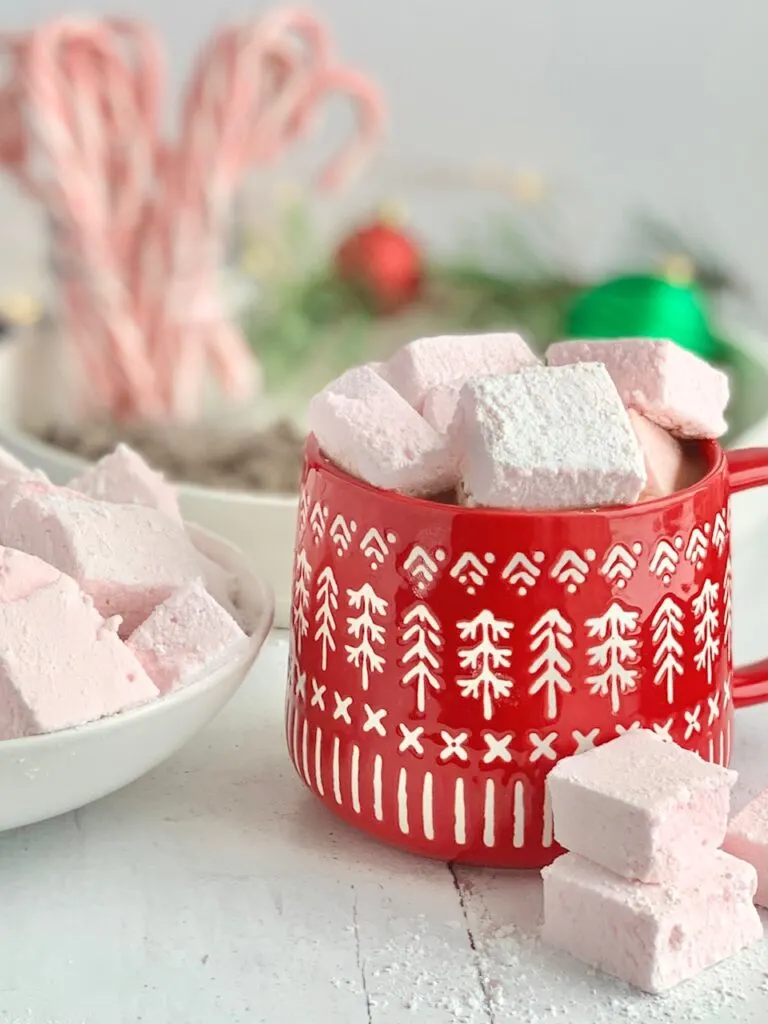 more Christmastime recipes you'll love
DIY Hot Chocolate Bombs-- enjoy these hollow chocolate balls filled with hot chocolate mix and mini marshmallows that open up to everyone's amazement in a warm filled mug
Chocolate Kiss Cookies-- this classic cookie is a family favorite and yours will love it too
Christmas Desserts-- over 20 gluten + dairy free festive desserts perfect for the holidays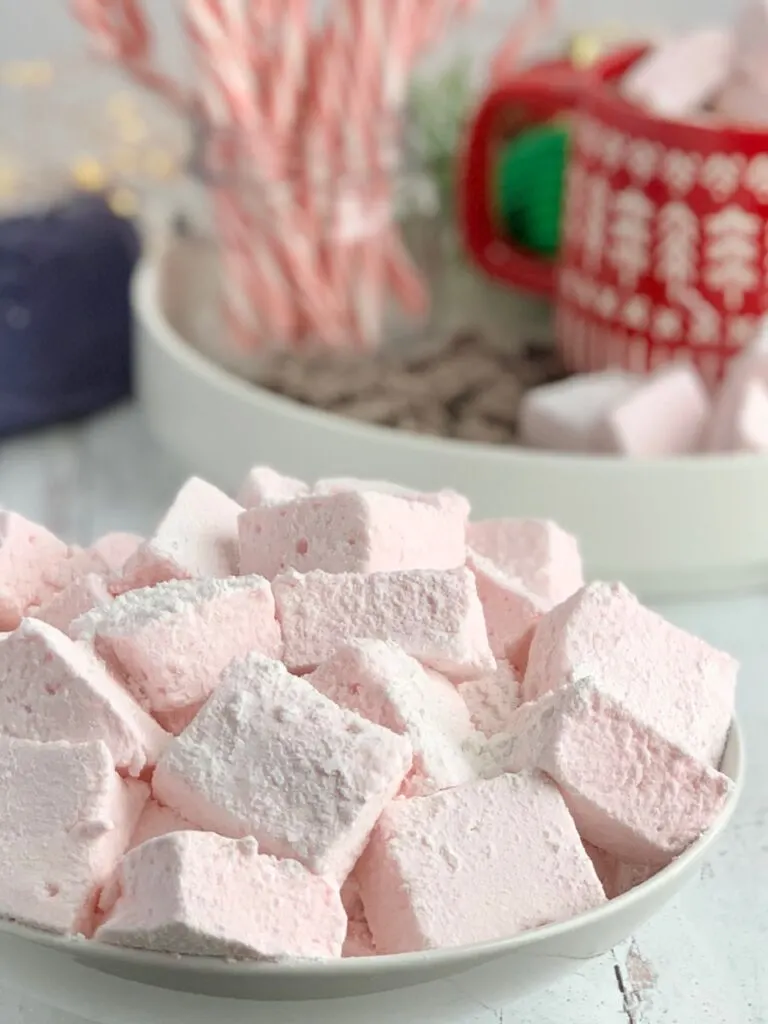 lastly
How can you possibly resist these "bucket list" homemade treats perfect for Christmastime? Made with basic ingredients these marshmallows have serious "wow factor."
After you try this recipe Instagram it. And don't forget to tag me @eatingglutenanddairyfree so I can enjoy your marshmallow pic and leave a comment.
Be sure to follow along on Facebook, Instagram, and Pinterest too. I don't want you to miss out on the best of eating gluten and dairy free.
Eat well and feel well,
Jill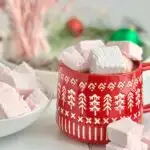 Print Recipe
Homemade Peppermint Marshmallows
Servings:
54
marshmallows
Ingredients
½

c

confectioners' sugar

⅓

c

cornstarch

2

tablespoon

unflavored gelatin, or 2 envelopes

suggestion in post

⅔

c

water

1⅓

c

granulated sugar

⅔

c

light corn syrup

½

c

crushed candy canes or mint candies

suggestion in post

⅛

teaspoon

salt
Instructions
In a small bowl, sift together confectioners' sugar and cornstarch.

Line a 9 x 13 inch baking sheet with foil, coat with nonstick cooking spray.

Sift 2 tablespoons of the sugar and cornstarch mixture into the sheet. Evenly coat the baking sheet and set aside.

In a medium size saucepan, heat sugar, corn syrup, crushed candy canes, and salt over medium heat, about 1-12 minutes until dissolved. Stir occasionally. Don't bring to a constant boil.

While peppermint mixture in the saucepan is dissolving, place water in a large mixing bowl. Add in gelatin and allow to soften for 5 minutes.

Add the peppermint saucepan mixture to the large mixing bowl with gelatin.

With a handheld mixer beat on high for 10-12 minutes, until light and fluffy. Wipe down the sides of the bowl early on with a wooden spoon; otherwise the peppermint mixture will harden to the sides of the bowl and not be incorporated into the marshmallows.

Then, spread evenly onto the prepared baking sheet with a spatula.

Dust with 2 tablespoon of the sugar-cornstarch mixture.

Allow marshmallow mixture to sit at room temperature for 2 hours.

Then lift the marshmallow mixture off the baking sheet by the foil. Using a wet knife, cut the mixture into 6 large squares.

Now spread remaining sugar-cornstarch mixture on the baking sheet.

Flip over 6 marshmallow squares; cut each square into 9 even pieces.

Toss marshmallows in sugar-cornstarch mixture and then leave in the pan for an additional hour to set completely.

Store Peppermint Marshmallows at room temperature in an airtight container up to several days.
Notes
Importantly-- soak saucepan and mixing dish immediately after use in hot water otherwise the peppermint mixture will quickly harden and be more difficult to remove.