These colorful sprinkles add festive pizazz to your yummy Chocolate Chip Cookies. Sprinkle Chocolate Chips Cookies are soft and full of fun. Enjoy this recipe for occasions like birthday parties or a special after school snack with a glass of milk.
We transformed our favorite soft chocolate chip cookie recipe by adding colorful sprinkles for a fun twist.
You are going to enjoy this simple recipe the whole family loves.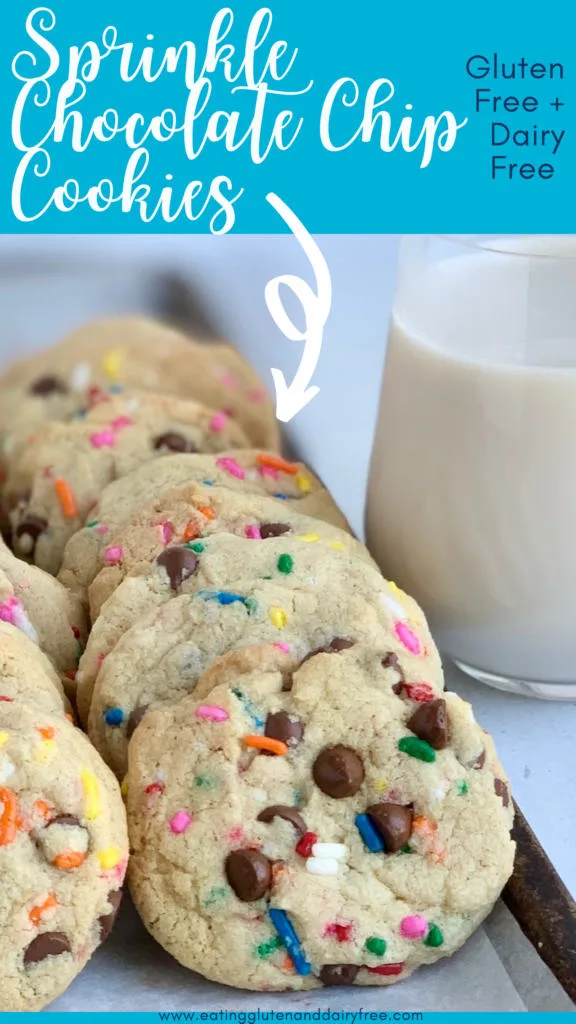 People call these cookies by many different names including Birthday Cookies, Sprinkle Birthday Cookies, and even Chocolate Chip Cake Batter Cookies. But why keep this recipe hidden away except for birthday parties?
These cookies are so fun; plan on enjoying them year round.
Use your favorite gluten and dairy free rainbow sprinkles or switch it up by selecting a specific color perfect for your special occasion. The all pink or blue sprinkles are so fun for baby showers and gender reveal parties.
And you gotta try these at Christmastime with festive red, green, and white sprinkles! Or bake a plate full on the 4th of July with these sprinkles,
They're just so festive and magical.
Bonus idea to cool off during the hot summer-- use this sprinkle chocolate chip cookie in our Ice Cream Sandwich recipe! Hello summer dessert amazingness. You can never go wrong with this recipe either.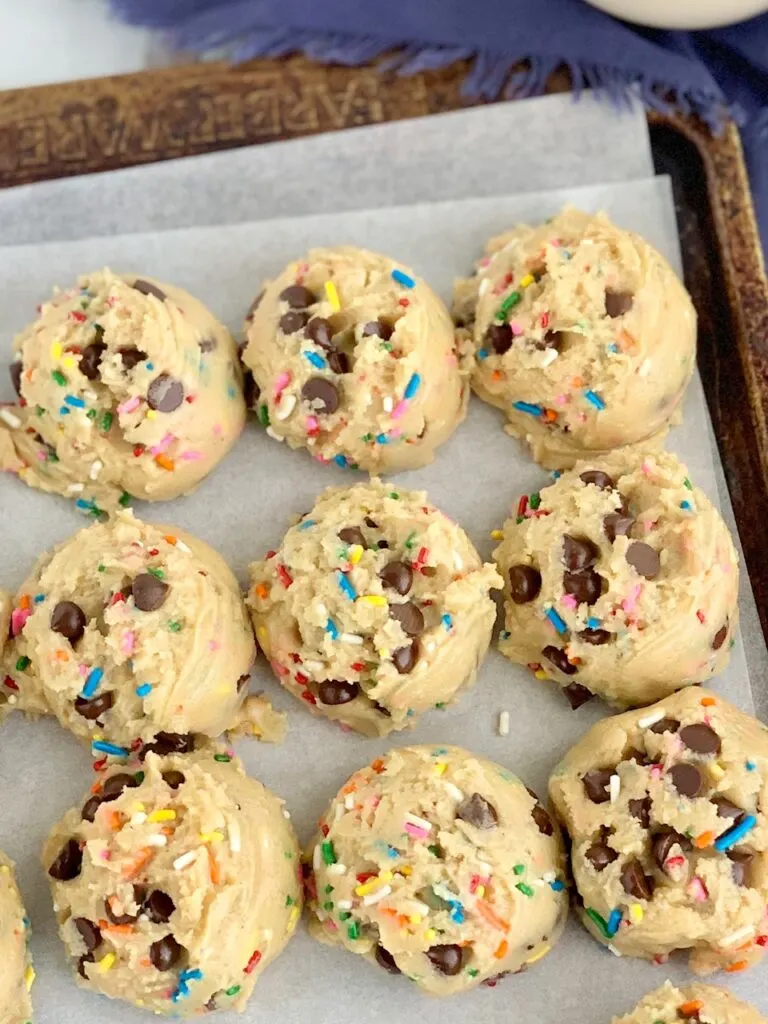 sprinkle chocolate chip cookies ingredient list and tips
dairy free butter-- melt for 20 seconds. We use the Earth Balance Buttery Sticks in a red box (also soy free) available here for purchase
granulated sugar
brown sugar-- packed and leveled
egg-- at room temperature
gluten free all-purpose flour-- scooped and leveled, we prefer the Bob's Red Mill Gluten Free Baking Flour . We buy it in bulk here and save so much money. This mix does contain xanthan gum in the blend.
xanthan gum-- omit if your all-purpose blend contains this or guar gum
baking soda-- always double check your ground spice brands are gluten and dairy free. And consider always labeling your baking soda container with the date when it's first opened. After the container has been opened for 6 months it loses its potency.
Kosher salt
dairy free chocolate chips-- for this recipe we like the Enjoy Life Semi-Sweet Mega Chunks or Nestle Tollhouse Allergen Free Semi-Sweet Morsels. Either bakes and tastes wonderful in this recipe.
gluten and dairy free sprinkles-- our favorite gluten and dairy free brands are Sweets Indeed and Supernatural. You can purchase them off their website or on Amazon. The Supernatural sprinkles allergen statement is here, and a must read if you have life threatening responses to cross contamination.
cookie sheets-- we use these cookie sheets
parchment paper or baking mats-- baking mats are awesome. One of the best kitchen gifts I ever received.
mixing bowl-- here is a wonderful set with lids
medium cookie scoop-- we use these for scooping ice cream and pancakes too
cooling racks-- Wilton 3 tier stackable cooling racks are great and take up little space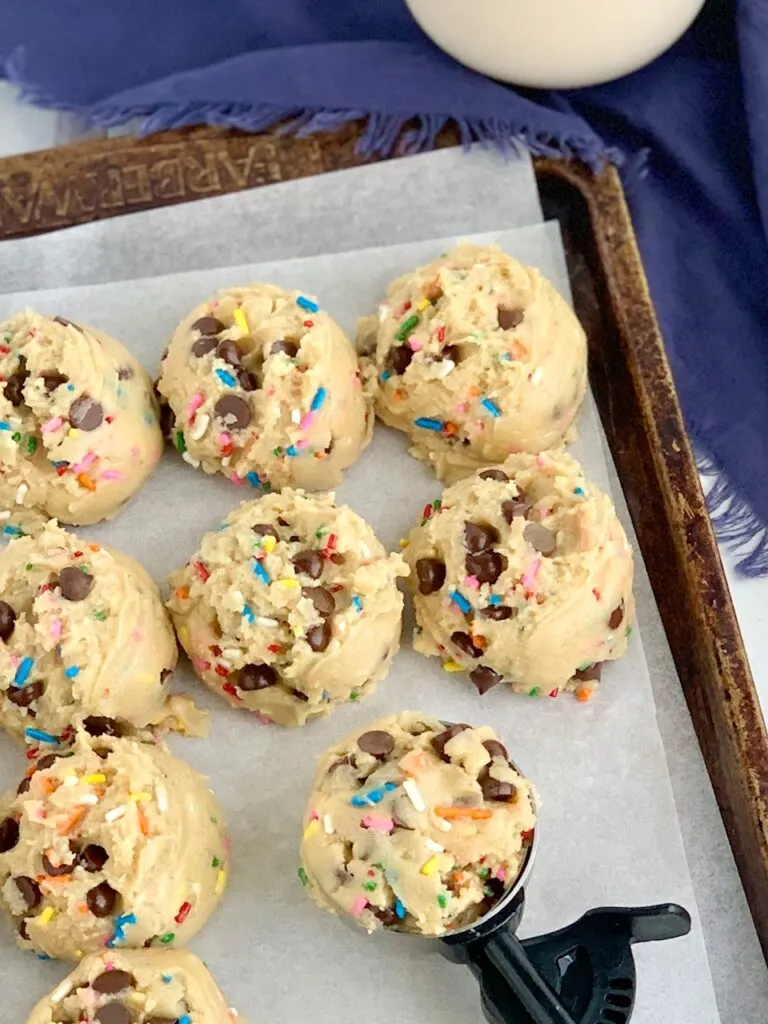 how to make sprinkle chocolate chip cookies
Follow our Soft Chocolate Chip Cookie recipe and add in ½ cup of your favorite gluten and dairy free sprinkles to the batter along with the semi-sweet chocolate chips. The bake time remains the same.
Bake and enjoy with a cold glass of milk... or our new go-to is this dairy free chocolate milk.
what sprinkles are safe
Gluten and dairy are often hidden ingredients in sprinkles. This is always a product label you need to read before purchasing.
With that in mind, the safest brands of sprinkles I've found are from Sweets Indeed and Supernatural.
You can purchase these from their website or on Amazon.
Our favorite sprinkles for this cookie recipe are these Sprinklefetti Mix from Sweets Indeed and these star-shaped sprinkles from Supernatural. You'll find both brands have several themed sprinkles too.
Perfect for Birthday cakes, Sugar Cookies, and our Double Chocolate Donut recipe.
do I put sprinkles on before or after baking the cookies
Place the sprinkles in the batter when you add the chocolate chips. You can also add extra sprinkles to the top of the cookies once they are on the cookie sheet before they go into the oven.
can I bake these ahead of time
Yes, Sprinkle Chocolate Chip Cookies can be baked a day before you need them.
If you are using our homemade Soft Chocolate Chip Cookie recipe, we recommend enjoying them warm right off the cookie sheet. They are our favorite right out of the oven cookie-- they taste just like a traditional cookie.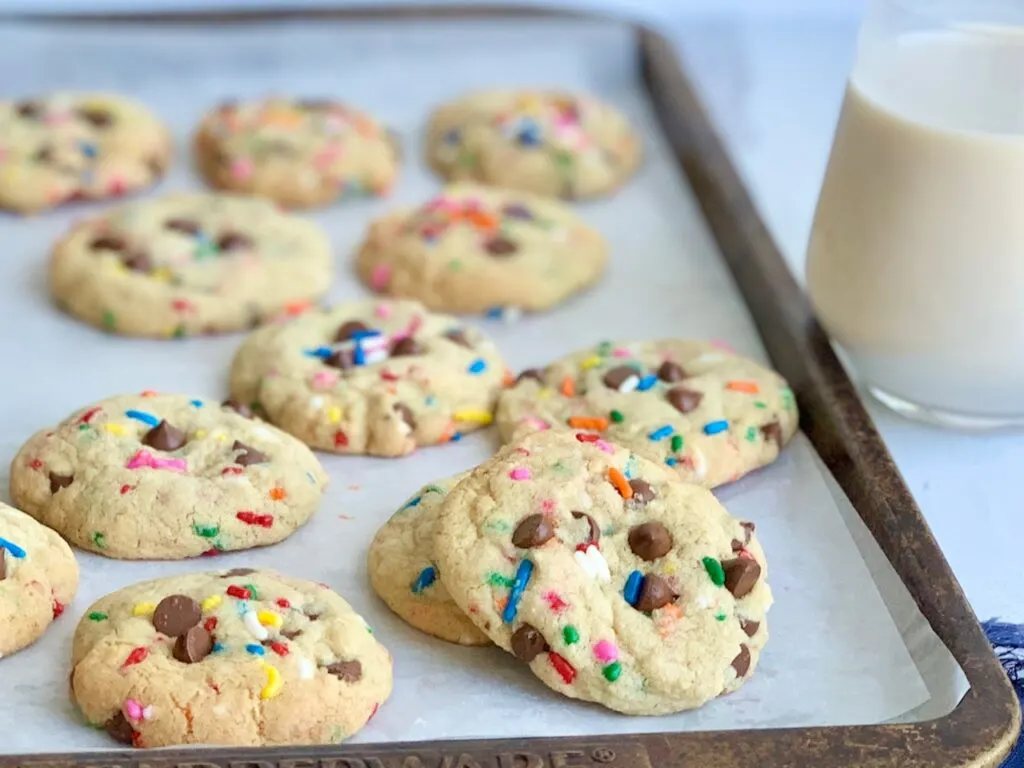 more must-have cookie recipes
lastly
Chocolate Chip cookies are one of our favorite desserts. Adding colorful sprinkles is a fun and easy twist to make these cookies extra delicious and fab.
And you won't be able to resist these sprinkle-filled cookies.
Did you know you can find delicious gluten and dairy free recipes on our website for every occasion and holiday? Pin these recipe roundups now for Thanksgiving, Christmas, the Super Bowl, Valentine's Day, Mother's Day, and the 4th of July.
Follow along on Facebook, Pinterest, and Instagram. Be sure to like and comment often so our posts stay in your feed. Next-- don't leave without signing up for our exclusive emails.
We don't want you to miss the best of eating gluten and dairy free.
Eat well and feel well,
Jill
Print Recipe
Sprinkle Chocolate Chip Cookies
Ingredients
gluten and dairy free chocolate chip cookie dough

dough recipe link in the post

½

c

gluten and dairy free sprinkles

suggestions in the post
Instructions
Preheat the oven to 350°F. Line two cookie sheets with parchment paper or baking mats and set aside.

Prepare the batter as directed. Add in sprinkles along with the semi-sweet morsels and stir well to incorporate into the cookie dough batter.

Form the dough by hand or use a medium-sized cookie scoop to drop dough onto the cookie sheet. These cookies will slightly flatten as they bake. So space them at least 2 inches apart.

Bake for 10 minutes; we recommend setting a timer.

Remove from the oven and allow to cool for 20-30 minutes. Then serve and enjoy.

Store leftovers in an airtight container on the countertop.