Seasoned juicy and tender pork chops in a creamy mushroom gravy is always a great meal recipe to enjoy. This recipe is ready in minutes with just a handful of ingredients and bursting with so much wonderful herb flavor.
We are excited to share a skillet meal ready in minutes that tastes this good and satisfying.
And don't forget how delicious this mushroom gravy is to smother over a side of mashed potatoes or cauliflower rice too.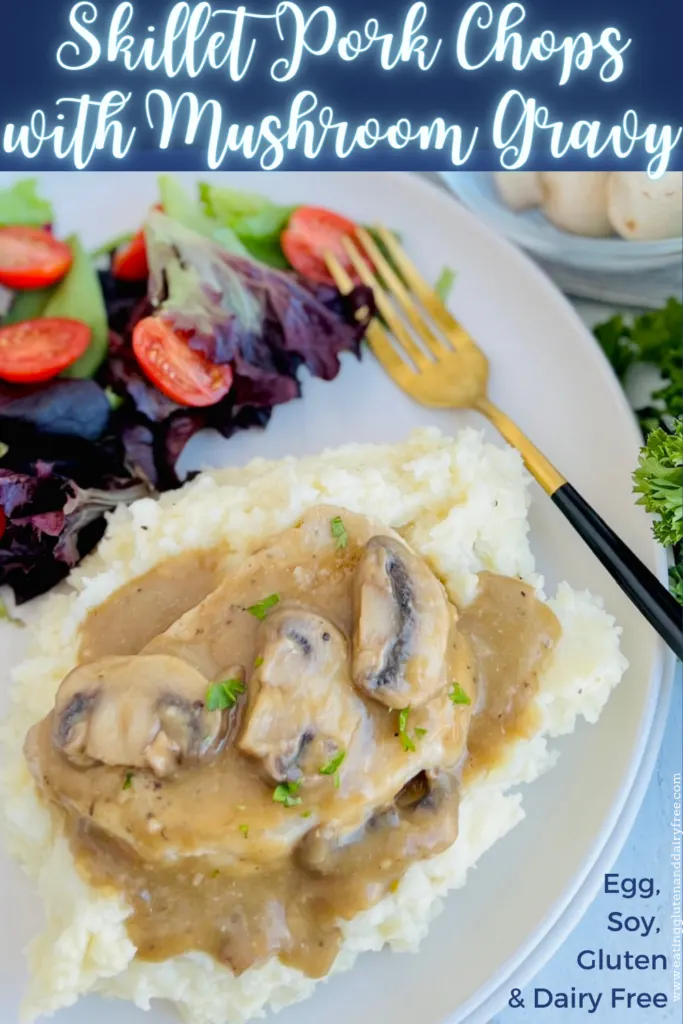 Nothing beats a filling gluten free and dairy free homecooked meal ready in under 40 minutes with all these delicious fresh flavors together.
pork chops with mushroom gravy ingredients
grapeseed oil-- or your favorite cooking oil
salt
ground black pepper
garlic powder-- we use the McCormick brand seasonings
pork chops-- bone-in or boneless about 1-inch thick
dairy free butter-- our go-to is Earth Balance Buttery Sticks
sliced white button mushrooms
gluten free flour-- our favorite is Bob's Red Mill Gluten Free 1 to 1 Baking Mix. We use this for all of our recipes and find it cheaper to purchase it in bulk here.
chicken broth-- the Pacific Foods brand is allergen friendly. Here is their link.
Worcestershire sauce-- in the US Lea and Perrins brand is gluten free and dairy free
garnishes-- cut up fresh parsley to garnish over the top when serving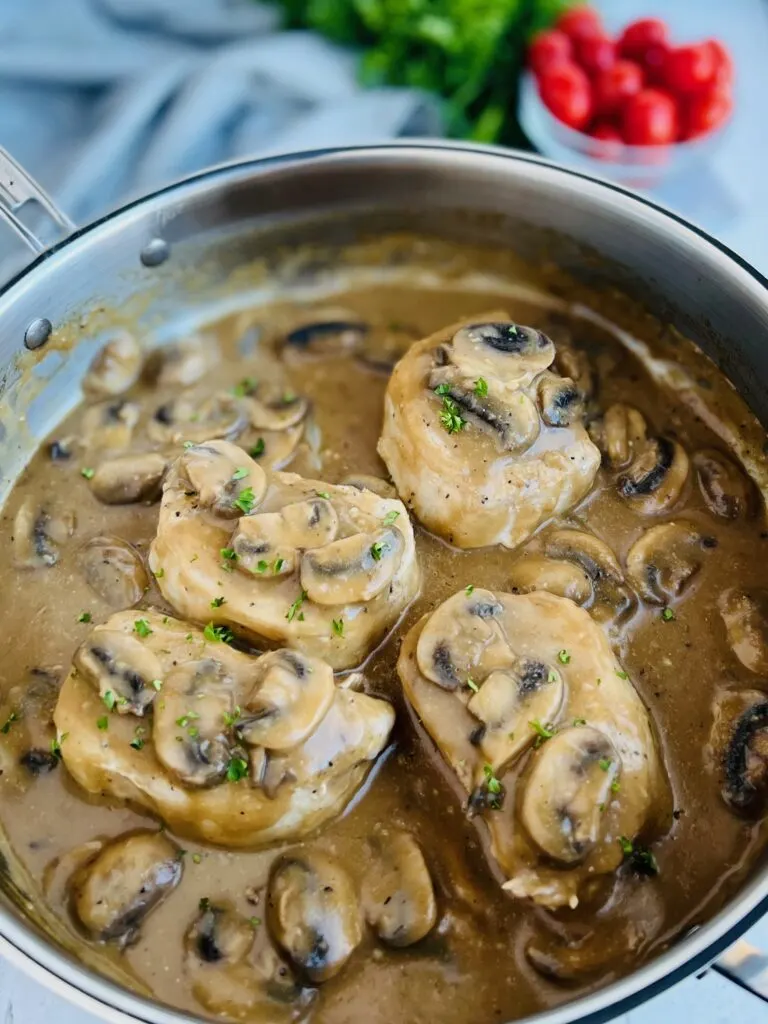 kitchen gadgets and utensils for this recipe
large saucepan
sharp utility knife
cutting board
whisk
meat thermometer-- since the thickness of pork chops varies, we always suggest using a meat thermometer to be safe. Pork cooking temperatures are medium-well (155-160 degrees Fahrenheit) and well-done (160 degrees).
kitchen tongs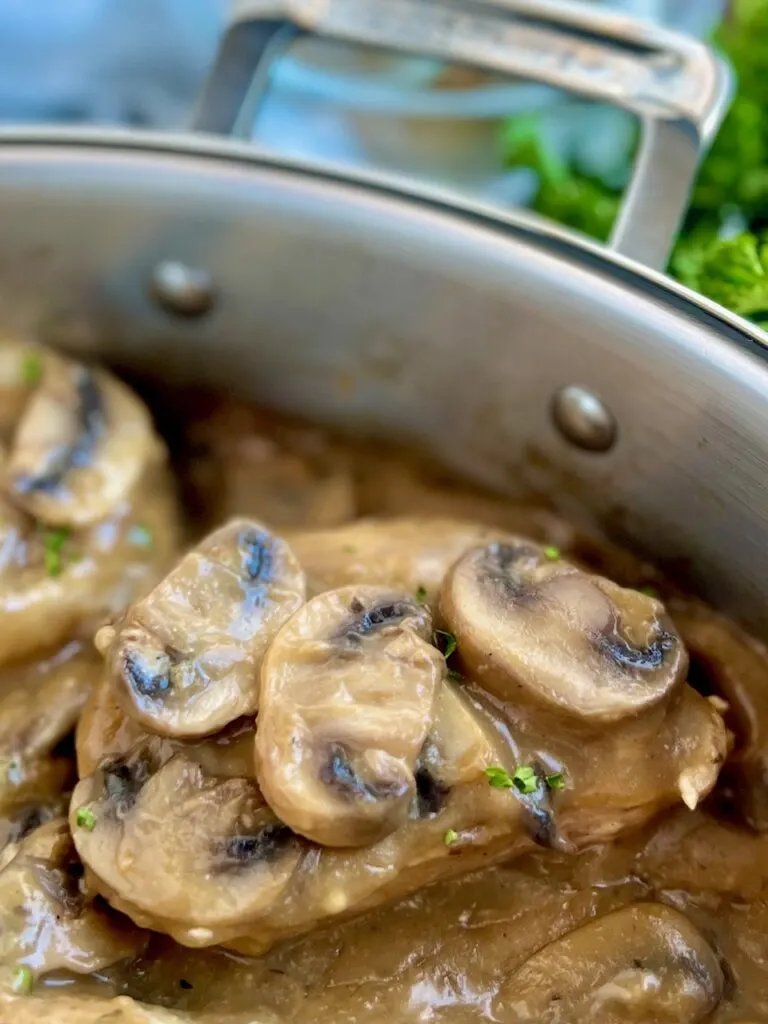 steps to prepare this dish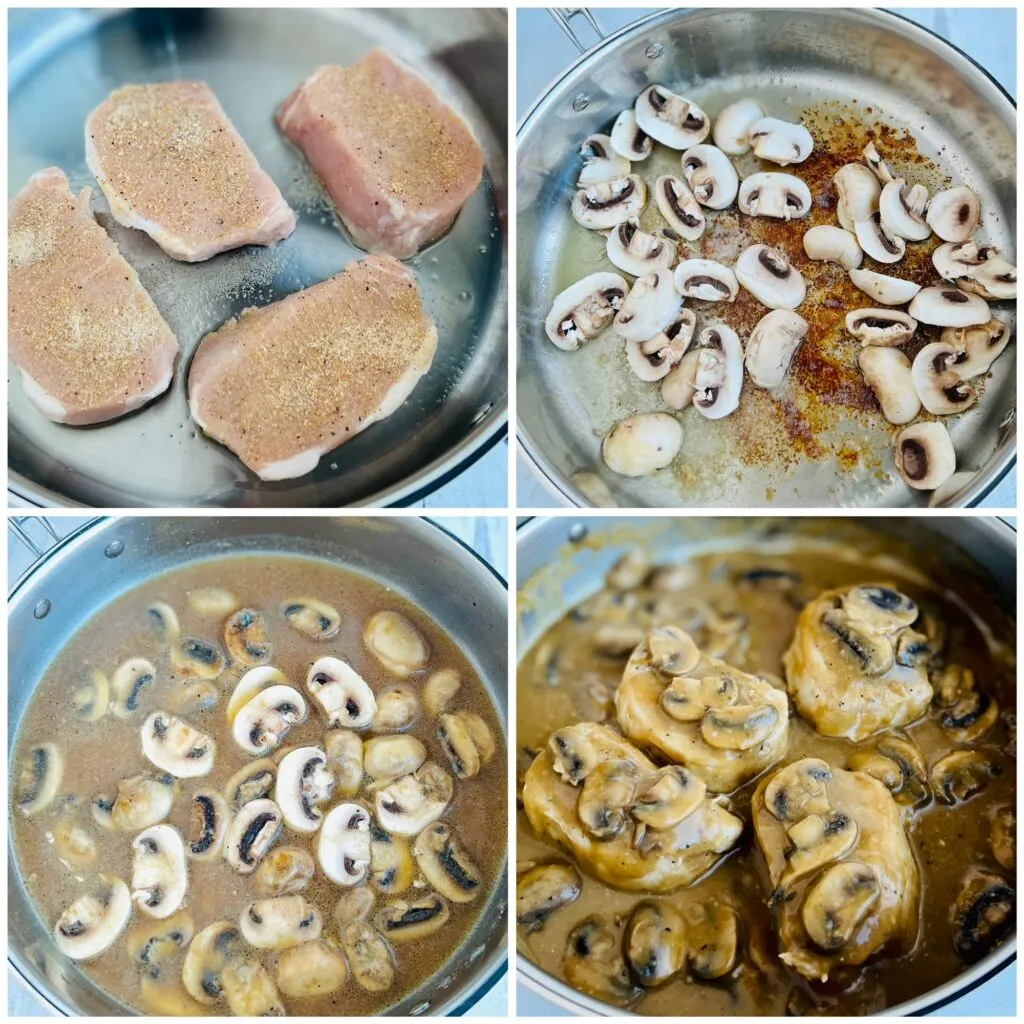 First keep in mind this recipe does move along fairly quickly. We like to have all of our ingredients next to the stovetop and ready to go.
Heat a large saucepan with oil on medium heat. After seasoning both sides of the pork chops, add them to the saucepan.
Then heat the pork chops on both sides to the desired temperature. While the pork chops heat, slice the mushrooms. We prefer our mushrooms are cut into medium-sized slices-- nothing too small or they will fall apart during the simmering process.
Once the pork chops have heated through, remove with tongs to a plate, top with aluminum foil to keep them warm, and set aside.
Without washing the saucepan, add the butter and turn to low heat. Melt the butter and add the sliced mushrooms to the saucepan. Cook for 3 minutes, stirring often.
Next add in the gluten free flour and whisk to combine. Now add in the remaining ingredients: chicken broth and Worcestershire sauce.
Allow the gravy to simmer on low as it thickens. Then return the pork chops to the gravy mixture and garnish with freshy chopped parsley.
Serve immediately over mashed potatoes or another dreamy side dish.
frequently asked questions
what side dishes go best with this recipe
There are so many mouthwatering options to pair with these gluten free and dairy free pork chops, such as our creamy mashed potatoes, baked potatoes will all the fixings, veggie pasta salad, or butternut squash soup. Also consider roasted carrots, steamed green beans, cauliflower rice, or a nice crunchy side salad.
And don't forget the dinner rolls. We highly recommend the My Bread Bakery dinner rolls. BTW-- these are a must for Thanksgiving and Christmas.
can bone-in pork chops be used
Yes, bone-in or boneless can be used in this recipe. Either way we suggest using a meat thermometer to enjoy this recipe safely. Pork cooking temperatures are medium-well (155-160 degrees Fahrenheit) and well-done (160 degrees).
can this recipe be prepared ahead of time
No. While our website is loaded with wonderful make-ahead recipes, this skillet Pork Chops with Mushroom Gravy is best fresh.
we don't like mushrooms
No problem. Our kids are not fans of mushrooms either, but they love the mushroom gravy taste of this recipe. So you can easily leave mushrooms off the plates of those who aren't fans.
We altered this homestyle recipe with gluten and dairy free ingredients from a similar recipe by Cook 2 Eat Well.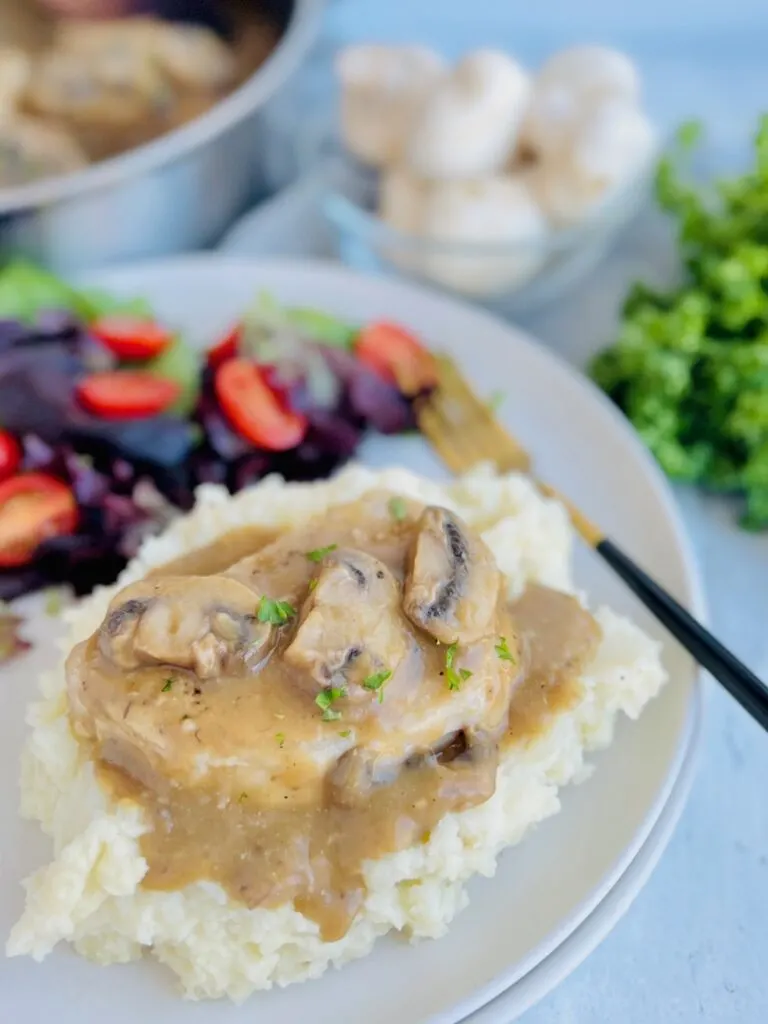 more dinner recipes you will love
This week we have the following on our menu: deliciously seasoned homemade sloppy joes with baked potato wedges on the side, mouthwatering grilled shish kabobs and mini wedge salads, and slow cooker taco soup with all the garnishes and a side of tortilla chips.
And if you haven't tried these safe, homecooked recipes yet, you are missing out. Pin them now.
3 desserts to pin for the weekend
coffee blondies-- falling somewhere between cookie bars and brownies, these blondies are soft, chewy, and the ultimate rich dessert. And the added coffee flavor enhances these dessert bars even more– to rock star-level dessert.
fruit brownie trifle-- layers of fudgy brownie, fresh fruit, and whipped topping for an irresistible dessert to feed a crowd
chewy chocolate chip cookies-- everything a cookie should be and loaded with melty semisweet chocolate chips. Enjoy these with a warm glass of dairy free milk for all the cozy good feels, and all your cookie cravings will be satisfied.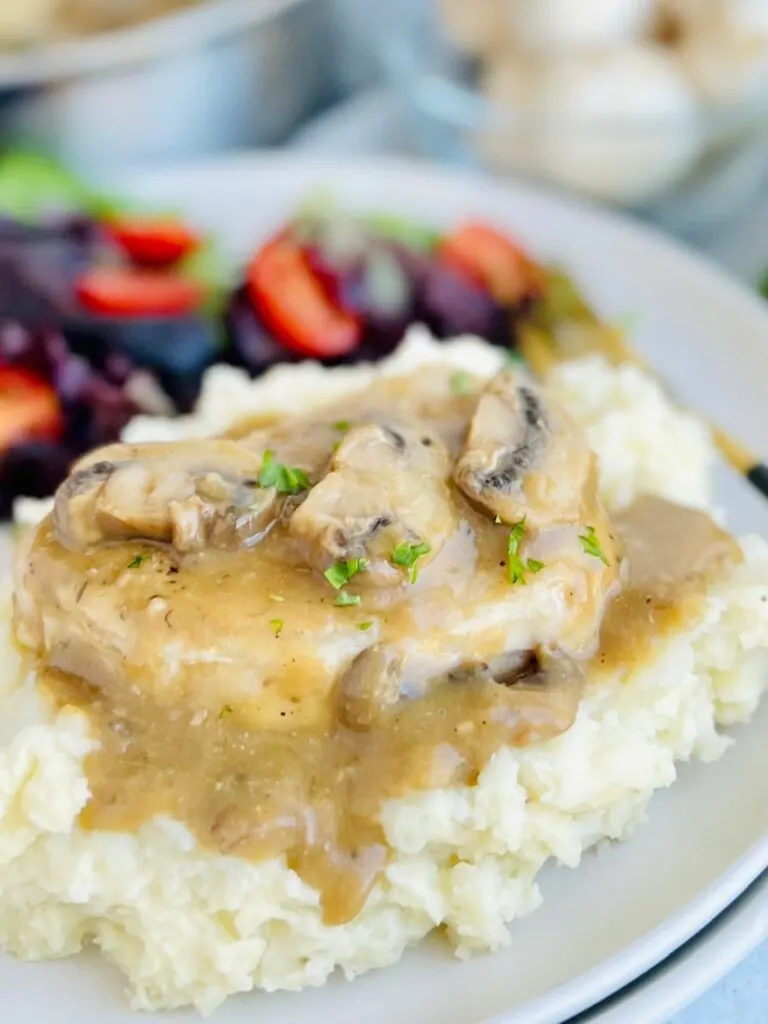 lastly
This is another homecooked gluten free and dairy free recipe we are excited to share with you.
And since this recipe is also naturally soy free and egg free, you can use this to feed your loved ones, extended family, and friends with no one ever guessing this is a free-from meal.
You will find so many more safe recipes on our website, Eating Gluten and Dairy Free. Plus if you haven't already snooped around, keep in mind we have recipes for every occasion and holiday.
Follow along on our Facebook, Pinterest, and Instagram pages to keep up-to-date on our latest recipes, new food alerts, food travel hacks, and more.
We don't want you to miss out on the very best of eating gluten and dairy free.
Eat well and feel well,
Jill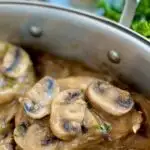 Print Recipe
Pork Chops with Mushroom Gravy
Ingredients
2

tablespoon

grapeseed oil

or oil of choice

1½

teaspoon

salt

1

teaspoon

garlic powder

½

teaspoon

onion powder

¼

teaspoon

ground black pepper

4

1-inch thick

pork chops

bone-in or boneless

3

tablespoon

dairy free butter

12

ounces

white button mushrooms

rinsed and dryed

3

tablespoon

gluten free flour

1½

c

chicken broth

1

teaspoon

gluten free Worcestershire sauce

garnishes-- fresh chopped parsley
Instructions
In a large deep saucepan, heat the oil over medium heat.

While the saucepan heats, combine the dry seasonings in a small bowl. Set aside 1 teaspoon of seasoning for the mushroom gravy.

Rub the remaining seasoning onto both sides of the pork chops and transfer to the heated saucepan.

Cook the pork chops on both sides until they are golden brown with an internal temperature of 155-160° F for medium-well and 160° F for well-done.

While pork chops heat, slice mushrooms to medium thickness. If the mushrooms are too thin, they will fall apart in the gravy.

Once pork chops are heated to desired temperature, remove with tongs to a plate and cover with aluminum foil. Do not wash the saucepan.

Turn the saucepan to low and melt the butter.

Add the sliced mushrooms and cook for 3 minutes.

Next whisk in the seasoning blend and flour.

Then add in the remaining ingredients and combine well, stirring often as the gravy thickens.

Return the pork chops to the saucepan, garnish with chopped parsley and serve over potatoes or another side.

Cover and refrigerate any leftovers.
Keep scrolling to sign up for our exclusive emails below.