These Valentine's Day Chocolate Chip Cookies have all the love and fun feels needed for the perfect Valentine's. You can easily turn a classic chocolate chip cookie recipe into a treasured Valentine memory no one will ever forget.
These mini heart cookies are soft, buttery, and full of chocolate chips. Then dipped into melted semisweet chocolate chips and topped with white, pink, and red sprinkles for the perfect Valentine's treat.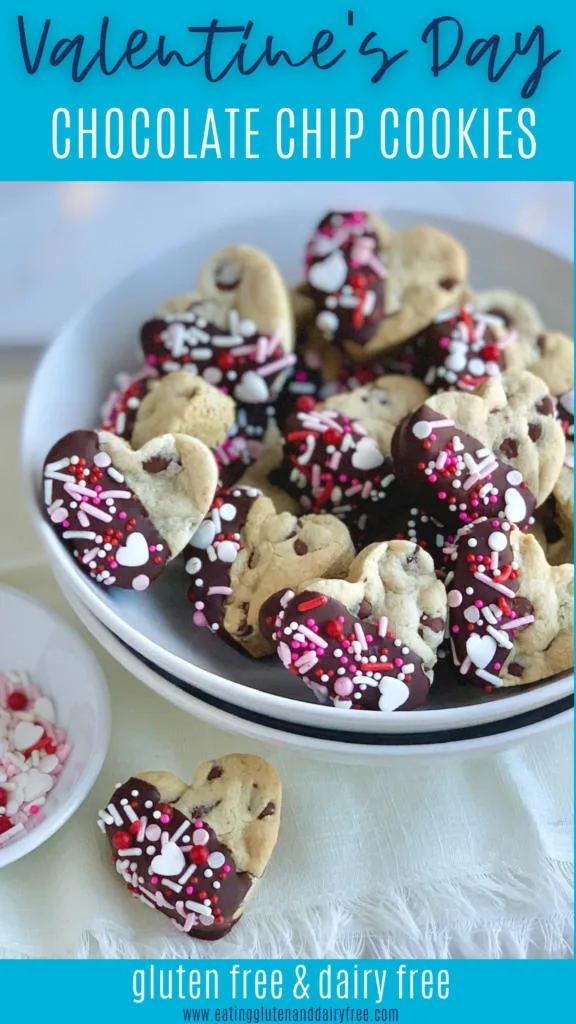 With so many chocolate Valentine's treats lining the grocery store aisles my family can't enjoy, I make an extra effort to bake yummy, safe treats we can indulge in instead. And it's fun to bake these mini heart cookies that the kids can help with. Best of all-- I enjoy placing a cookie in their school snacks in the days leading up to Valentine's Day. It's always a nice surprise for them, and they know I'm always thinking about them.
This year I'm even gifting a box of these to a few of our adoring neighbors. It's a classic treat that can't be beat and an easy way to show we care.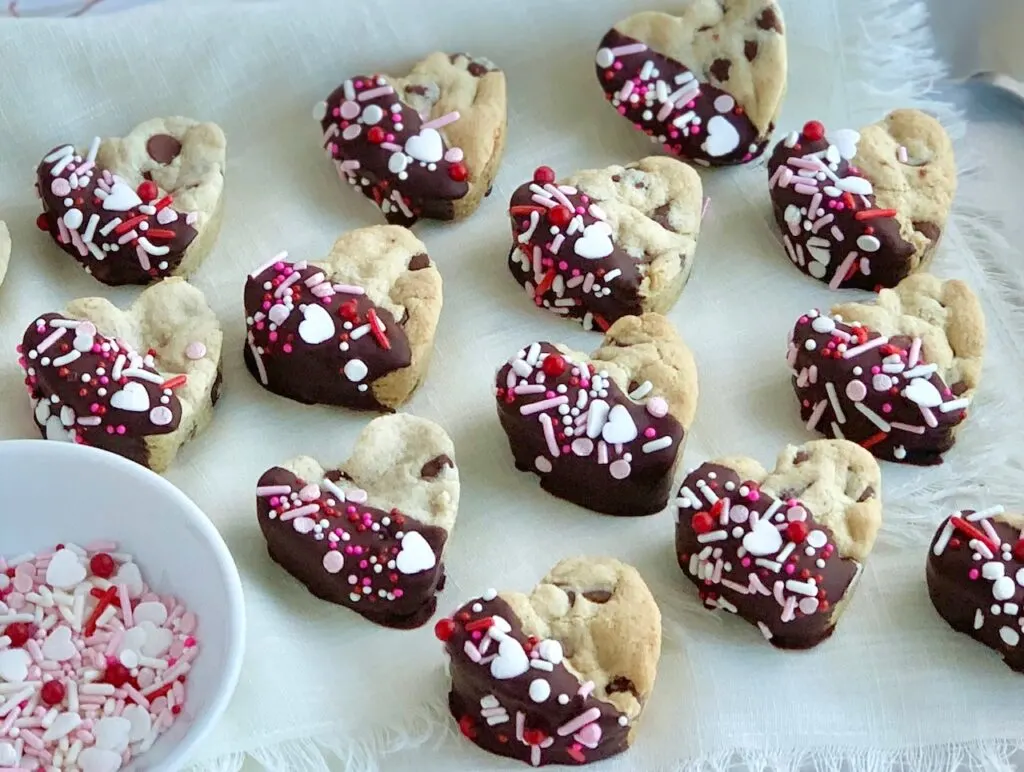 recipe notes for valentine's day chocolate chip cookies
cookie dough-- use your favorite chocolate chip cookie dough recipe. Here is a soft chocolate chip cookie dough recipe we use from my website. Using my cookie dough recipe will yield 48 heart-shaped cookies.
melted chocolate-- Enjoy Life Semi-Sweet Mini Morsels or Nestle Toll House Allergen Free Semi-Sweet Morsels are our go-to brands
sprinkles-- we use this allergen-friendly brand, Sweets Indeed. You can purchase their Valentine sprinkles here. I like to combine my favorite on hand sprinkles for a one-of-a-kind sprinkle combination.
heart-shaped silicone mold-- available to purchase here. These are oven safe to 500 F. I find these molds easy to work with and the cookies pop out without using nonstick spray.
optional-- prepackaged refrigerated cookie dough works too; follow package directions for oven temperature and bake time. Adjust the chocolate chips measurement as needed.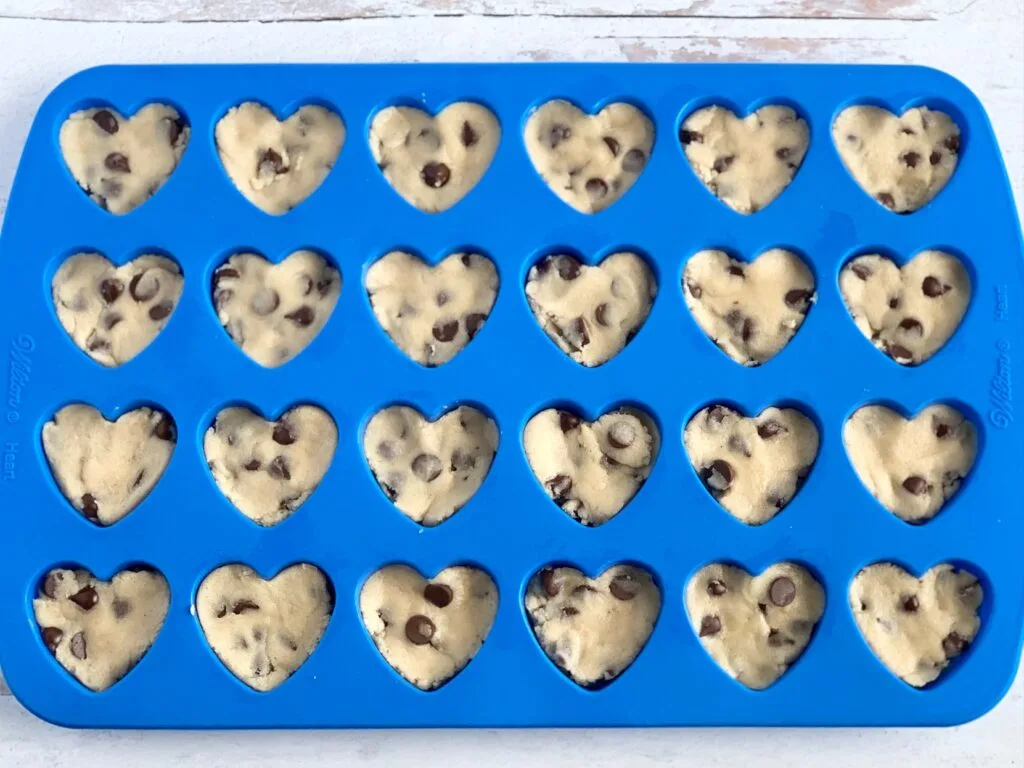 Prepare cookie dough according to recipe instructions. Then preheat the oven to 350 F. Next place the heart silicone mold on a baking sheet. Fill each heart-shaped cavity ¾ full with cookie dough. Press dough firmly into all areas of the mold.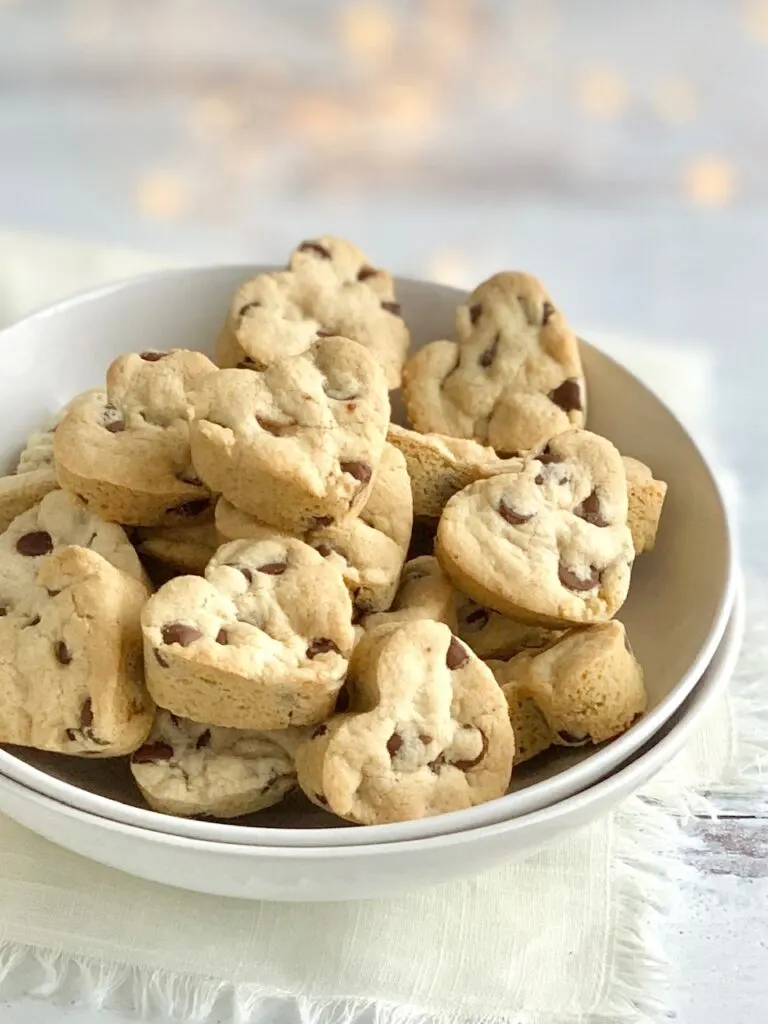 Bake Valentine's Day Chocolate Chip Cookies according to the recipe. If using the soft chocolate chip cookie recipe from my website, bake for 10 minutes. Allow cookies to cool completely in the mold before removing them. Otherwise cookies may break apart.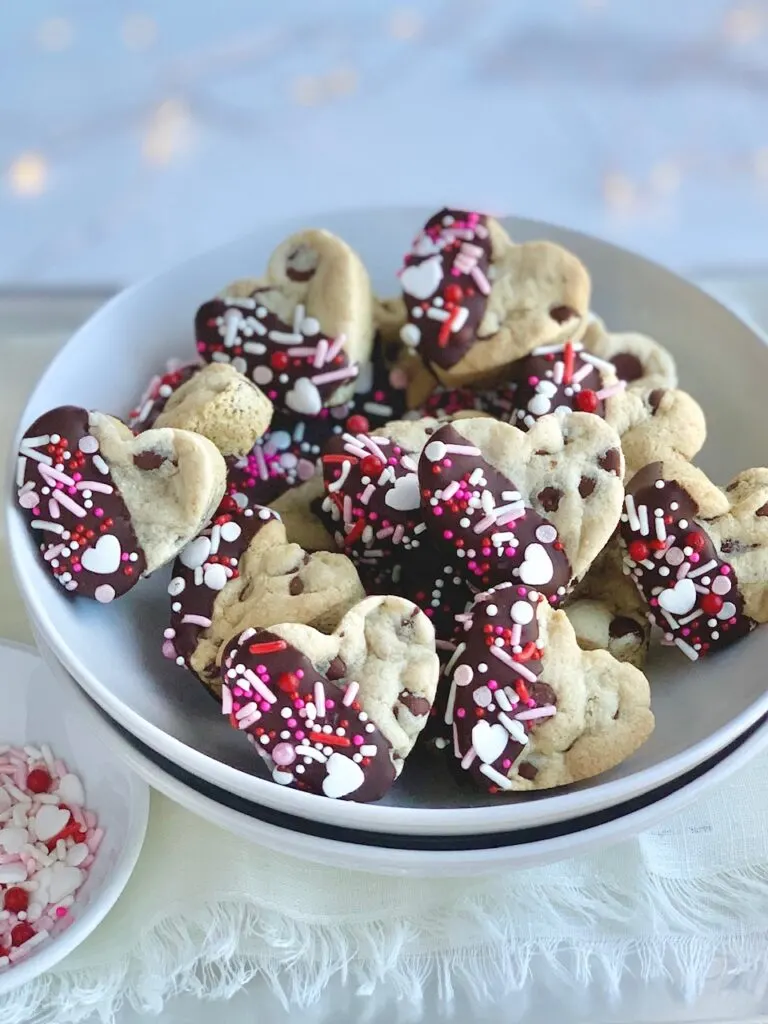 After cookies are completely cooled, prepare your chocolate. Melt semisweet chocolate chips in the microwave or over the stove top, stirring often. Once chocolate is melted, dip half of cookie into melted chocolate, then dip into a small bowl of sprinkles. Then place the cookie on a large parchment sheet to harden. Store in an airtight container up to a few days.
cookie gifting ideas
college student care packages
lunch box treats for kids
school classroom party
galantines party
in a festive tin for neighbors
spouse's lunch bag
work party or potluck
as valentines in a cellophane bag for kids to hand out to friends
Sunday School class treats
even more Valentine's Day recipes
double chocolate donuts-- moist donuts with a mouthwatering 2-ingredient ganache icing topped with festive Valentine sprinkles. My kids beg for these safe, homemade baked donuts.
heart-shaped peanut butter cookies-- everyone loves these classic cookies with a twist. And you won't believe how easy it is to make these when you know the trick.
valentines soft sugar cookies-- these soft cookies work perfectly with your cookie cutters for any occasion. Top with buttercream icing and your favorite red, pink, and white sprinkles.
lastly
This Valentine's Chocolate Chip Cookie recipe takes Valentine's gift giving up a notch or two. You'll definitely surprise loved ones and leave treasured cookie memories long after the last crumb has been enjoyed. Who can forget enjoying these heart warm treats?
Did you can find recipes for every occasion and holiday on my website here. And I'm adding new recipes every single week.
So do me a favor and follow along on my Pinterest, Facebook, and Instagram. You'll find the latest know-how on new safe food products, recipes, hacks and tips. I don't want you to miss out on the best of eating gluten and dairy free. And sign up for my exclusive emails below.
Eat well and feel well,
Jill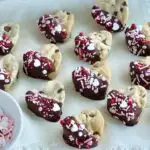 Print Recipe
Valentine's Day Chocolate Chip Cookies
These soft mini heart-shaped chocolate chip cookies dipped in melted semisweet chocolate and topped with white, pink, and red sprinkles are perfect for Valentine's Day.
Equipment
mini heart-shaped silicone mold
Ingredients
gluten + dairy free chocolate chip cookie dough

link in post

1

bag

dairy free semisweet chocolate chips

suggestions in post

⅓

c

gluten + dairy free sprinkles

suggestion in post
Instructions
Preheat oven for cookie dough according to recipe/package directions.

Place silicone heart mold on a baking sheet. Fill each heart-shaped cavity ¾ full with cookie dough. Press dough down firmly into mold so there are no gaps.

Bake for 10 minutes if using my Soft Chocolate Chip recipe. Otherwise follow time suggested on prepackage guide. Keep in mind all cookie dough is different; you may need to increase the recommended baking time for these cookies because they are in the silicone mold.

Transfer the mold from the oven to a cooling rack. After cookies have completely cooled, gently loosen the edges of the mold and pop out. It's critical the cookies cool before removing from the mold.

Next melt dairy free chocolate chips in the microwave or over the stove top, stirring often.

While your chocolate melts, prepare sprinkles in a small bowl and set aside. Place large sheet of parchment paper on counter.

After chocolate has completely melted, dip half of the cookie in the chocolate and immediately add sprinkles. Place cookie on parchment paper to harden.

Keep cookies in an airtight container on the counter.