This hearty, creamy, thick homemade Potato Corn Chowder is sure to warm your belly. Making this satisfying chowder with chunks of wholesome Golden Yukon Potatoes, piles of sunshine yellow sweet corn and tidbits of your favorite crispy bacon crumbles has never been so easy.
We sure love to cozy up to a big, warm bowl of this easy homemade Potato Corn Chowder. Can you taste the tender potatoes, sweet corn, and smell that crispy bacon? This is an ultra-comforting meal. And it's one of our favorites.
And this creamy chowder is a go-to year round with fresh or frozen corn. Load it up with your favorite toppings for an even better bite.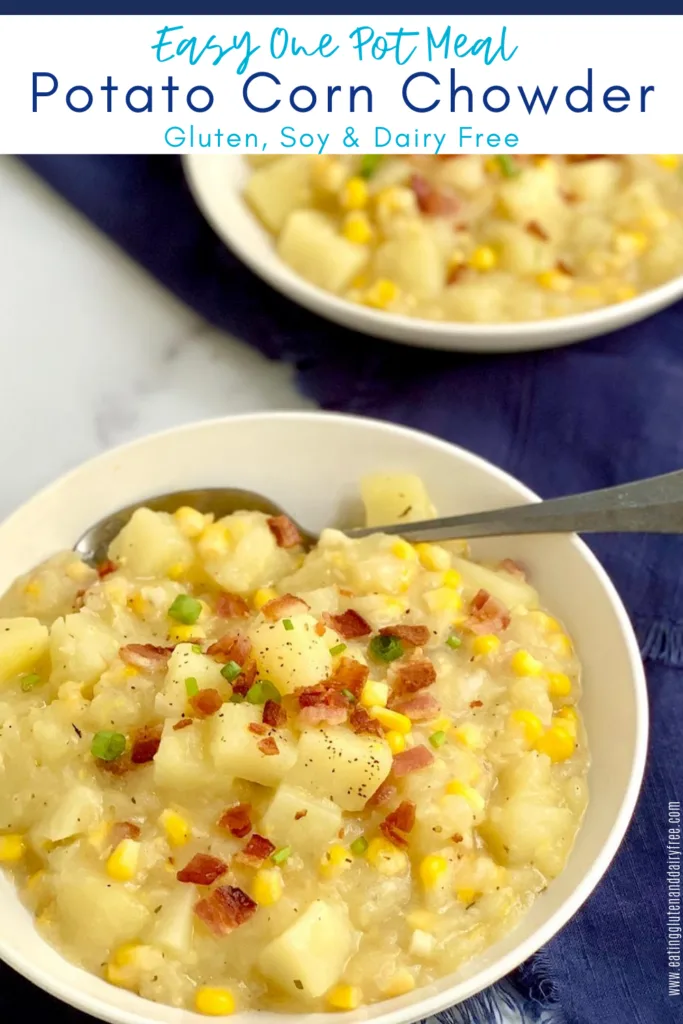 Believe it or not, we'd never heard of, let alone tasted, this creamy chowder until a friend invited us over for lunch.
That bowl of Homemade Corn and Potato Chowder was so delicious, we could've eaten the entire pot.
Soon we were preparing it in large batches as part of our meal prep planning and batching for the week, then dividing it up for our work lunches, or sharing a pot-full with dinner company alongside warmed bread rolls.
When we started eating gluten and dairy free, this soup became a thing of the past for years until we came across a similar recipe by Leelalicious found here.
Then we were back to doubling a favorite allergen safe recipe for dinners… making sure we had enough for lunch leftovers. And this recipe has quickly become a family favorite again.
While this potato corn chowder is very creamy, it's 100% dairy free. Mashing some of the cooked potatoes and corn helps to thicken the chowder and create a thickened soup.
And I enjoy adding in a tablespoon of gluten free flour to take this chowder to the next level of thick and creaminess.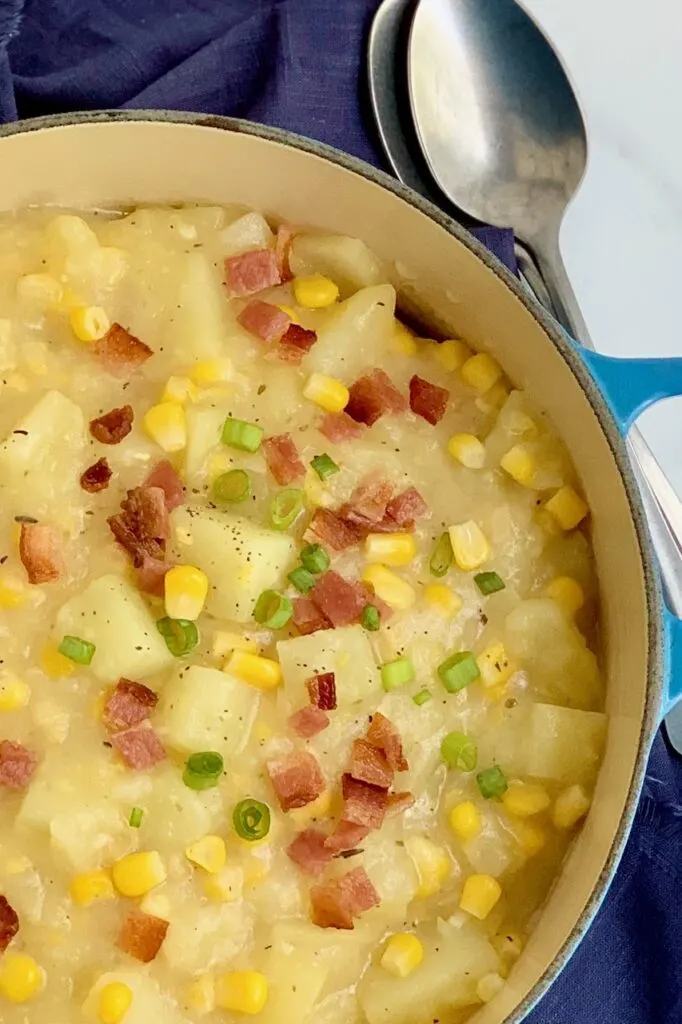 potato corn chowder ingredients + recipe notes
oil–we like using grapeseed oil or olive oil the best.
onion— we use a yellow onion
garlic cloves— you can mince these by hand or use a garlic press, like this 5 star rated one from Amazon
frozen or fresh corn
potatoes— yukon Gold potatoes are my favorite in this recipe
chicken or vegetable broth/stock if you're using chicken broth, we recommend this brand. As it's a safe brand. And if you're looking for a Gluten Free, safe chicken stock, try Costco's Kirkland brand. We recommend this vegetable broth and this stock.
unsweetened almond milk— coconut milk works too
gluten free flour–we use Bob's Red Mill Gluten Free 1 to 1 flour
italian seasoning — one of our favorite brands is this but feel free to use whatever you have in the pantry. And always check that your spices are gluten and dairy free.
black pepper Have your tried using a black pepper grinder? It really brings up your flavors.
optional–always double check your bacon is gluten free. We prefer to bake our bacon following this guide from Well Plated. Another optional topping would be fresh cut green onions.
helpful cooking tools
measuring spoons- some of our favorites are these
measuring cups- you'll find these in our kitchen
nice set of knives for dicing ingredients- we love to use Zelite knives. They're perfect for dicing up those gold potatoes.
medium size stock pot– we like using a stock pot like this one in our kitchen.
blender- this is one of the ones we like to recommend.
soup serving ladle– a great one to try out is this here.
serving bowls – grab them from your cabinet
potato corn chowder variations
add veggies– add in other veggies to really bulk out this comfort food meal. When choosing your vegetables, try to keep in mind their cook time to ensure you don't end up with mushy vegetables in your otherwise delicious chowder.
go Vegan or Vegetarian– Want to make your chowder vegetarian or even vegan, skip the bacon crumbles and make sure to use vegetable broth or stock.
add protein- add some chicken to bulk up and round out this chowder for a full meal. Precooked shredded chicken or rotisserie chicken are our best suggestions. And just toss them in at the end to warm it all up together.
frequently asked questions
what is the difference between potato chowder and potato soup
Great question! A lot of people use the terms soup and chowder interchangeably, even when they shouldn't because there is definitely a consistency difference.
A soup is usually made with stock or broth and other ingredients. Generally, it's not a thick consistency.
A Chowder may also be made with stock or broth but it's usually made with various other ingredients that bulk it up and thicken it as well. It's more hearty, creamy, chunky and thicker like stew rather than thin like a soup.
what potatoes are best for chowder
Our favorite potatoes to use for this Potato Corn Chowder Recipe are Yukon Golds. But you can also use naturally starchy potatoes like Russet Potatoes too. However, Red potatoes typically release their starches as they cook, so be aware of that.
why do they call it chowder
The word chowder comes from the French word "chaudièreâ€, which means cauldron in French. It is believed that the type of food known as chowder may have come from Brenton Fishermen who brought the recipe and cooking instructions and customs to Newfoundland, which then spread to Nova Scotia, New Brunswick and eventually making its way to New England.
do you have to peel potatoes for chowder
You can do whatever you prefer for this chowder recipe. For more of a rustic texture and a thicker chowder, leave the peels on.
what size should you dice the potatoes for your chowder
To keep your delicious dish easy to eat for everyone, dice your potatoes at about an inch or smaller chunks.
how do you thin out chowder
If you've found that your chowder is a little thicker than you want, you can easily thin it a bit. All you have to do is add a little bit of liquid, such as a little more broth, stock or water.
Simply stir in a small amount at a time until you reach the consistency you're looking for.
how do you thicken chowder
If you're wondering "Why is my potato soup like glue?â€. Well friends, don't worry, we have you covered.
If your soup is a little too thick you may have used a type of potato that releases too much starch and thickens the recipe.
You may have also blended them too much when putting them in the blender, in which case, follow the solution above and add some liquid to help get it to your desired consistency.
Also, a tip for blending your potatoes- only blend about a ⅓ or so and leave the rest of them together, intact so the consistency doesn't become too thick from the beginning.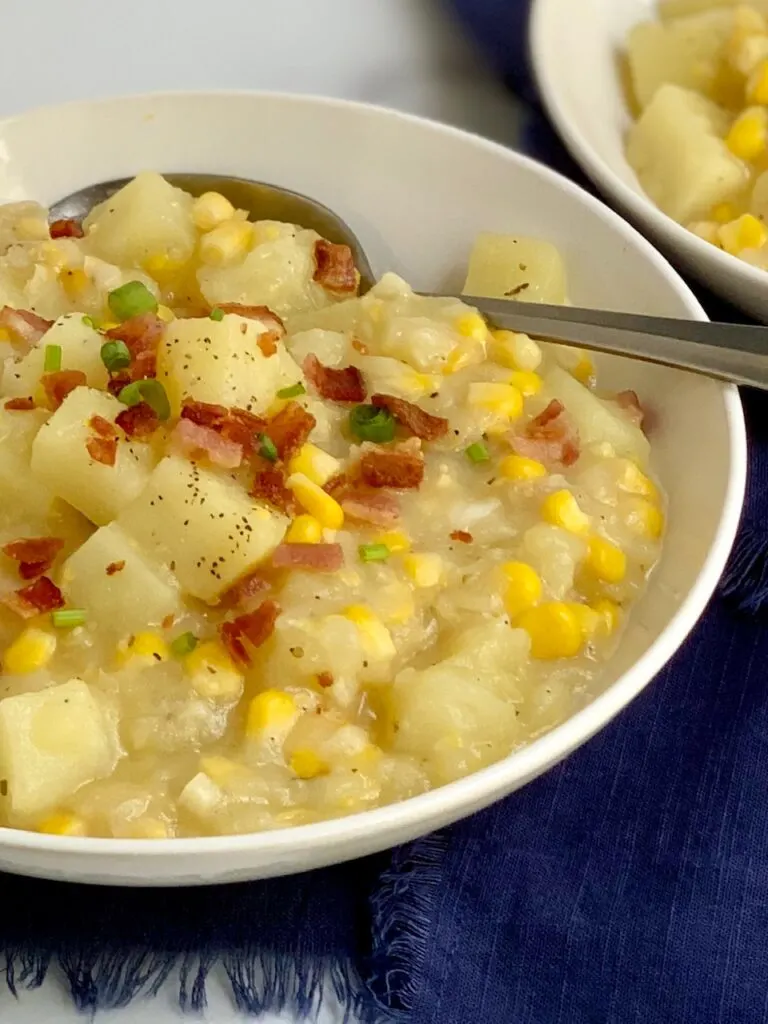 storage & reheat
We loooove to double this recipe to make sure we have plenty for leftovers. This chowder recipe is great for meal planning and meal prepping.
To store your leftover corn chowder, store it in an airtight container (turn this into your aff link) in the refrigerator for up to 5 days.
You can easily reheat this potato chowder in the container in the microwave or in a pot (need you to make this an aff link) on the stove.
more comfort food recipes
chicken pot pie— the buttery crust and flavorful filling of this comfort meal is amazing! It's a reader's favorite on my website.
easy skillet lasagna— what's not to love about this one skillet meal?! No boiling lasagna noodles in another pot with this recipe. And the dollops of creamy ricotta taste so good.
taco tater tot skillet— this kid-approved recipe is filling and flavorful.
more hearty soup recipes
cowboy hamburger soup– This hearty soup will really warm you from the inside out. This healthy family meal uses common pantry staple and freezer ingredients with no added sugar.
lasagna soup– This easy one-pot Lasagna Soup has the flavors of homemade lasagna without all the work. You'll find some of your favorite Italian ingredients perfectly simmered together and ready to serve with fresh basil and topped with a dollop of dairy free ricotta to add some truly delicious creaminess to this soup.
crock pot taco soup– One of my favorite parts about this soup is you can add in what you love and keep out what you don't. This soup is super versatile and delicious. You didn't know gluten and dairy free could be so good!
lastly
There's no doubt this hearty Potato Corn Chowder will leave you filled and comforted. This hearty recipe is nice and thick, leaving you content after mealtime.
We always make a double batch so we're guaranteed leftovers. You'll find this chowder tastes just as good if not better the next day.
Will you do us a favor? If you found this recipe helpful, please leave us a 5-star rating and comment below.
Sign up for our emails below to subscribe to exclusive recipes and tips for living your best, gluten and dairy free life.
Follow along on Pinterest, Facebook, and Instagram. Be sure to like and comment often so you keep seeing our posts in your social media feed.
We don't want you to miss out on the best of eating gluten and dairy free.
Eat well and feel well,
Jill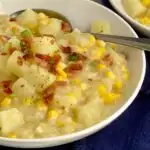 Print Recipe
Potato Corn Chowder
Ingredients
1

tbsp

oil

1

onion, diced

2

garlic cloves, minced

2

c

frozen corn, or fresh

2

medium

potatoes, diced

Golden Yukon taste wonderful

3

c

chicken or vegetable broth, or stock

½

c

almond milk

use a soy free brand if needed

1

tbsp

gluten free flour to thicken if desired

½

tsp

Italian seasoning

¼

tsp

black pepper

optional to garnish– crumbled bacon, green onions
Instructions
In a medium-size stock pot heat the oil on medium. Add diced onion and garlic to simmer for a few minutes.

Add in corn, diced potatoes, chicken broth. Bring to a boil, then turn to low and simmer until potatoes are soft, about 20 minutes.

Place half of the chowder in blender and pulse a few times. Return to stock pot and add in almond milk and spices.

For a thicker chowder remove 1 cup of soup and stir in gluten free flour. Mixture will thicken. Transfer back to the stock pot and stir to thicken chowder.

Serve warm with bacon crumbles and green onions. Refrigerate leftovers.
Notes
This recipe easily doubles without problem.