This light and fluffy Pineapple Upside Down Cake is a definite showstopper. Between this cake's gorgeous caramelized brown sugar and pineapple cherry topping to its mouthwatering flavor, this cake is a must-bake.
Add this recipe to your to do list now.
And this is one of those cakes that looks so fancy, giving the impression you spent hours in the kitchen baking. However, this cake is so simple and easy to assemble with our recipe guide and picture collage. With our gluten free and dairy free recipe, you can enjoy slices of this classic cake with wonderful pineapple flavor.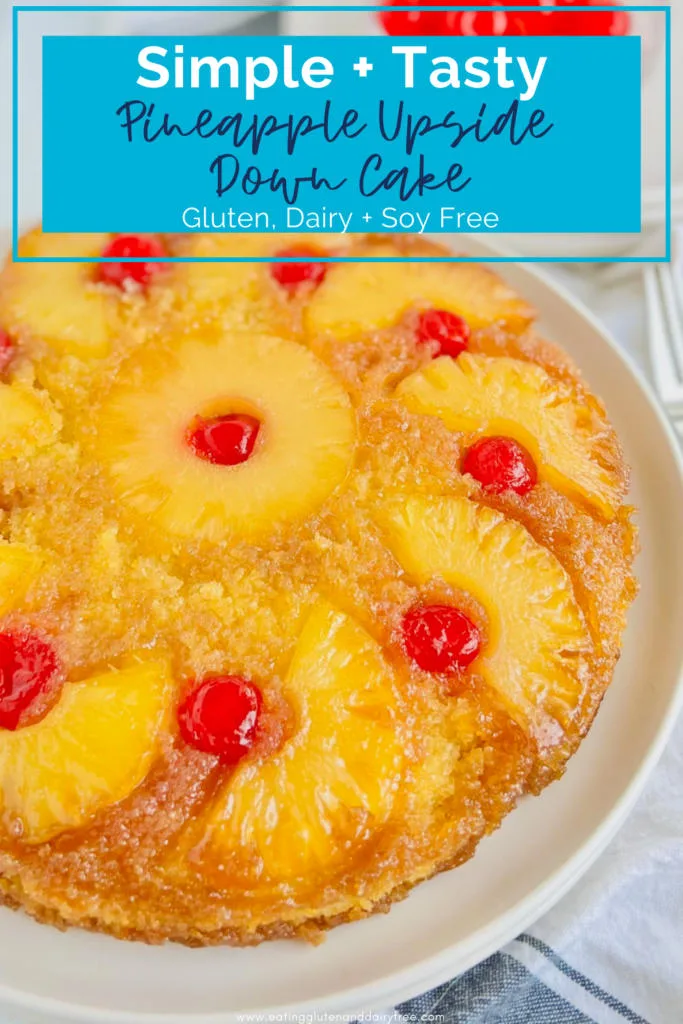 If you have not tried this cake recipe before, you definitely want to give it a try. Chances are good this might become one of your favorite cakes.
While baking, the pineapple juice combines with the buttery brown sugar to form a delicious and beautiful caramelized sauce to the cake.
And to be honest-- there is something so magical about flipping the cake upside down after it has baked to reveal that caramelized brown sugar sauce and gorgeous pineapple rings with red cherries.
Then you can slice it and serve it warm as is or top each slice with dairy free whipped topping. You will want to savor every bite either way.
You will be so excited you baked this cake to share for the holidays, as an after dinner dessert, or to celebrate a loved one. It only takes about 15 minutes to prep this cake and get it into the oven, leaving you plenty of time for other tasks.
pineapple upside down cake ingredients
dairy free butter-- we use Earth Balance Buttery sticks
brown sugar-- packed
pineapple rings in pineapple juice
maraschino cherries
gluten free all-purpose flour-- spoon and level method; our go-to is Bob's Red Mill Gluten Free 1 to 1 Baking Mix. We purchase it in bulk here to save money.
xanthan gum-- omit this from the recipe if your gluten free all-purpose flour contains this or guar gum
baking powder-- keep in mind this loses its potency after its been opened for more than 6 months. We suggest labeling the date you open it on the package so you are always using fresh baking powder.
kosher salt
granulated sugar
large eggs
nonstick spray
optional-- whipped topping such as So Delicious Coco Whip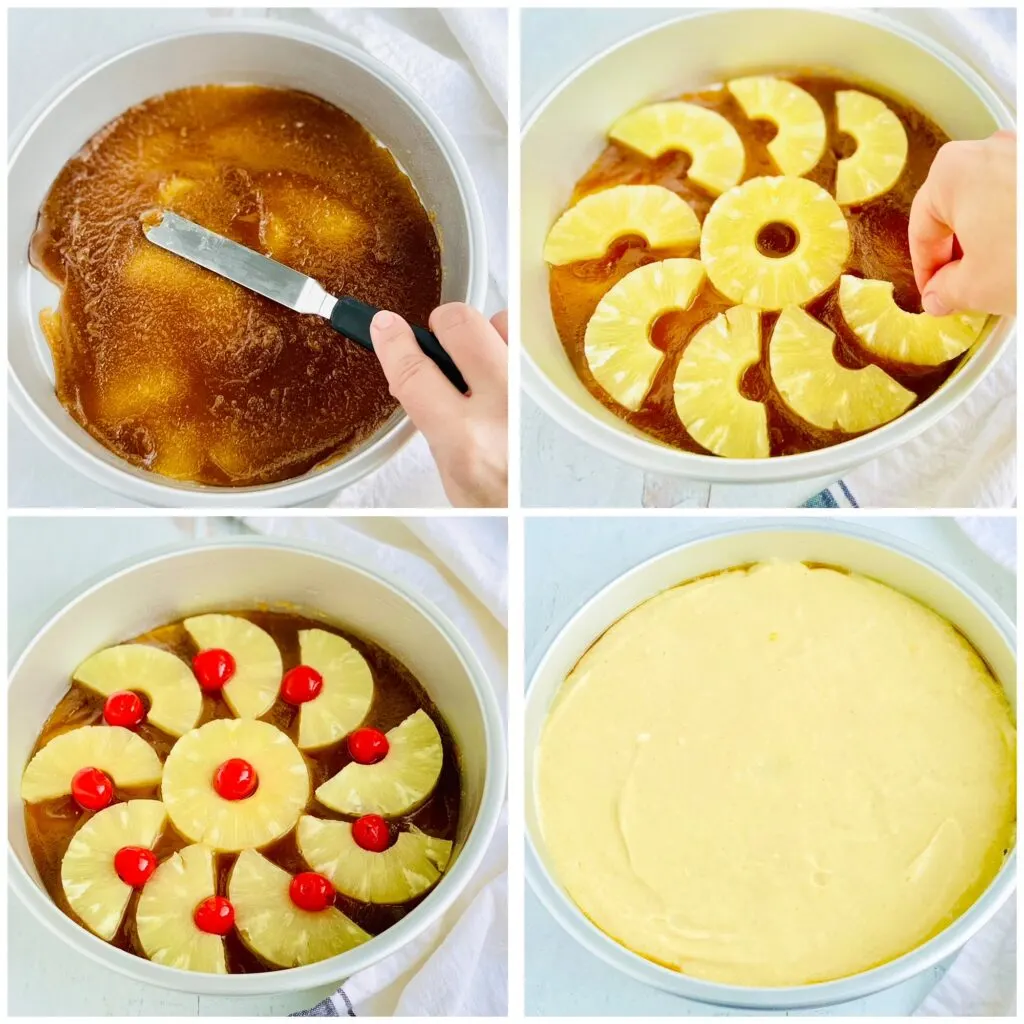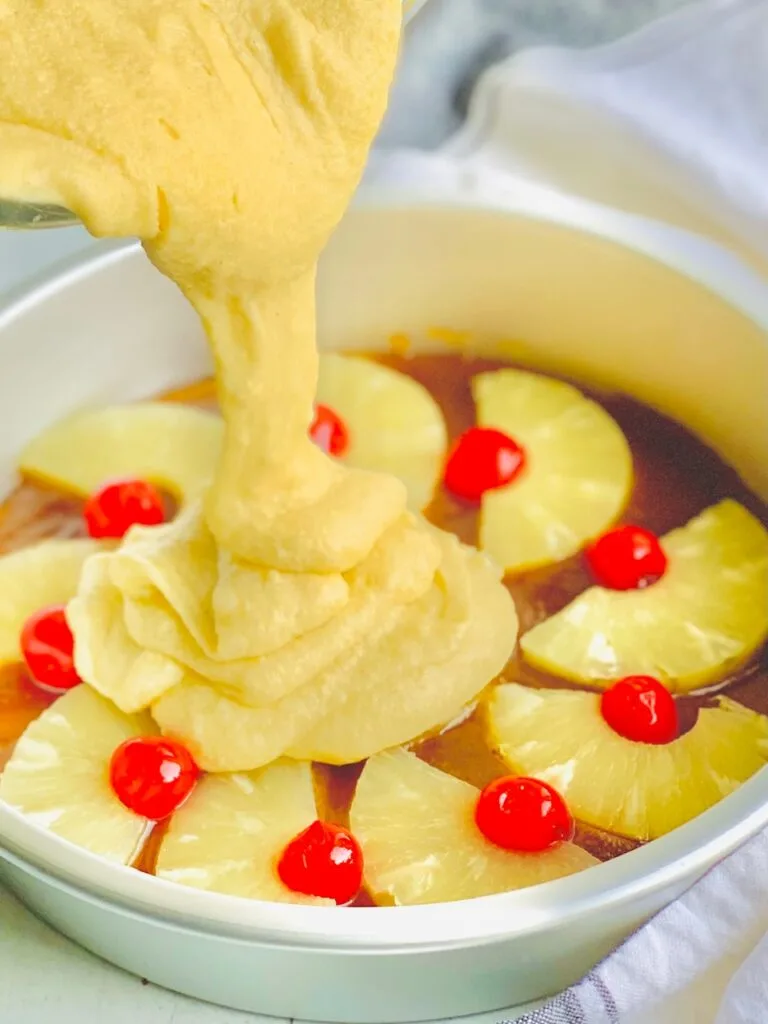 kitchen gadgets for this recipe
9-inch round cake pan-- we use these pans often for our homemade cakes
medium size saucepan
stand mixer or handheld mixer
mixing bowls
measuring cups and spoons
angled spatula-- this is one of the most used gadgets in our kitchen for prepping dinner and desserts
round cake plate
frequently asked questions
can we use fresh pineapple instead of canned
Yes, you can use fresh pineapple slices instead of canned. Consider canned pineapple is sweeter and it easily provides the pineapple juice this recipe calls for. The pineapple juice adds much bonus pineapple flavor to the cake; however, water can be substituted.
should we serve this cake with anything else
While this stunning cake tastes absolutely mouthwatering all on its own, you can take it to another level by topping each slice with dairy free whipped topping.
how do you flip this cake pan when it is hot
Pineapple upside down cakes turn out best when unmolded from their pan while still warm; otherwise they tend to stick. Our rule of thumb is to remove it from the cake pan after the cake has cooled for 10 minutes. To remove, run a sharp thin-bladed knife around the cake's edges. Place your cake plate over the cake and invert the cake onto the plate to cool completely.
what is the spoon and level method
You never want to scoop the flour out of the flour container with a measuring cup. This will add more flour to your recipe than it calls for-- up to 25% more flour. And this can quickly change the outcome of your recipe. Instead use the spoon and level method. Using a spoon, scoop the flour into the measuring cup. Be careful not to pack the flour down and not to tap the measuring cup as both cause the flour to settle in the cup. After you have spooned the flour into the measuring cup, use the back of a knife to level off the top of the measuring cup.
can this cake be baked ahead of time
This Pineapple Upside Down Cake tastes best the day it is baked. Leftovers the following day still have wonderful flavor, but for the out-of-this-world-wow factor with the look and taste of this cake, we recommend baking this the day of serving.
does pineapple upside down cake need to be refrigerated
Yes, cover and refrigerate leftover cake.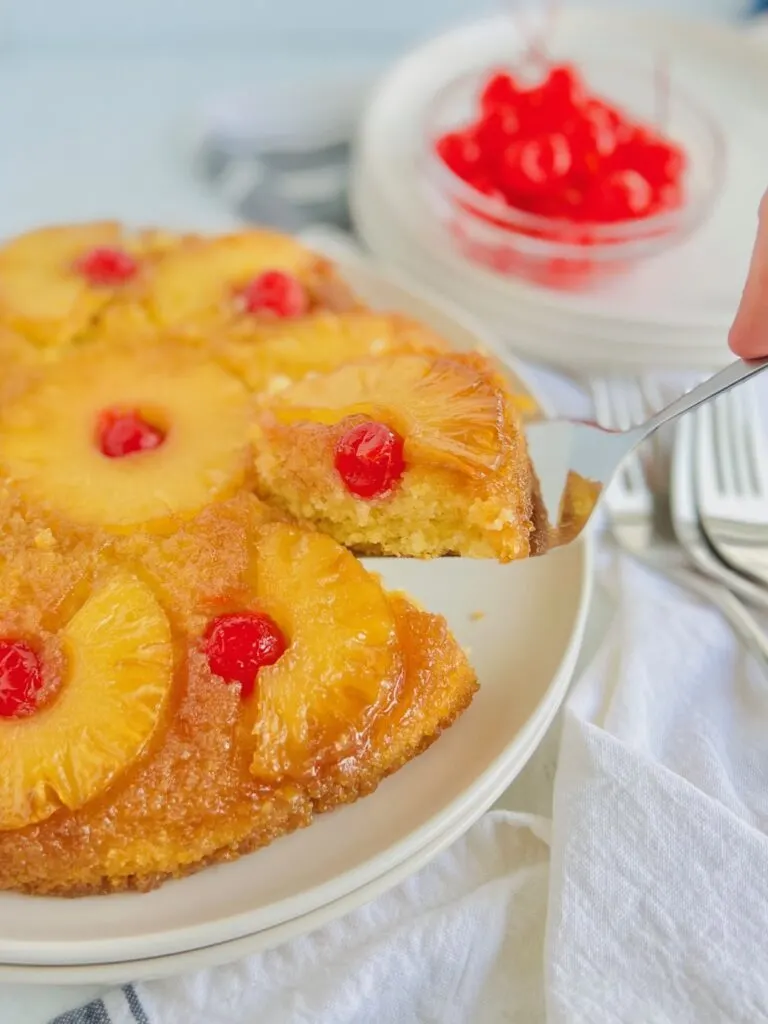 more must-try recipes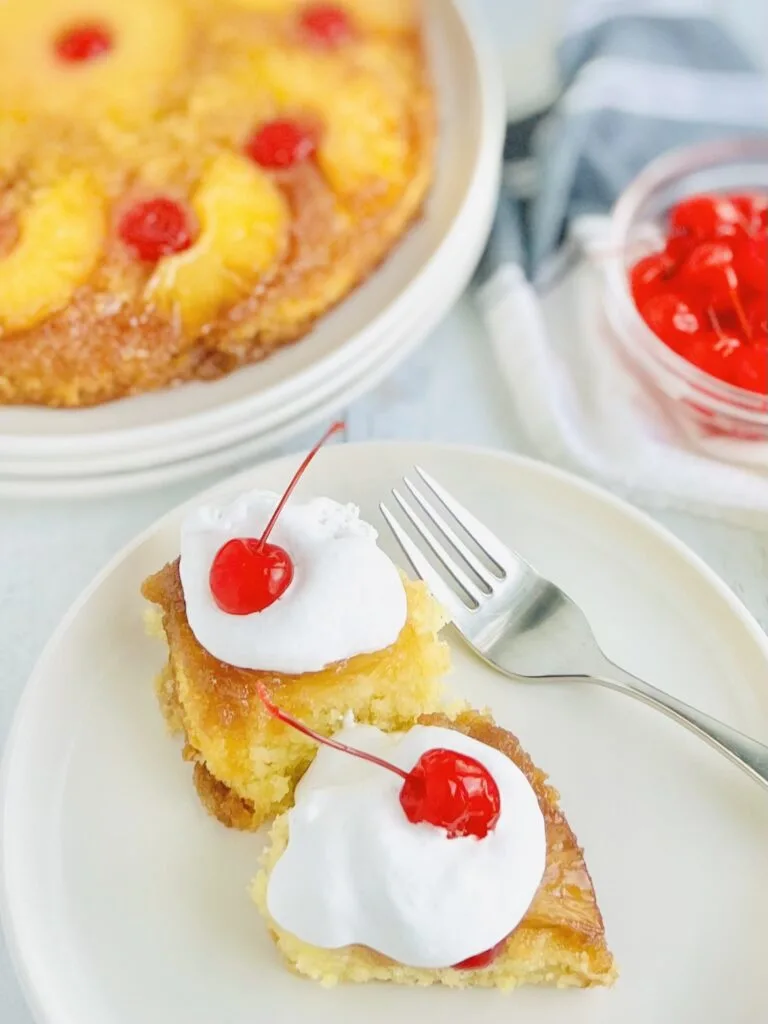 lastly
Pineapple Upside Down Cake is a beautifully moist cake with wonderful pineapple flavor and a top layer of caramelized brown sugar pineapple slices and bright red cherries. And it is so simple and easy to prepare.
You will find more delicious dessert, dinner, and breakfast recipes on our website, including special occasions and holidays. And you can purchase and download our cookbook, The Classics, to make mealtime easy.
Follow along on Facebook, Pinterest, and Instagram. We share with you delicious new recipes, valuable product information, and tips to help you live your best as you eat gluten and dairy free. You will also benefit from receiving our emails. Sign up for those.
Happy Baking!
Eat well and feel well,
Jill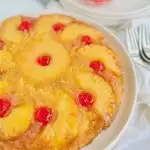 Print Recipe
Pineapple Upside Down Cake
Ingredients
Caramelized Topping
nonstick spray

4

tablespoon

dairy free butter

½

c

brown sugar

packed

8

ounce can

pineapple rings in pineapple juice

maraschino cherries
Pineapple Upside Down Cake
1½

c

gluten free all-purpose flour

spoon and level method

1

teaspoon

xanthan gum

omit if your gf all-purpose flour contains this or guar gum

1

teaspoon

baking powder

¼

teaspoon

kosher salt

1

c

granulated sugar

8

tablespoon

dairy free butter

room temperature 20 minutes

2

large

eggs

room temperature

½

c

pineapple juice drained from the pineapple can

optional-- dairy free whipped topping
Instructions
Preheat the oven to 350°F, coat a 9-inch round baking pan with nonstick spray; set aside.

In a medium-sized saucepan over medium heat, melt the butter and sugar, stirring frequently, until the mixture is bubbly.

Then pour the caramelized sauce into the bottom of the cake pan and spread evenly with an angled spatula.

Then remove ½ cup of pineapple juice from the can and set aside for the cake. Place the pineapple either as a whole rings around the cake pan or cut each ring in half as pictured.

Decoratively place the maraschino cherries in the center of the pineapple rings or to one side of half a slice; set the cake pan aside.

In a medium-sized bowl, whisk the flour, xanthan gum, baking powder, and salt; set aside.

In a large bowl of a stand mixer or with a handheld mixer, beat the sugar and butter until well combined. This will take 3-5 minutes. Add in the eggs and combine for about 1 minute.

Now alternate adding ½ the flour mixture and ½ the pineapple juice. Combine well in between each mixture. Scrape down the sides and bottom of the bowl as needed. Then add in the last of the flour mixture and pineapple juice until combined.

Pour the cake batter over the pineapple and cherry mixture. Gently, with an angled spatula, spread the mixture evenly over the glazed ingredients.

Bake the cake for 42-45 minutes, until the center of the cake is slightly golden brown and the brown sugar sauce slightly bubbles on the sides in places.

IMPORTANT STEP-- Allow the cake to cool for 10 minutes; then use a knife to carefully cut around the edges of the cake. If you wait longer, the caramelized sauce will stick to the cake pan.

Place your cake plate over the top of the cake pan and flip both the pan and the plate so the pineapple slices and cherries are now the top of the cake on the cake plate. Slowly lift the cake pan off the cake.

Allow to cool for 15-20 more minutes and serve.

Optional topping-- you can serve this with dollops of dairy free whipped topping.

Cover and refrigerate any leftovers.