These Gluten and Dairy Free mini Fruit Pizza Cookies taste like they are from a high-end bakery. Imagine soft round sugar cookies frosted with a creamy cream cheese frosting and then beautifully decorated with the freshest strawberries, blueberries, mandarin oranges, grapes and more.
You will notice these Fruit Pizza Cookies have 3 layers of absolute deliciousness starting with an individual sugar cookie covered with a luscious cream cheese spread topped with fresh, sweet, juicy fruit. And let it be known the sugar cookie recipe we use has been a family favorite for over 10 years!
Needless to say this spring and summertime dessert will always be a classic favorite with your family and friends.
Using our easy and soft Sugar Cookie recipe alongside our coveted Cream Cheese Frosting, this is a delicious recipe you will find yourself using time and time again. And adding fresh colorful fruit to the top of each cookie adds so much pizazz, flavor, and excitement to the special occasion you are enjoying.
While this dessert is considered a labor of love compared to other dessert recipes on our website, it is no doubt a showstopper that stands out on the dessert table. Let's just say this dessert is worth the time to prepare and enjoy.
easy fruit pizza cookie ingredients
coconut oil-- not melted
granulated sugar
large egg-- room temperature
vanilla extract
dairy free sour cream-- use your favorite brand; ours is Tofutti Brands or Kite Hill in this recipe
sweet white rice flour-- this flour works best in this recipe and we would not recommend making any substitutions. It truly bakes the best sugar cookies and it is the only thing we use in all our sugar cookie recipes. Typically we can buy this locally; however, on occasion when local stores have been out, we've ordered online from Amazon.
baking soda-- this loses its potency after the container has been opened for longer than 6 months. We suggest labeling the container with the opened date.
baking powder-- use our tip for baking soda above as this too will lose its potency after being opened for 6 months
kosher salt
cream cheese frosting ingredients
dairy free butter-- room temperature for 20 minutes
powdered sugar
dairy free cream cheese-- use your favorite brand; our go-to is Kite Hill Cream Cheese for our cream cheese recipe
vanilla extract
fruit topping suggestions
First wash and pat dry fruit before slicing and decorating these miniature fruit pizza sugar cookies. Then just before serving, arrange fruit in any pattern you like. We find it is easier to start in the middle of the cookie and add more fruit as we work our way out to the edge.
Fruit suggestions:
ripe kiwi
purple and green grapes-- sliced in half lengthwise
blueberries
blackberries
sliced strawberries-- the strawberry juices tend to break down first on the cookies and leave a pink mark in the frosting after an hour or two
raspberries
ripe mango slices
mandarin oranges-- drained and dried to remove excess moisture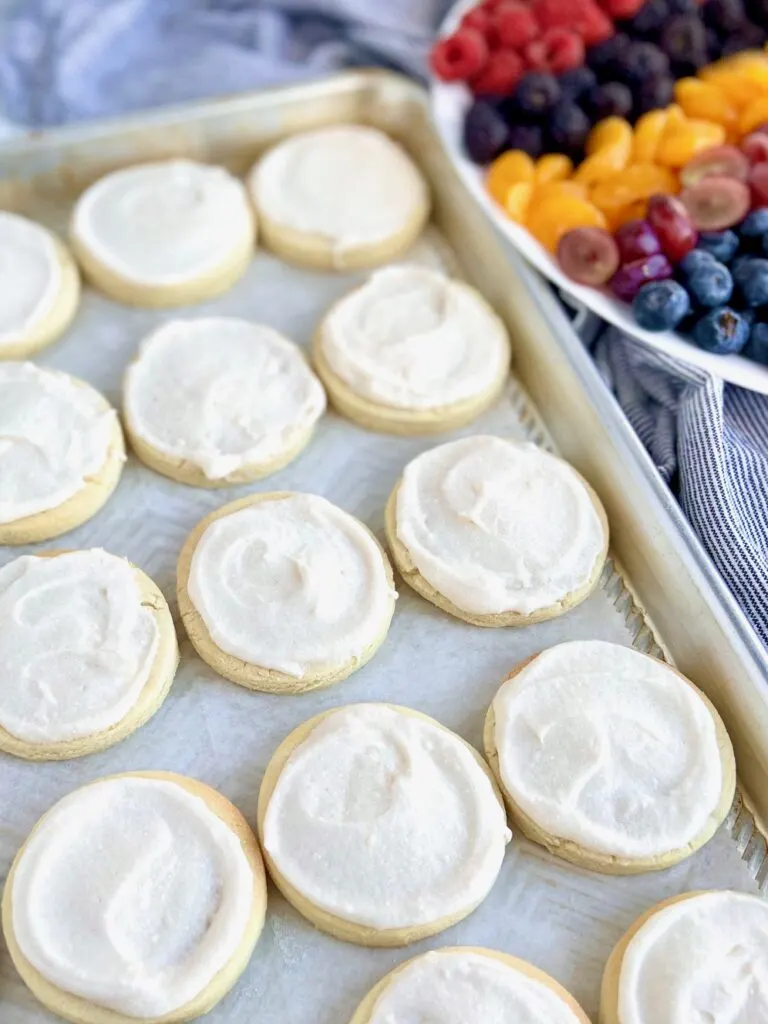 kitchen gadgets for this easy cookie recipe
electric stand mixer or large mixing bowl and handheld mixer
measuring cups, measuring spoons
spatula
2 baking sheets
parchment paper
rolling pin
small round cookie cutter-- we like this collection of round cookie cutters which also work for biscuits, or you could use these fancy fluted cookie cutters for even more pizazz
angled spatula
sharp knives
cutting boards
serving platter
frequently asked questions
can I make this in a larger size
Yes! Here is our recipe for a gigantic gluten and dairy free Fruit Pizza that is cut into individual slices for family and friends. You will notice this dessert is an absolute showstopper too.
what fruit is best on these cookies
We like to use a colorful variety such as purple and green grapes, ripe kiwi, mango, sliced strawberries, mandarin oranges, blackberries, and blueberries.
can these be made ahead of time
Yes and no. What we mean by that is the cookies can be baked, cooled, and stored 1-2 days in advance. And the cream cheese frosting can be mixed and refrigerated the night before serving. However we do not suggest assembling these gluten and dairy free Fruit Pizza Cookies until just before serving as the fruit juices can start to break down on the cream cheese frosting.
what dairy free sour cream is suggested
Use your favorite brand in this sugar cookie recipe. If you are looking for suggestions, we recommend the Tofutti Brand or Kite Hill Sour Cream alternatives.
more cookie recipes you will love
Gluten free and dairy free cookies are king around our house. It could be said we have a sweet tooth, so enjoying a sweet cookie treat after dinner is always a win-win. You will find absolutely mouthwatering cookie recipes on our website. Here are just a few to add to your baking list.
lastly
Gluten and Dairy Free Fruit Pizza Cookies are a delicious treat to add to your next dessert table. These are a bite-sized fruity dessert everyone loves that is the perfect recipe for big gatherings on Easter, Mother's Day, Memorial Day, Father's Day, the 4th of July, or even Labor Day weekend. These are also a must for summer BBQ's when fresh fruit is all the vibe.
Plus you will find countless more safe recipes on our website, Eating Gluten and Dairy Free. Follow our recipes to take the stress out of meal prepping, planning weekly dinners, and cooking during the holidays. We've got you covered!
Be sure to follow along on Facebook, Pinterest, and Instagram. We don't want you to miss the very best of eating gluten and dairy free.
Eat well and feel well,
Jill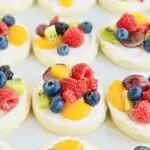 Print Recipe
Gluten and Dairy Free Fruit Pizza Cookies
Ingredients
Mini Sugar Cookie Ingredients
½

c

coconut oil

not melted

1¼

c

granulated sugar

2

large

eggs

room temperature

2

teaspoon

vanilla extract

¾

c

dairy free sour cream

3½

c

gluten free sweet white rice flour

¼

teaspoon

xanthan gum

½

teaspoon

baking soda

½

teaspoon

baking powder

½

teaspoon

kosher salt
Dairy Free Cream Cheese
¼

c

dairy free butter

4

oz

dairy free cream cheese

1½

c

powdered sugar

½

teaspoon

vanilla extract
Fresh Fruit
sliced strawberries, green grapes, ripe kiwi, mango, mandarin oranges, blackberries, and blueberries
Instructions
Mini Sugar Cookie Instructions
With an electric stand mixer and the paddle attachment, or in a large bowl with handheld mixer, beat the coconut oil until creamy, scrapping down the sides and bottom of the bowl as needed. Add in the sugar and mix well.

Next add in the eggs, vanilla extract, and sour cream; combine.

Now add in the sweet white rice flour, xanthan gum, baking soda, baking powder, and salt. Mix and again scrap down the sides and bottom of the bowl as needed.

Once the dough is combined, place plastic wrap over the bowl and refrigerate for at least 2 hours or overnight.

Preheat oven to 425°F. Place parchment paper or baking mats in 2 baking sheet pans; set aside.

Divide the dough into 2 smaller balls; set one aside. Use more sweet rice flour to place under and on top of the dough as you roll it with a rolling pin, like you would a pie crust.

Roll out until the dough is ¼-inch thick. We make our sugar cookies a tad thicker, go with your preferred thickness and adjust the bake time.

Cut out the dough with the round cookie cutter. Roll up leftover scraps and roll the dough out again, continue until dough is used then repeat with the second dough ball.

Bake for 6 minutes. Remove the baking sheet from the oven to a cooling rack and they will continue to bake on the baking sheet. After 10 minutes place cookies on a cooling rack.

Prepare to frost with cream cheese or store in an airtight container on the countertop for 5-7 days.
Cream Cheese Frosting
Blend the cream cheese and butter with a mixer.

Sift in the powdered sugar, then add in the vanilla extract. Cream for 2 minutes or so, scraping down the sides and bottom of the bowl. Allow this mixture to thicken for 20 minutes or overnight in the refrigerator.

Evenly spread over each completely cooled cookie and add sliced fruit to the top.

Serve immediately. Cover and refrigerate any leftovers.