Easy BBQ Pulled Pork Quesadillas are made with crispy, gluten free flour tortillas stuffed full of mouthwatering and tender pulled pork, barbecue sauce, and gooey, melty dairy free cheddar cheese for a dinner win the entire family will love.
Following our secrets and ingredient buying guide, you will get the best crispy and filling Mexican sandwich cooked on the stovetop, griddle, or quesadilla maker.
This is always our go-to recipe when using up leftover pulled pork from a previous meal.
Plus the combination of tender pieces of meat with our sticky sugar mix and melted cheese in a crispy, buttery tortilla is just so wonderful!
We always look forward to gluten free dairy free Easy BBQ Pulled Pork Quesadillas.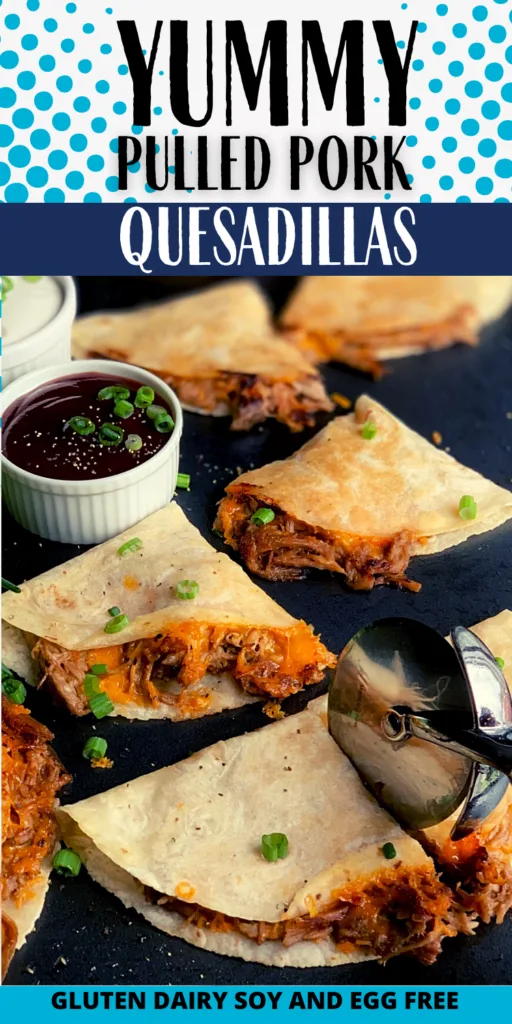 At last you have a quick and easy, family-friendly dinner idea perfect for weeknights and eating on a budget.
You can also save even more money by using leftover pulled pork like we do.
We suggest purchasing a large piece of pork that will provide enough meat for two meals.
easy BBQ pulled pork quesadilla ingredients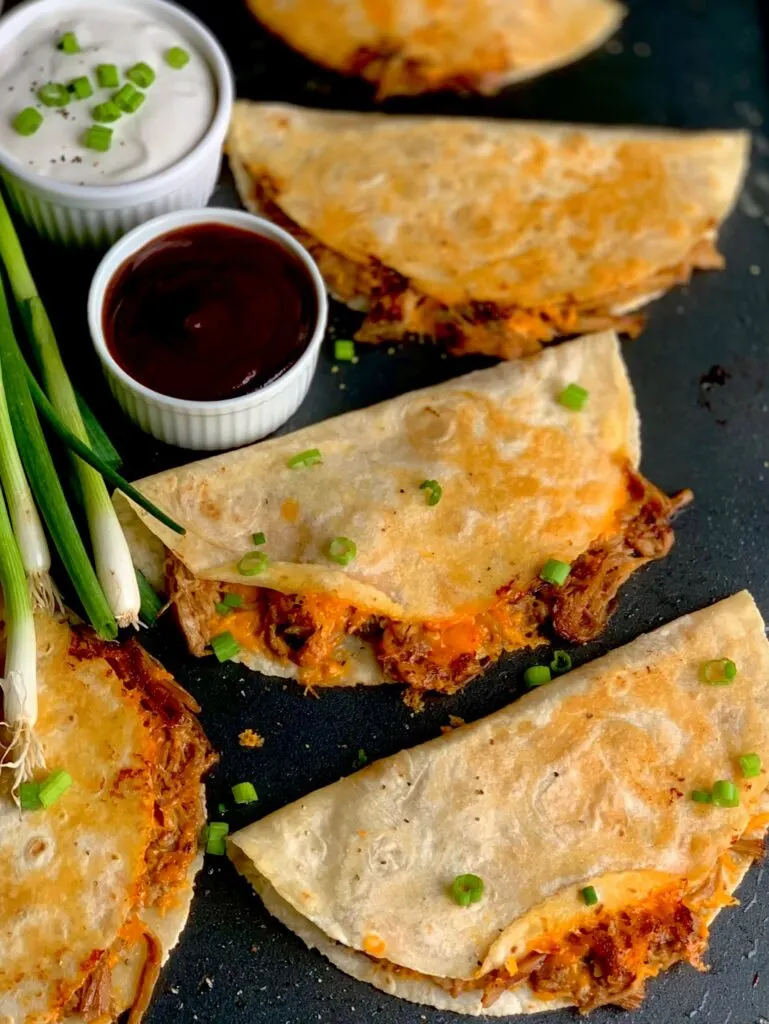 kitchen utensils for this gluten free and dairy free recipe
slow cooker
electric griddle or large frying pan— we prefer using our large electric griddle for this recipe rather than the stove top. With the griddle we can cook up to 8 quesadillas at a time, making dinner prep much faster.
cutting board or plate
pizza cutter or sharp knife
frequently asked questions
what type of pork is best
Boston butt pork shoulder, or sometimes called pork shoulder, is best and has the fall-apart pork you want.
This piece of pork has the best taste and shreds the easiest, so you get more meat for your money unlike using a pork loin.
Unfortunately, pork loin resists shredding and tends to be more dry for this type of meal.
We like to watch for the Boston butt pork shoulders to go on sale and buy a couple to freeze.
Either bone-in or boneless work.
how should the pork be prepared
Our favorite way to prepare shredded pork is in a slow cooker on high for 5-6 hours or on low for 8 hours.
We add in 1/2 c. water and 1 tbsp of apple cider vinegar (this tenderizes the meat) to the pork in the slow cooker before starting it.
Then after the pork has cooked, remove it to a cutting board or plate.
Allow the meat to rest for 15 minutes before using two forks to pull the meat apart.
Plus you can also use the oven or instant pot to prepare the meat.
Side note– the USDA advises against adding frozen meat to a slow cooker.
Always thaw the pork shoulder in the refrigerator before cooking.
can these be made ahead of time
Typically we use leftover pulled pork for this recipe. Then it just needs to be reheated.
We find these taste best immediately after assembling and toasting the quesadillas; however, leftovers are a filling lunch idea too.
We would not suggest preparing several easy pulled pork quesadillas earlier in the day to serve guests for dinner.
Make them fresh on a griddle or skillet.
can these also be made in a quesadilla maker
Oh yes– and the recipe is just as easy to follow. Heat up the quesadilla maker and spray with non-stick spray before laying down a bottom layer tortilla.
Then layer the meat mixture and cheese over the entire tortilla followed by a top tortilla.
Close the quesadilla maker and allow to heat through 4-5 minutes, remove, and cut with a pizza cutter.
Top with your favorites such as more dairy free cheese, chopped green onions, fresh cilantro, and serve with BBQ sauce and dairy free sour cream.
We love serving this taco inspired recipe in our quesadilla maker.
Or you can transform this recipe on a griddle or stove top too.
what cheese tastes best
Your favorite dairy free cheese always tastes best.
But, if you are looking for a new brand to enjoy which melts just like traditional cheese use our go-to brand, Follow Your Heart Finely Shredded Cheddar.
Others have used Daiya Mozzarella Shreds.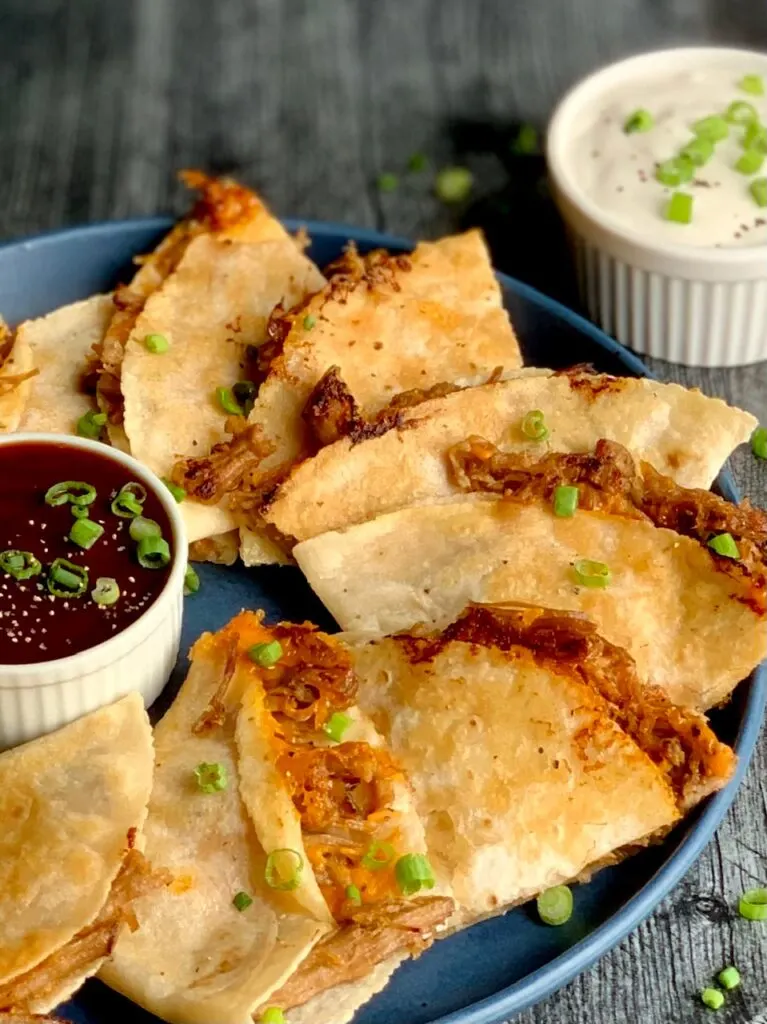 more easy dinner recipes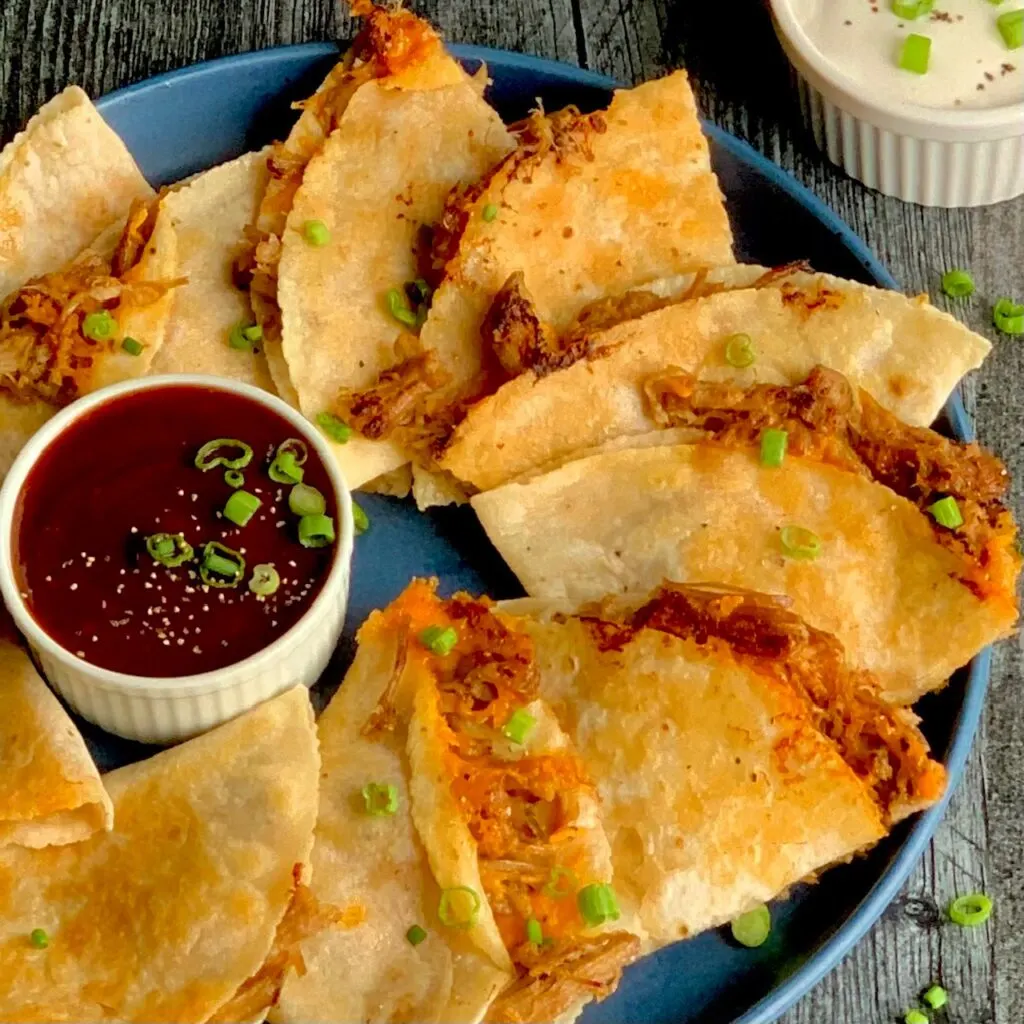 buy our cookbook
You will wanna get your hands on our recipe cookbook that is now available.
You will receive 16 delicious, homecooked recipes without any gluten or dairy! These recipes will make breakfast, lunch, dinner, and dessert time so easy peasy.
And we have shared our favorite no-fail recipes, ones we have been using for years. Get your copy of The Classics today.
lastly
We would all agree it can be so stressful finding safe, gluten free and dairy free dinner recipes.
Our website, Eating Gluten and Dairy Free, has endless ideas for you to fix today including these Easy Pulled Pork Quesadillas that are crispy, meaty, filling, and absolutely mouthwatering.
Stuff your easy quesadillas with tender, melt-in-your-mouth pulled pork pieces and loads of dairy free cheese shreds.
Serve with BBQ sauce and even dairy free sour cream.
Plus there are endless appetizer safe recipes, side dishes, and desserts for every occasion and holiday on our website.
Follow along on Facebook, Pinterest, and Instagram for more delicious no-fail recipes, and tips for living your best and easiest gluten and dairy free life.
Eat well and feel well,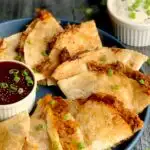 Print Recipe
Easy BBQ Pulled Pork Quesadillas
Ingredients
2

tbsp

dairy free butter

2

c

pulled pork

2

tbsp

brown sugar

packed

1

tbsp

balsamic vinegar

dash

salt

dash

ground pepper

8

gluten free flour tortillas

1½

c

dairy free shredded cheese

optional- canned roasted and diced green chiles, diced red onion, or fresh, chopped green onions

dipping sauces– gluten free BBQ sauce and optional dairy free sour cream
Instructions
Heat a large skillet or griddle with butter over medium heat.

In a large saucepan add the brown sugar and balsamic vinegar and cook for 5 minutes until the mixture is thicker and sticky.

Then add in the pulled pork and canned chiles if using. Combine until the meat is reheated through; set aside.

Lay the soft tortillas flat on the griddle and load with pulled pork mixture and cheese on one half of the tortilla. Using a large spatula fold the other half of the tortilla with no toppings over the half of the tortilla with pork and cheese. Cook 2-3 minutes and flip the tortillas to the other side. Cook until the tortilla is bronze colored, crispy, and the cheese has melted.

Remove from the griddle, cut in half with a pizza cutter, top with fresh chopped green onions and serve immediately with BBQ sauce.

Cover and refrigerate any leftovers.