This post may contain affiliate links. Read the full disclosure here
Lookin' for a healthy, filling, and crowd pleasing breakfast recipe? This is perfect for your Thanksgiving or Christmas morning company. Most of the ingredients can be prepped the day or night before making this an easy cheesy morning dish. Speaking of ingredients… check out how fresh these ingredients are. Nothing fake and nothing you can't pronounce.
And most importantly this dish has lotsa BACON!
Yes, 3 cheers for bacon! I know y'all gonna go straight to the recipe and hit print now.
If you're still reading and not already cubing your sweet potatoes, I'd like to make a note about the bacon.
I know I'm preaching to the choir on this one.
But your quality of bacon does make a difference in taste. And always check your bacon ingredients… many brands will sneak gluten into it. I like snaggin' this one at our local Natural Grocers. It's clearly labeled no gluten, no dairy, and no MSG. Yippee!!
For this recipe you'll want to have your sharpest knife and favorite cutting board ready to go. And celebrate — you won't have 10 big and small bowls or 5 measuring cups to wash after making this dish.
Seriously this recipe rocks easiness.
Here's your recipe.
Print Recipe
Sweet Potato Hash
This breakfast hash is an easy stand-on-its-own dish or is well complemented with eggs and other savory breakfast flavors. This would be a lovely addition to any brunch or breakfast buffet!

Ingredients
2

sweet potatoes, cubed

6-8

pieces

bacon

1

large apple, cubed

1

onion, diced

3

garlic cloves, chopped

1

shallot, chopped

1

bell pepper, diced
Instructions
Cook bacon until crisp. Cube bacon and set aside.


Saute cubed apples in bacon fat. Set aside when slightly browned, but crunchy.


Add coconut oil, if needed, and cook garlic, shallots, onions, and peppers together until onions are translucent.


Add cubed sweet potatoes and cook until soft and slightly crispy.


Add bacon and apples to rewarm. Salt and pepper to taste.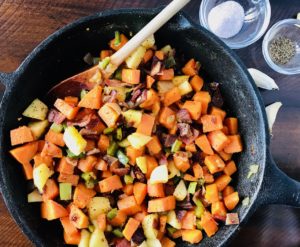 Have fun making this filling and healthy breakfast dish. It's sure to please a crowd! If you're like my husband, he added eggs on this side. This hash recipe, or skillet as he calls it, is one of his favorites! I hope it will be one of your favorites too!
Leave me a comment if you've tried this or are going to. Maybe you substituted ingredients? Let me know.
Feel well and eat well,
Jill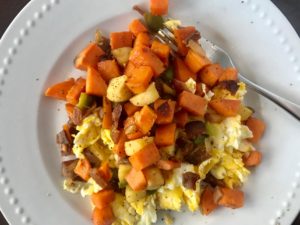 The hubs>>>