These Valentine's Day Meringue Cookies are not only delightful to look at but taste delicious. Perfect for a Valentine's day party for your kids or just to enjoy with your other half. Soft and chewy in texture and bursting with vanilla flavor. Super tasty!
When looking for something different to make on Valentine's day then these Valentine meringues are something you are going to want to try. They are different than a traditional meringue as the texture is much softer. Making them chewy and delicious instead of crunchy.
This heart meringue recipe is really easy to make and they look incredible. You can use red food coloring and decorate with sprinkles of your choosing. Using the simplest ingredients it is a fun recipe to make with kids or just whip up a batch when you have some time.
One of those dessert recipes that you can make for other occasions by changing the shape and the colors. They store amazingly!
If you love Valentine's day recipes then this Valentine's Day Chocolate Chip Cookies need to be on your baking list. Crumbly and delicious and perfect to make. You will love them! Need more Valentine's Day Desserts? We have you covered, just look around!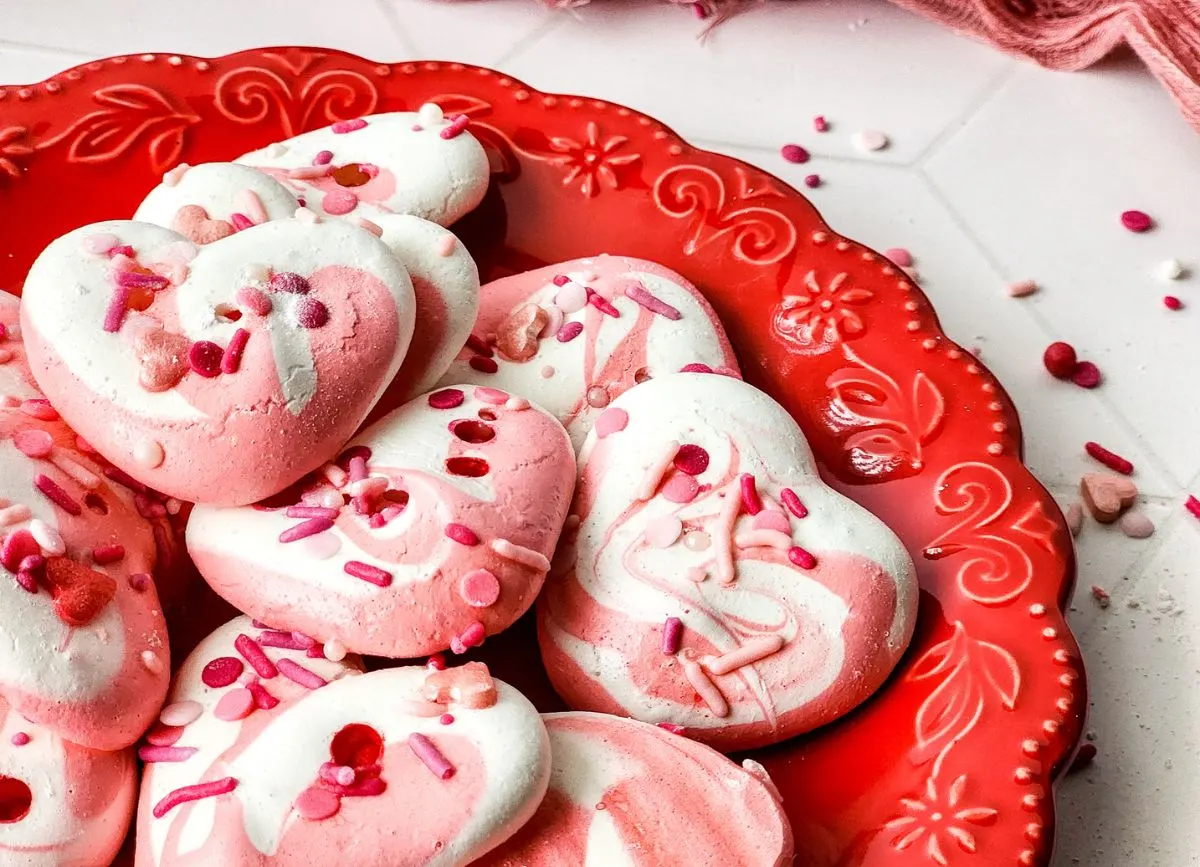 💞 Why You'll Love These Valentine's Day Meringue Cookies
Super tasty - Bursting with vanilla flavor they are delicious.
Kid-friendly - The kids will enjoy munching on these meringue cookies. They could also get involved with making them.
Simple ingredients - You will likely have everything you need already. Plus we have artificial ingredient free dye suggestions below!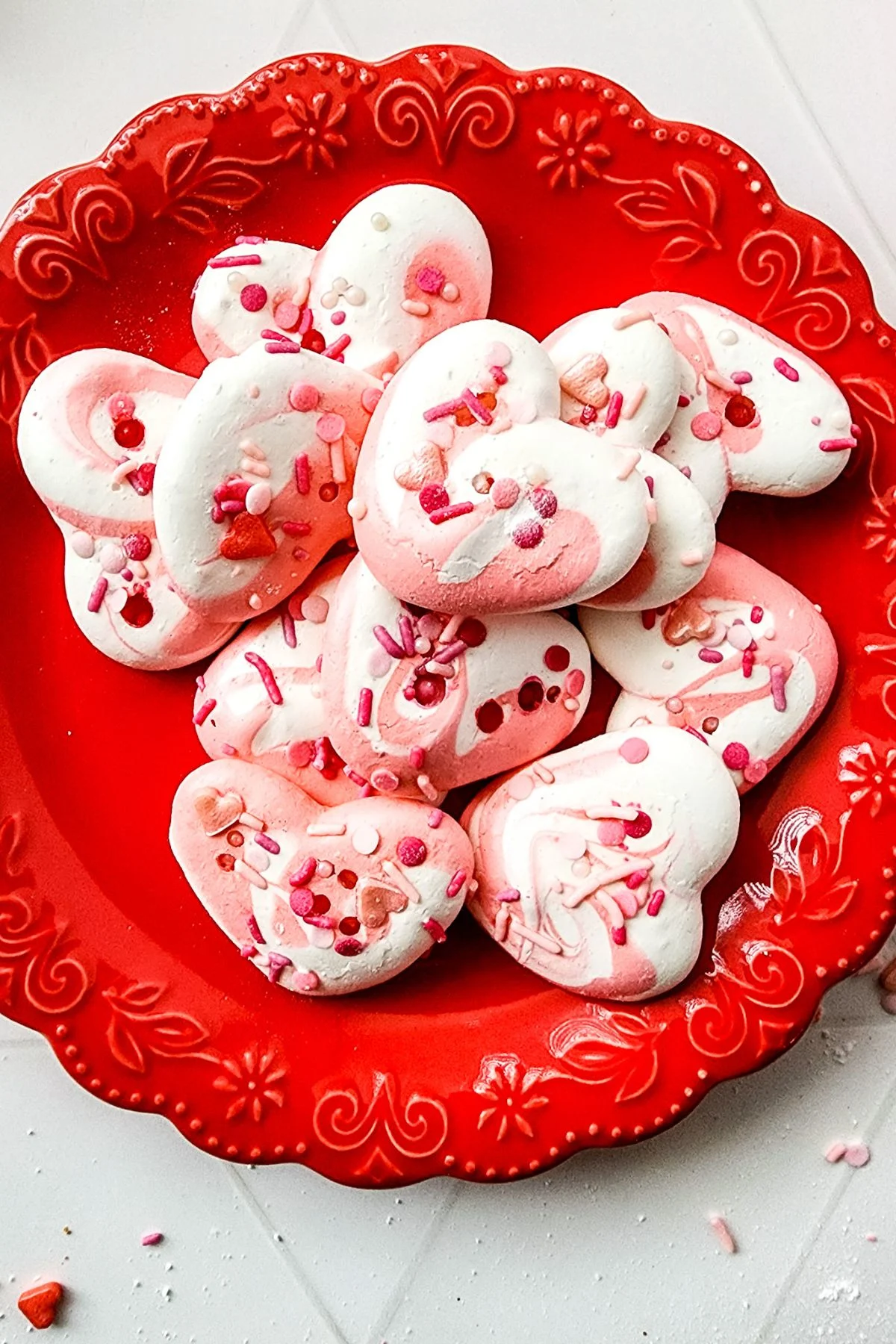 Ingredients Needed
Egg whites
Vanilla extract- always ensure that your vanilla extract is free of gluten and dairy. That's why we trust the brand we linked to.
Granulated white sugar
Red food dye- if you like to color your food with plant based ingredients and no artificial ingredients or dyes *like we like to*, then try the Supernaturals food dye!
Red, white, and pink sprinkles- We use this allergen-friendly brand, Sweets Indeed. You can purchase their Valentine's sprinkles here. Or just some basic sprinkles if you prefer those instead. We also like using the brand Supernatural. The best thing about them is you can get them on Amazon. How convenient is that? The Supernatural sprinkles allergen statement is here, and a must-read if you have life-threatening responses to cross-contamination.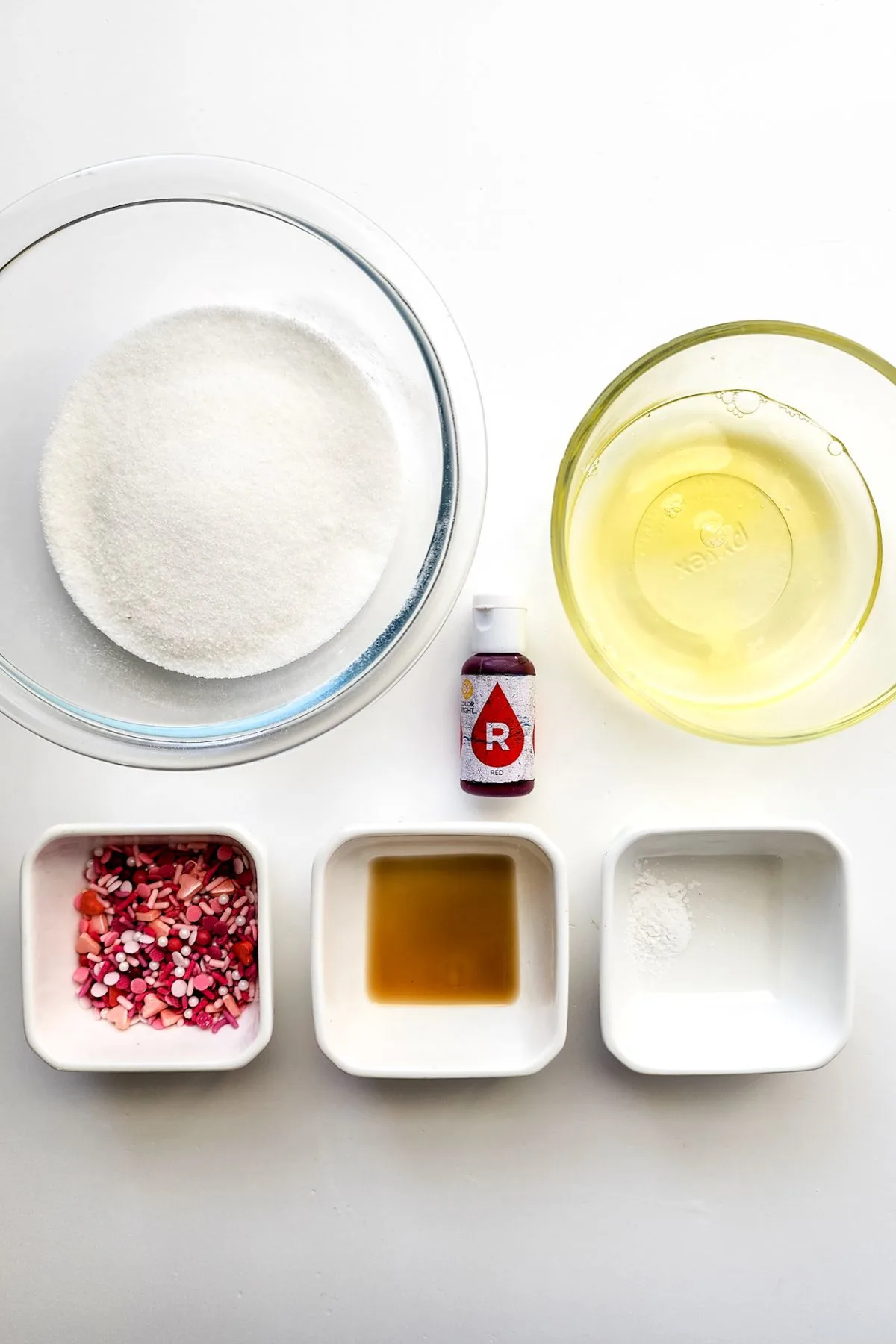 Helpful Tools
Hand Mixer or Stand Mixer
Mixing Bowl
Baking Sheet
Parchment Paper
Measuring Cups and Spoons
How To Make The Valentine's Day Meringue Cookies
Gather up all of the ingredients and preheat the oven to 200F.
Next up, take your baking sheet or cookie sheet and line it with parchment paper. Set aside until you need it later.
Add the egg whites and cream of tartar together in a bowl. Use a whisk hand mixer on medium speed to whip and make the egg whites frothy.
Once frothy, continue to mix and slowly add in the sugar. This is easiest to do by adding either one teaspoon of sugar at a time or with a slow continuous pour.
Once you have added all the sugar, add in the vanilla extract and blendat medium-high speed for about 10 minutes until you have a marshmallow-like soft meringue that barely holds soft peaks.
Split this meringue mixture in half. Use the dye to color one half with red food dye or gel food coloring and leave the rest white.
Transfer the two colors into separate piping bags and cut the corners. Carefully, place both piping bags in a third empty piping bag to create a blend of the two colors. You could use a disposable piping bag for this.
On the prepared parchment baking sheet, pipe out a heart shape and top with gluten and dairy free sprinkles. Continue until you have no meringue mixture left.
Place hearts in the oven to bake for 1 hour.
Remove from the oven and let them cool. You should have a firm, but a soft-to-bite meringue heart shaped cookie.
Recipe Variations
Want to try a different flavor? You could use a different flavor extract instead. Almond extract or even peppermint extract would work well.
What if I don't want to use sprinkles? If you don't want to decorate with sprinkles you could use some edible glitter or even just simply sprinkle with powdered sugar.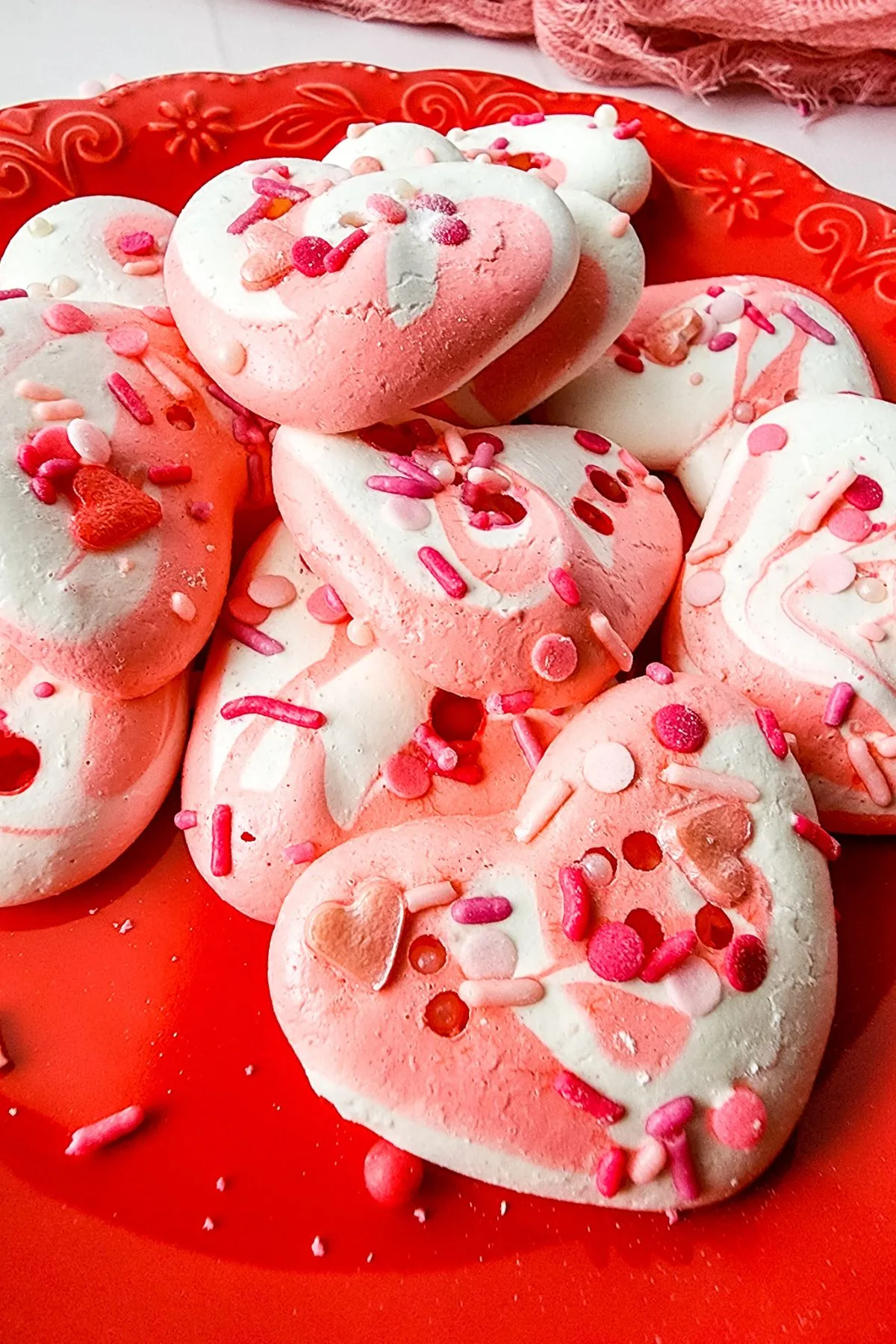 Tips & Tricks
Crack the eggs one at a time separately to ensure no egg yolk is accidentally added. That will ruin the integrity of the meringue.
This meringue is different from the regular meringue cookies, which would create a fluffy crunchy texture because you want stiff peaks, whereas this one creates a fluffy soft, and chewy texture. This is due to the length of beating the egg white and sugar mixture.
Be careful not to open to the oven door during the cooking process as this will affect the texture.
You could use a stand mixer for this. Add the ingredients as suggested above into the bowl of a stand mixer and use the whisk attachment. Keep the speeds as suggested in the method.
If you struggle to get a heart shape then why not use a heart-shaped cookie cutter? Pipe inside the cookie cutter and then remove it. Simple!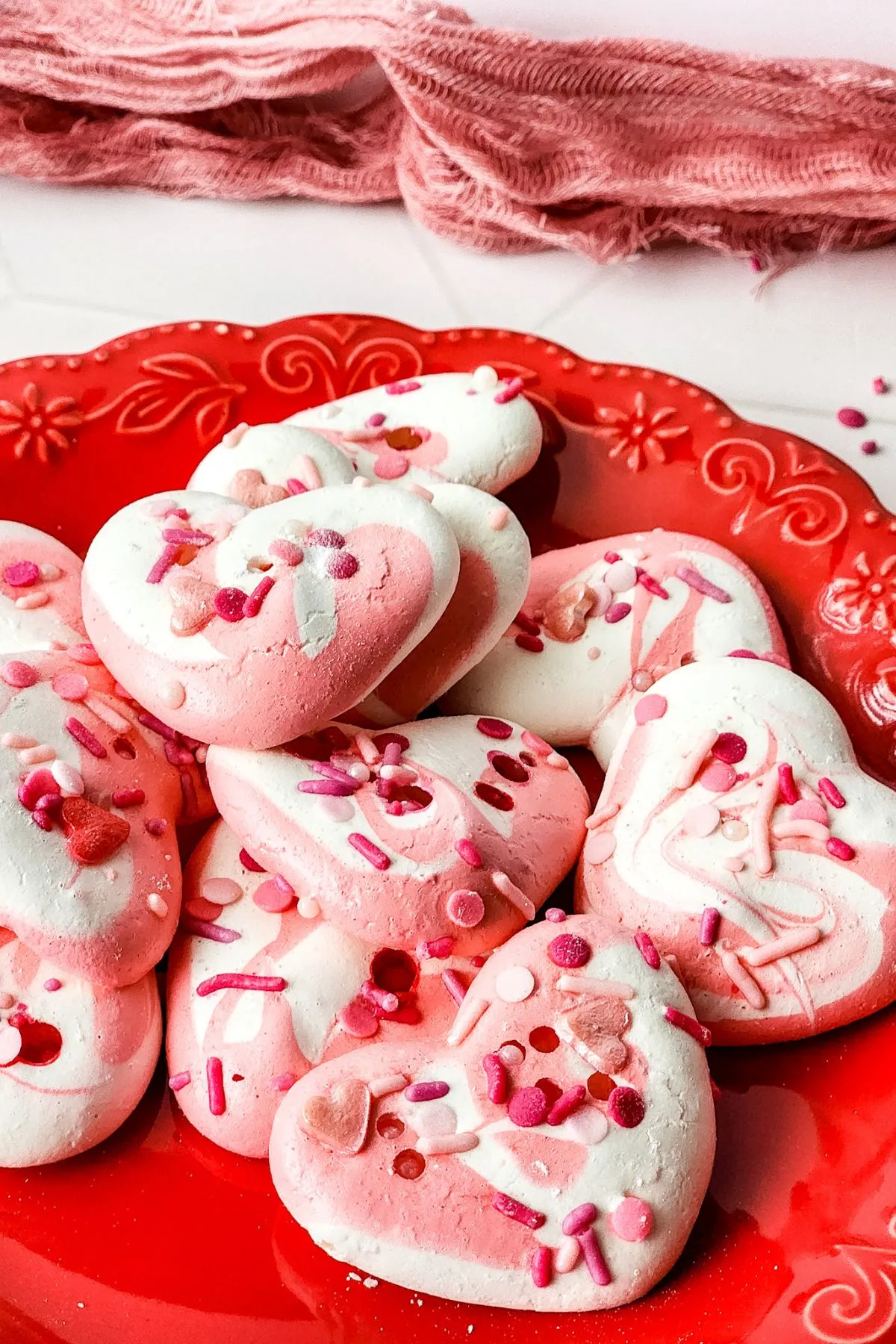 Storage
These are ideal to be stored and made ahead of time. Let the cool completely and transfer them to an airtight container.
If you have a few, you may want to separate each layer with some parchment paper. For best results, store them at room temperature.
FAQ
Could I make this cookie recipe for a different occasion?
Absolutely! You could create different shapes and use a bit of food coloring in a different color. Perfect for baby showers with pink and blue cookies.
Ideal for New Year or even during the festive season when you could make candy cane shapes or festive decorations.
If you think these are fun, check out Christmas Tree Meringue (you may need to make some swaps to make these gluten and dairy free, but it's a fun and festive dessert idea to try out!)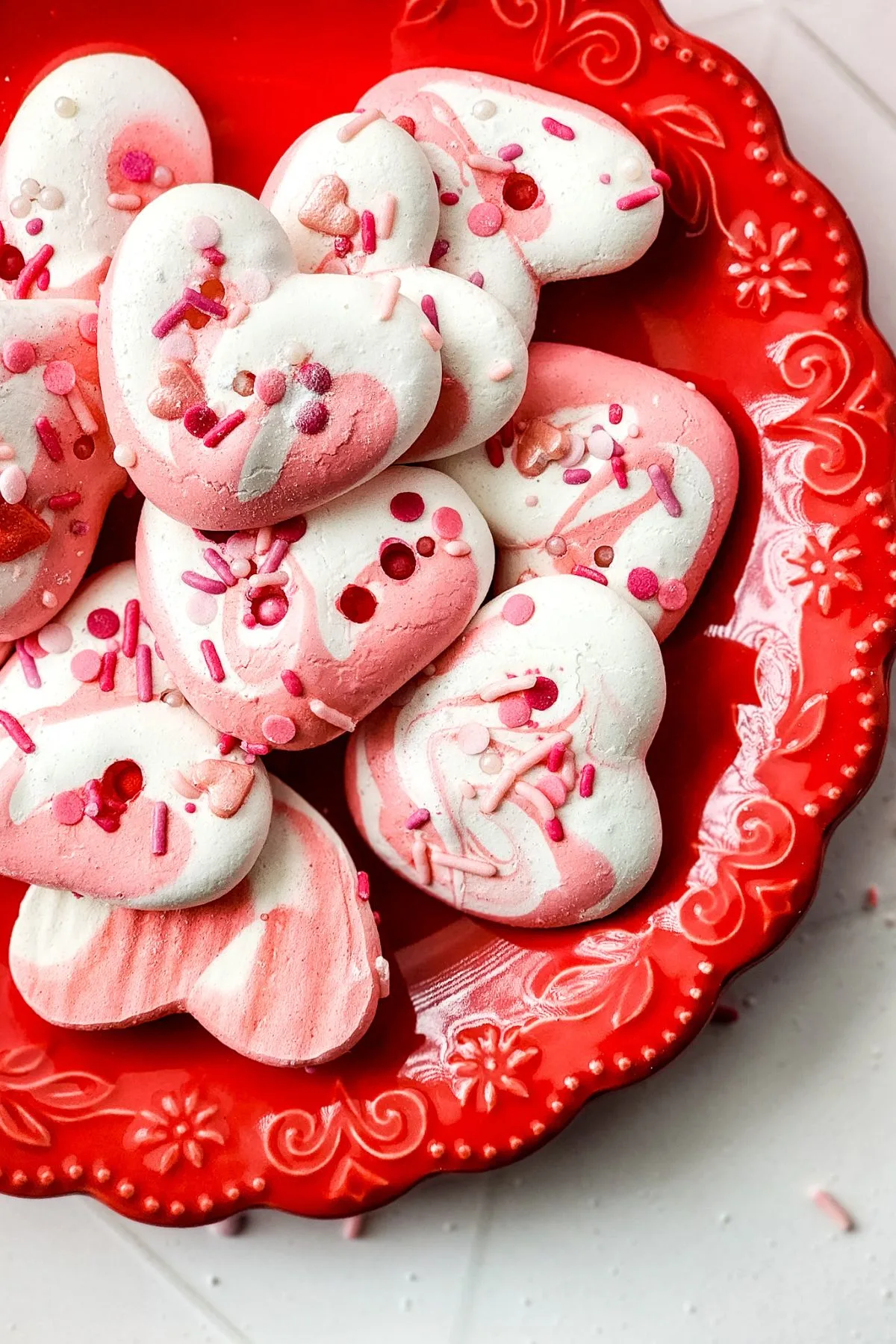 Should I refrigerate these meringue hearts?
Meringue doesn't need to be refrigerated. In fact, it can change the whole texture and cause the cookie to crumble and not hold its shape. It is best to store at room temperature.
Other Valentine Inspired recipes
Oreo Dipped Valentines - One of the easiest and yet most delicious Valentine's Day treat ideas are Oreo sandwich cookies dipped valentines. You have to try them.
Chocolate Lovers Charcuterie Board - This is the recipe for anyone obsessed with dairy-free chocolate and is ideal for Valentine's day. Filled with delicious dairy and gluten-free treats, and is presented beautifully. Perfect for date night.
Champagne Jello Shots - These delicious jello shots use champagne, ginger ale, sugar, and a few other ingredients for a sweet and boozy treat that everyone will love.
Make sure to follow us on Instagram and Pinterest to keep up with all our new recipes. Tag us if you make the recipe on IG or share your thoughts by commenting on the pin on Pinterest. If you try this recipe, feel free to give it 5 🌟 below
Eat Well and Feel Well
Pin It For Later