There's nothing quite like biting into a nice big square of fudgy, sweet, and tangy Strawberry Cheesecake Brownies. Made with just 10 minutes of prep work, these creamy, fruity brownies are sure to be the star of your dessert table.
​We all know eating gluten and dairy free can be hard, especially when it comes to treats, but when you find recipes like this one, that look like traditional gluten and dairy containing ingredients and taste just as good but are actually safe, this is something worth getting excited over.
If you've been around a while, you know we love Fudgy Brownies. And we absolutely adore our Cheesecake Brownies (and so do you guys!). These Strawberry Cheesecake Brownies are no different- they'll be loved by all!
Why You Must Make Strawberry Brownies
They taste just as good as fudgy brownies
Simple to make and they have the perfect texture with moist crumbs
Safe to enjoy since they're gluten free and dairy free too
Perfect for any holiday, special occasion or celebration any time of year
They have a fantastic, delightful summer-inspired strawberry flavor with a zesty creamy cheesecake flavor complimenting it as well
Helpful Kitchen Tools
These kitchen gadgets help you craft the perfect batch of brownies using this Strawberry Cheesecake Brownies Recipe.
Measuring Cups and Spoons
Mixing Bowl
Rubber Spatula
Non stick spray (make sure yours is gluten free- some brands like Bakers Joy has flour in the spray)
9x13-inch baking dish
​Electric mixer
Recipe Ingredients Notes
You can get more info on these ingredients in the recipe card at the bottom of the post.
Cheesecake layer Ingredients:
dairy free cream cheese-- we like to use Kite Hill Plain Cream Cheese (dairy free), but you can use whatever dairy free cream cheese you like.
granulated sugar
egg
vanilla extract-- always ensure that yours is gluten free and dairy free
strawberry pie filling-- we use Lucky Leaf®which is gluten free, dairy free, and uses no high fructose corn syrup! But, you can use whatever brand you prefer that is safe for your needs.
Brownie Ingredients:
You can use our fudgy brownie recipe or you can use the following ingredients:
dairy free butter - Earth's Balance Buttery Sticks is what we prefer for all of our baking needs. We use the gluten free, dairy free, and soy free baking buttery sticks.
unsweetened cocoa powder -- make sure that you're using a gluten and dairy free brand. We like to use Dutch processed Rodelle Gourmet Baking Cocoa
granulated sugar.
vanilla extract-- again, check to make sure it's safe
salt
large eggs
all purpose gluten free flour-- we like to use Bob's Red Mill or King Arthur's Baking Mix. But you can use other brands that are all purpose and gluten and dairy free. If your blend doesn't have xanthan gum, you may need to add it.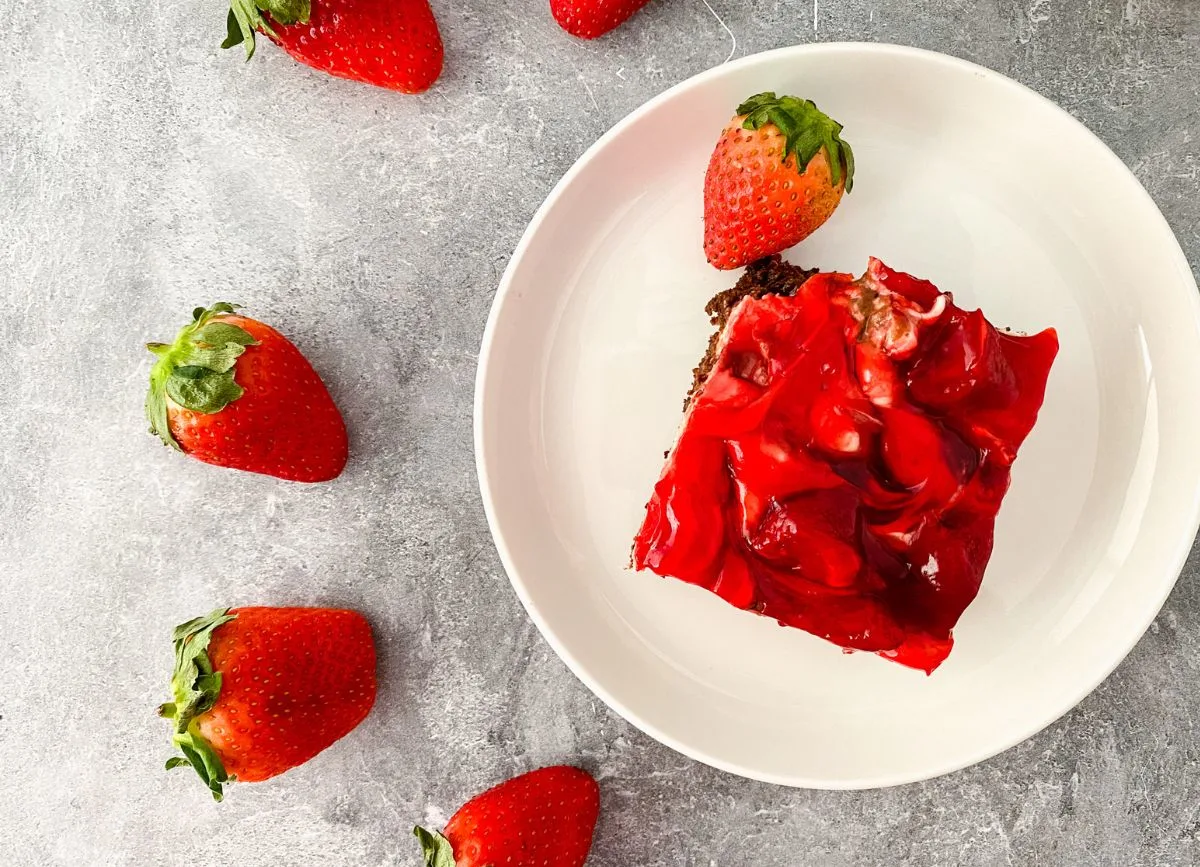 How to Make Strawberry Cheesecake Brownies
Preheat oven to 350F.
Prepare a baking dish by spraying it with nonstick baking or cooking spray.
We'll start with the topping. In a large bowl, using an eclectic mixer, beat the dairy free cream cheese and add in the sugar. Beat until smooth.
Add in the vanilla extract and egg, beat until smooth then place bowl to the side.
Moving on to the brownies. Melt dairy free butter in 30-second intervals in the microwave in a microwave safe medium bowl.
Once melted add in the dairy free cocoa powder and mix.
Add vanilla, salt and eggs and stir.
Now add in the rest of the dry ingredients- the flour and mix until just combined. Do NOT overmix. Use a rubber spatula to scrape down the sides of the bowl to make sure everything gets incorporated.
Transfer the brownie mix to the prepared baking dish and smooth out.
Add on the dairy free cheesecake mixture layer.
Add strawberry pie filling as the top layer and smooth out.
Use a toothpick, skewer or knife to swirl the strawberry filling and cream cheese layer together.
Place in oven to bake for 45-50 minutes or until the cheesecake parts start to turn a golden brown.
Remove brownies from the oven and let them cool at room temperature for 45 minutes to an our or until you can touch the cooled brownies and they're no longer hot.
Once they've cooled you can place them in the fridge for a minimum of 4 hours so everything sets.
Serve and enjoy.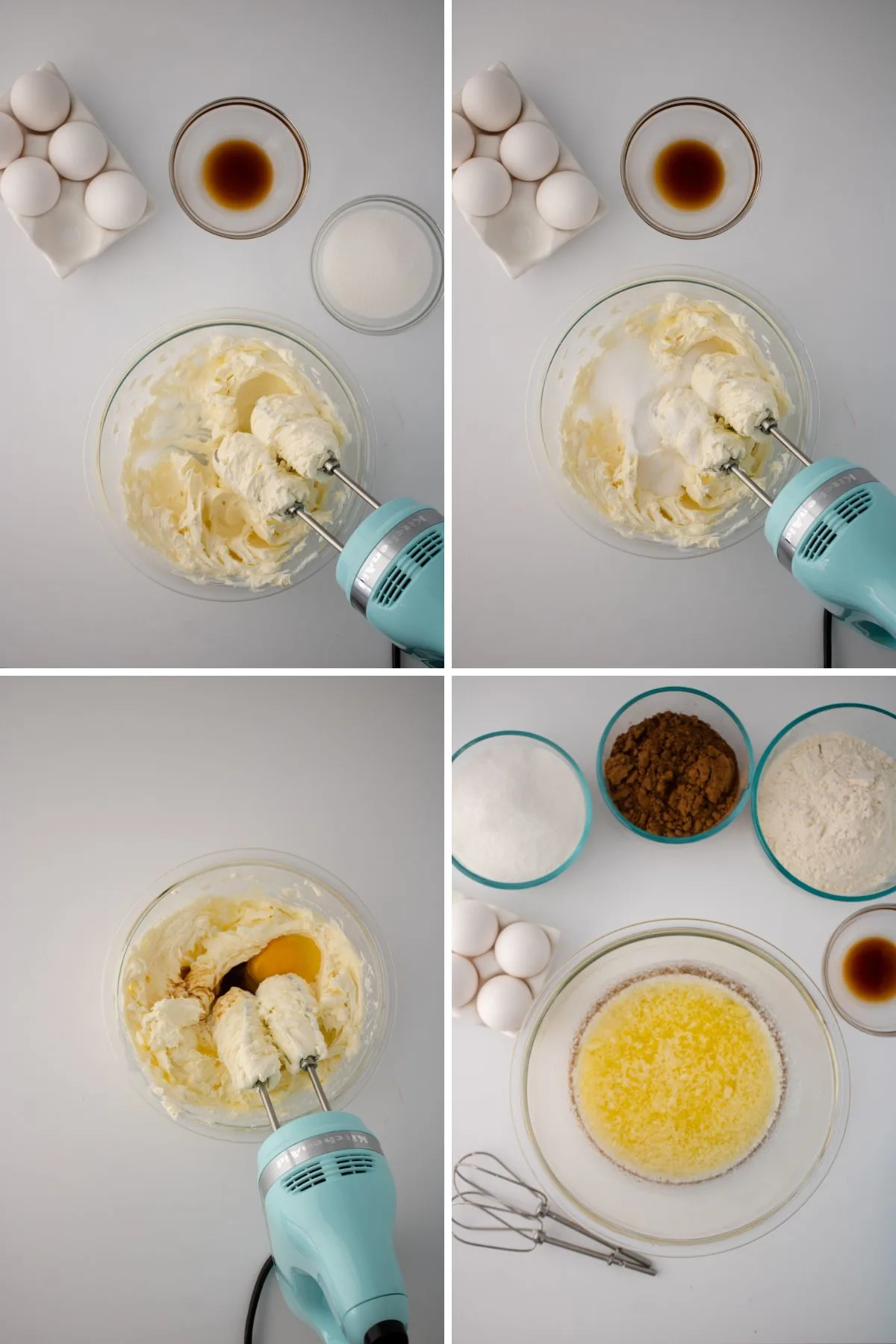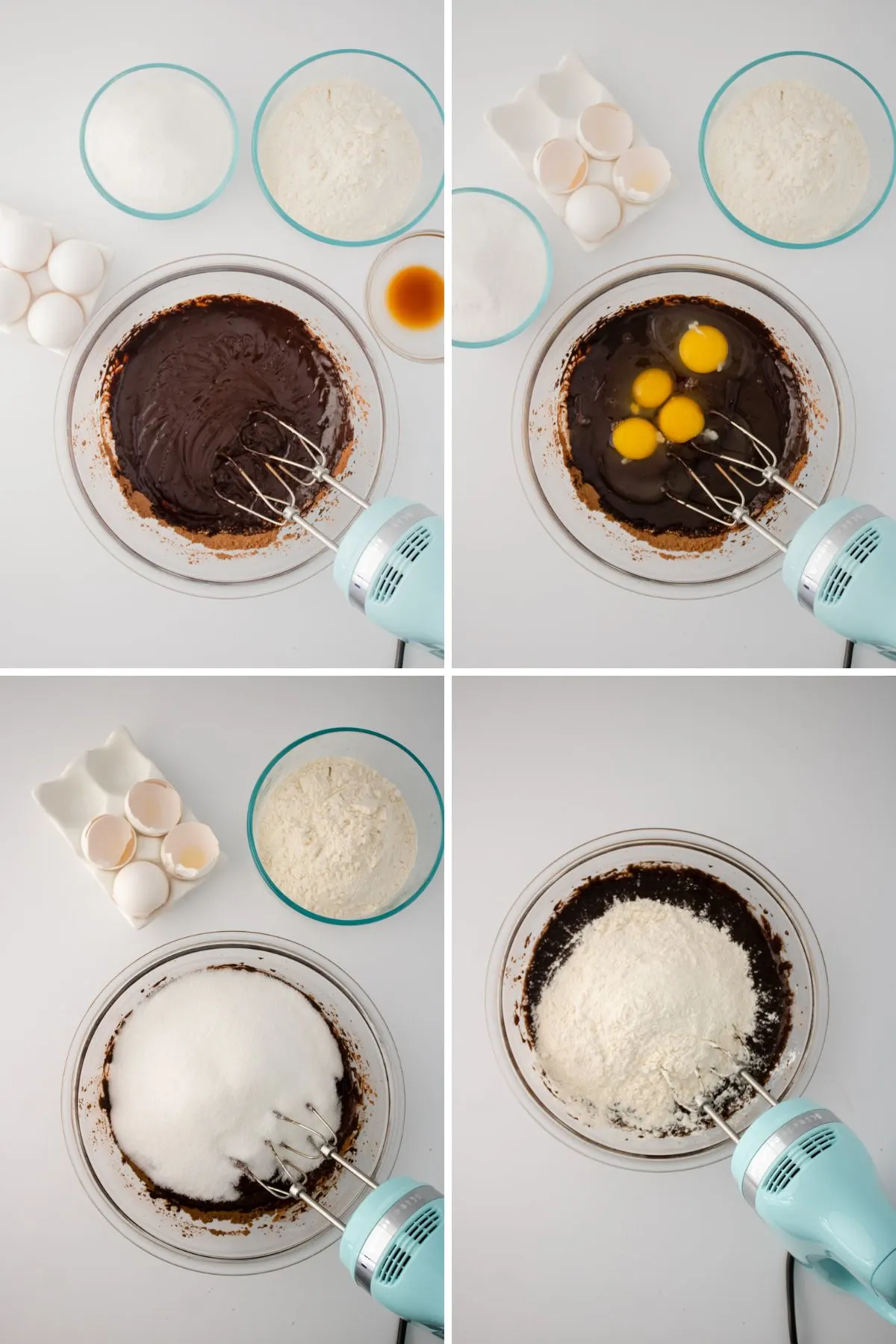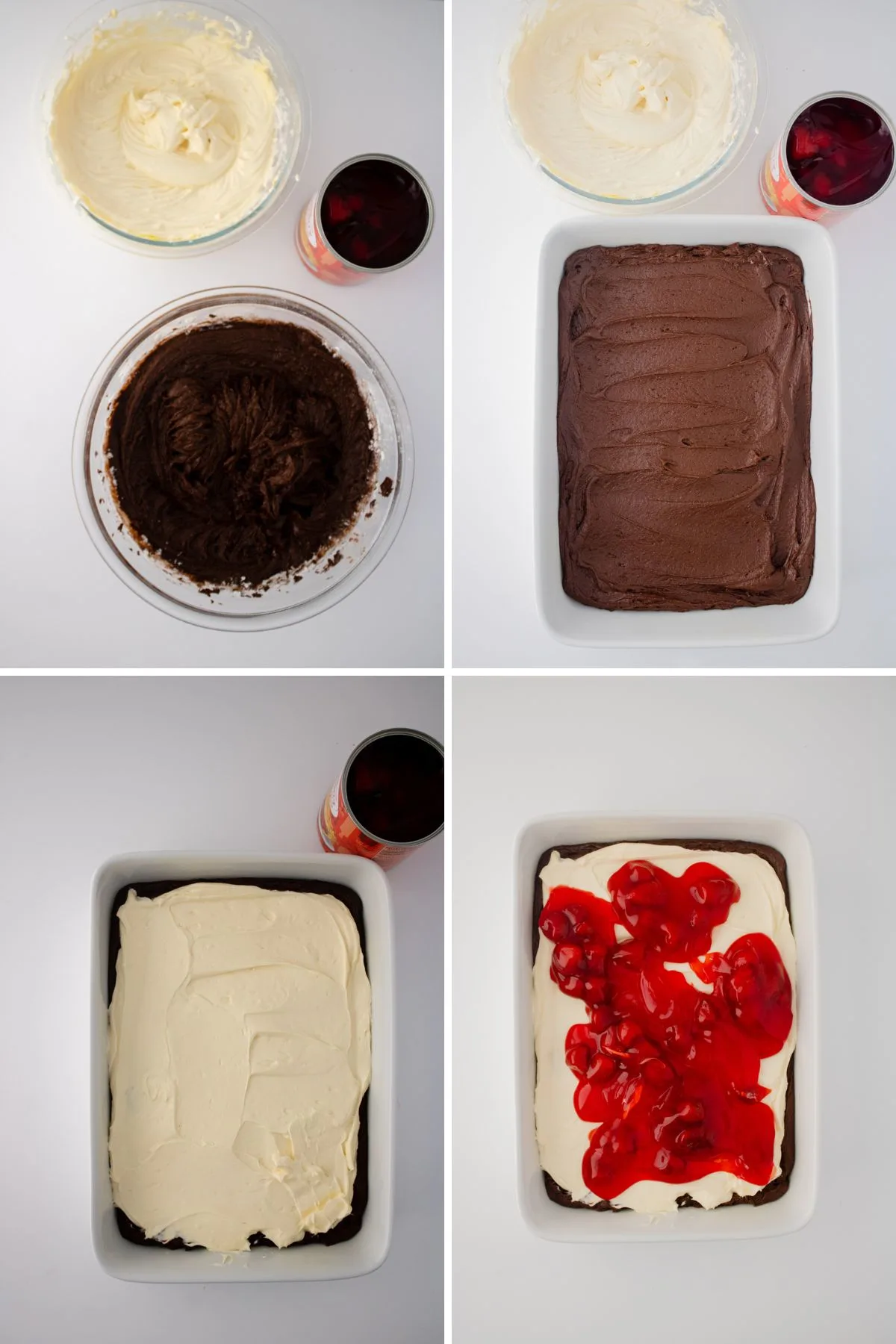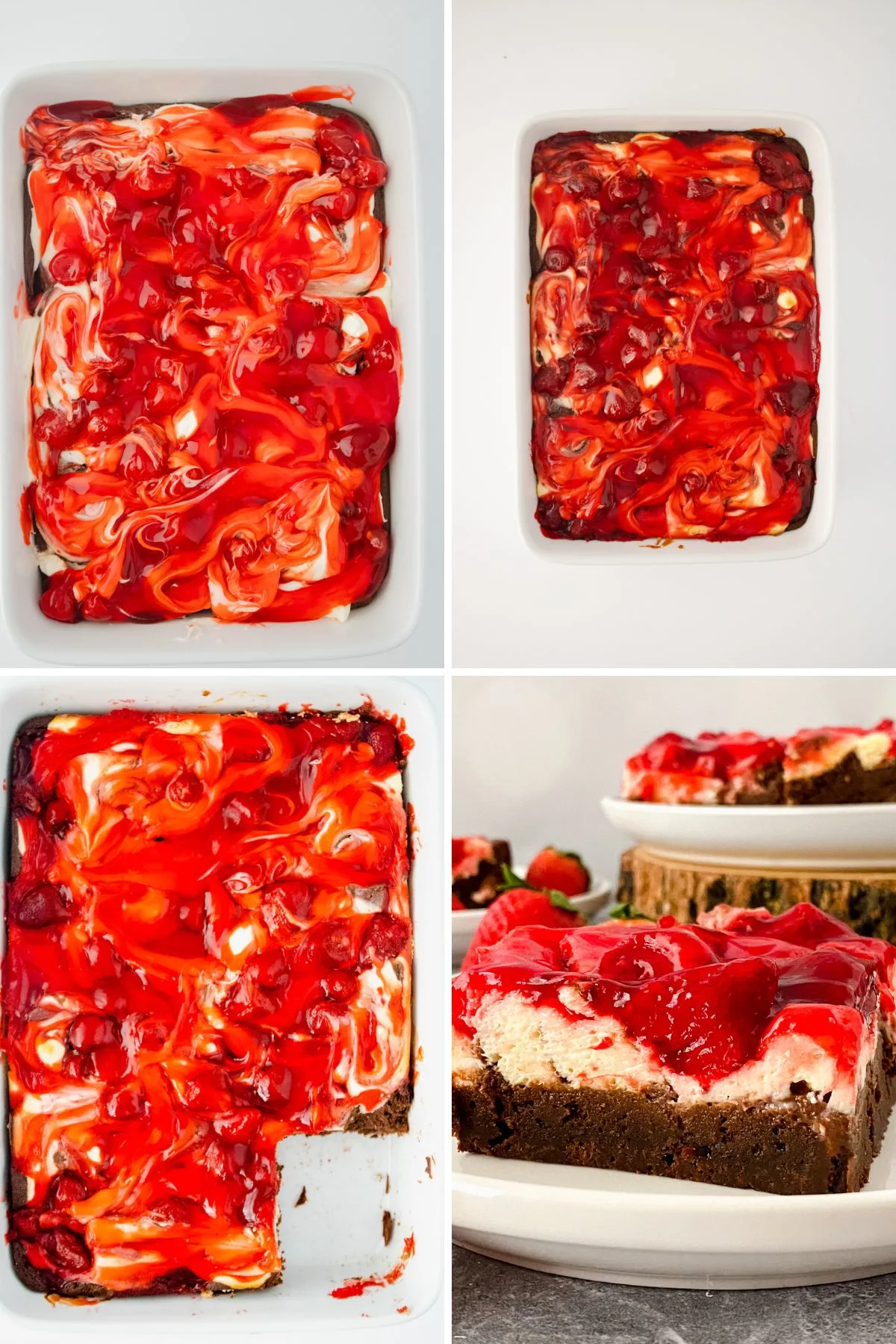 Storage
Any extra Strawberry Cheesecake Swirl Brownies should be stored in an airtight container and should be kept in the fridge for up to 4 days.
Although, I will say that our Strawberry Cream Cheese Brownies never seem to last the whole 4 days. They barely last a day, everyone wants to tear into them.
Freezing
You can freeze these strawberry brownies for later. You can wrap individual brownies in parchment paper and place in a freezer safe bag or freezer safe container for up to 2 months.
This makes grabbing just one or two homemade brownies easy for later, instead of having to pull out the whole pan.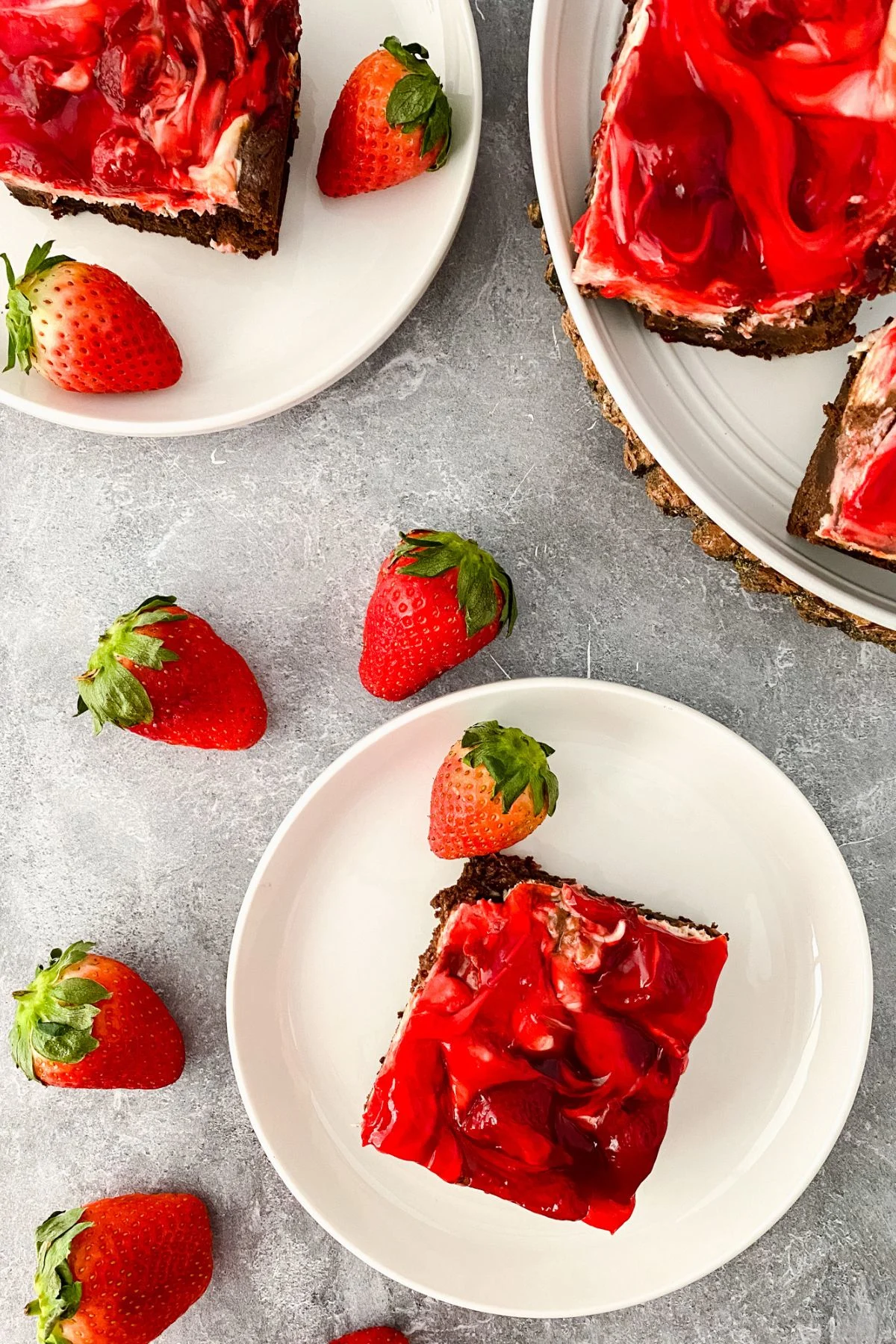 Can I use fresh strawberries?
You can, it just won't have as much of the strawberry flavor. The pie filling really brings a pop of strawberries.
If we wanted fresh berries, we'd just add a few as garnish instead of replacing them with the pie filing in this easy recipe.
Can I use a gluten and dairy free brownie mix?
Sure, if you like to use brownie mixes, you can do that. We just prefer making them from scratch. Cheaper and we know exactly what ingredients are going into this strawberry brownie recipe.
Why use room temp ingredients?
When you're making brownies and other gluten adn dairy free baked goods, it can be very beneficial and helpful to use room temp eggs, cream cheese and other ingredients. This helps the dairy free cream cheese mixture blend together easier and not be so hard to mix or leave chunks in the mixture.
Nobody wants chunky stuff on top of the brownies. Softened cream cheese and eggs mix easier than cold cream cheese and other ingredients. This way you spend less time mixing and less time introducing unnecessary air to your mixture.
If you overbeat the brownie batter then you could ruin the perfect dessert by adding too much air to the batter.
Tips and Variations
You can use other pie fillings to change up the flavor profile.
If you don't want to use a hand mixer, you can use a stand mixer.
If freezing leftover brownies, you can flash freeze for easier storage.
Don't skip the refrigerating step, it really lets all the flavors meld and brings a nice pop of strawberry, cream cheese, and chocolate flavor to the brownies
If you're out of strawberry pie filling, you can use a sweet strawberry sauce with some fresh strawberries on the cream cheese mixture on top of brownies.
Add a dollop of dairy free whipped cream to really set these decadent brownies up a level. We like to use CocoWhip but you can use any dairy free whipped cream on top of one of your favorite classic desserts.
When cutting the brownies, you'll want to use a sharp knife and wipe the blade in between passes through the dessert so you can get nice clean edges of your tasty brownies.
More Gluten and Dairy Free Desserts
If you're looking for some more yummy's, check out our Strawberry Rhubarb Crumble, Fruit and Brownie Trifle, and our Layered Strawberry Cake.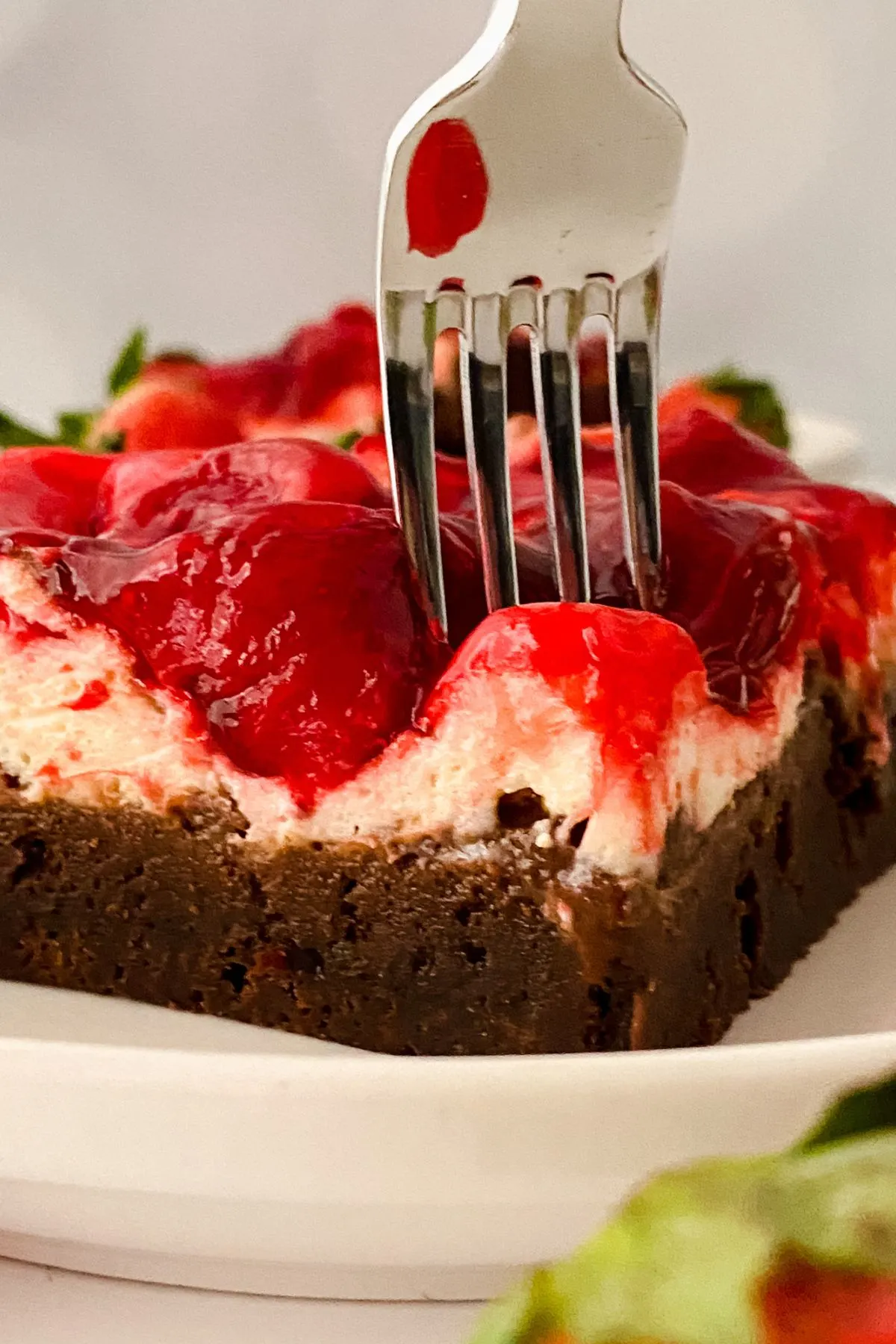 Make sure to follow us on Instagram and Pinterest to keep up with all our new recipes. Tag us if you make the recipe on IG or share your thoughts by commenting on the pin on Pinterest. If you try this recipe, feel free to give it 5 🌟 below
Eat Well and Feel Well
Pin It For Later