This Gluten and Dairy Free Lemon Raspberry Cake is so delicious one slice just won't be enough. A rich and moist lemon cake that has fresh berries in it, topped with creamy buttercream.
What's not to like? The ideal show-stopping dessert for Valentine's day or any special occasions for that matter.
When it comes to cakes, lemons, and raspberries are such a tasty combination. This cake lends itself well for lemon flavors and fresh berries that you just can't go wrong.
Plus using our tried and tested method for buttercream means you have an utterly divine cake or dessert that is totally gluten and dairy-free.
This is a great recipe to follow if you are looking for a cake that has the wow factor. It looks like it has taken a great deal of effort to make, but is actually far simpler to put together than you might think.
A frosted cake looks elegant, and you can add a few decorations to it if you wish. You could use this cake for Valentine's day, or even a special birthday or meal with your nearest and dearest.
If you love lemon desserts then you have to try this delicious Lemon Tart recipe.
Tart and full of flavor it is a wonderful dessert that you can enjoy all year round.
Love gluten and dairy free cakes? Try this fancy (yet easy to make) Layered Strawberry Cake!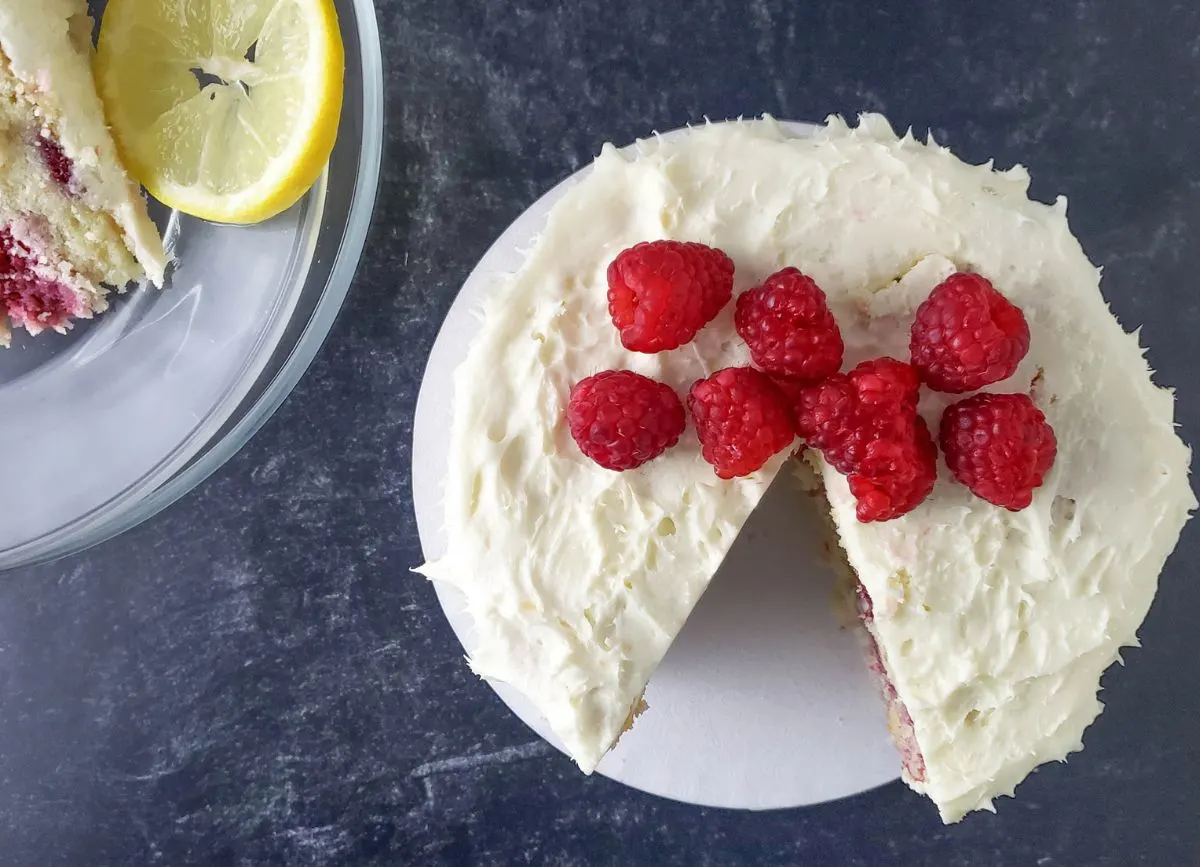 💜 Why You'll Love This Lemon Raspberry Cake
Delicious - Full of fantastic fresh flavors this is definitely a next-level cake.
Kid-friendly - The lemon isn't overpowering and the raspberries give a burst of fruity flavor. The kids will love it.
Safe to enjoy - All ingredients are dairy and gluten-free. We share our favorite brands that are safe and we think work well as the suggested ingredients
Easy to make - It looks fabulous but is actually very simple to create and put together. Just don't tell anyone!
🍋 Ingredients Needed (full recipe in recipe card at bottom of post)
Lemon cake ingredients
Gluten-free cake flour- We recommend either Steve's gluten-free cake flour (this is a newer to us option!) or you could also use Bob's Red Mill 1-1 Baking Flour. That's our typical go to gluten-free flour. We even like using a rice flour for some cake recipes.
White cane sugar
Baking powder
Salt
Eggs, room temperature
Fresh Raspberries dusted with GF flour (Check out the tips and tricks for more information on this)
Lemon extract
Lemon juice, fresh or bottled
Dairy-free butter- We used Earth Balance Buttery Sticks at room temperature
Dairy-free milk- We like to use Shelf Stable almond milk. (room temperature or as close as possible without it getting warm)
Buttercream ingredients
Helpful Tools
Hand mixer
Measuring spoons and cups
Mixing Spatula
Mixing bowls
Cake Boards
6-inch Cake Pans
Turn table for cake
Angled spatula
Wire Rack for Cooling
🍰 How To Make A Dairy and Gluten Free Lemon Raspberry Cake
Make the Cake
Gather and measure out all of your ingredients. Preheat your oven to 350 degrees, and then lightly grease your cake pans. Or you can use parchment paper to line the cake tins.
In a bowl add the eggs, sugar, dairy-free butter, lemon extract, and lemon juice. Start mixing with the hand mixer making sure you scrape the sides of the bowl until the mixture is light and fluffy.
Combine the gluten-free flour, salt, and baking powder in a separate bowl, and whisk together to ensure the dry ingredients have combined.
Get your egg mixture and alternate adding the gluten-free flour mixture and pouring the dairy-free milk into the mixture. Mix until everything is well combined. Scraping sides midway through. Try and avoid overmixing as this can knock out the air. Around 1 - 1 ½ minutes is enough.
Fold in the raspberries. Be sure to do this gently so you don't break the berries.
Pour equal amounts of the raspberry lemon cake mixture into two 6-inch round cake pans. Bake at 350 degrees for around 40 minutes. You can check they are done by inserting a toothpick. It should come out clean, if not, bake for an additional 2 mins.
Once ready allow them to cool on a wire rack for 10 minutes before removing them from the cake pans and placing them on the wire rack to cool completely.
Make dairy free buttercream (our tried and true recipe)
In a large bowl, cream shortening and butter with an electric handheld or stand mixer at a medium speed until light and fluffy.
Add vanilla and mix well.
Add confectioners' sugar 1 cup at a time. Mix on low. Scrape down the sides of the mixing bowl often.
Add in dairy-free milk 1 tablespoon at a time. Add in more for your desired consistency.
Allow softening to room temperature before frosting your baked goods. You can store any leftovers in the refrigerator for up to one week.
Decorating the lemon-raspberry cake
Place one of the cakes on a decorative cake board or cake drum. Using the angled or offset spatula, add some of the buttercream on top of one of the cakes. In a back-and-forth motion, spread gently to cover the cake across the top of the cake. This is the cake filling.
Place the second cake layer on top of the cake with the buttercream. Make sure it is top-side down. Press gently as this can help remove some of the air pockets that may develop.
Place more buttercream on the cake and gently work back and forth to spread evenly and get a smooth layer. You will also want to spread the buttercream across the sides of both cakes.
Use the angled spatula to smooth as much as possible or make slight ridges by turning the cake on the turn table.
Your Lemon Raspberry cake is ready to serve.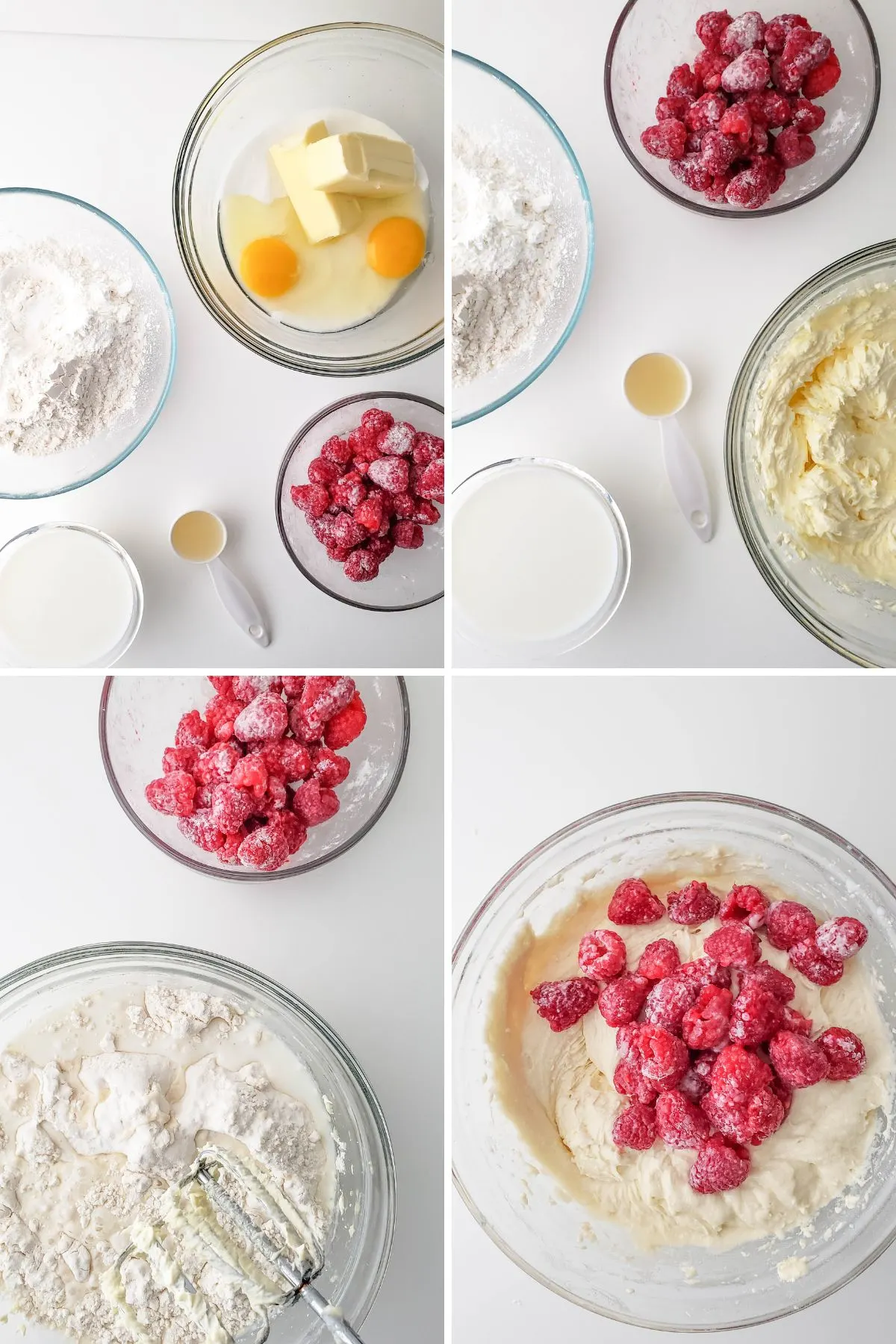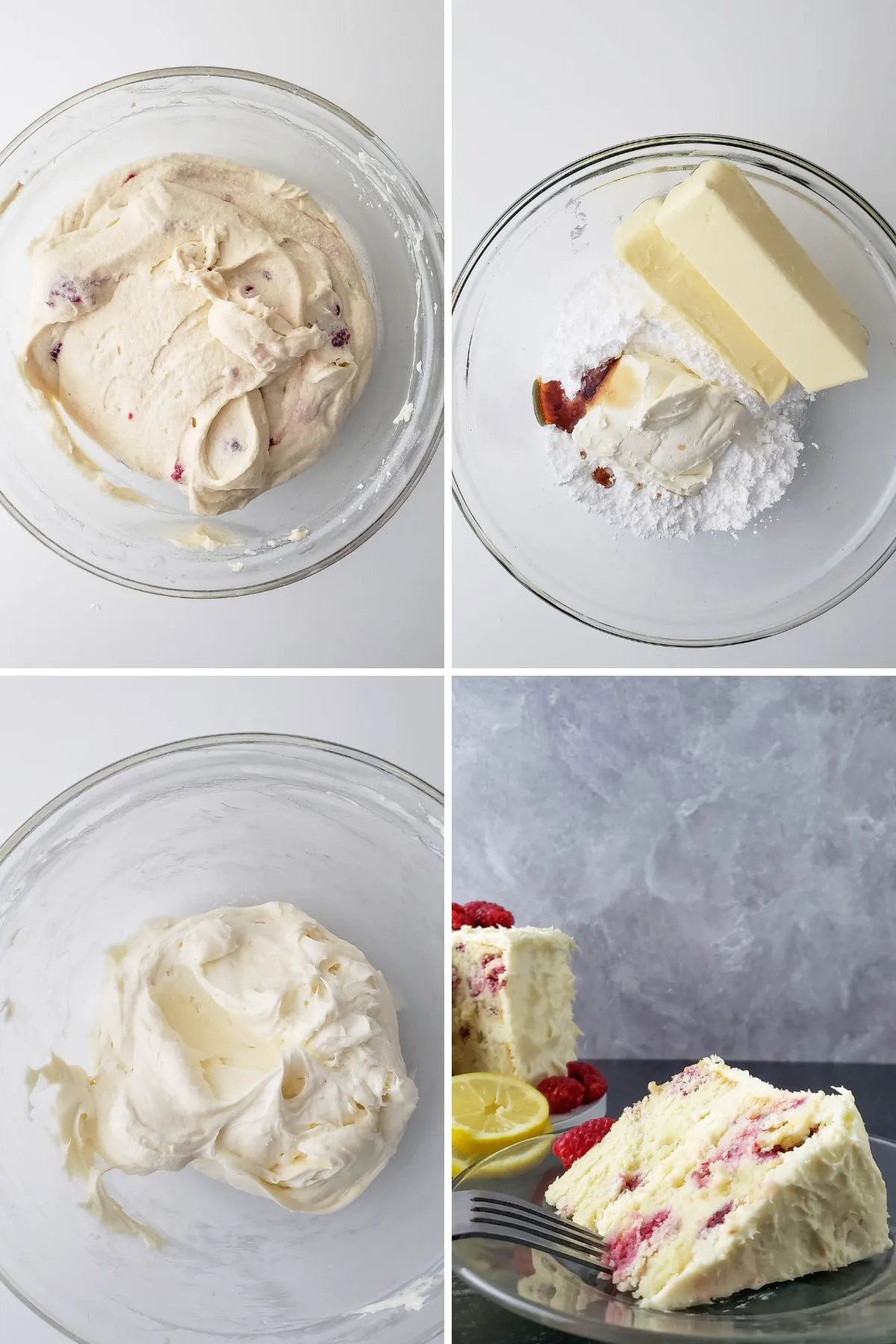 Recipe Variations
Fancy raspberry buttercream. You could add some fresh raspberries to the buttercream recipe to make raspberry frosting. Yummy!
Get creative with decoration. You could add some dairy-free white chocolate shavings to the top of this delicious lemon raspberry cake.
Use fresh lemons. To get that lemon flavor you can also use lemon juice from fresh lemons instead. Just make sure you have enough juice for the recipe and there are no pips or pulp.
Change up the filling. Why not add a layer of raspberry preserves, raspberry jam, or even homemade lemon curd? A raspberry filling would taste incredible. You could even cut the cakes in half to make more raspberry lemon cake layers.
Make lemon buttercream. You could add a drizzle of lemon juice or some lemon zest to the buttercream to give it a citrus twist.
What if you want to try a different flavor? You could always you this as a base recipe to create some other wonderful combinations. Almond Extract and strawberries, orange, and cherries. You can get creative with this.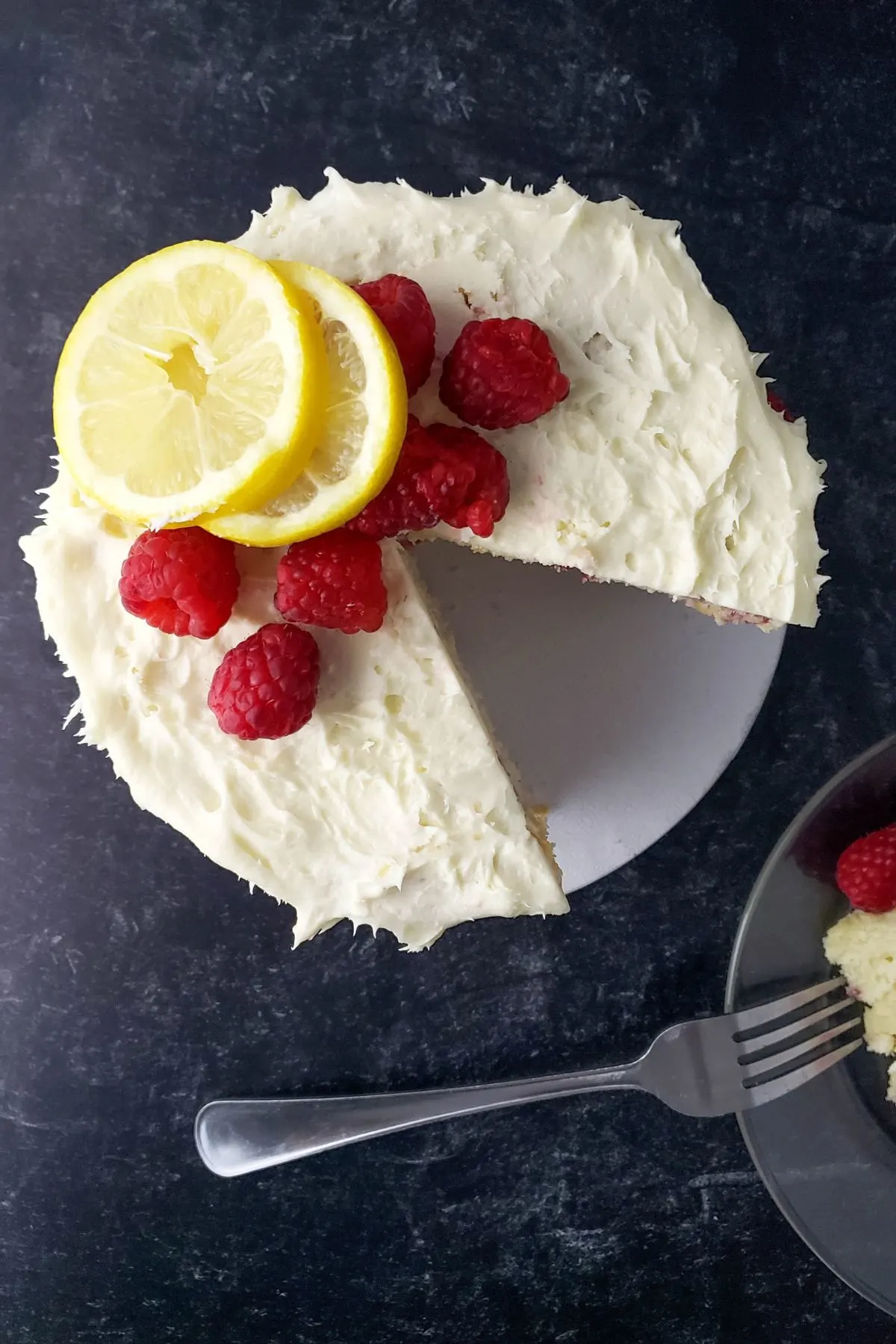 Tips & Tricks
If you are using your stand mixer for this recipe then the whisk attachment is best for the buttercream but the paddle attachment will help with the cake mixture.
All ovens are different so cooking time might vary. The best advice is to keep an eye on it and use the toothpick method to determine if they are baked.
Make sure the cakes are fully cooled before attempting to add the buttercream frosting. Nobody wants to clean up that mess.
When measuring out your gluten-free flour we like to use a spoon and a knife to level it off. This way we don't get too much when trying to get the right quantity. Baking is all about precise measurements. So don't dunk the measuring cup directly into the flour. Use a spoon to scoop it out of the container or bag and transfer it to the measuring cup. Then once needed, use a knife to level off any excess gluten free flour.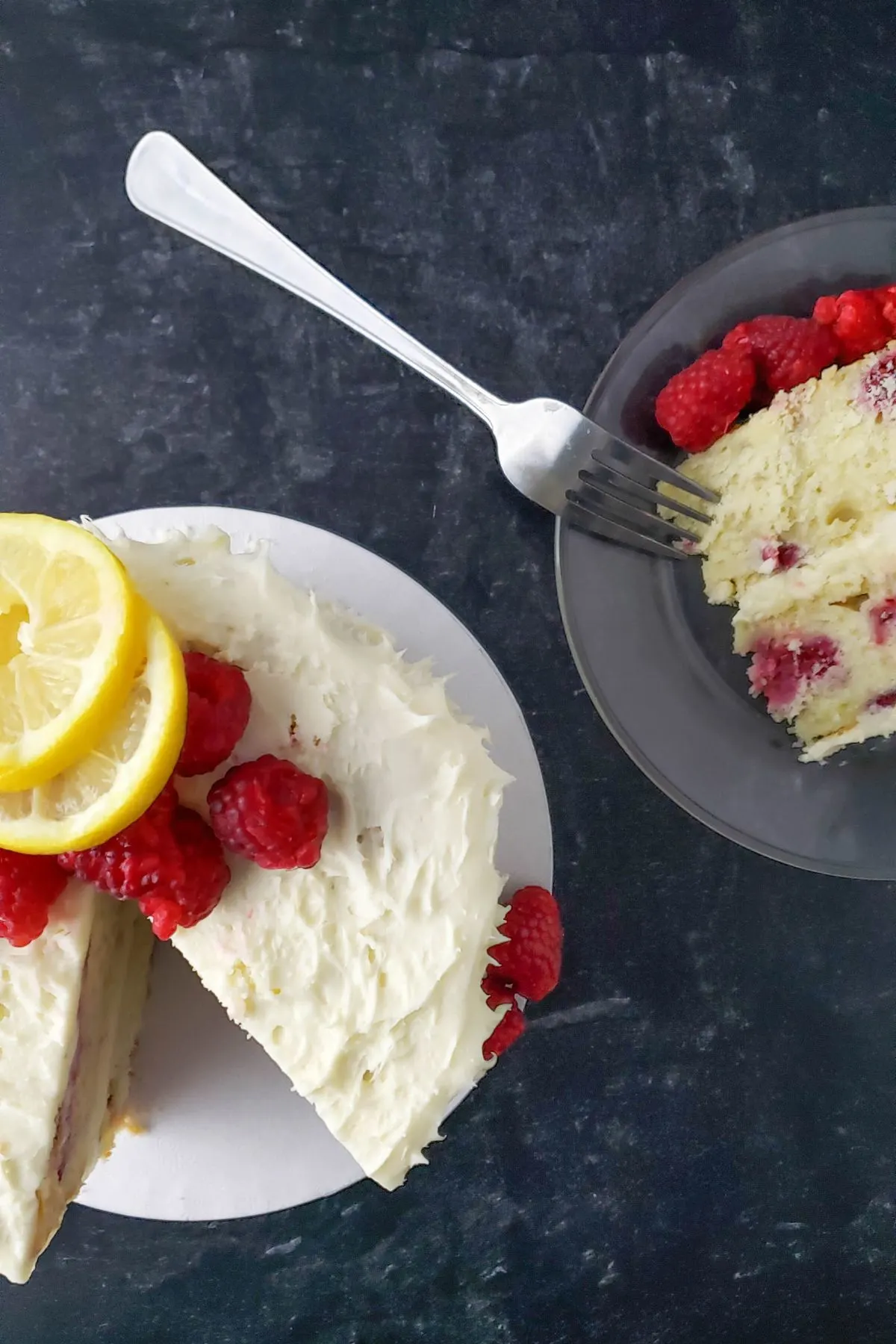 Storage
This lemon raspberry layer cake will last refrigerated for up to five days. It is best to cover it in a cake-saver container or an airtight container big enough for the cake to sit in.
Avoid leaving it uncovered as the cake will dry out, especially if it has already been sliced into.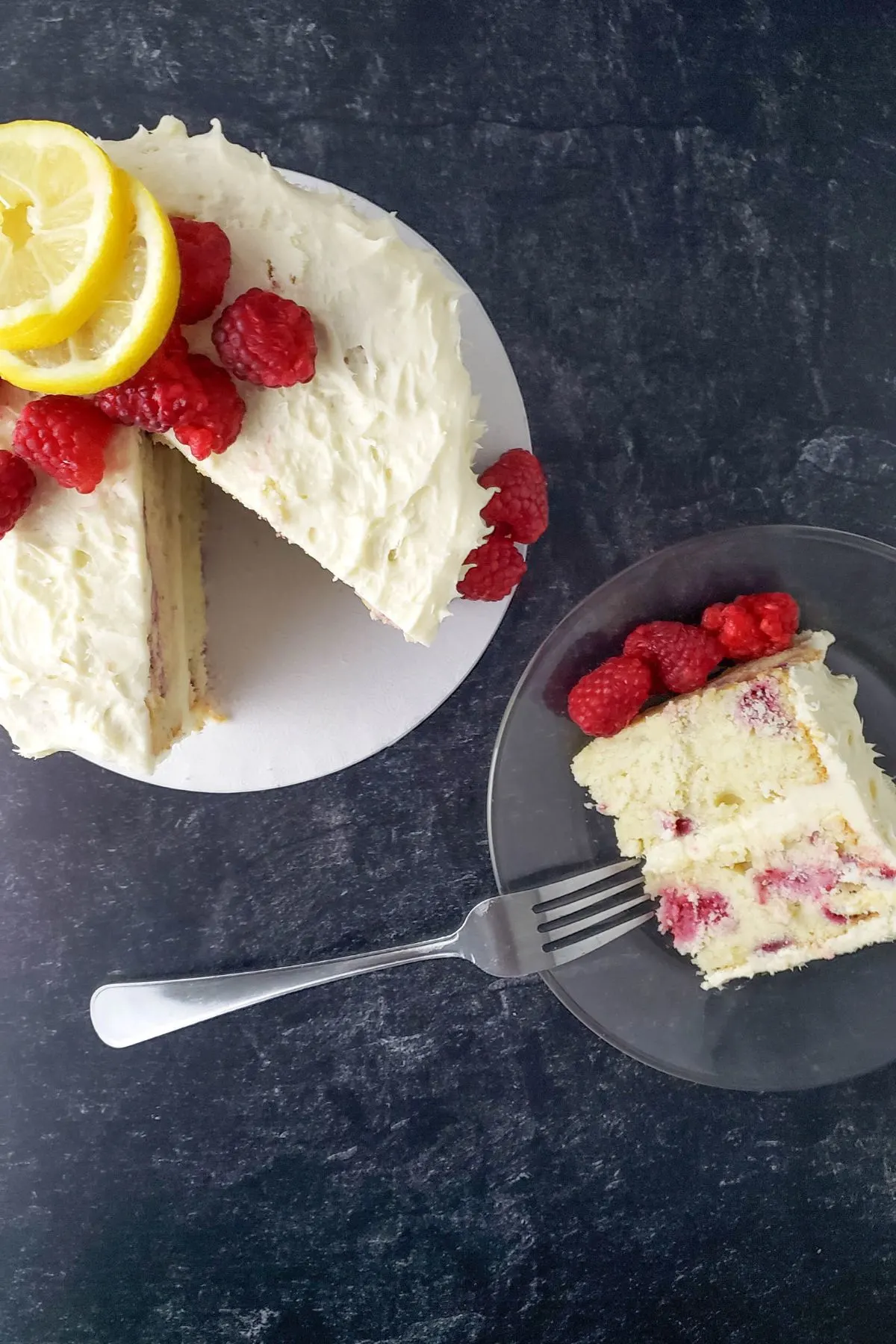 FAQ
Why do I need to dust my raspberries with gluten-free flour?
This is a simple hack that will stop those berries from sinking to the bottom of the pan when you divide up the cake mixtures. The flour helps to keep those raspberries evenly distributed. So everyone gets a taste.
Can you use frozen raspberries in this recipe?
Yes, you can! Frozen fruit works really well in baking. Frozen fruit is excellent value for money and often means less food waste. You only need to use what you need.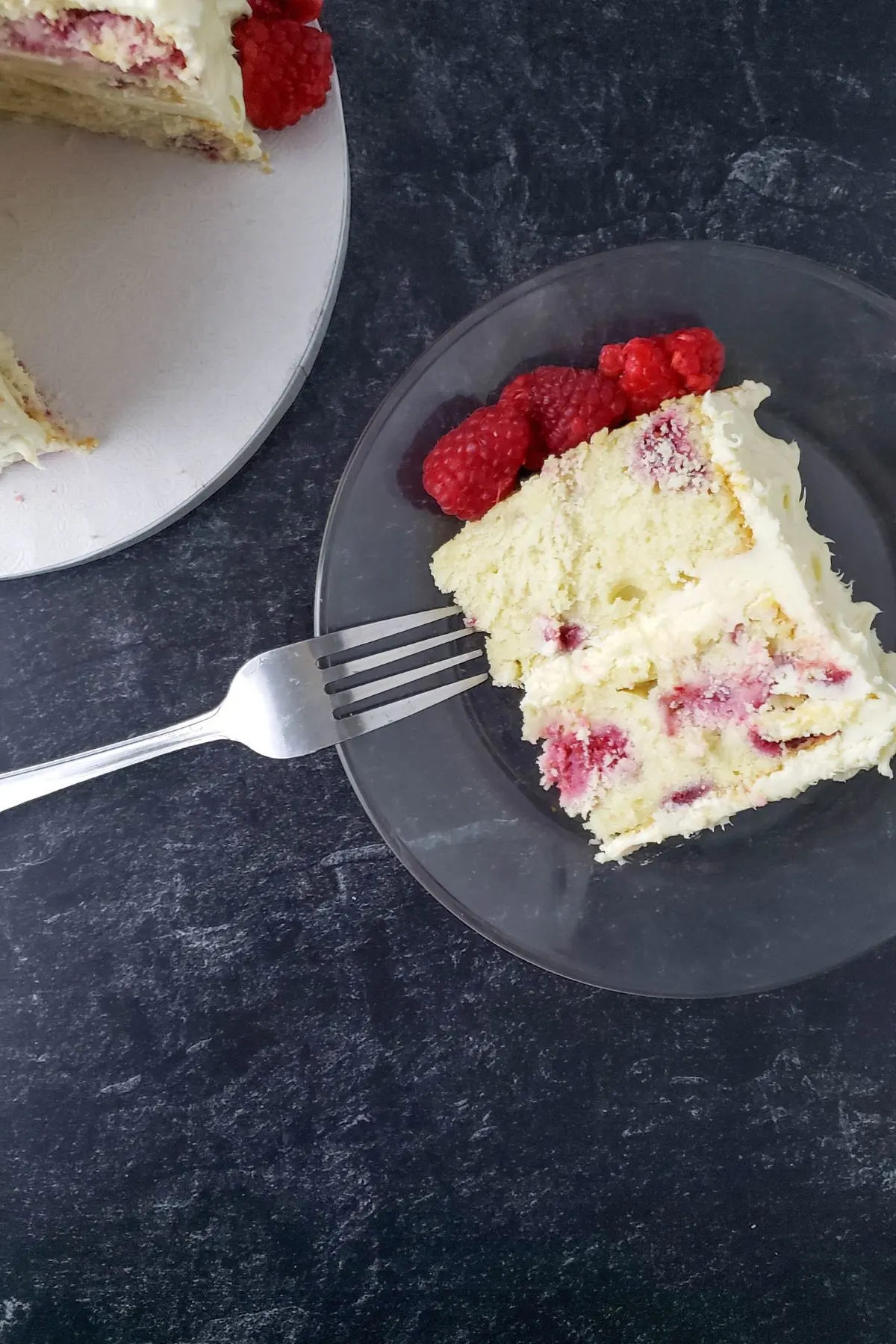 What can this cake be decorated with?
We think a few simple fresh raspberries on the top is enough for this delicious cake but it lends itself well to lots of options including sprinkles, candies, and dairy-free chocolate shavings.
Other Lemon recipes
Easy lemon pepper chicken - Enjoy a taste of heaven with this Easy Lemon Pepper Chicken. A class chicken recipe that is simple to put together and is truly delicious. You will be making this time and time again.
Lemon poppy seed bundt cake - Here is a recipe for a moist and tender Lemon Poppy Seed Bundt Cake with Lemon Cream Cheese Frosting showcasing a delicious fresh lemon juice, lemon zest, and poppy seed flavor.
Lemon streusel bars - These luscious lemon streusel bars are a sure way to win friends and influence others. What sets this lemon bar recipe apart from others is how the creamy and tangy lemon filling is sandwiched between a sweet, crumble streusel.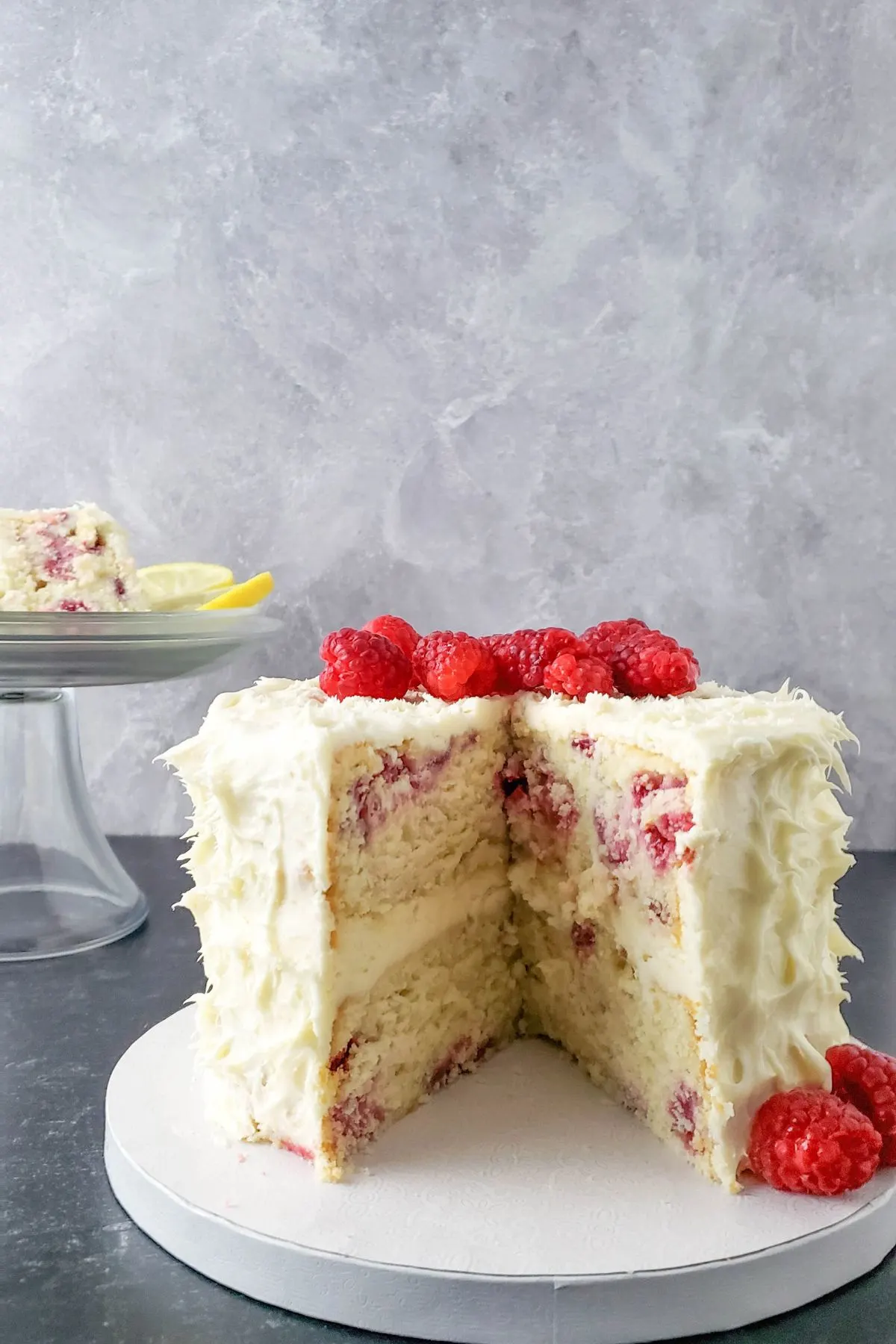 Make sure to follow us on Instagram and Pinterest to keep up with all our new recipes. Tag us if you make the recipe on IG or share your thoughts by commenting on the pin on Pinterest. If you try this recipe, feel free to give it 5 🌟 below
Eat Well and Feel Well
Pin It For Later