This Chocolate Molten Lava Cake is the perfect dessert for any chocolate lover. Enjoy this moist, gluten and dairy free chocolate cake on a special date night to satisfy that chocolate craving. Perfect for Valentine's day or when you want a dessert that has the wow factor for any special occasion.
You can't go wrong with a warm chocolate cake. This easy recipe is set to wow anyone you serve this delicious cake to. Simple to make and the best part is that you can feel safe knowing that it is gluten-free and dairy-free too.
The flavors work incredibly well together and this molten lava cake recipe is destined to become a firm favorite in your home. If it looks familiar, you might have seen it at your local Chili's restaurant, but, unlike the restaurants version, you can safely enjoy this one at home with no gluten or dairy!
This Chili's Copycat Molten Lava Cake recipe is not difficult to make even though it may look like it is. Most of the ingredients will be in your pantry or cupboards making it simple to whip up when you want a truly delicious molten cake.
Serve with a scoop of ice cream, dairy-free of course, and you are good to go. A really fun Valentine's cake to end the night of romance or a way to celebrate a big, special event.
If you love all things chocolate then you have to try these Chocolate Chip Cream Cheese Bars.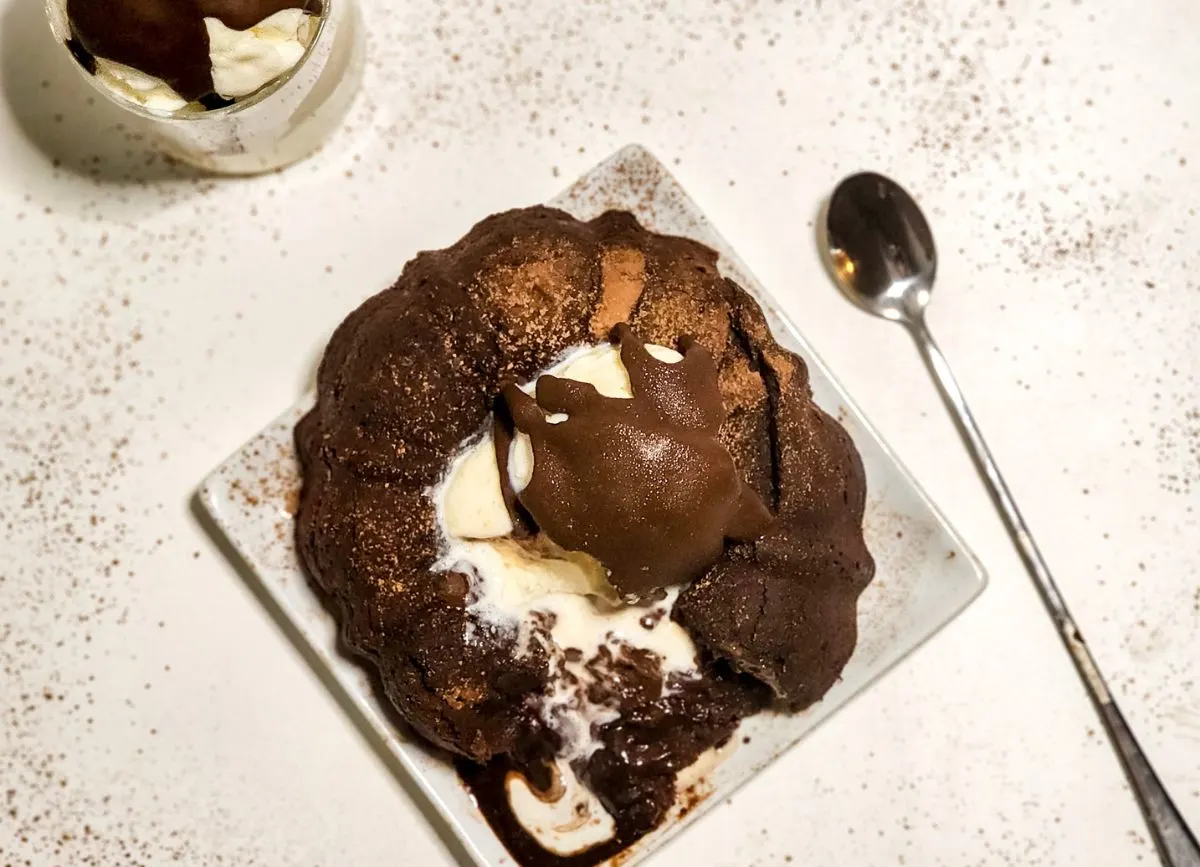 ❤️ Why You'll Love The Molten Lava Cake
Allergen friendly - We used gluten and dairy-free ingredients to make this a safe version of the one that you see at your local restaurants!
An excitable dessert for the kids - As much as this is ideal for a special occasion the kids (and adults) will love the gooey center.
Ideal for a sweet tooth - This will certainly hit the spot if you have a sweet tooth or are a chocolate lover!
Not complicated - This Chili's molten lava cake copycat recipe isn't overly complicated to make and doesn't have a big long list of ingredients to buy. It may look super fancy, but it's not difficult to make!
Ingredients Needed (full recipe at bottom of post)
Cake Ingredients
Dairy-free butter We use Earth Balance Buttery Sticks for almost all of our dairy free butter baking needs. They're vegan and soy free.
Dairy Free Chocolate Chips- we use Enjoy Life Allergen Friendly chocolate chips to use for melting. They're made in a dedicated nut and gluten free facility and are free from 14 allergens! You can also use Lily Baking Chips.
Eggs and additional Egg yolks
White granulated sugar
Vanilla extract- McCormicks makes a certified gluten free vanilla extract that we love and trust
Salt- we usually use kosher salt but you can use iodized table salt if needed
Gluten-free flour - We recommend King Arthur's all-purpose flour or Bob's Red Mill 1-1 Baking Flour. If you want to use other flours or blends, add xanthan gum if needed.
Topping
Dairy-free homemade Magic Shell Hardening Chocolate Syrup - made from Enjoy life chocolate morsels melted and mixed with Coconut oil until you get it to the right consistency)
Dairy-free ice cream - The brand So Delicious tends to be a favorite for many people. But you can use any dairy free ice cream that you prefer.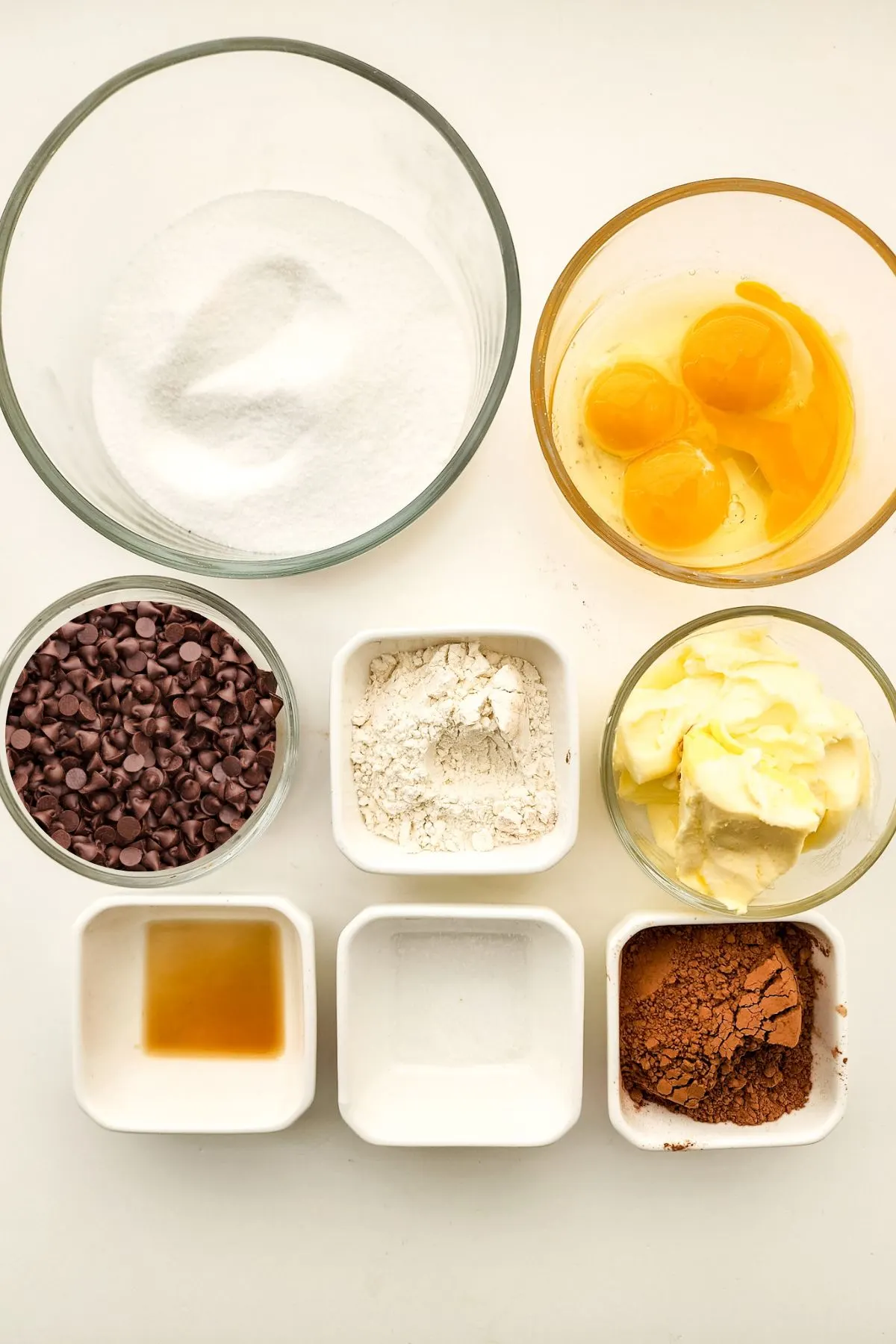 Helpful Tools
Fluted Bundt Cake Pan
Measuring Cups and Spoons
Cooking spray
Mixing bowl
Plastic wrap
How To Make A Chocolate Molten Lava Cake
Gather all of your ingredients together. Start by melting the dairy-free butter and the dairy-free chocolate bars or chocolate chips in the microwave. Use a small microwave-safe dish or bowl and melt in 30-second bursts. Stir in between until completely smooth.
Once melted set this aside. Get another bowl and begin combining some of the other ingredients. Whisk together the whole eggs, yolks, and sugar until the mixture has become paler in color.
Now add the vanilla, salt, and gluten-free flour into the mixture and mix together until all the ingredients are thoroughly combined.
Add the melted dairy free chocolate butter combo into this mixture and whisk together until everything is fully combined.
Place plastic wrap over the bowl and put the mixture in the refrigerator for at least 30 minutes but no longer than 3 hours.
When you are ready to remove the cake batter from the refrigerator, 10 minutes before you should preheat the oven to 350F.
Prepare your fluted bundt cake pan by spraying it with baking spray.
Pour the batter into the pan. Fill until it is ⅔ full and bake in the oven for 25 minutes.
Remove cake pan from the oven, the outsides of the chocolate lava cake will be firm, but the insides will still be melting and gooey.
Let the molten chocolate cake sit for 10 minutes. While the cake sits, make the homemade magic shell by melting more dairy-free chocolate. In the microwave safe bowl, combine dairy free chocolate and coconut oil and mix together.
Flip the cake over onto a plate and tap the top of the bundt cake pan to release the cake from the pan.
Top with a scoop of dairy free vanilla ice cream, and the homemade dairy-free hardening chocolate shell. Enjoy your Copycat Chili's molten lava cake from home. Yum!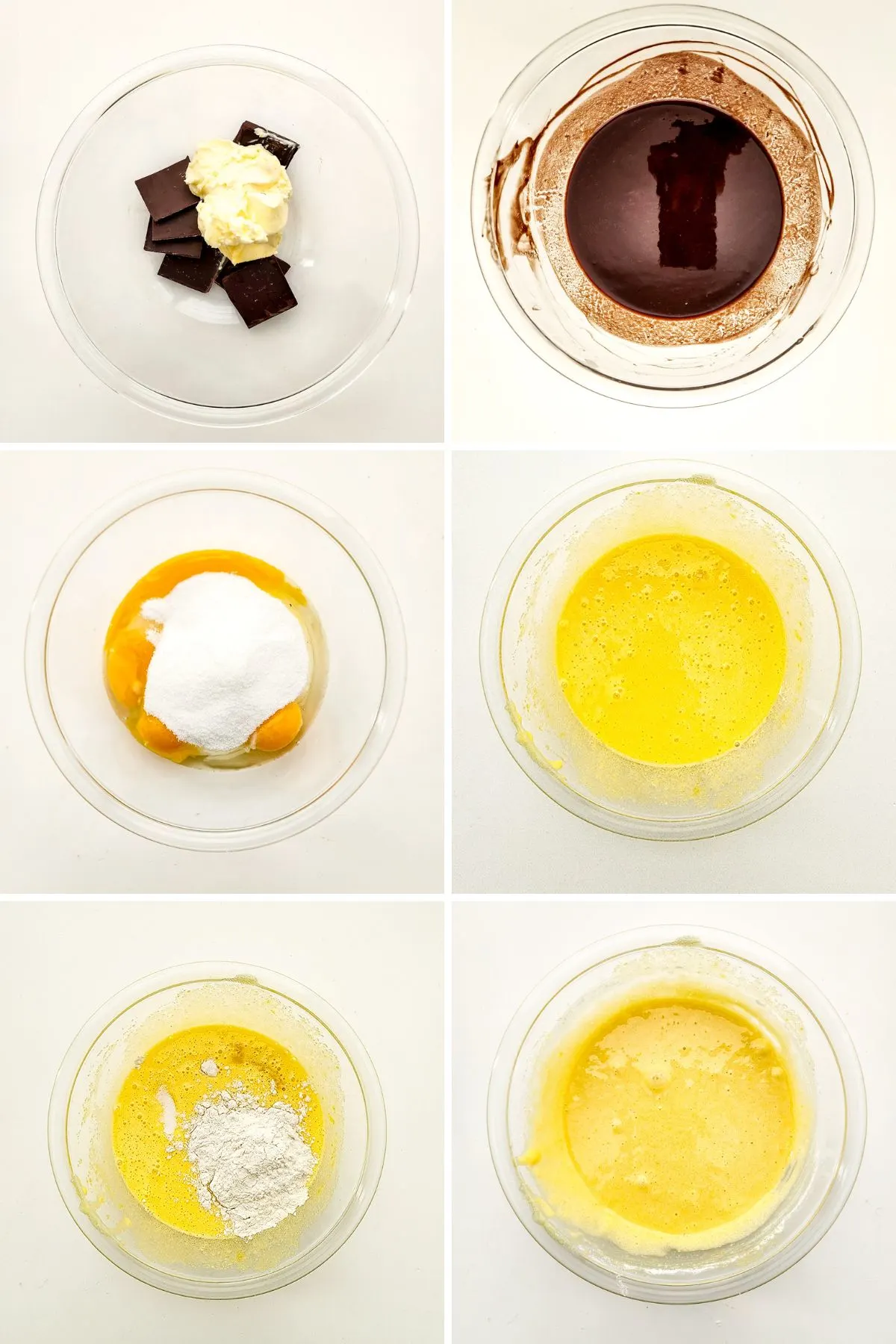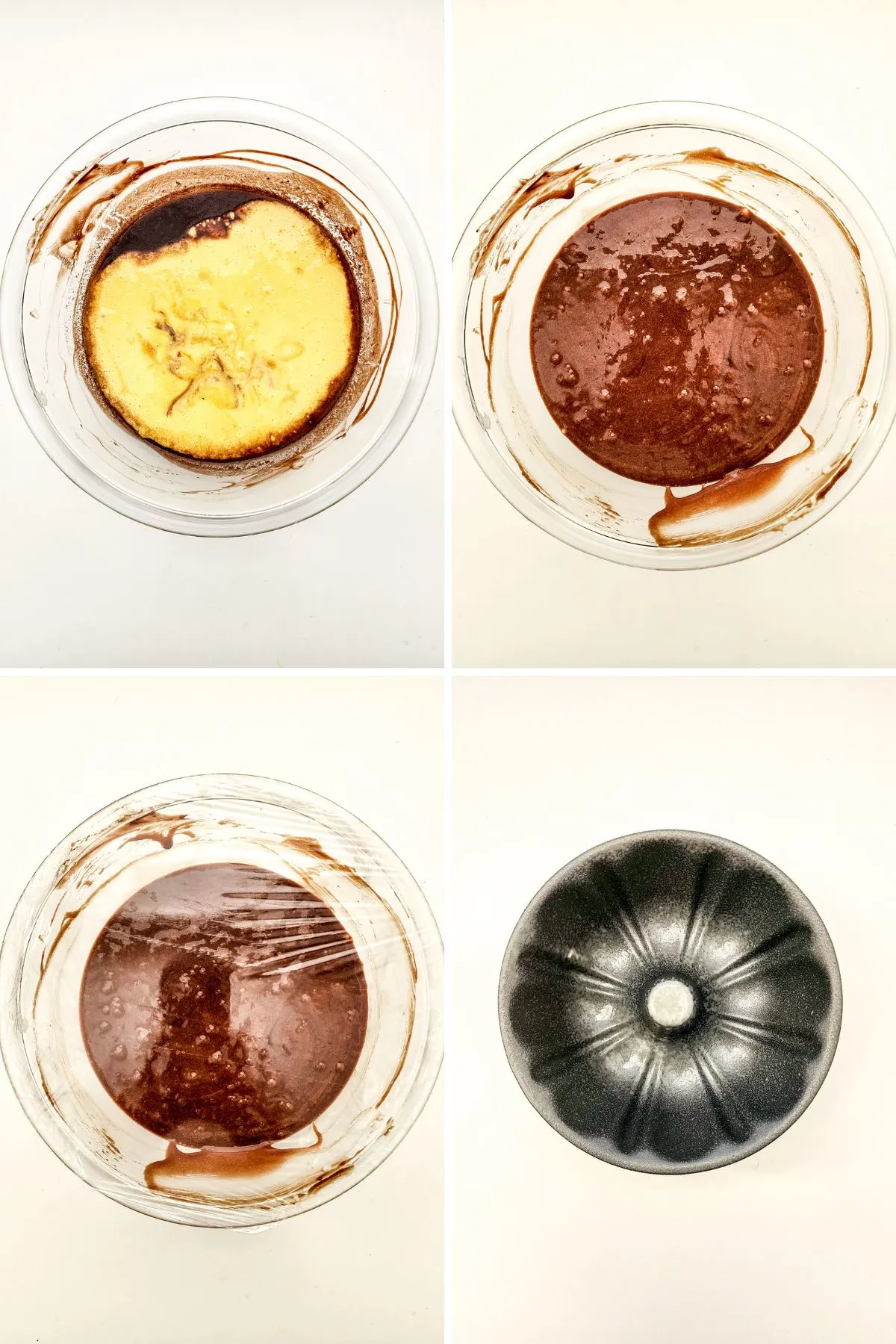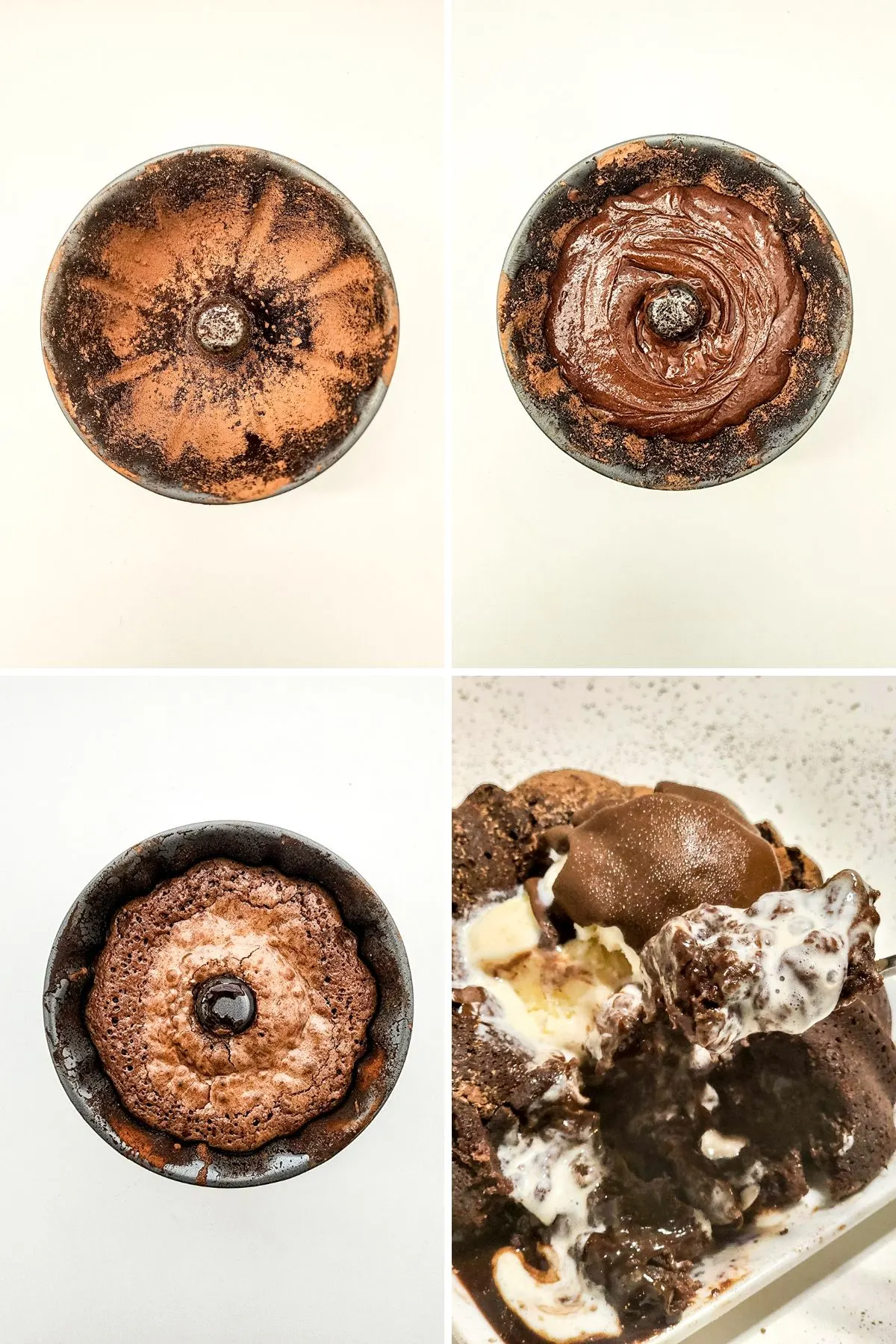 Recipe Variations
Add extra toppings. This would be perfect with some dairy-free caramel sauce. You could also make it salted to be a totally different flavor. You could also add some homemade chocolate sauce and a sprinkle of powdered sugar to finish it off.
Make it boozy. You could add a shot of dairy-free chocolate liqueur to this cake mixture to make it taste that bit extra special. A really delicious dessert.
Enjoy mini lava cakes. You could use a jumbo muffin tin to make mini molten lava cakes. You will still have that molten chocolate center. Be mindful that you will need to reduce the cooking time if you do this.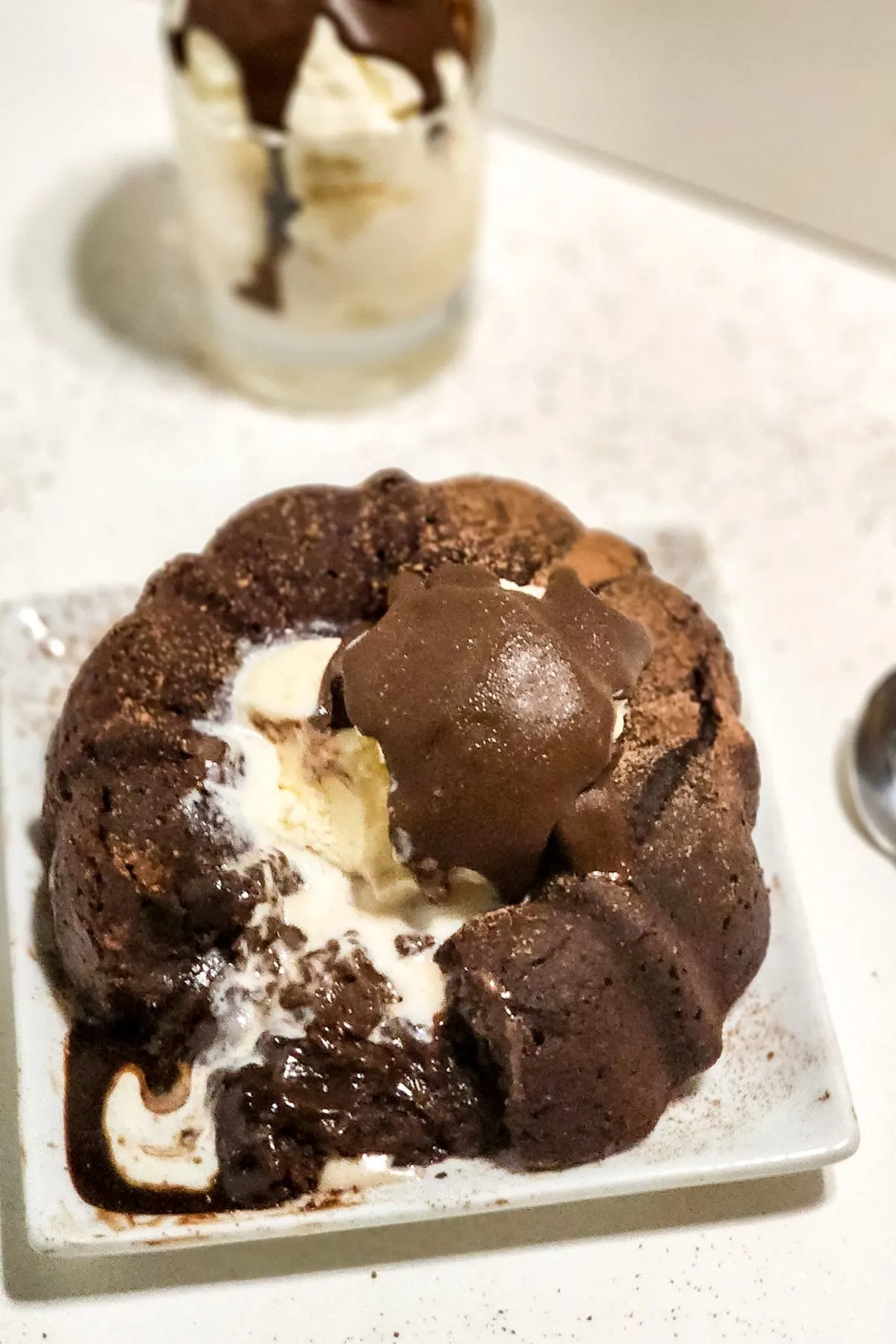 Tips & Tricks
If you don't use nonstick spray, or don't have any to hand then use this trick. Add some dairy-free butter and dairy-free cocoa powder to the pan. You need something to stop the molten lava cake from sticking. We recommend using Rodelle Dutch processes gourmet baking cocoa powder. You can check out their manufacturing statement in this post.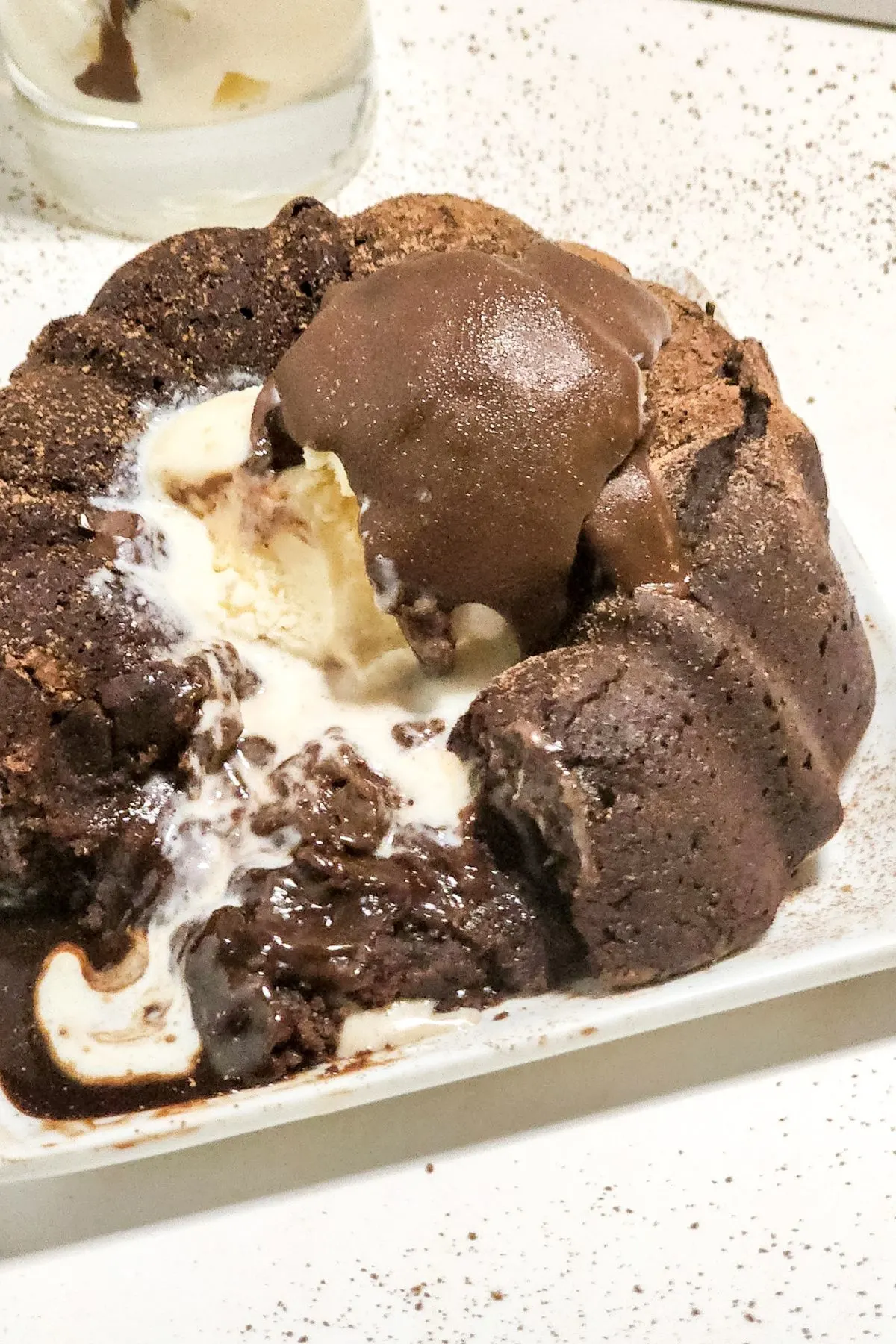 Storage
If you do have any leftovers of the Chocolate molten lava cake then make sure you let it cool to room temperature and put it into an airtight container. Store in the refrigerator for up to three days.
Don't take this cake in a humid environment, it may start to melt the chocolate again.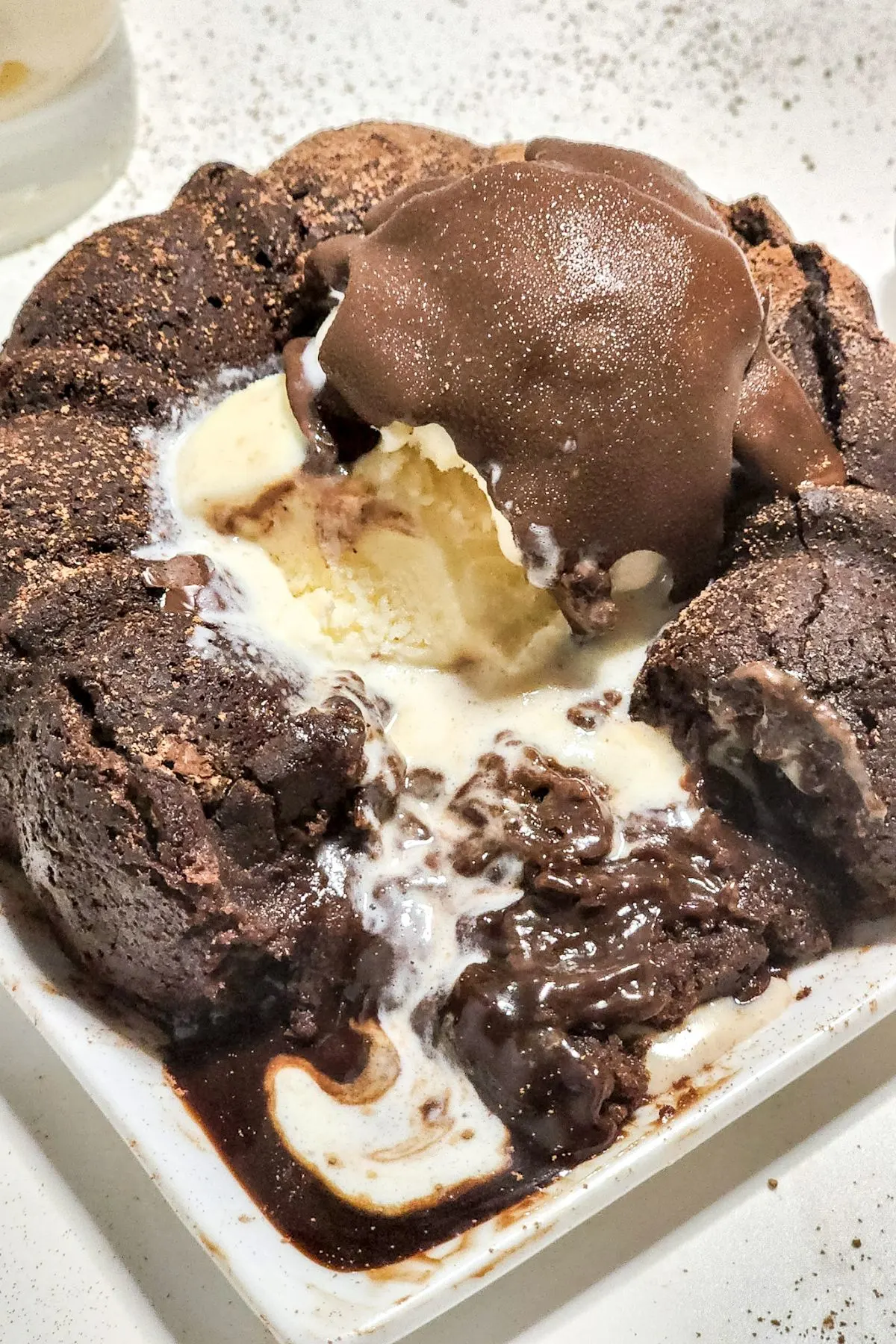 FAQ
How do you reheat any leftovers of this molten lava cake recipe?
This is such an easy dessert to reheat. Just pop it in the microwave for 30 seconds, depending on the power of your microwave, and your dessert will be ready to enjoy again.
The molten lava cake portion may change consistency compared to when you first made it, but it should still be delicious.
Is a lava cake cooked?
As lava cakes go, they are seen as undercooked cakes. But while the center of the cake will be gooey and not as set or sponge-like as the outer edges, it is still edible.
The reason is that the cake mixture reaches a temperature of 160 degrees meaning it is safe to eat. This is what gives you that souffle and chocolate cake combination.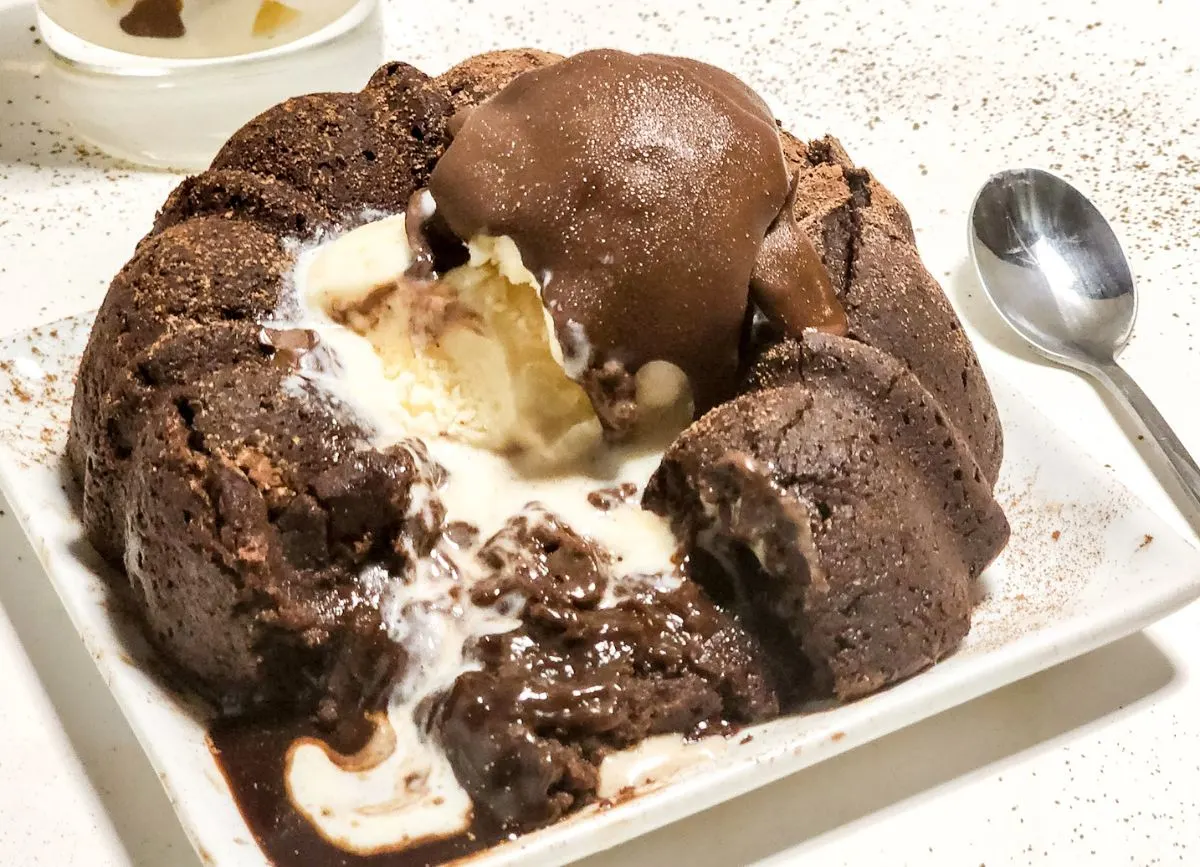 Other cake recipes
The best easy eggnog cake – This incredible cake has the decadent flavor of eggnog and is a real crowd-pleaser. Perfect for your holiday parties.
Shark Cake– This is perfect for holidays, and we love serving it at birthday parties. It's simple to make and fun to decorate.
Pineapple Upside Down Cake – This light and fluffy Pineapple Upside Down Cake is a definite showstopper. Between this cake's gorgeous caramelized brown sugar and pineapple cherry topping to its mouthwatering flavor, this cake is a must-bake.