You know the best part of enjoying homemade baked potato wedges? Their delicious taste -- crispy on the outside, soft on the inside, and perfectly seasoned to perfection. Yumm-eee! These create the best side dish for so many meals!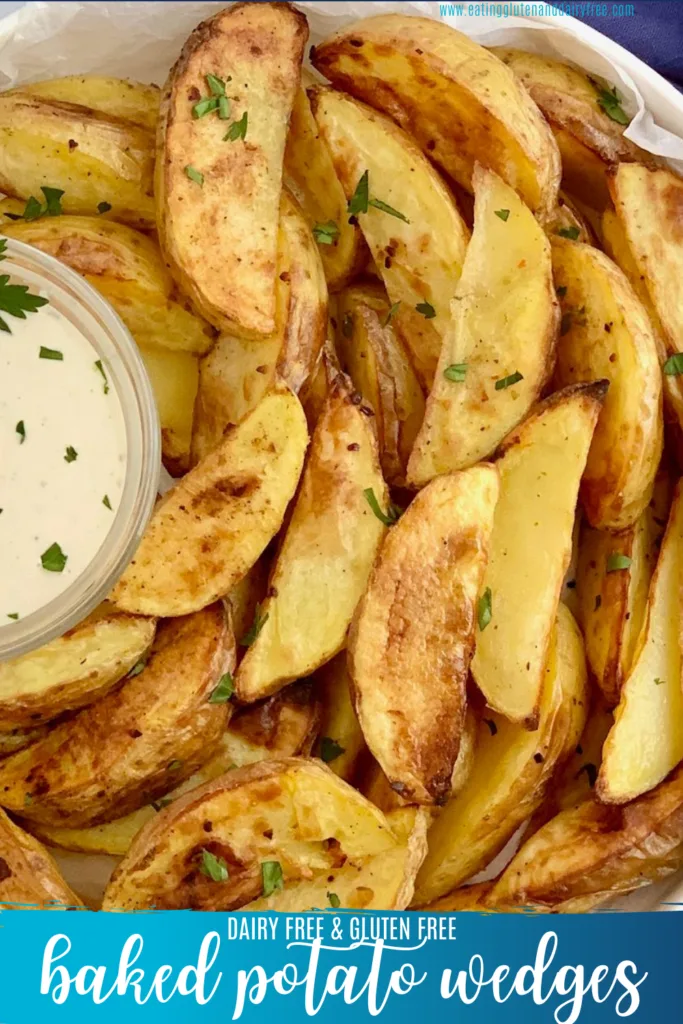 It's worth noting these baked potato wedges are perfect to serve company too. They are a naturally gluten and dairy free side dish everyone can enjoy. Speaking of which, awhile back I made a whopping batch of these wedges for a large dinner celebration with over a dozen people. This allergen friendly recipe was the perfect solution to safely feed a large crowd.
Another key point to baking these wedges is they're not fried. When trying to make healthier meals for my family, it's always a win-win to find healthier versions of delicious foods that are still yummy. It's worth noting my family and I think these taste just as good if not better than fried french fries. That's a huge win in my book!
serve these baked potato wedges for
an easy and filling dinner idea
for a Super Bowl party buffet
the perfect BBQ side
eating while watching the big game with buffalo chicken wings
large, extended family get together's and
a delicious brunch buffet option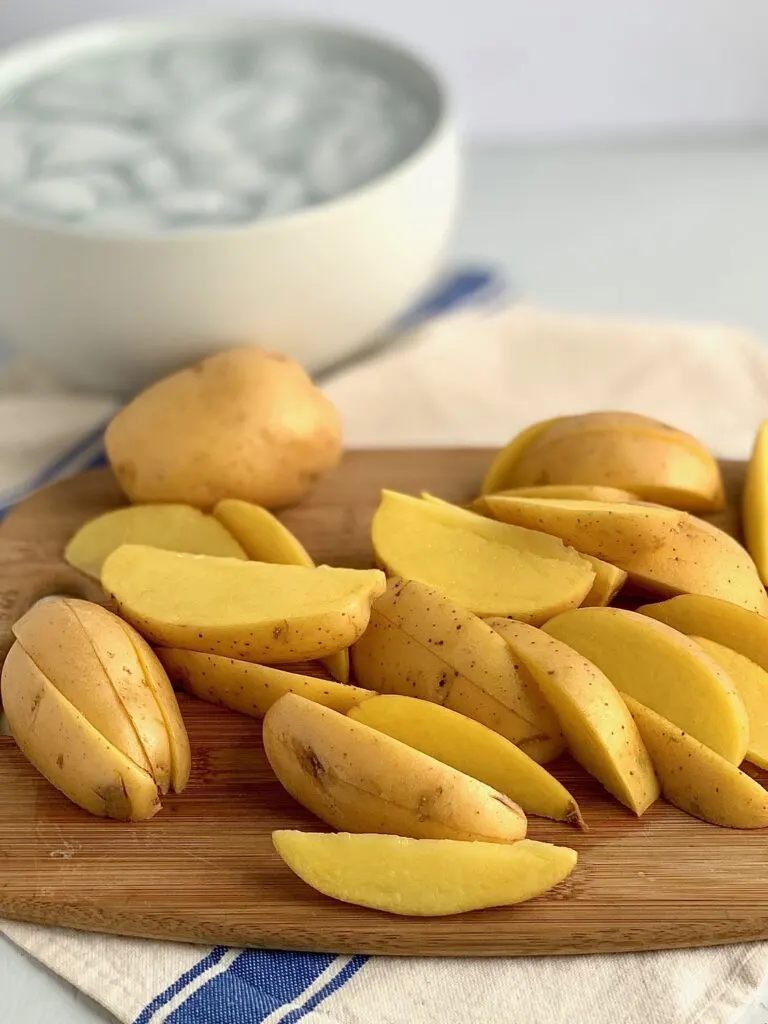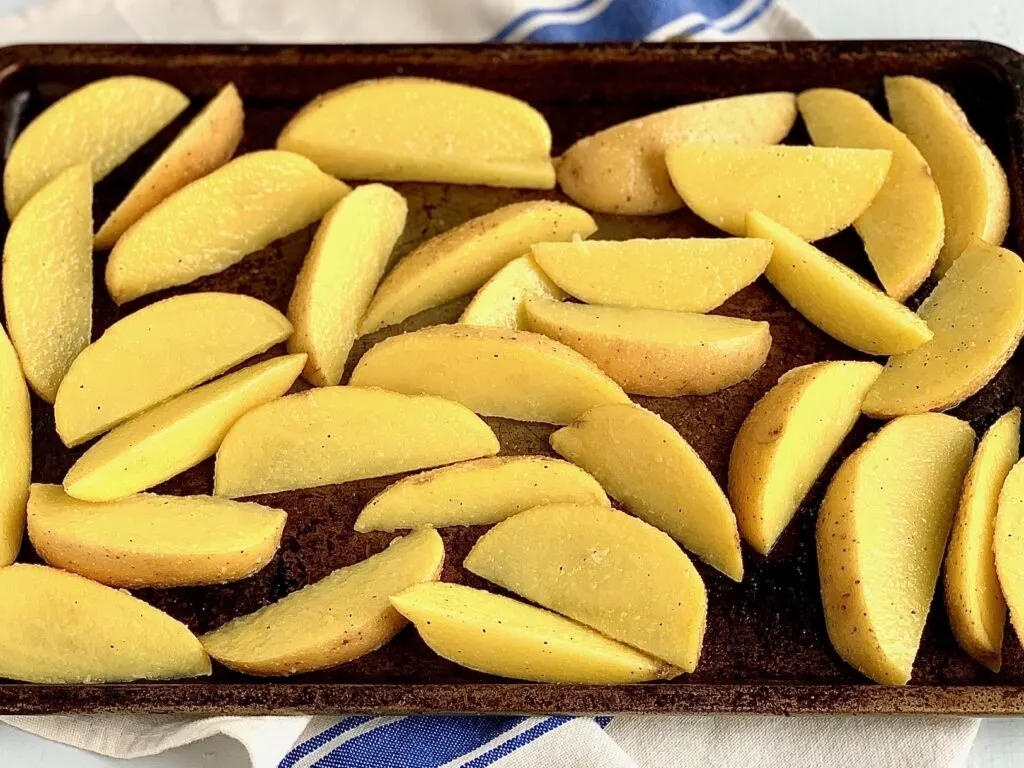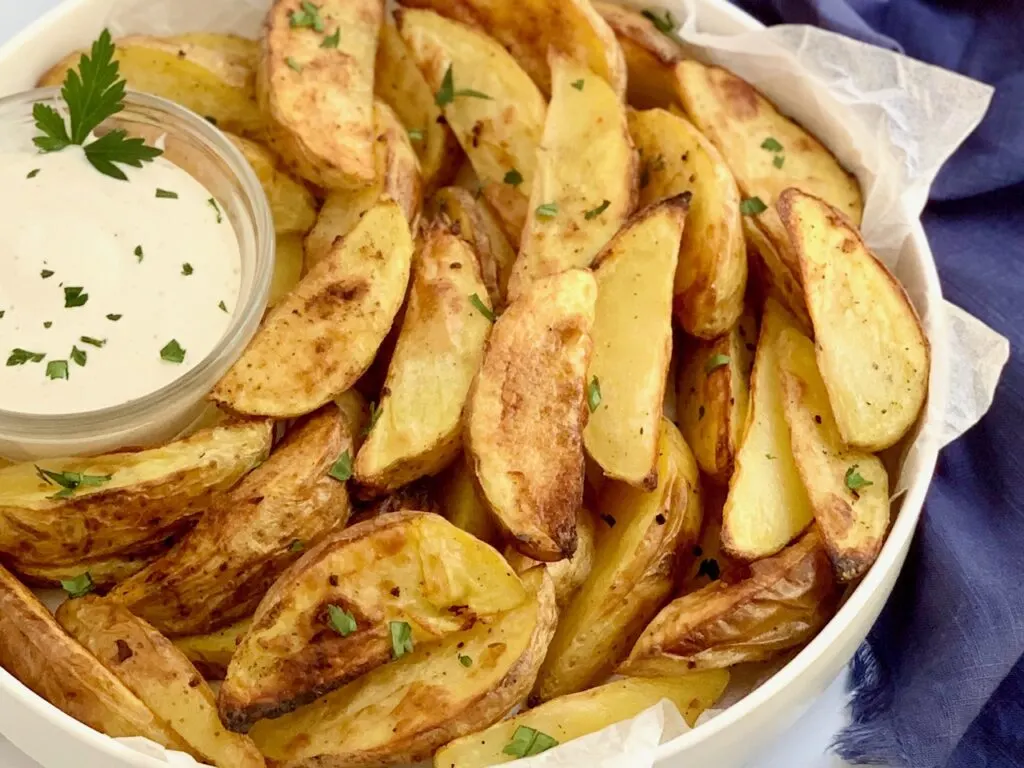 best dipping sauce ideas for baked potato wedges
our family's favorite dipping sauce for these potato wedges is my Homemade Chick-Fil-A Sauce recipe found here. This tastes just like the real deal, and it's 100% gluten and dairy free. You only need 4 ingredients to enjoy this dipping sauce.
ketchup
guacamole
dairy free ranch dressing-- check out this post for safe suggestions
mayonnaise
mustard
chili sauce
BBQ sauce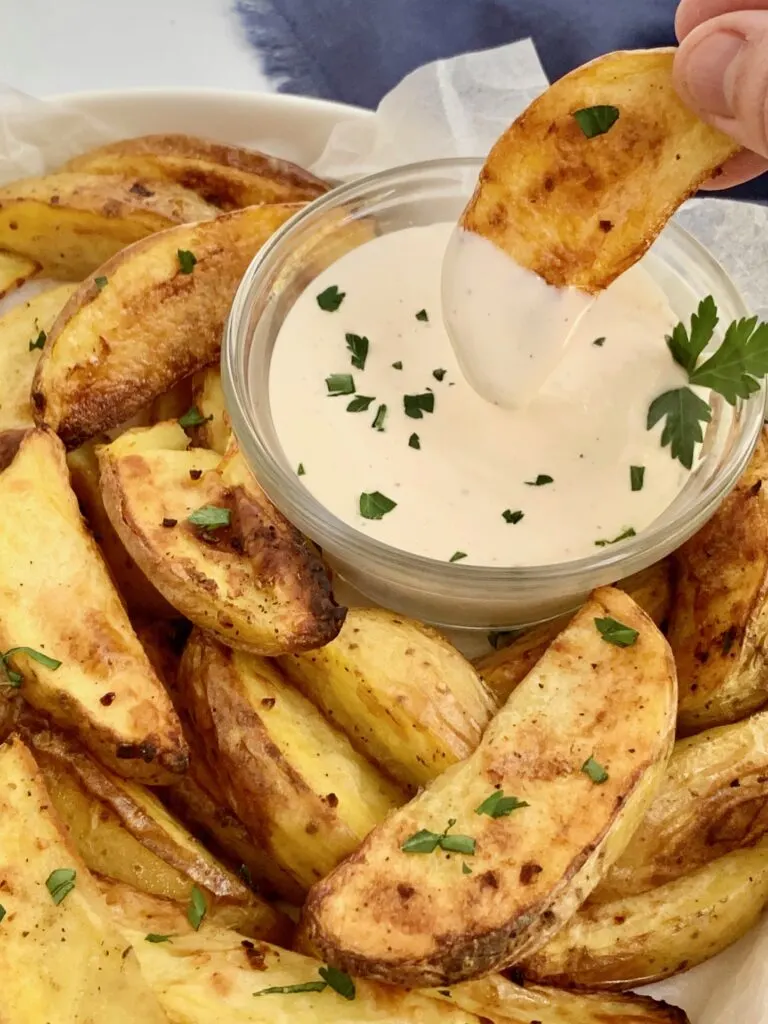 more dinner ideas
homemade sloppy joes -- this easy dinner idea is a family favorite. And we like it best when served alongside these potato wedges.
oven roasted salmon -- you won't be able to get enough of this moist, flaky, and caramelized roasted salmon
shepherd's pie -- this one of my most popular recipes and the ultimate cozy, comfort food enjoyed anytime of the year
lastly
Just prepare these homemade baked potato wedges once and you'll see why they're on our monthly menu -- at least twice. It goes without saying these are the perfect side dish.
If you're looking for more side dishes, check out more of my website and Pinterest boards. New gluten and dairy free sides are added to my Pinterest boards all the time.
And if you're making one of my recipes, please post and tag me on the 'gram with the hashtag #eatingglutenanddairyfree. I absolutely love seeing your food pics.
Eat well and feel well,
Jill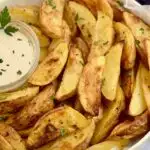 Print Recipe
Baked Potato Wedges
Ingredients
4-6

large Yukon Gold potatoes

2

tablespoon

oil

I use grape seed oil

1

teaspoon

garlic powder

1

teaspoon

salt

½

teaspoon

onion powder

dash of ground black pepper

optional: dill, paprika, or Cayenne pepper

garnish: fresh chopped parsley
Instructions
Fill a large bowl with cold water and ice cubes, set aside.

Clean and cut potatoes into wedges by slicing the potato in half, then cut in half again (long wise). If your potatoes are really large, slice them a 3rd time. Over all you will have 4-8 wedges per potato.

After potatoes are cut, place them in the ice cold bowl for 20-60 minutes.

Preheat oven to 425°F and prepare a baking sheet. Place parchment paper on a baking sheet or use aluminium foil, set aside.

Prepare a gallon size Ziploc bag with oil, garlic powder, salt, onion powder, black pepper, or your favorite potato seasonings.

Remove potato wedges from cold bath and place on a towel. Dry wedges well then transfer to Ziploc bag.

Gently shake potatoes in Ziploc bag to coat potatoes well with oil and spices.

Remove wedges from the bag and transfer to prepared baking sheet. Arrange wedges in a single layer.

Place in the oven for 20 minutes. Remove from the oven and gently flip wedges, return to the oven for another 20 minutes.

The last 5-8 minutes watch potatoes carefully so they don't burn. It seems some ovens tend to bake hotter than others.

Remove wedges and sprinkle with fresh chopped parsley. Serve with ketchup or another favorite dipping sauce.
Notes
A delicious dipping sauce for these baked potato wedges is my gluten and dairy free Homemade Chick-Fil-A Sauce. Tap here for the recipe.