Show up to your next party, potluck, shower, or any kind of gathering with these fabulous Veggie Cups. Individual grab-n-go party cups of your favorite crunchy veggies add so much color and pizazz to the party. Use your favorite dairy free dressing for the ultimate party food.
And how about the idea of little clean up and no gross double-dipping with this recipe idea. These also help keep the food line moving along.
Not to mention these are a fun snack for the kids during summer vacation too. We load these 9 oz. cups with their favorite veggies and gluten and dairy free dressing. That way each kid has their own cup with their very own dressing and veggies.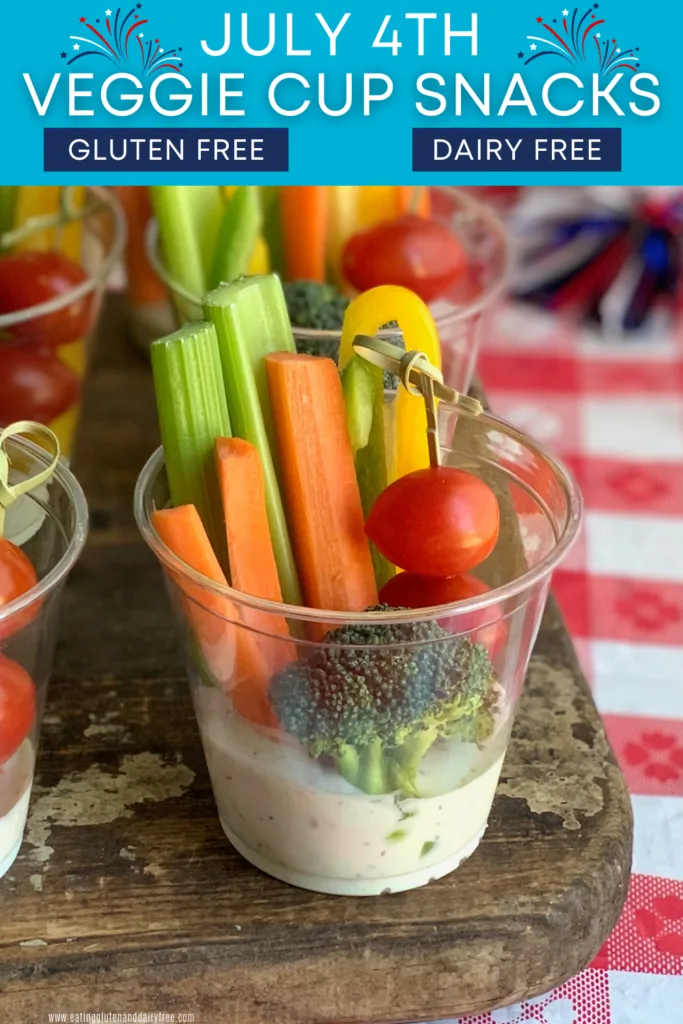 Also keep in mind these are the ideal party food because you can prepare some with traditional ranch while others can be filled and labeled with gluten and dairy free ranch dressing. That way everyone feels apart of the group enjoying the same fresh and delicious veggies with their own safe dressing.
What's a better win-win than that?!
ingredients and tips
Get more info on these ingredients in the recipe card at the bottom of the post.
sliced carrots-- cut slices to be a tad longer than the length of the cup so they stick up and are easy to grab
sliced celery-- consider the length of slices before cutting. We like them to be the length of the cup or longer.
bell pepper slices-- using any color, cut into thin slices lengthwise
broccoli-- choose larger pieces that won't get lost in the dressing in the bottom of the cup
cauliflower-- same as the broccoli recommendation
asparagus spear
sugar snap peas
radish slices
grape or cherry tomatoes-- organizing 3 or 4 cherry tomatoes on a mini skewer makes these easier to enjoy because they don't get lost in the dressing at the bottom of the cup
black olives on a skewer
cucumber slices
dairy free dressing ideas-- ranch dressing is always a good idea. And universally it is a crowd favorite. Hidden Valley Ranch Powered ranch is wonderful. You'll find more safe ideas in our ranch taste test post here. Hummus can also be used. We recommend using a thick and creamy dressing.
knives-- razor sharp knives with a good grip are a must in this recipe. We use the Zelite knives in our home and this utility knife in this recipe.
plastic cups-- 9 oz clear cups like these are easy to work with and look wonderful every time, or use these fancy square dessert cups
mini skewers-- bamboo appetizer picks with the looped knot; we use these in our hamburgers too
3 tier serving tray-- we like this rustic one
leftovers-- refrigerate any leftover veggies in these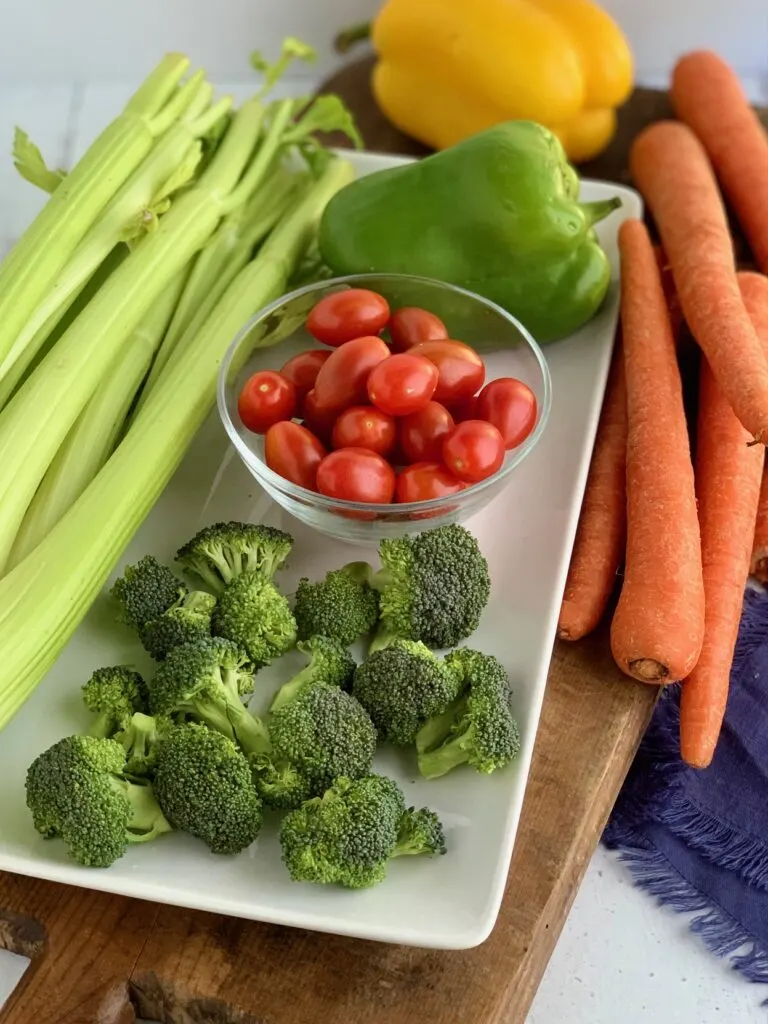 can these be assembled ahead of time
Yes, the veggies can be washed, patted dry, and cut 2 days in advance. Refrigerate and store sliced veggies in these airtight containers until you're ready to place them into the party cups.
We recommend preparing and storing filled veggie cups covered in the refrigerator until ready to serve-- up to 2 hours before serving. Otherwise the veggies can become wilted and weepy.
how do I assemble these
After your veggies have been prewashed, dried, and cut to the appropriate size, place ¼ c dressing in the bottom of a 9 oz. party cup. Then arrange the taller veggies such as the carrots, celery, and peppers in the back.
Leave the front space of each cup for smaller veggies such as broccoli and items on skewers for a beautiful visual display.
what gluten + dairy free dressings can be used
There are so many great gluten and dairy free dressings on the market shelves these days.
Our favorite dressing for these veggie cups is ranch because ranch is universally a crowd favorite. And you want a thick, creamy dip which won't turn runny as it sits out of the refrigerator.
The Hidden Valley Ranch Plant Powered dressing is thick, creamy, and delicious, as well as a favorite in our home. In the past we also did a ranch taste test with 4 other popular brands. You can read the results here. Unfortunately the Just Ranch dressing isn't currently available.
Another idea to try is adding hummus to the bottom of the party cups instead of dressing.
where could I serve these
Forget the veggie tray for these individual Veggie Cups at your next gathering, such as a family get-together, work or church potluck, or summer BBQ.
Not to mention they are ideal for bridal and baby showers, holiday parties, tailgating shenanigans, and graduation parties.
In the same way they also make fantastic kid snacks during the summer. There's just something extra fancy about this veggie idea that helps kids get more excited about eating healthy foods.
more gluten + dairy free party food recipes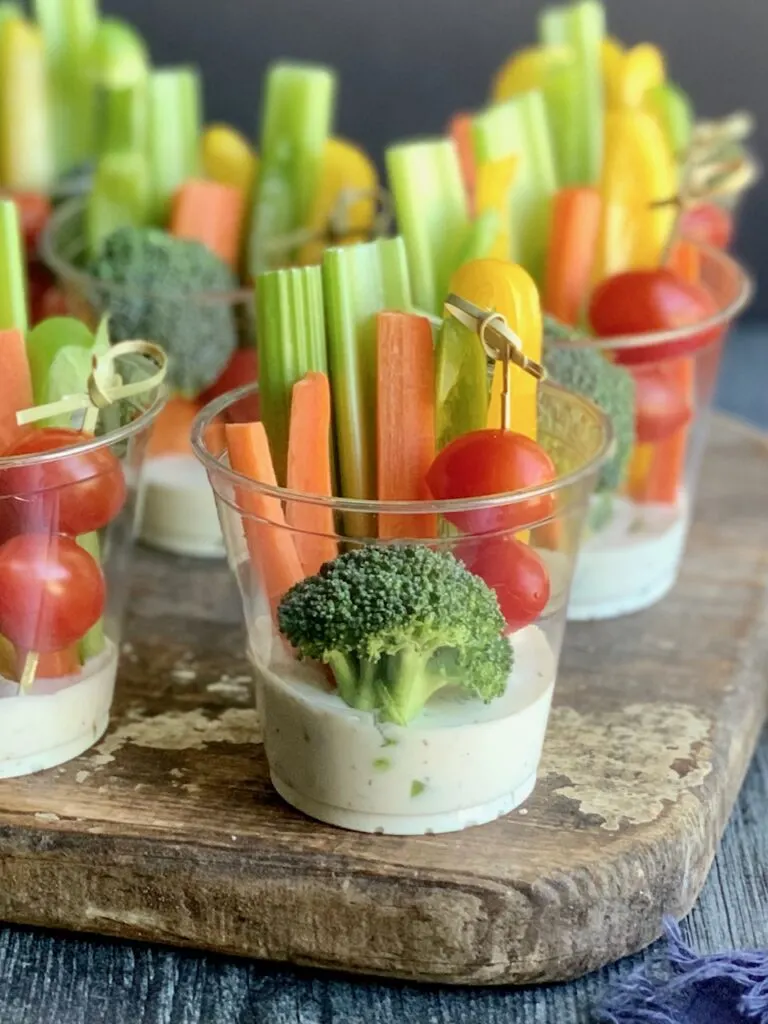 lastly
These veggie cups are a favorite appetizer for so many reasons. They taste crispy, crunchy, and refreshing while looking fabulous with bright contrasting colors.
And they can be made ahead of time, making them a hostess favorite. Because who wants to be preparing food after the guests have arrived?
Pin this recipe now.
And bookmark our website for easy access to recipes for every occasion and holiday.
Sign up now for our exclusive emails. You'll receive bonus tips and helpful "free from" life hacks not posted on our social media.
And follow along on Facebook, Pinterest, and Instagram for new product alerts, favorite brand giveaways, new recipe alerts, and so much more.
Be sure to like and comment often on our posts to keep seeing them in your feed. We don't want you to miss out on the best of eating gluten and dairy free.
Eat well and feel well,
Jill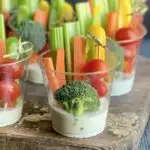 Print Recipe
Veggie Cups
Ingredients
12

party cups

1

bottle

dairy free ranch dressing

suggestions in post, hummus works too

3

raw carrots

peeled and sliced lengthwise

1

bunch of celery

sliced lengthwise

2

bell peppers

any color, sliced lengthwise

1

broccoli head

1

pint

grape or cherry tomatoes

other ideas-- cucumber slices, black olives, asparagus heads, cauliflower, sugar snap peas, sliced radishes
Instructions
Rinse, pat dry, and slice veggies. Measure longer veggies such as carrots, bell peppers, and celery to be about the length of the party cups.

Add ¼ c of dressing to the bottom of each party cup.

Assemble veggies. First place the taller veggies in the back of the cup. Then add 3 tomatoes to a mini skewer and place in the front of the cup. Fill in the remaining space with broccoli.

Cover with plastic wrap and refrigerate until ready to serve and enjoy,

Surround the cups with ice if the weather is extremely hot.
Notes
Note-- veggies can be cut and prepped a day or two before serving. We would suggest preparing veggies in party cups with dip less than 2 hours before serving. Keep covered with plastic wrap and placed in the refrigerator if possible until ready to enjoy. Otherwise veggies can wilt and become weepy.