A slightly chewy buttery, and brown sugar oatmeal crumble with a sweet raspberry layer makes for the yummiest Raspberry Bars. There is nothing like this recipe that is so simple for you to bake and serve any time of the year.
There is no doubt these are bakery-style bars just like you would see on the menu at your favorite coffee shop or local bakery. They are thick, buttery, sweet, and absolutely loaded with wonderful raspberry flavor.
Enjoy these cozy bars cooled or even as a heavenly raspberry oat crisp! That is right-- you can even use this recipe for a warm after dinner treat. Otherwise allow them to cool completely, cut and serve for a delicious bar with your coffee.
While everyone expects this Raspberry Bar recipe to call for fresh or frozen raspberries, we say otherwise. The hubs has been a huge fan of thick raspberry bars for years. It is his favorite sweet treat from the coffee shop, and we have tried so many times in the past to replicate the recipe. Our mistake was using fresh or frozen raspberries. Finally we stumbled onto the secret ingredient-- raspberry preserves. And do these bars now have the bakery wow factory. Plus the entire family can safely enjoy these bars at home without the steep coffee shop price tag.
We have found these gluten free, dairy free, and soy free bars are the perfect school snack, after dinner sweet treat, and always a good breakfast or brunch recipe.
And if you love raspberry flavor like we do we have another yummy raspberry recipe on our website. Our Raspberry Crumble Muffins are bursting with a streusel-like topping and fresh raspberries.
For now check out our Raspberry Bar recipe with only 6 ingredients and the best flavor.
raspberry bar ingredients
gluten free all-purpose flour-- (use the spoon and level method mentioned below) our go-to gf all-purpose brand is Bob's Red Mill Gluten Free 1-1 Baking Mix. We purchase it in bulk here to save money.
dairy free butter-- we stock our refrigerator with Earth Balance Buttery Sticks; use your favorite brand
gluten free old-fashioned oatmeal-- for this recipe you do not want to substitute with quick cooking oats; we use Bob's Red Mill Gluten Free Old-Fashioned Rolled Oats
brown sugar-- packed
ground cinnamon
raspberry preserves-- we use this brand's entire 18 ounce jar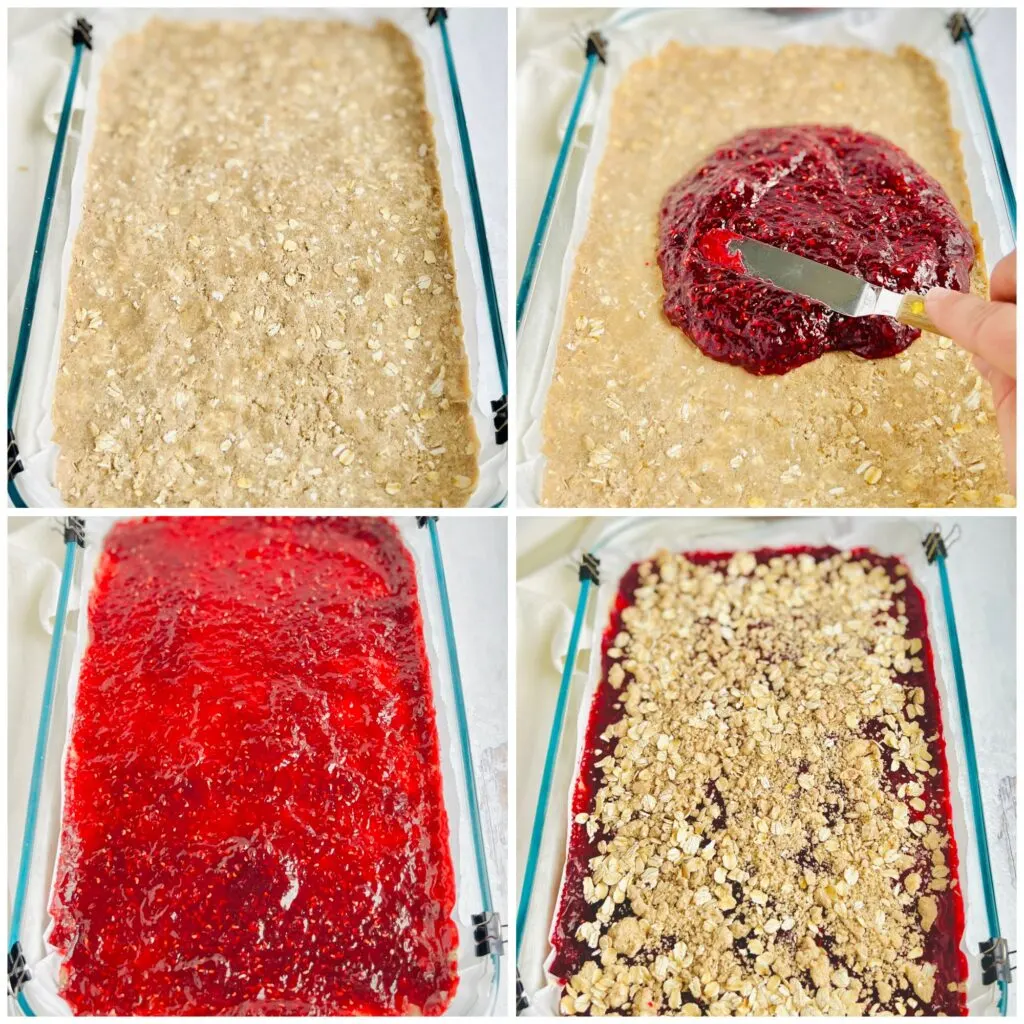 kitchen utensils and essentials
large food processor or pastry cutter
measuring cups
measuring spoons
9x13-inch baking dish with lid-- here is what baking dish we use for dinner and dessert recipes
parchment paper-- optional
nonstick spray
frequently asked questions
can fresh or frozen raspberries be substituted in this recipe
No, this recipe is specially customized for raspberry preserves, and you will notice the difference in taste and texture. These bars are AMAZING with raspberry preserves.
will different fruit preserves work
Yes, you can substitute for another fruit flavor. Let me know your favorite in the comment section below.
are these bars just for dessert
No, we send these as school snacks, after school snacks, and even serve them as breakfast bars. Plus they travel well for road trips to enjoy at your destination. Lastly, we also serve these at showers, potlucks, and for brunch.
can these be baked ahead of time
These bars are best when baked and allowed to cool completely before serving, unless you are baking them to enjoy as a crisp. Then enjoy these right out of the oven as a crisp. Otherwise-- our trick is to bake these the night before so they can cool and thicken up overnight before cutting and serving the next day.
what is the spoon and level method
This is an important tip for any baking you do with flour. Honestly, the spoon and level method is considered the most accurate method for measuring flour. Simply put, this method is exactly what it sounds like. You'll use a spoon to scoop the flour into your measuring cup. Then, you'll level off the top with the back of a knife so the flour is level with the top of the measuring cup. If you scoop your dry measuring cup into the flour bag, you can end up packing the flour and surprisingly increase the flour in recipes by ¼ cup. Yeeks! We have been guilty of this over the years, but now that we know… you won't find us making that mistake again. It is worth it to always take the extra step and grab a large spoon and knife.
This allergen safe bar recipe baked with safe gluten and dairy free ingredients is created from a similar recipe found here, Beyond the Chicken Coop.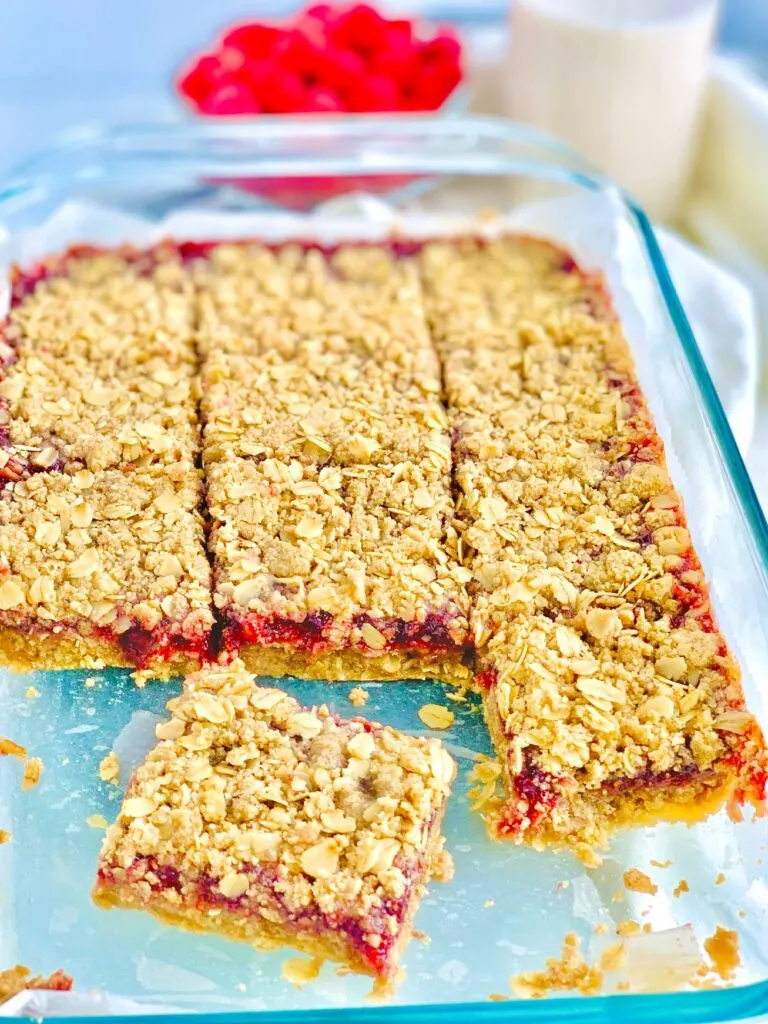 more must-try fruit recipes
We have shared several delicious fruit bar, dessert, and quick bread recipes such as zucchini bars, lemon streusel bars, and strawberry poke cake, not to mention our orange velvet pound cake that is so flavorful and mouthwatering. Plus there's morning glory muffins packed with fruits and shredded veggies, and blueberry muffins bursting with fresh juicy blueberries.
Be sure to sign up for our exclusive emails so you don't miss out on any new recipes we share.
lastly
With less than 15 minutes of hands-on prep time and 6 basic ingredients, these Raspberry Bars are always a good idea. We keep a jar of raspberry preserves in the pantry so we can make these bars whenever we want. They are also easy to make and share with friends and family.
You will find more easy and safe recipes like this on our website, Eating Gluten and Dairy Free.
Plus you can shop our cookbook, The Classics. It is available for instant download. This way you can hit print and head into the week with new recipes your loved ones will enjoy.
Go ahead and follow along on Facebook, Pinterest, and Instagram. Like and comment often so our posts keep showing up in your feed. We will inspire you with delicious recipes, essential product information, and tips to eating your best.
We don't want you to miss the very best of eating gluten and dairy free.
Eat well and feel well,
Jill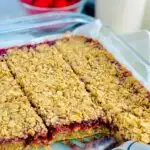 Print Recipe
Raspberry Bars
Ingredients
3

c

gluten free all-purpose flour

spoon and level method

1½

c

dairy free butter

softened and cut into small cubes

1½ c plus ⅓

c

gluten free old-fashioned oatmeal

divided

1½

c

brown sugar

packed

2

teaspoon

ground cinnamon

18

oz

raspberry preserves
Instructions
Preheat oven to 325°F and lightly spray a 9x13-inch baking dish; set aside.

In a food processor or large bowl with a pastry cutter, combine the flour, butter, oatmeal, cinnamon and sugar.

Take out 1¼ cup of the mixture and add ⅓ c of oatmeal to it; set aside.

Add the remaining mixture to the baking dish and pat down into the sides and bottom of the dish. We like to tightly pack the mixture into the dish to form a nice, stable crust for the bars that won't fall apart.

Using an angled spatula, spread the raspberry preserves evenly over the oatmeal mixture.

Evenly sprinkle the remaining oat mixture over the raspberry preserves.

Bake for 42-45 minutes; you will notice the raspberry preserves bubbling on the edges.

Allow to cool completely before cutting and serving.

Cover and place on the countertop for up to 4 days.
Notes
To enjoy this recipe as a crisp, serve immediately after removing it from the oven.