Learn to make homemade Play-doh with Kool-Aid so it's safe for your gluten free kiddos to handle! Did you know you can make DIY Kool-Aid Playdough?
Did you know that the brand Play-doh and many other play clay dough mixtures contain gluten!
If you or someone in your house has a severe gluten allergy, even just touching or playing with the dough can cause a reaction.
Nobody wants to miss out on playing with this fun dough, so here's a recipe to make your own SAFE playdough!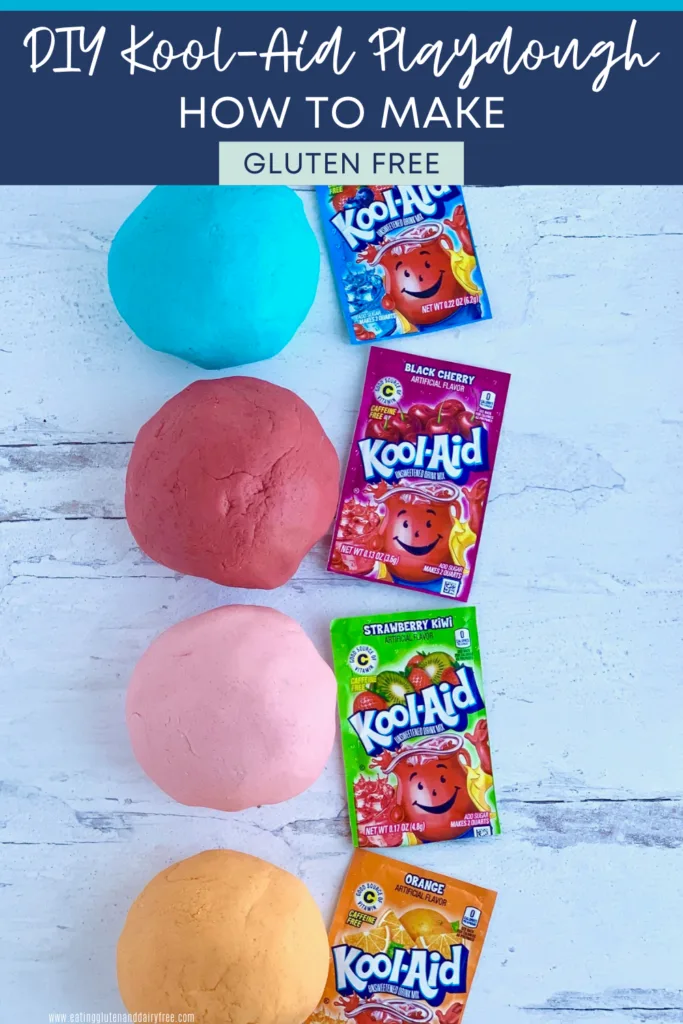 Are you loving these bold Kool-Aid Playdough colors? And wait until you smell and touch it.
Each playdough ball is so soft and offers smells that will tickle the senses. You won't want to put this fun activity away-- instead, kids will be begging for longer playdough time.
To be perfectly honest my kids can't get enough of this homemade, no cook recipe that's ready in 5 minutes or less.
And who can turn down kids wanting hands-on learning, increasing sensory input, and improving their fine motor skills?
When my kids were a few years younger, I wish I'd had this easy, quick DIY recipe.
After several Pinterest gluten free playdough fails, I resorted to buying expensive Amazon choices.
But because brands were so outrageously priced on Amazon, I couldn't justify purchasing it often.
Needless to say, my kids really did miss playing with it at home, at friends' parties, on playdates, etc. And there were times we were all just plain out frustrated about it.
Thankfully, they're still into creating brilliant playdough masterpieces with this recipe.
So now this soft, safe recipe is a frequent go-to.
You can cut it with playdough utensils, roll it, stamp it, and cut fun cookie cutter shapes into it while letting imaginations run wild.
kool-aid playdough notes + tips
gluten free flour-- Bob's Red Mill Gluten Free 1 to 1 Baking Flour. I buy this flour in bulk from Amazon here. I save so much money buying it in a 25lb bag instead of the small bags locally. And it stores well for months in a cool pantry. For this playdough recipe, different gluten free flour mixes present with varying results. Depending on the flour you use, you may need to increase the hot water measurement in this recipe if the mixture is dry. When using Bob's Red Mill 1 to 1 Baking Flour, I almost always use 1 cup plus 1 teaspoon of hot water.
salt-- Morton Iodized salt is an affordable salt option for this recipe
cream of tartar
hot water-- hot water from the faucet, not boiling
oil-- my go-to is Grapeseed Oil; Olive oil works too
packet of Kool-Aid-- use one packet per recipe
Kool-Aid colors-- here is their allergen statement. Not all Kool-Aid colors are bright and vibrant. The lemon color is so soft you might not even know you added a Kool-Aid packet to the mix. The Strawberry Kiwi is a soft pink, not green like you'd think from the packaging. Green Apple provides a beautiful green color. And the peach mango yields a sharp yellow-orange playdough color.
glitter-- if you're a really cool parent you can even add in glitter; I am not this haha
kneading playdough-- after the playdough has set for a bit; not being used, it may slightly stiffen on the outside. Knead dough with your hand for 30-40 seconds and it will soften up again.
storing your playdough-- store playdough by color in an airtight container or Ziploc bag.
your child's school-- bake a few batches of this for your kid to safely play with in their classroom. Store-bought playdough most likely contains gluten and this is often overlooked by busy classroom teachers.
In a medium size bowl, add the gluten free flour, salt, and cream of tartar. Mix well; set aside.
Then pour the Kool-Aid packet into the hot water and oil. Whisk mixture well.
Lastly, add the wet ingredient mixture into the dry ingredients and stir with a spoon. If the dough is dry add in a teaspoon of hot water and continue stir.
Remove the mixture from the bowl when it starts to form a ball like in the picture. Knead the dough with your hands on the countertop until it's soft and pliable, about 3 to 4 minutes.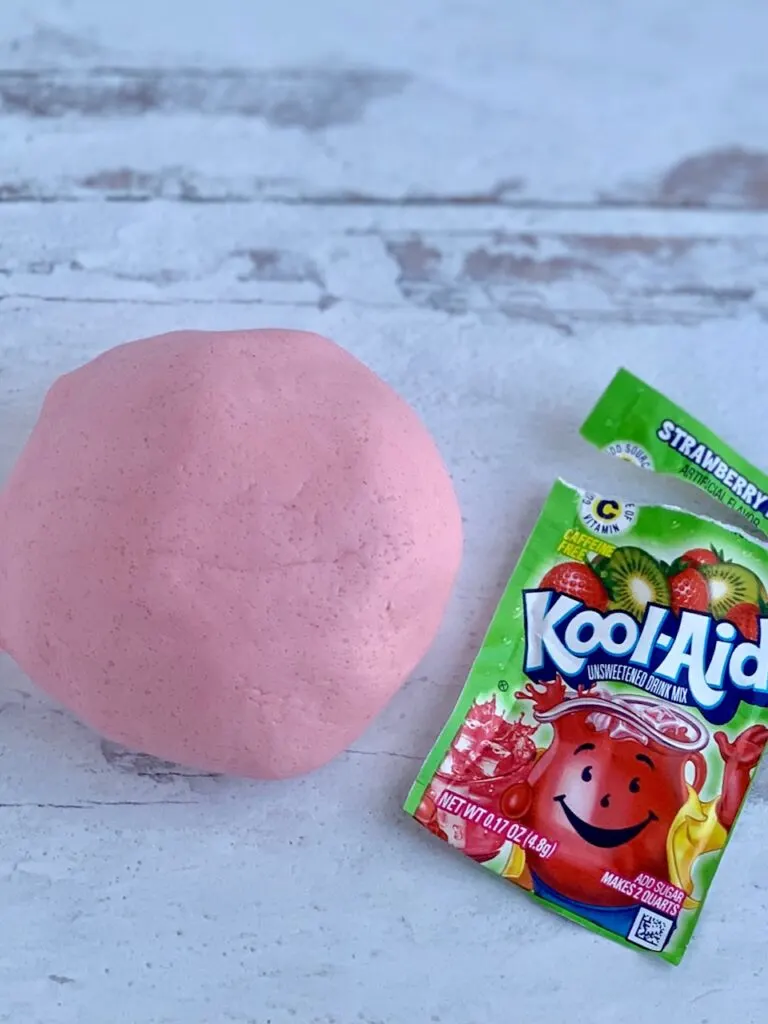 And there you have the perfect playdough ball ready for hours of entertainment, self-regulation, and skill building.
kid approved recipes and edible gifts
lastly
With this inexpensive do-it-yourself recipe, you'll have the perfect, safe activity to keep your kids busy at the dining room table for hours. Forget spending a small fortune for online playdough.
This no-fail recipe is tried and tested. Grab your Kool-Aid packets and enjoy this classic enriching activity.
Follow along on Pinterest, Instagram, and Facebook for more delicious food recipes, food travel guides, wellness tips, new product alerts, and all the best of eating gluten and dairy free.
Plus as a bonus to my readers-- sign up for my exclusive emails below and receive my 20 GF & DF Pantry Foods to Always Keep on Hand Printable. It will be sent right to your email inbox.
Eat well and feel well,
Jill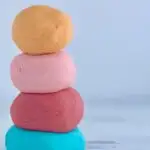 Print Recipe
Kool-Aid Playdough
Servings:
1
color of playdough
Ingredients
Dry Ingredients
1+

c

gluten free flour

suggestion in post

¼

c

salt

1

teaspoon

cream of tartar
Wet Ingredients
½

c

hot water

add a teaspoon at a time if mixture is dry

1

tablespoon

oil

olive or grapeseed

1

Kool-Aid packet
Instructions
In a medium bowl, add all the dry ingredients and mix well; set aside.

Next in a small bowl place the wet ingredients and whisk well.

Lastly, add the wet ingredients into the dry ingredients and stir with a spoon. If the mixture is dry add in a teaspoon of hot water. Once the playdough is semi-blended take the dough out of the bowl and use your hands to knead all the flour until a soft playdough emerges, about 3-4 minutes.

Again if the playdough seems too dry add in ½ teaspoon of hot water. Or if it's sticky add in ½ teaspoon flour until it's pliable, not sticky.

Repeat this recipe for each color of Kool-Aid Playdough you desire.

Store individual colors in an airtight container or Ziploc bags for up to 2 weeks.
Notes
This dough can appear to become "stiff" on the outside if not played with. Have kids roll the ball for 20-30 seconds and it becomes soft and pliable again.
This Kool-Aid Playdough recipe and guide was inspired by the playdough recipe here from STEAM Powered Family.
I supplemented their recipe with a printable version, more detailed recipe notes with safe ingredients, and hands-on options for an optimal time.