Fresh and flavorful quesadillas are my daughter's favorite dinnertime meal. She begs for these all.the.time. She loves them loaded with shredded chicken in a tender bell pepper and onion filling. Sometimes we add in corn or black beans and rice. Also add in a layer of refried beans for a creamy taste and texture I crave. Serve this dinner along side fresh guacamole, salsa, and dairy free sour cream to complete the dish.
I could prepare this every week and it still wouldn't be enough for my daughter or the family.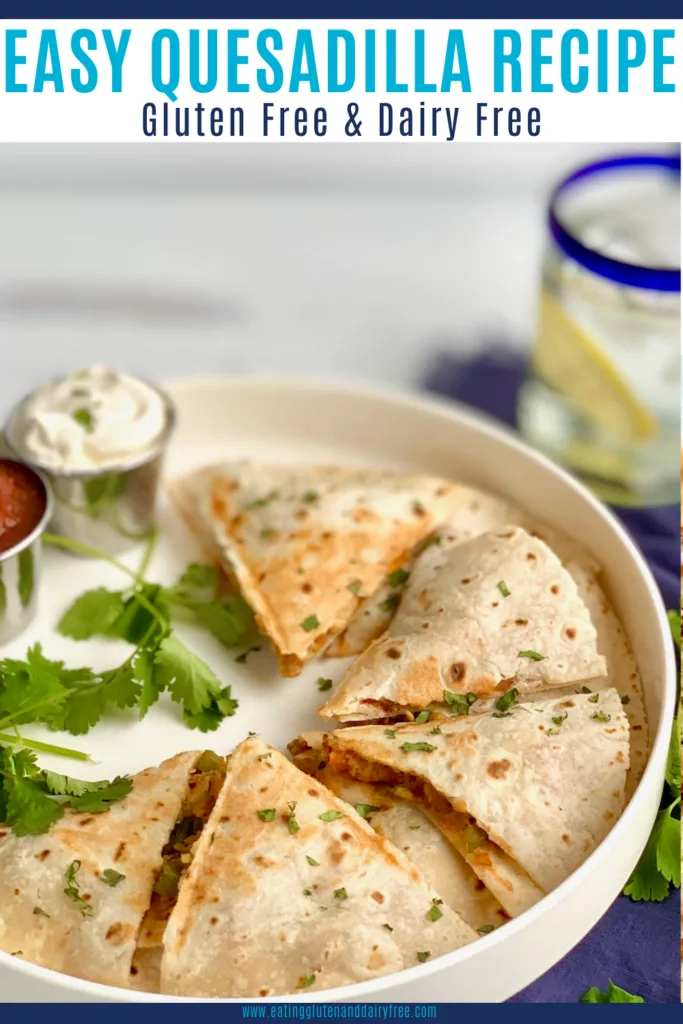 In the past I never used a recipe for this dish. It was always throw a little of this and a little of that into the pan. It usually came down to what was in my pantry and what kind of fresh ingredients are in the refrigerator. When a friend recently asked for my quesadilla recipe, I knew I needed to sit down and craft an actual recipe for it.
These fresh and flavorful quesadillas are not just good full of flavor and texture they're also bursting with veggies... from red, green, yellow and orange bell peppers. And as you can tell from my recipes-- we love bell peppers in about everything.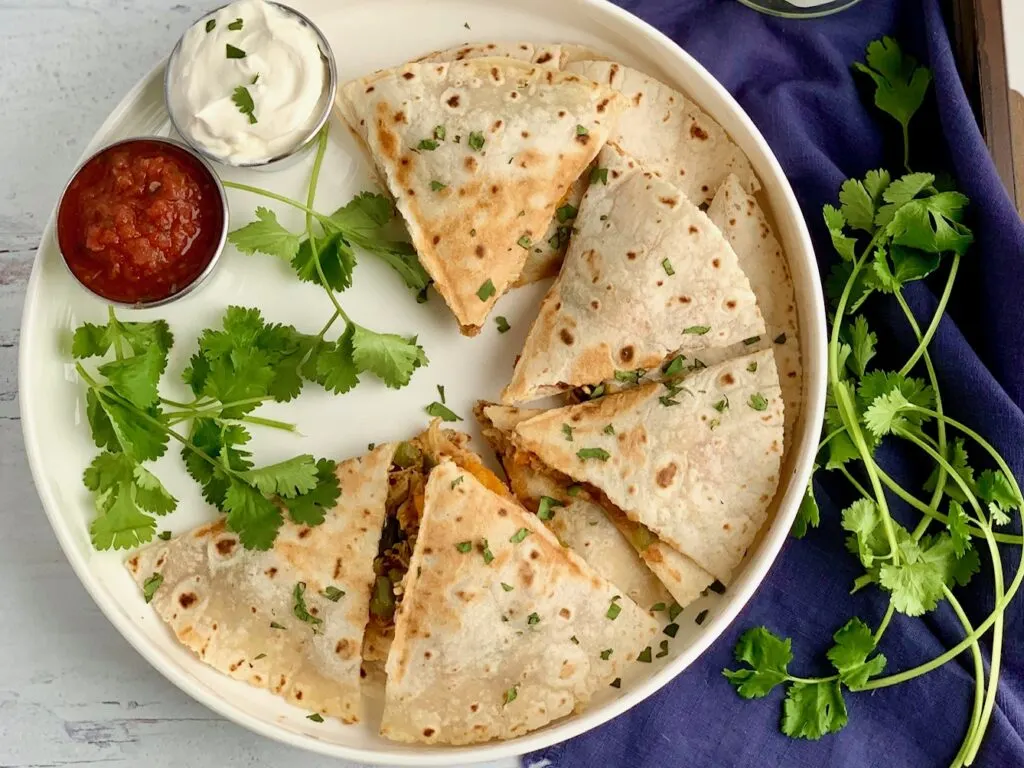 There are countless other ingredients you can add in or take out depending on your families favorites to make this a favorite in your home too. Such as other meat choices like shredded pork carnitas or shredded beef. Hot peppers or jalapenos would take these to a new spice level. Corn and Spanish rice are so good in this recipes too. As well as quinoa, and red onion. Unfortunately we haven't come across a dairy free cheese substitution we like in this recipe. Instead I substitute refried beans add you can't believe how well it replaces the dairy taste. However if you've found a dairy free cheese your family likes add it in.
fresh + flavorful quesadillas recipe tips
quesadilla maker-- we have two quesadilla makers in our home. One is for my husband and his gluten and dairy quesadillas. And the other one is for the kids and me. I labeled ours Gluten Free with a Sharpie so there are no "oops" moments! When I make these in our home, I'm quite strict about making our gluten and dairy free quesadillas first. Then I make some for the hubs and any company we have over. A cross contamination win. We've had our quesadilla maker for over 10 years and it still works great! One of my favorite kitchen "gadgets."
tortillas--we favor the Mission brand tortillas sold at Walmart and other large grocery store chains. Other gluten free tortillas work too. The only tortillas I suggest staying away from for this recipe are thin coconut wraps. They don't set well in the quesadilla maker, though they are fabulous for soft tacos!
Spanish rice recipe-- we use this recipe on my website here. The Spanish rice recipe adds an extra depth of flavor and filling to quesadillas. However, if you're short on time, skip this step out. Your fresh and flavorful quesadillas will still taste delish and look amazing. I made gluten and dairy free quesadillas for years without Spanish rice. And they tasted awesome.
dairy free cheese-- use your favorite dairy free shredded cheese in this dish. Unfortunately my family hasn't found one we love for this these quesadillas. Instead I load up on fresh salsa and dairy free sour cream from Wayfare. If you struggle to find a dairy free cheese you love I'd suggest loading up on quesadillas ingredients and garnishes.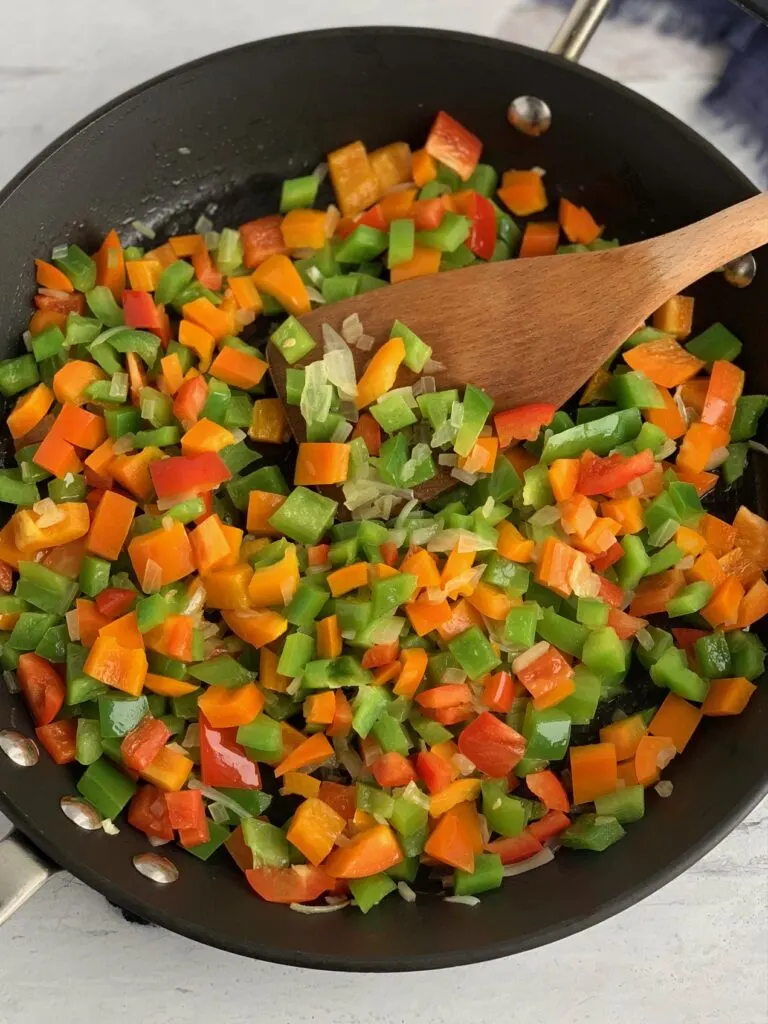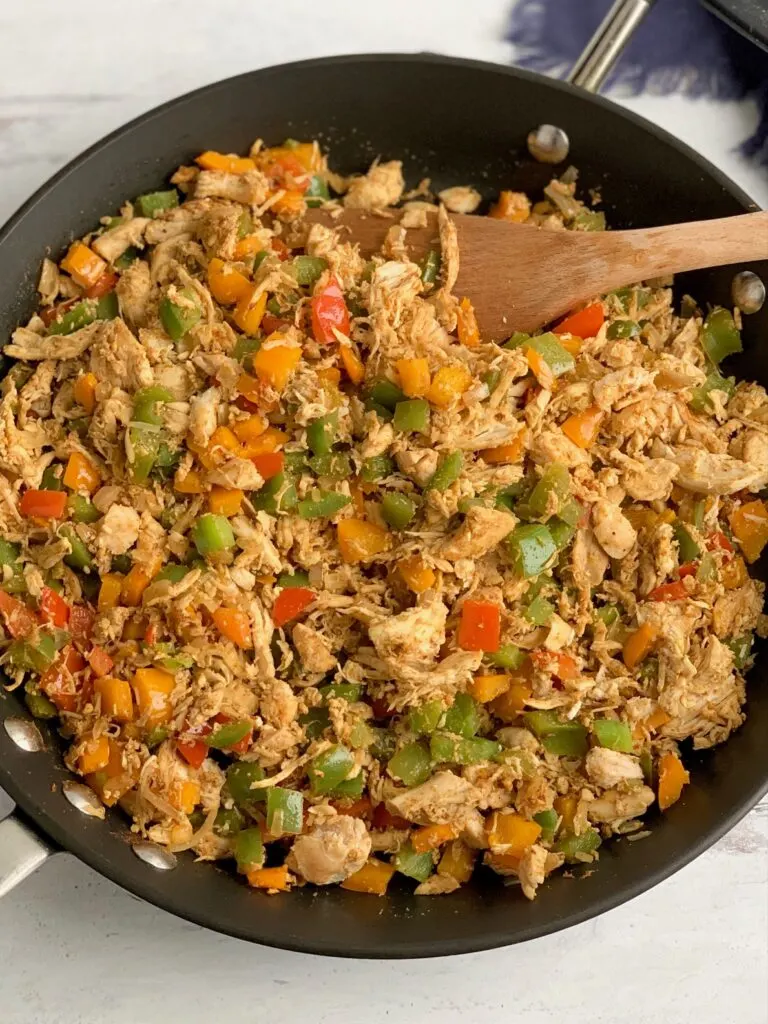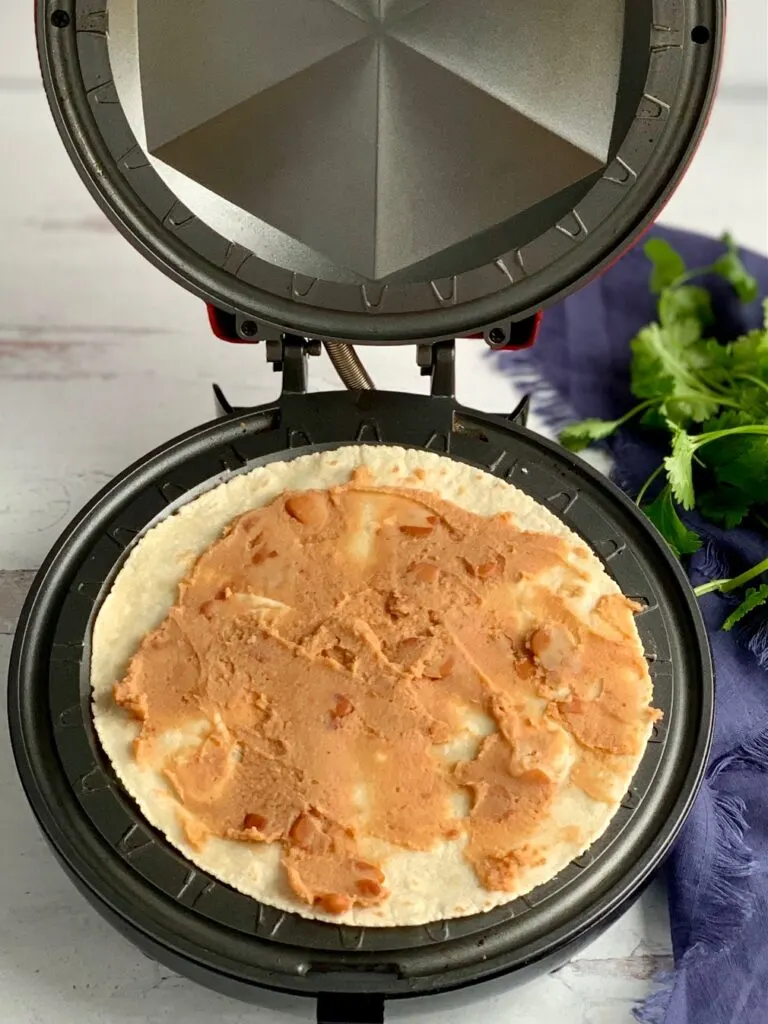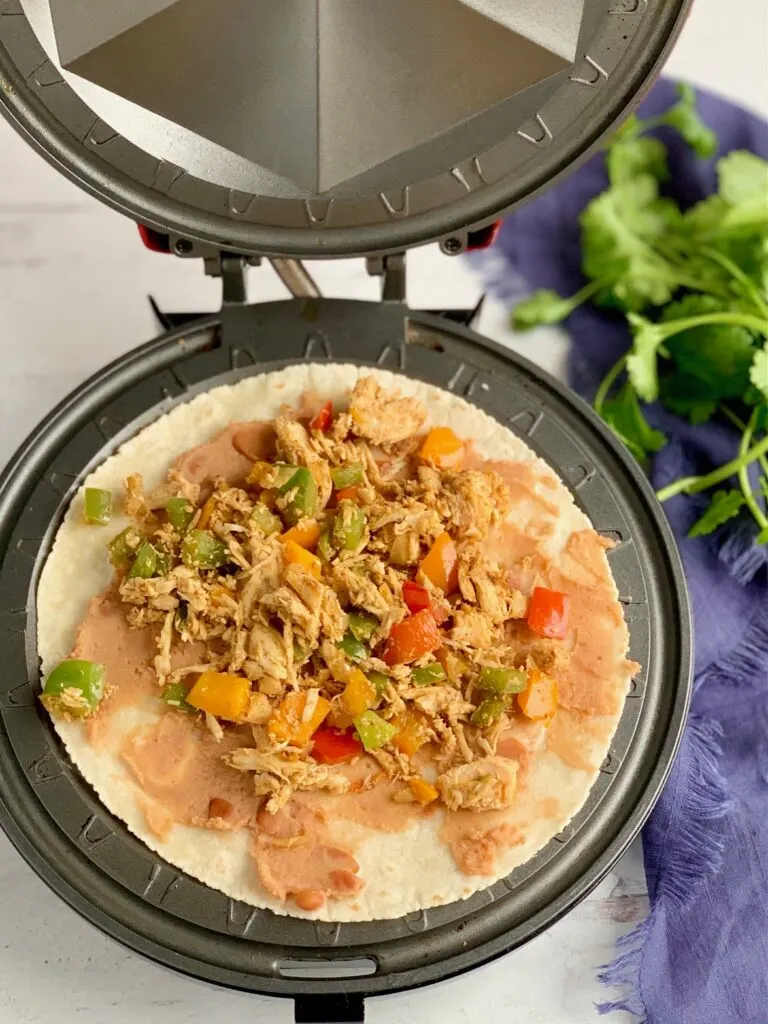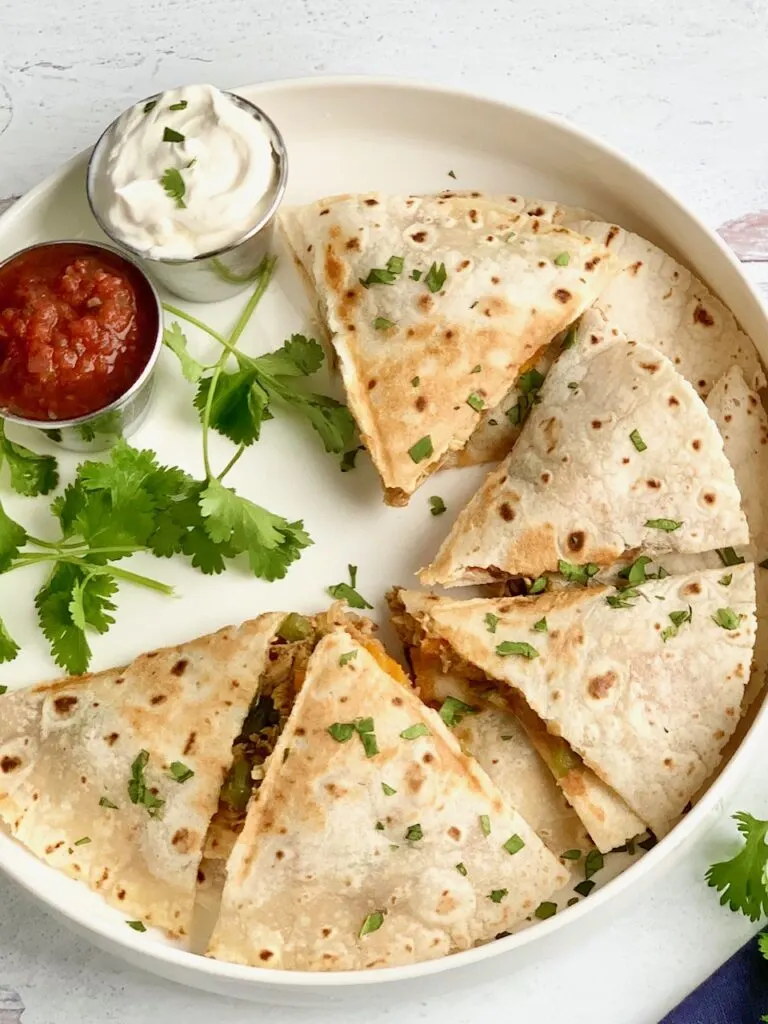 To make this recipe first bake the chicken until it's cooked through. Allow it to cool and then shred it. Next, sauté the onion in a skillet on medium heat with oil until translucent. Then add in diced bell peppers. Cook until tender. Next add in spices, shredded chicken, black beans, corn, and Spanish rice. Stir well. I like to heat our refried beans over the stove top before layer them on the tortillas-- they spread easier warmed.
Then, prepare the quesadilla maker and gather all topping ingredients. The quesadilla maker will need to warm up for 5-8 minutes. After it's warmed, spray the top and bottom of the maker with non-stick spray. Then place one gluten free tortilla on the bottom of maker.
Next top the tortilla with a layer of refried beans spread evenly over it. Place spoonful's of the chicken, rice, and pepper mixture. You will need to spread the mixture evenly over the bottom tortilla. If there is a dairy free cheese you prefer, top it on now. Lastly, place the top tortilla on and close the lid. I let this sit for 5-6 minutes. When the top tortilla has those pretty brown marks from the quesadilla maker, I know it's ready to plate. I use a wide spatula to transfer the quesadilla to a serving plate.
As soon as a quesadilla is removed from the maker, prepare another. Use a pizza cutter to cut your gluten and dairy free quesadillas into triangles. Top with your favorite garnishes.
There are endless garnishes you can use with this delicious dish. Salsa and green onions are favorites in our home. Dairy free sour cream, dairy free cheese, cilantro, diced tomatoes, and guacamole are others. Garnish with what your family enjoys most on their Spanish dishes.
For 3 kids and myself I make 8 quesadillas. This makes enough for lunch leftovers the next day.
My kids request demand there are leftovers for the next day. It's not optional.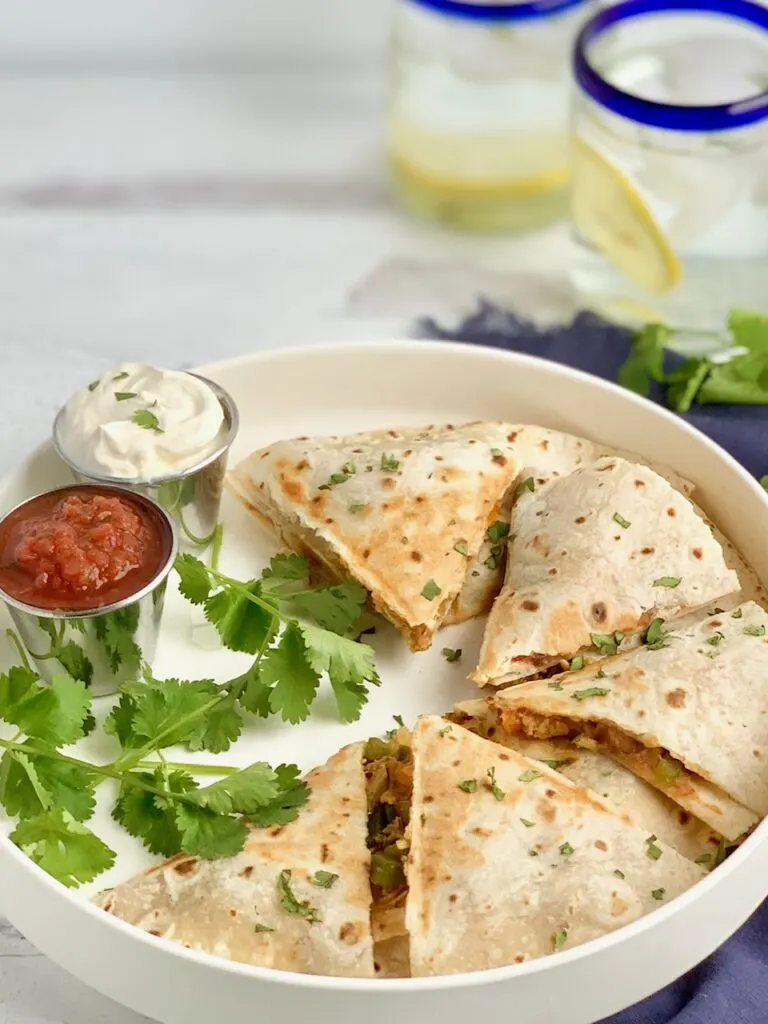 more gluten + dairy free meal ideas
lasagna soup-- this soup is so delicious and easy to make without the hassle of a traditional lasagna.
grilled shish kabobs-- this recipe comes with the most mouthwatering marinade we even use on our grilled steaks. We use this shish kabob recipe for holidays and throughout the year.
taco tater tot skillet-- this kid approved meal has little food prep and clean up. It's a reader favorite because it includes everyone's favorite, tacos and tater tots for a yummy meal.
lastly
This recipe can be adjusted for a small family or to feed a crowd. I've used this to serve over 20 adults! People grabbed platefuls of quesadillas as they came off the maker. This recipe is a fun dinner party meal idea. There are endless side dishes, too!
Let me know in the comments your favorite toppings for this recipe too.
Follow along on Pinterest, Facebook, and Instagram for the latest and greatest all things gluten and dairy free. And be sure to sign up for my exclusive emails below.
I hope you enjoy these fresh and flavorful quesadillas.
Eat well and feel well,
Jill
Print Recipe
Gluten and Dairy Free Quesadillas
Servings:
8
whole Quesadillas
Ingredients
2

chicken breasts, baked, shredded

rotisserie chicken works great too

1

tablespoon

oil

½

cup

onion, diced

2

bell peppers, diced

1

15 oz can

black beans, drained & rinsed

2

tablespoon

chili powder

1

tablespoon

cumin

2

packages

gluten free tortillas, 8 tortillas per package

1

can

refried beans, if desired

optional--15 oz can or bag frozen corn, dairy free cheese, 1 cup prepared Spanish rice
Quesadilla Garnishes
dairy free cheese, salsa, green onions, diced tomatoes, guacamole, dairy free sour cream, or fresh cilantro
Instructions
After chicken is baked and shredded, set aside.


In large skillet cook onion on medium heat until translucent.


Add in diced peppers, place lid on skillet and cook until soft and tender.


Then, add in all spices, shredded chicken, black beans, corn. Stir well and heat through.


Warm up quesadilla maker. Spray with non-stick spray.


Place tortilla on quesadilla maker. Spread refried beans if desired. Then add spoonfuls of meat and pepper mixture on top. If you've found a brand of cheese you like, top meat mixture with it. Otherwise omit dairy free cheese. Place second tortilla on mixture. Lower quesadilla lid.


Heat for 5-8 minutes. You want the brown lines to show on top of quesadilla from quesadilla maker. Remove from heat and prepare another quesadilla in the maker. When finished cut quesadillas into triangles with pizza cutter.


Garnish with toppings and serve immediately.