With just a few ingredients, you can easily learn how to make your own safe, delicious, gluten free and dairy free Copycat In-N-Out Burger Sauce to smother over burgers and fries that tastes just like the restaurant's!
The signature In-N-Out Burger Sauce might leave you with the impression it is complicated or requires fancy secret ingredients. But that is definitely not the case.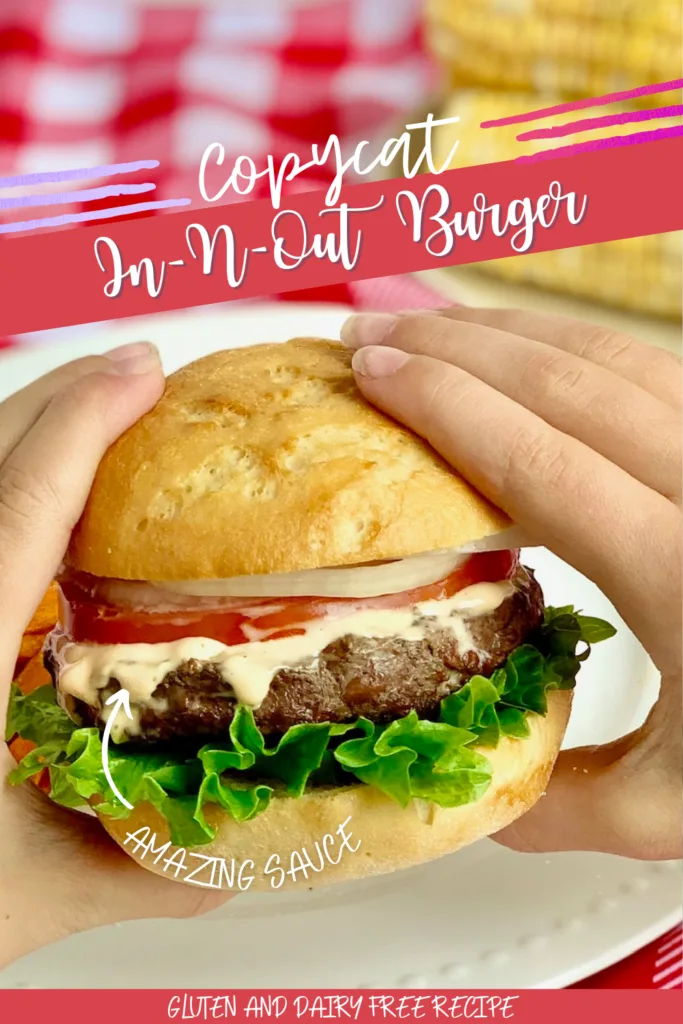 There are so many ways to enjoy this special sauce throughout the week.
Use up leftovers by spreading it over baked potatoes, grilled chicken sandwiches, replacing the mayo with this sauce on BLT sandwiches, or even drizzled over wedge salads.
This special copycat sauce can really spruce up so many other recipes!
Simply put-- there is no doubt this sauce is easy to make and adds wonderful flavor to your hamburger.

This is a MUST for your next BBQ, so save this recipe and add any ingredients you don't have on hand to your grocery list.
Family and friends will love smearing this naturally gluten free and dairy free sauce all over their sandwich.
copycat in-n-out burger sauce ingredients
sweet pickle relish
mayonnaise-- the Hellman's Real Mayonnaise is gluten and dairy free
ketchup
yellow mustard
white vinegar
kosher salt
ground pepper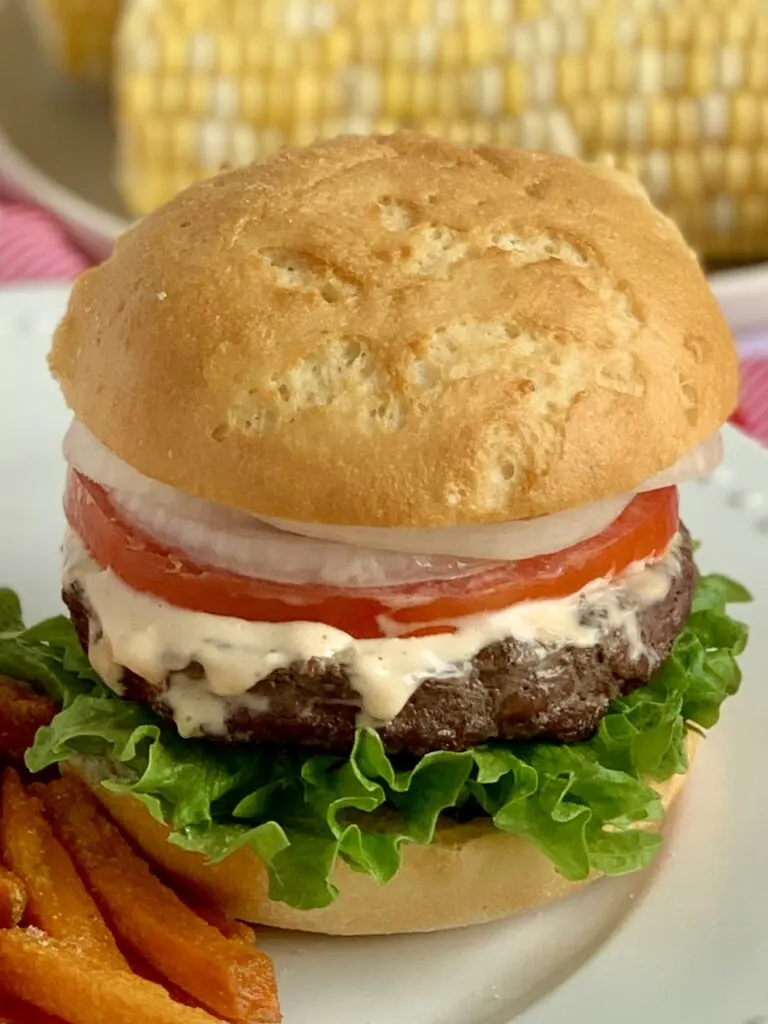 frequently asked questions
can this be made ahead of time
Yes, you can prepare this copycat In-N-Out Burger Sauce up to a week ahead of time and refrigerate it.
We suggest mixing this sauce at least 6 hours ahead of time so the ingredients have plenty of time to come together.
This is not a recipe to whip together and serve immediately; the taste will not be as good.
isn't the sauce Thousand Island dressing
No, while many people think it tastes similar, the restaurant doesn't use Thousand Island dressing on their burgers.
What they use tastes like this recipe.
what is the In-N-Out burger restaurant
The In-N-Out burger restaurant was founded in 1948 by Harry and Esther Snyder in California.
Interestingly enough, the In-N-Out burger became the first burger restaurant in California to have a drive-thru location and use a 2-way speaker system to communicate with customers.
For years In-N-Out burger restaurants were only located on the west coast.
However over the years they have opened up locations in other areas of the United States.
They are known for their mouthwatering burgers smothered in an orange secret sauce which are delicious with their homemade fries.
other topping ideas for the perfect gluten free and dairy free burger
Just because you are eating gluten free and dairy free doesn't mean you cannot load your burger up with delicious toppings.
Actually just the opposite is true. And that is a really good thing for us. If you are in a burger topping rut, consider these quick, safe topping ideas:
sliced onions
dairy free cheese slices-- our kids enjoy slices of Follow Your Heart American Slices, Gouda Smoked Slices and even Pepper Jack
tomato slices
gluten free fried onions-- we love the crunchy and crispy taste of fried onions on our burgers with this copycat In-N-Out burger sauce; it's a wonderful combination
crispy bacon-- always double check your bacon is gluten free; sometimes manufacturing plants will add gluten into the ingredients
shredded lettuce
juicy pickles
BBQ sauce-- we top our hamburgers with Sweet Baby Ray's BBQ Sauce
dairy free bleu cheese-- have you tried this delicious cheese on your burger yet? It is so good!
grilled pineapple salsa
sauteed mushrooms
gluten free onion rings
sliced avocado
If you are new to eating gluten free and looking for safe hamburger buns, consider the Udi's Hamburger Buns or Canyon Bakehouse Burger Buns.
These can be warmed, toasted and buttered for a delicious, authentic hamburger taste.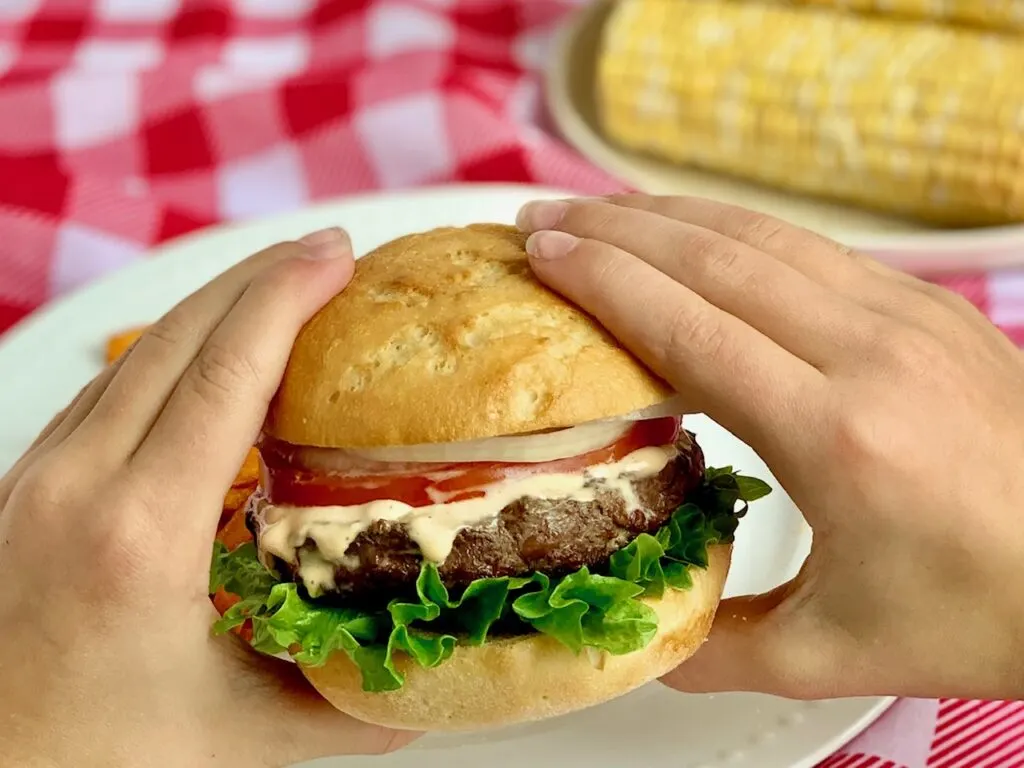 the best hamburger side dishes
delicious after dinner desserts
And most importantly our website, Eating Gluten and Dairy Free, is loaded with easy and mouthwatering desserts perfect for after your burger.
For instance, our Oh Henry Bar recipe with gooey peanut butter and chocolate is always a hit!
Plus we have festive Cherry Pie Bars readers are raving about loaded with cherry pie filling.
Also take the time to save this recipe, Chocolate Chip Cream Cheese Bars. Oh these bars are absolutely decadent!
our Cookbook
Are you hungry and craving classic recipes safe from gluten and dairy? Purchase our cookbook, The Classics, for recipes to enjoy right now with basic ingredients and prep time.
Our family lived through years of stressful dinners. But now we've combined some of our family's favorite gluten free and dairy free mealtime recipes to take the fuss and stress out of mealtime.
lastly
You won't believe how easy and good tasting this Copycat In-N-Out Burger Sauce is. You will soon find yourself putting it on everything.
This gluten free and dairy free sauce goes well with so many foods, not just hamburgers and fries. Let's be real-- it enhances the flavor of about everything.
And sometimes you need a little extra flavor kick to make up for the lack of gluten and dairy in recipes.
Go ahead and take time to search around our website for more meal and dessert recipes to enjoy this week.
Let us take the stress out of what to make each night and what to serve for family gatherings or holidays. We've got you covered.
Plus we are adding more recipes to our website every week!
Sign up for our exclusive emails.
And follow along on Facebook, Pinterest, and Instagram. Like and comment often so you don't miss out on the very best of eating gluten and dairy free.
Eat well and feel well,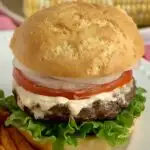 Print Recipe
Copycat In-N-Out Burger Sauce
Ingredients
2½

tablespoon

sweet pickle relish

½

c

mayonnaise

3

tablespoon

ketchup

1

teaspoon

yellow mustard

1

teaspoon

white vinegar

pinch of kosher salt and ground pepper
Instructions
Combine all the ingredients and mix well. Cover and refrigerate for at least 6 hours or overnight if possible for the flavors to meld. Store in the refrigerator up to a week.