Here is a cozy, golden Blueberry Crisp dessert bursting with fresh fruit flavor that tastes insanely wonderful. This dessert filling is thick and juicy with fresh blueberry flavor. Serve warm with a scoop of dairy free ice cream. Allow the ice cream to melt just a bit to make for the perfect warm and cold fruit dessert combination.
Use fresh blueberries from your garden, local farmer's market, or grocery store to throw this recipe together in just a matter of minutes!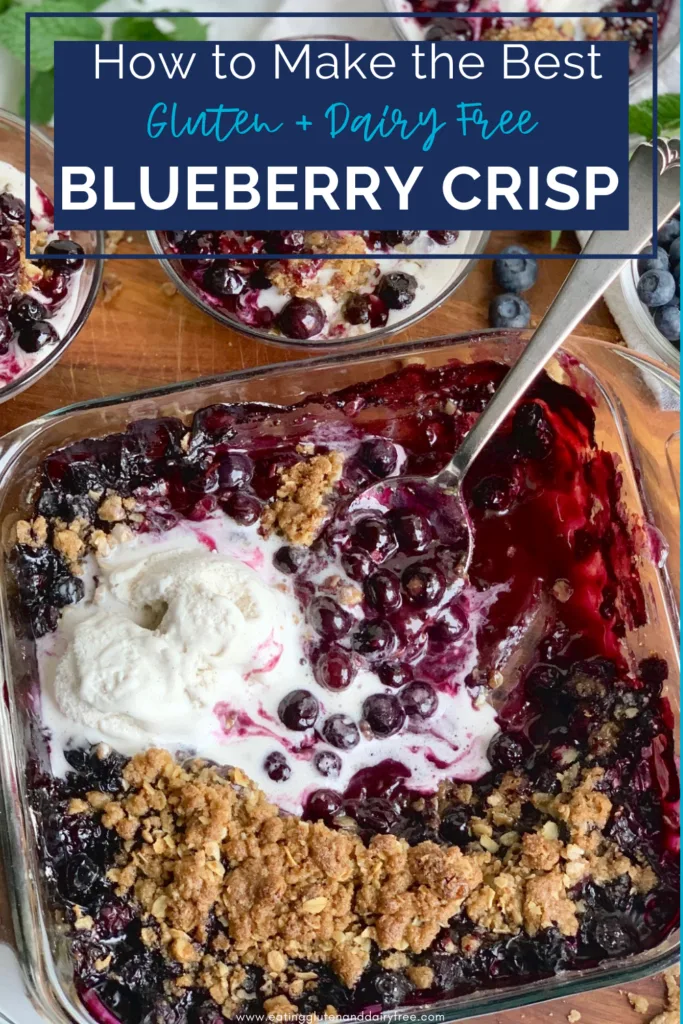 This recipe doubles as an after dinner dessert or a midmorning brunch dish. And enjoy this warm, fruit dish at special occasions such as baby showers and family BBQ's.
This crisp has two ingredient components-- the blueberry filling and the crisp topping. Here are the ingredients you'll need (most of them you already have on hand) to bake this mouthwatering dessert.
blueberry crisp ingredients and baking utensils
fresh blueberries-- 6 cups, stem removed, rinsed and dried
cornstarch-- or arrowroot powder works too
granulated sugar
fresh lemon juice--plan to use about half of one lemon. We use this citrus juicer to extract the juice easily. Fresh lemon juice always tastes best
gluten free old-fashioned rolled oats-- our go-to brand is this certified gluten free Bob's Red Mill sealable bag
gluten free all-purpose flour-- by spoon, scoop the flour into the dry measuring cup. Level with a knife, known as the "scoop and level" method. Filling the measuring cup by plunging it into the flour bag and lifting it out will add extra flour to your recipe; sometimes as much as ¼ cup extra for every cup. We like using Bob's Red Mill Gluten Free 1 to 1 Baking Mix for this recipe. We buy it in bulk here to save money.
brown sugar-- packed
baking soda-- this loses its potency after the container has been opened for 6 months. Consider labeling your container when you open it.
baking powder-- same tip as above
ground cinnamon-- always double check your ground spices are gluten free. We use this brand.
dairy free butter-- Earth Balance Buttery sticks are our favorite. The red box is soy free and vegan.
pastry blender-- this is a must-have kitchen gadget for crisps and pies; we use ours often
9 x 9-inch baking dish-- we use our dish almost daily in the kitchen for our dinner recipes and desserts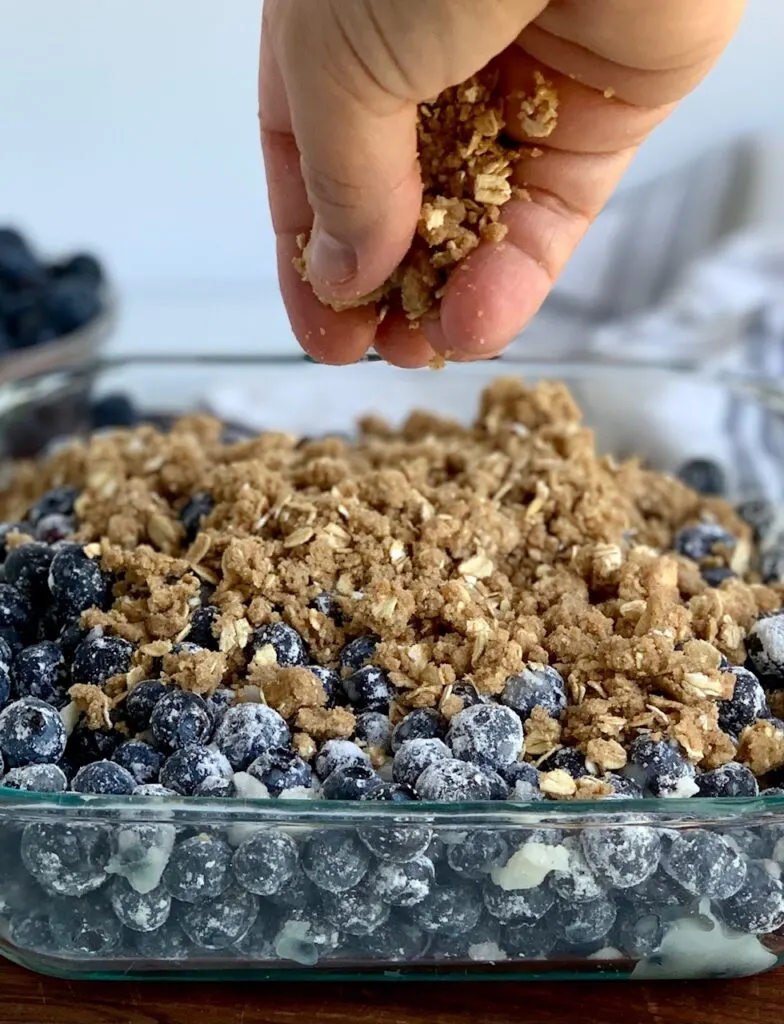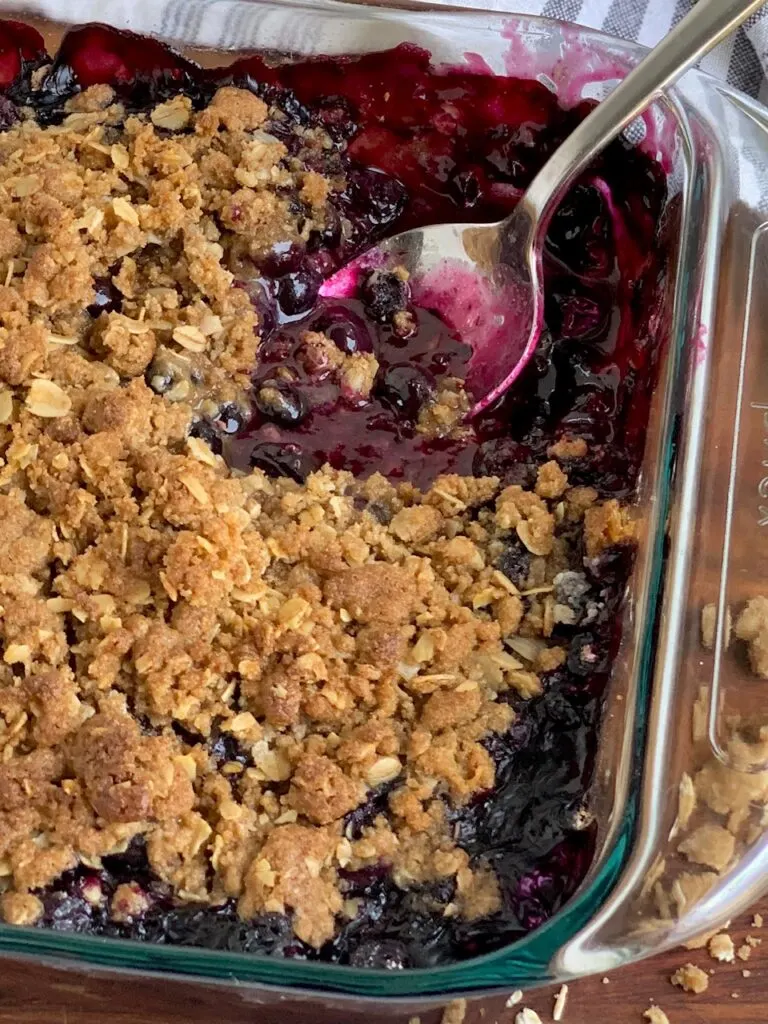 are old-fashioned oats gluten free
While old-fashioned oats are naturally gluten free, they are known to become cross-contaminated with gluten during the harvesting and manufacturing process. If you are gluten free, you will want to use certified gluten free oats for this recipe.
We use Bob's Red Mill certified gluten free old-fashioned rolled oats in all our recipes that call for old-fashioned rolled oats.
how does blueberry crisp thicken
Adding cornstarch or arrowroot powder perfectly thickens up the blueberry filling in this recipe. When baking, be sure the filling is bubbling-hot to ensure the cornstarch is cooked enough to thicken the filling.
what enhances the flavor of blueberries
Just a tiny amount—a squeeze of fresh lemon--enhances the berries' fruity flavor, much the same way vanilla extract complements chocolate. In this recipe you don't even taste the small amount of fresh lemon in the finished dessert, but it will add depth of flavor and complexity.
should I refrigerate a baked blueberry crisp
Nope! Just cover it with a lid, foil or plastic wrap and keep it on your countertop for up to 2 days.
what to do with leftovers
While Blueberry Crisp leftovers are rarely a thing in our home, when it does happen they're consumed at breakfast the following morning. These make for the best leftovers at breakfast too!
When leftovers happen, cover the baking dish and place on the countertop up to 2 days. Reheat leftovers in the microwave when ready to enjoy.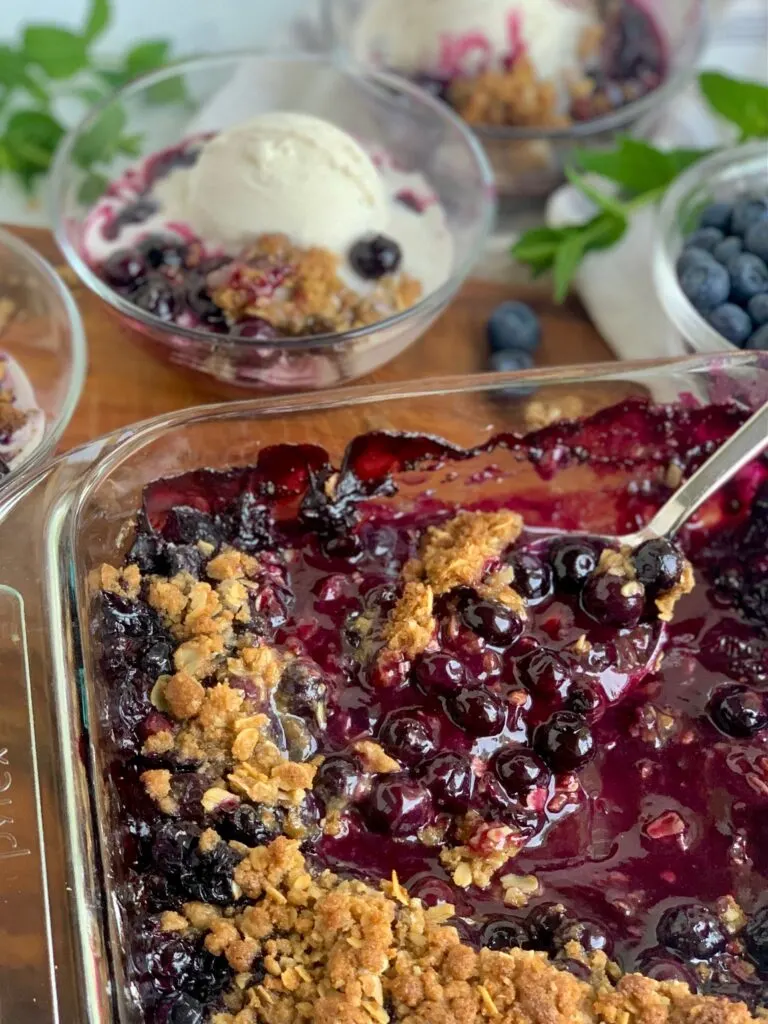 more fruit dessert recipes you will love
lastly
Warm, right out of the oven bubbly Blueberry Crisp makes a quick dessert that never disappoints. The blueberry filling is so thick and delicious, while the golden crisp topping is everything you dreamed it would be.
Served with dairy free whipped topping or a scoop of dairy free vanilla ice cream, this dessert is always a great idea.
And you'll find recipes for every occasion on our website-- including holidays!
Just because you're eating gluten and dairy free doesn't mean the holidays have to be a food curse or bore. You'll find the most delicious, safe recipes here.
Be sure to follow along on Facebook, Pinterest, and Instagram. Like and comment often to keep having our posts show up in your feed.
We do not want you to miss the best of eating gluten and dairy free.
Eat well and feel well,
Jill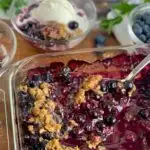 Print Recipe
Blueberry Crisp
Ingredients
Blueberry Filling
6

c

fresh blueberries

stems removed, rinsed, and dried

3

tablespoon

cornstarch or arrowroot powder

⅓

c

granulated sugar

1

teaspoon

vanilla extract

1

tablespoon

fresh lemon juice

dash

kosher salt
Crisp Topping
1

c

gluten free old-fashioned rolled oats

suggestion in post

1

c

gluten free all-purpose flour

scooped and leveled, suggestion in post

1

c

brown sugar

packed

¼

teaspoon

baking soda

¼

teaspoon

baking powder

1

teaspoon

cinnamon

¾

c

dairy free butter

cold and cut into small pieces

optional-- top baked crisp with dairy free ice cream or whipped topping
Instructions
Preheat the oven to 350°F. Spray a 9x9-inch baking dish with nonstick spray and set aside.

In a large bowl, gently toss all blueberry filling ingredients and transfer evenly into the baking dish.

Next in another large bowl combine all crisp topping ingredients except the butter.

Then add in the cubed butter and blend with the pastry blender until the mixture is pea-sized crumbles.

Top blueberries with crumble topping and bake for 35 minutes. The blueberry juice will be bubbling up on the sides of the baking dish.

Remove from the oven and serve immediately with a scoop of dairy free ice cream or whipped topping.

Cover leftovers and leave on the countertop up to 2 days. Reheat when ready to enjoy.
And sign up below for our exclusive emails. You'll receive new recipes, brand giveaways, new product alerts, and tips for living your best gluten and dairy free delivered right to your inbox.