This Turkey Breast Sheet Pan dinner not only is perfect for something simple at Thanksgiving, or Christmas but is the ideal easy family meal that everyone will enjoy all year long. A great way to cook things together to maximize the flavor and minimize the clean up mess.
Whether you want an easy sheet pan thanksgiving dinner or just fancy enjoying some delicious turkey tenderloins then this is one of those easy one-pan meals that you will enjoy time and time again.
It can be the ideal holiday meal when you are catering for a small group, but it can also be a versatile method of cooking for all kinds of meat and veggies. The flavors are all there and you will likely have everything you need in your pantry. What's not to like?
If you love Turkey, especially around Thanksgiving, then you have to try the Smokin' Hot Thanksgiving Turkey. Using the whole turkey it is the perfect holiday dinner to enjoy with your nearest and dearest.
🧡 Why You'll Love The Turkey Breast Sheet Pan Dinner
Hardly any cleaning up - These one-pan dinners means hardly any dishes or bowls are being used. Bonus!
Kid-friendly - The food looks delicious and inviting and will entice children to try different things.
Colorful - Who doesn't love an array of colors on their plate?
Versatile - swap out ingredients for things you have at home. Simple and delicious.
Ingredients Needed
For the turkey:
Turkey breast tenderloins- always check that your meat hasn't been injected with any allergens. But, this should be allergen friendly and safe in general
Garlic powder- we trust McCormick spices. You can buy in bulk on Amazon or other online retailers.
Dried rosemary
Dried thyme
Salt and black pepper- we like to use kosher salt and fresh cracked black pepper
For the vegetables:
Sweet potato
Sweet onion
Celery
Brussels sprouts
Olive oil- feel free to trade this out for other cooking oil, grapeseed oil is a popular one we like
Garlic powder
Dried rosemary
Dried thyme
Salt and black pepper
Dried cranberries
Pecan halves- you can omit these if you have a nut allergy
For the croutons:
Gluten and dairy free bread - use your favorite bread. Our go-to is Udi's Whole Grain Sandwich Bread found at Costco and other retailers. Many also enjoy Canyon Bakehouse to make croutons and use for other bread needs. But really, any brand of gluten and dairy-free bread will make wonderful croutons. You will need about 12 slices of bread to make some yummy croutons with.
Dairy-free butter - we enjoy using the gluten, dairy, and soy-free Earth Balance Buttery Sticks
Dried thyme - always double-check that dried herbs and spices are gluten and dairy free. The McCormick brand is known for being safe.
Kosher salt
Ground black pepper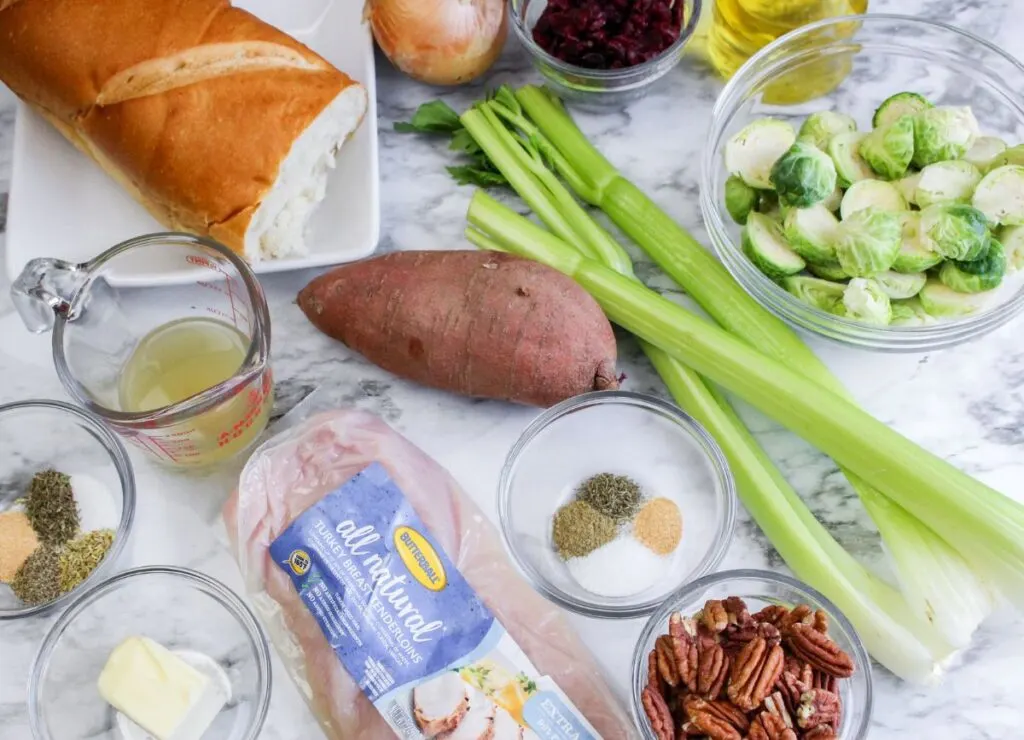 Helpful Tools
Sheet pan
Aluminium foil
Mixing bowls
Measuring Cups and Spoons
Pastry Brush
How To Make The Turkey Breast Sheet Pan Dinner
Preheat the oven to 400F and gather all of your ingredients. Line your rimmed sheet pan with aluminum foil and spray with nonstick cooking spray.
In a mixing bowl, mix the seasonings for the turkey and coat the turkey breast tenderloins using a pastry brush if necessary. Place the turkey breast tenderloins in the middle of the baking sheet.
In another large bowl, add the sweet potato cubes, onion, celery, and brussel sprouts. Drizzle with olive oil and toss to coat the vegetables. Sprinkle with the seasonings from your mixing bowl and toss vegetables again. Transfer the vegetables to the large baking sheet around the turkey but in a single layer. Cover the meat and vegetables with aluminum foil and bake in the oven for 35 minutes.
While that cooks, prepare 2 large baking trays with a nonstick mat or parchment paper; set aside. Then place 12 slices of bread on a large cutting board.
Next in a medium size mixing bowl, whisk together the melted dairy free butter and seasonings.
Then with a silicone pastry brush, lightly brush both sides of the bread with the butter mixture.
Cube the bread into small, even squares so they bake evenly, about 12 cubes per bread slice.
When the timer sounds, carefully remove the rimmed baking sheet pan from the oven and remove the cover. Add the croutons and pecans over the top of the vegetables around the turkey. Return the sheet pan to the oven, uncovered, for an additional 10 to 15 minutes or until the croutons are crispy on top.
Sprinkle the sheet pan with cranberries, slice the turkey and serve. Enjoy!
Recipe Variations
Can't get hold of turkey tenderloins? You could use a juicy turkey breast or even turkey legs instead. Changing your cut of meat, you may have to change the baking time.
Want to spice things up a little? Add some fresh chili to the vegetables or even some dried chili flakes to give the dish a kick. You could also use a teaspoon pepper that's crushed or even ground white pepper to transform the flavors.
No dried cranberries? No problem. You could try using fresh cranberries or just use a spoonful of cranberry sauce instead.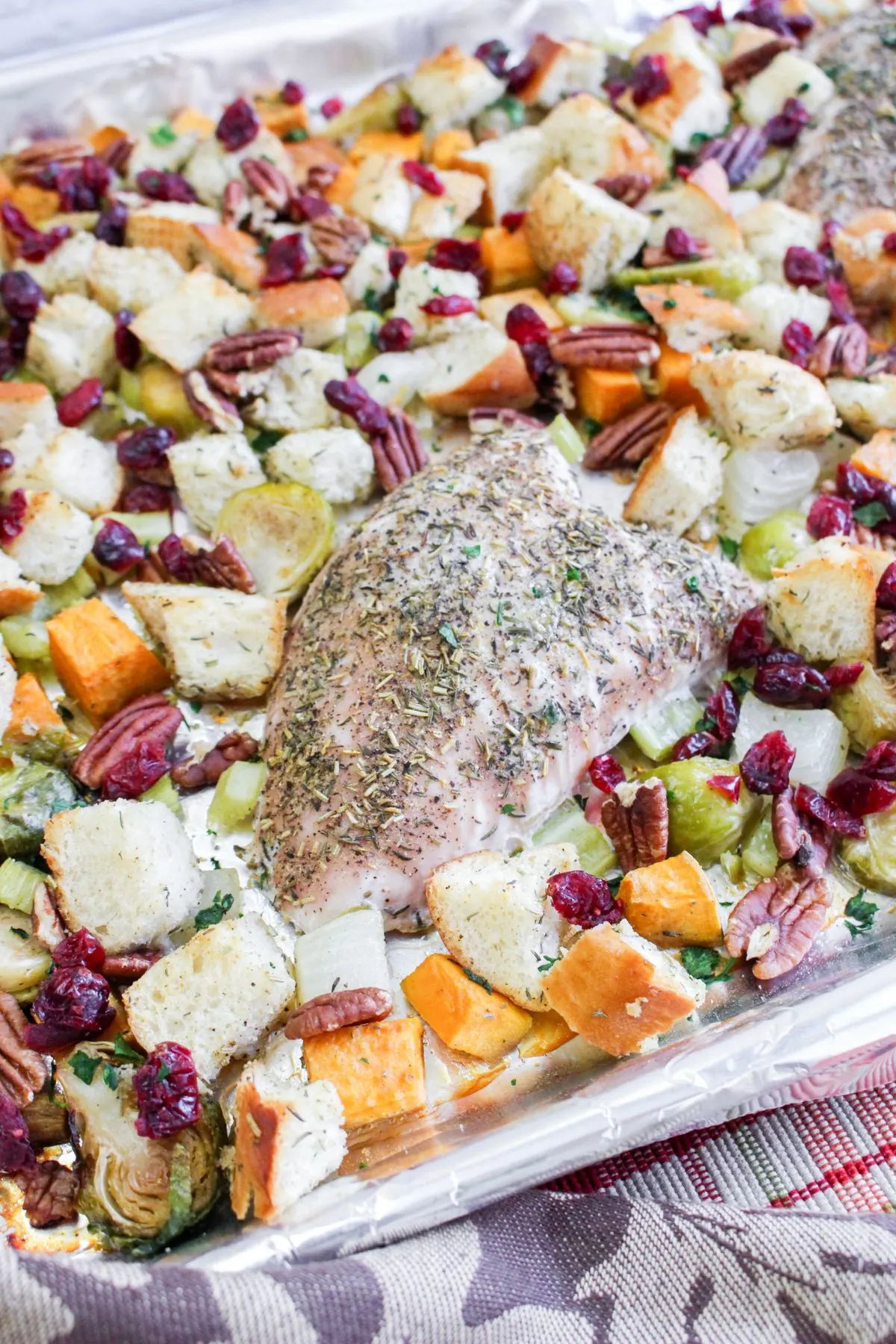 Tips & Tricks
This is easy sheet pan turkey dinner is simple to make. But you could also put all of the ingredients into the slow cooker and have a tasty meal ready for you when you get home. The texture will be softer but the flavor will remain.
Keep an eye on the vegetables when they are cooking. You don't want them overdone as this will give a biter flavor.
If you are unsure that the turkey is cooked then slice into the thickest part of the turkey tenderloin. You don't want to see any pink and the juices should run clear. Turkey is fully cooked and safe to eat when it reaches 165F.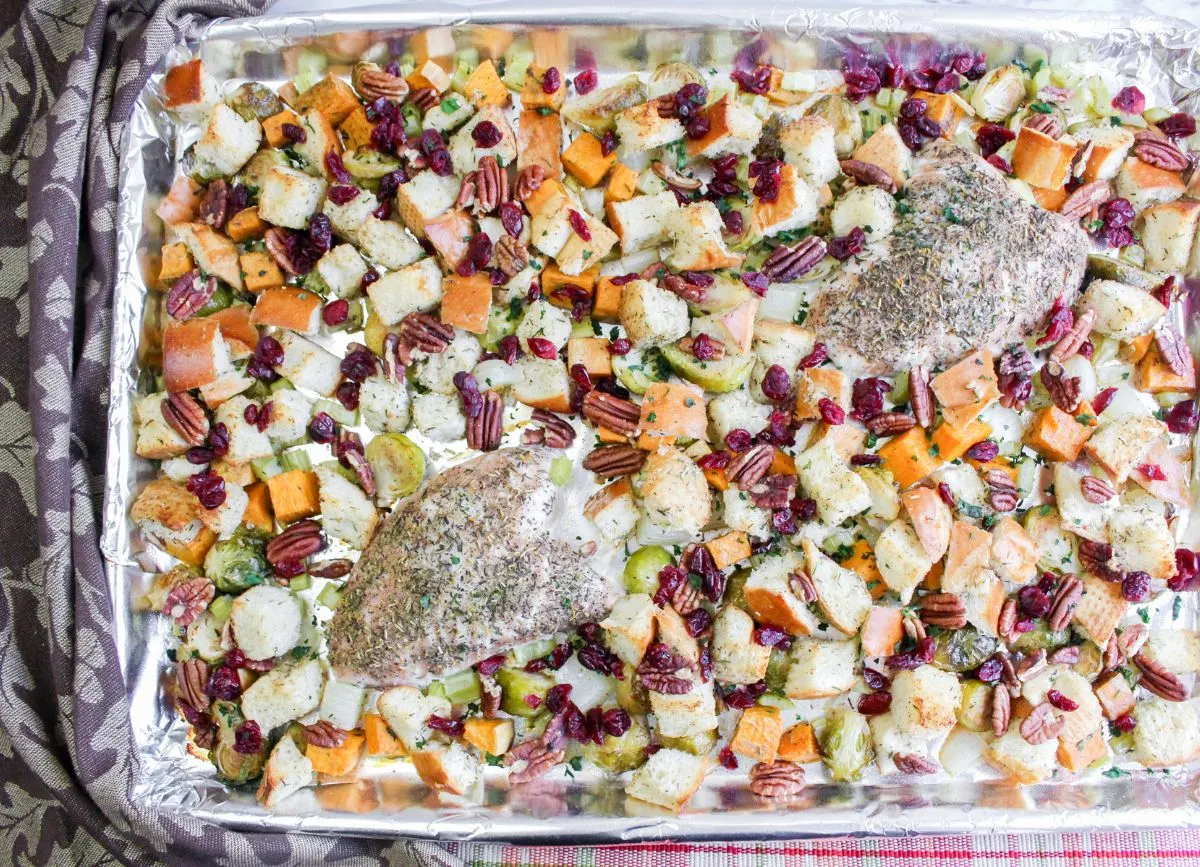 Storage
When it comes to sheet pan dinners you may find that they are large meals, so you are bound to have leftovers.
Let them cool down completely and then transfer to an airtight comntaimer and store them in the refrigerator. They will be good for 2-3 days. Perfect for a tasty lunch the following day.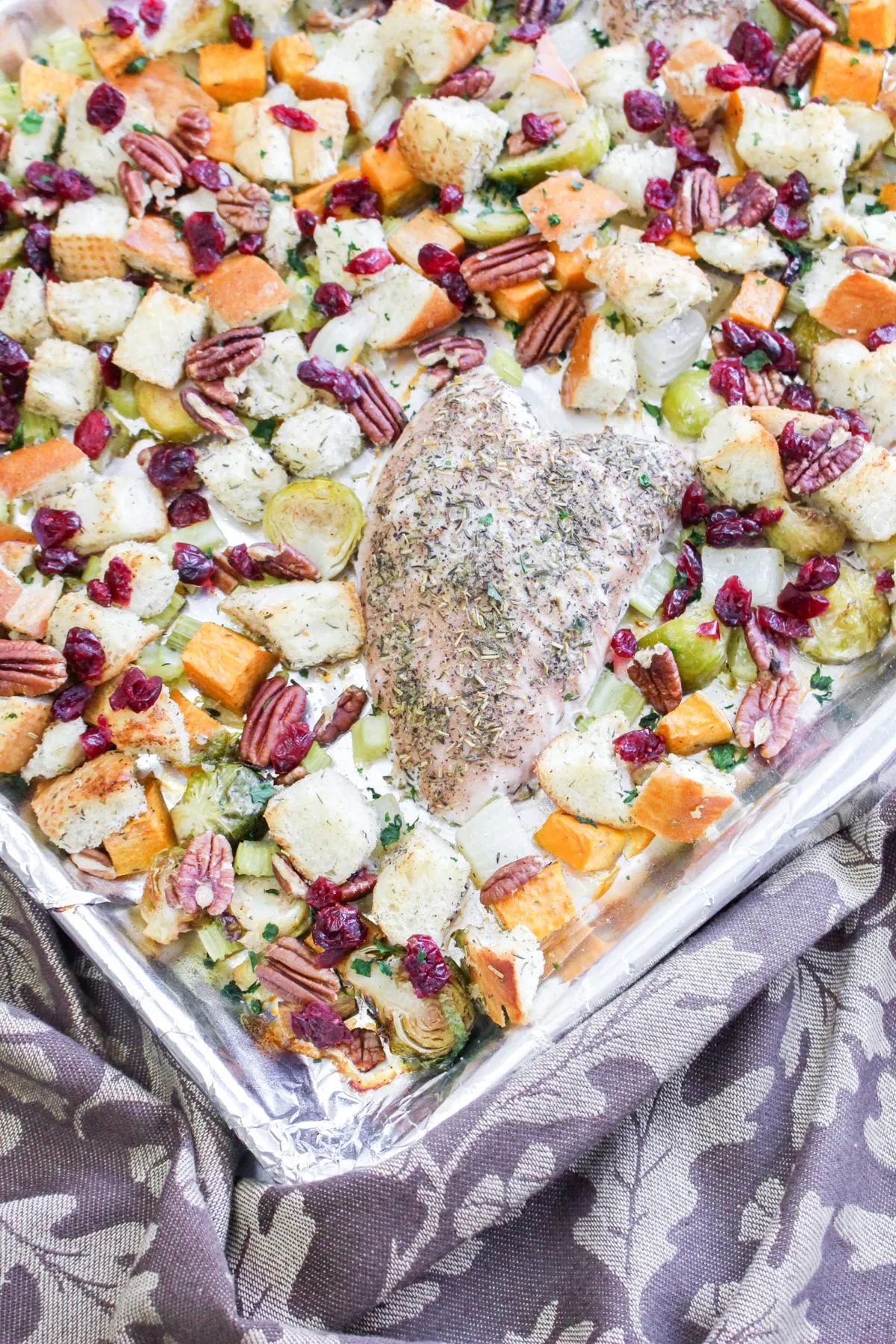 FAQ
What other veggies could I use with this sheet pan meal?
There are so many delicious options to mix things up a little when it comes to this sheet pan turkey dinner recipe.
We suggest adding or substituting some of the veggies for green beans, broccoli florets, zucchini, and mushrooms. Make it your own and just enjoy it.
What other meat could I use?
This is a really versatile method of cooking meat and veggies. You could use chicken breasts instead, or even cook up turkey or chicken legs instead.
The flavors and vegetables will also work well with fish. However, you may need to cook the veggies first as fish won't need as long in the oven.
Can I use frozen turkey?
Sure! Our advice would be to marinate the turkey and then bake in the oven for a few minutes before adding the veggies to the sheet pan.
Increasing the cooking time of the boneless turkey breast will enable the meat to become room temperature as the other ingredients and cook everything at the same time.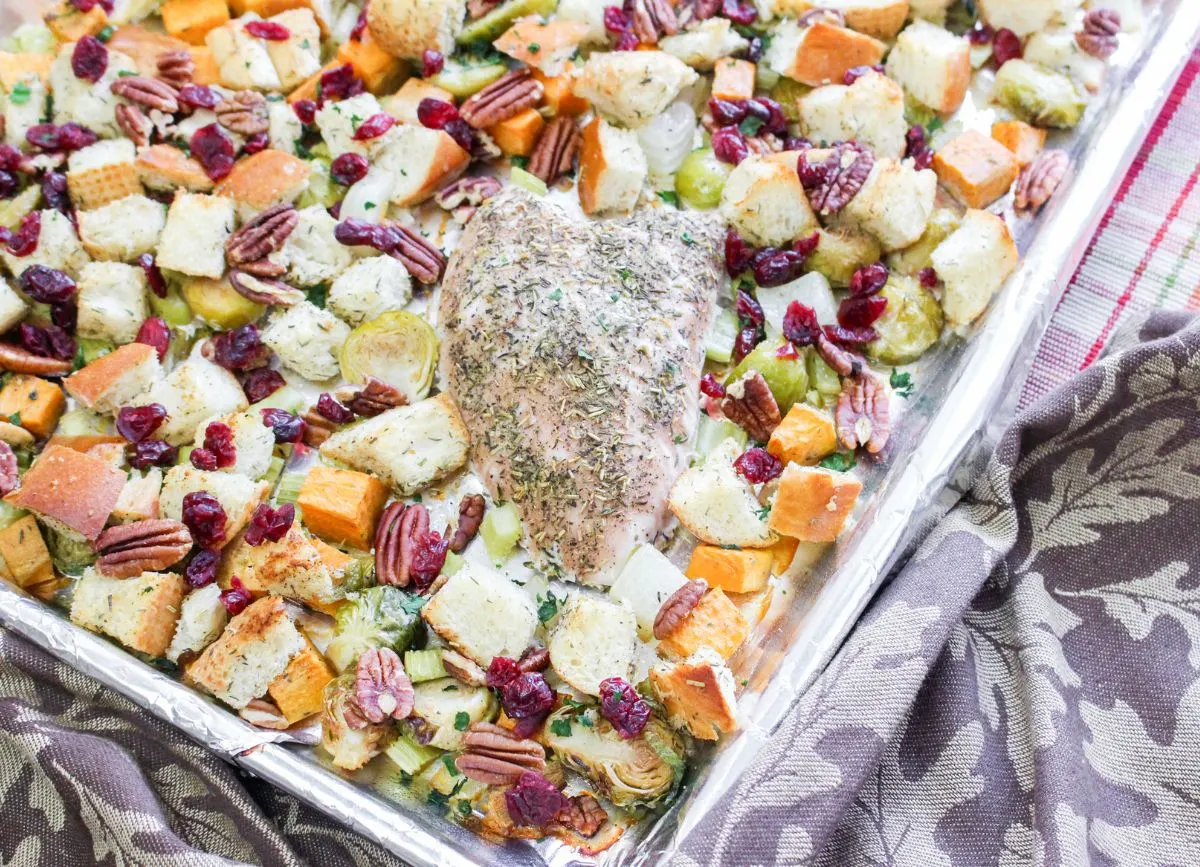 Other quick and easy recipes
Easy gluten-free spaghetti carbonara - Tender gluten-free spaghetti slathered in an egg sauce with plenty of dairy-free parmesan cheese and chunks of bacon in every bite. This easy Gluten Free Spaghetti Carbonara is incredible.
Easy lemon pepper chicken - A class chicken recipe that is simple to put together and is truly delicious. You will be making this time and time again.
Sweet potato chili - Here's a warm, cozy recipe packed with flavor. Sweet Potato Chili is loaded with tender sweet potatoes, seasoned ground beef, hearty kidney beans, delicate red bell peppers, loads of spices, and endless garnishes.
Want more delicious dinners, desserts, breakfast recipes, and more?
Don't miss out on our gluten and dairy free ebook cookbook. With just a few clicks you'll have this digital cookbook sent straight to your inbox.
For less than $10, you'll get 16 gluten and dairy free recipes with one of them being one that has NEVER been seen before and you'll NEVER find it on our website! It's JUST for those who have the cookbook.
Grab our cookbook, The Classics, today for just $9!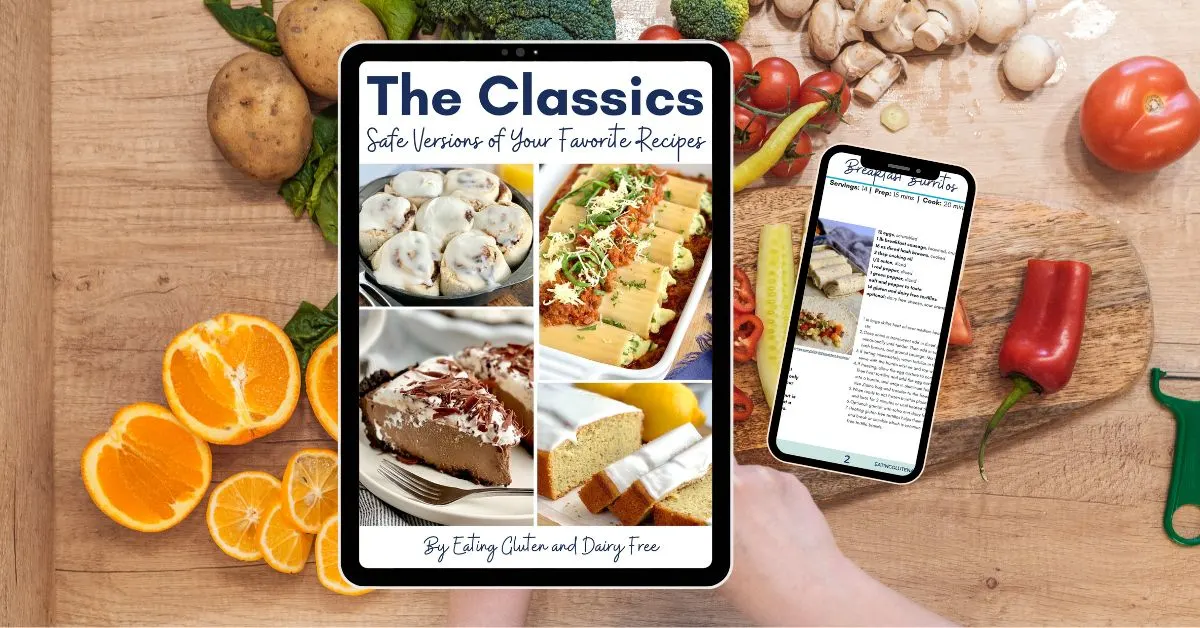 Make sure to follow us on Instagram and Pinterest to keep up with all our new recipes. Tag us if you make the recipe on IG or share your thoughts by commenting on the pin on Pinterest. If you try this recipe, feel free to give it 5 🌟 below
Eat Well and Feel Well
Pin It For Later