Are you struggling to find the money, time, and organization needed to feed a large family on an allergy-friendly diet? With many mouths to feed and allergen friendly food prices at a premium, you'll find this post a must-read.
Or maybe you are looking to be more organized in your meal planning and budgeting -- then this post is for you too.
And because it takes someone with a legit large family to share tips for cutting costs, I turned to my friend, LeighAnn, to help me co-author this valuable post, "Tips for Feeding a Large Family."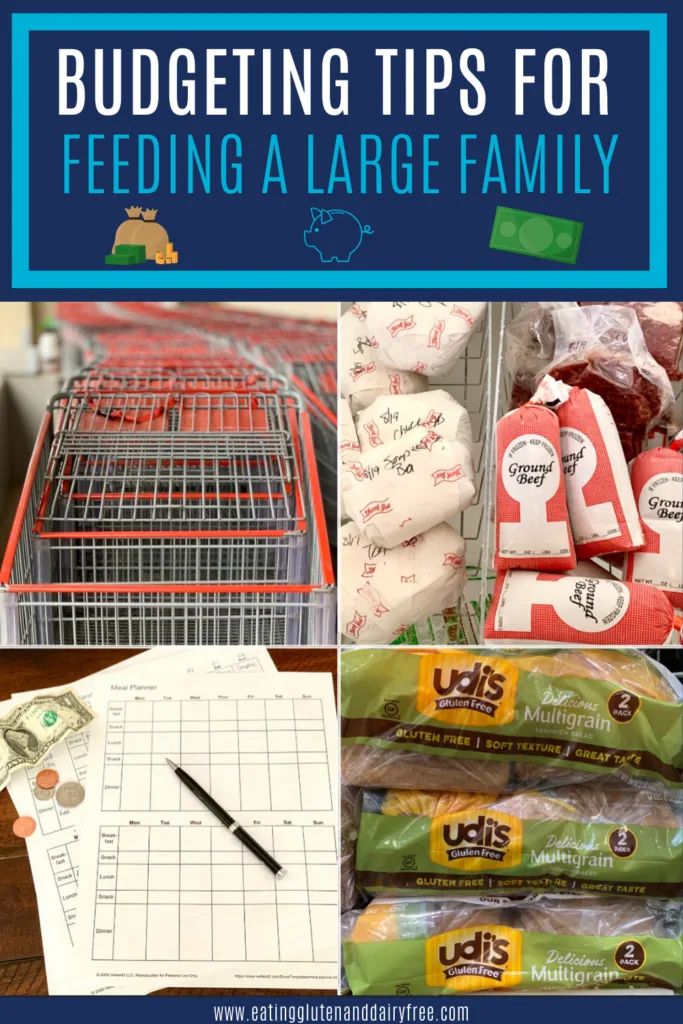 Let me introduce to you my friend and co-author of this post, LeighAnn.
She resides in Ohio with her husband and 9 kids. Her beautiful children range in age from 17 years to 6 months -- and from looks and spirit you wouldn't guess she's a day over 25.
Let it be known LeighAnn and her family have been dairy free for sixteen years and gluten free for ten.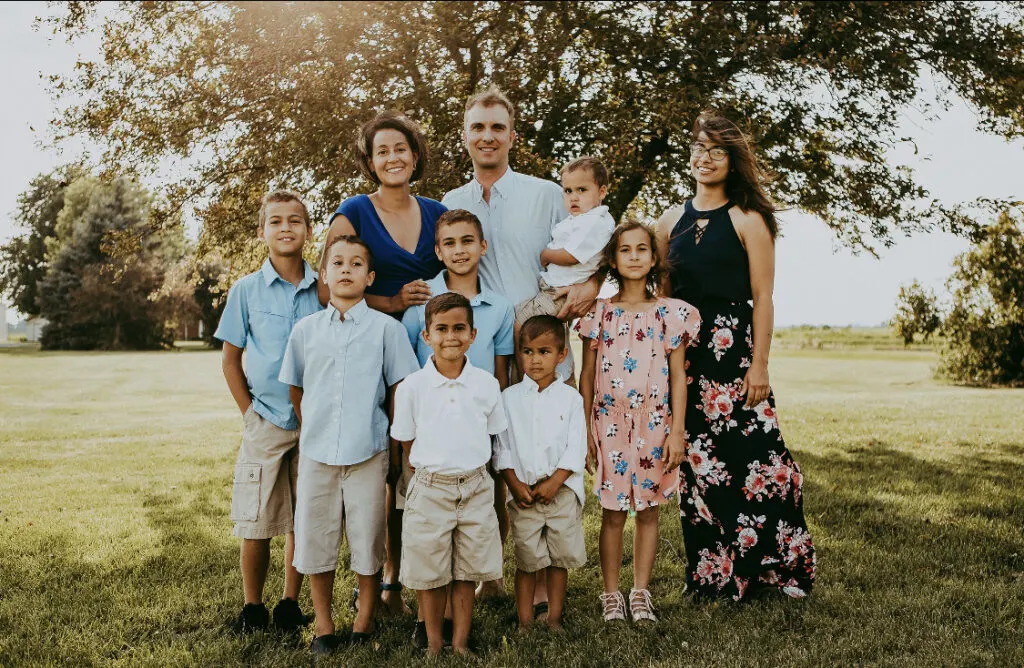 LeighAnn and I have several special ties binding us as friends including our gluten and dairy free diets.
This past summer LeighAnn and her family made the long trek to Montana to take part in church activities. Thankfully our families were blessed to spend an afternoon together in my home. While our kids joined forces to run around enjoying the summer sunshine, LeighAnn and I talked food.
I enjoyed her pearls of budgeting wisdom, large family size recipe hacks, and meal planning tips.
LeighAnn definitely knows her stuff when it comes to feeding her family delicious food on a budget. Feeding a family of five on a gluten and dairy free budget is hard, let alone a family of eleven.
Therefore if you're finding it challenging to feed many mouths an allergen friendly diet, take note of LeighAnn's tips for feeding a large family.
And even if you're a small family eating allergen friendly, you know how expensive it can get. Everyone will find these tips helpful.
LeighAnn's Allergen Friendly Tips for Feeding a Large Family
Let's face it, eating dairy and gluten free can be expensive. As a mom of 9, I get asked all the time, "How can you afford it?" Here are my 5 biggest tips:
-Budget
Budget, budget, budget! Of all the tips, this is the most important. When it comes to affordability, you must figure out a reasonable grocery budget for your family. Then you must stick to it. Take cash out of your account if you need to.
-Meal Plan + Food Inventory
In order to stick to the budget, creating a meal plan can do several things:
it will help you create and stick to a list
keeps your pantry, fridge, and freezer not only stocked, but items rotated
and you accumulate a list of meals you can cycle through
First, find a template that suits your needs. There are numerous free plans available online. My personal favorite is here: https://www.vertex42.com/Files/pdfs/2/biweekly-meal-planner.pdf
Second, when meal planning, take a look in your fridge and pantry. Then you'll save money and time using what you already have on hand. This can be a huge money saver.
Furthermore why make meal planning harder than it has to be? Save your old meal plans to generate a master list of your family's favorite meals and pull from there. As you try new recipes, add them to your master list.
Finally, as you look over your plan, try to reduce the number of meals requiring specialty gluten and dairy free items, items such as pasta, wraps, and bread.
This is also a great way to transition from a few family members eating DF/GF to your whole family. We save meals such as lasagna or grilled sandwiches for special occasions because of the added cost of noodles and bread.
And once you start saving money on your groceries, you'll able to purchase those fun extra foods on sale. Buy them then and stockpile them, which leads to tip number 3.
Pro tip -- a fabulous meal for using up various leftovers is fried rice. And what if you can't afford gluten free soy sauce? Skip it and season your rice with garlic powder and onion powder.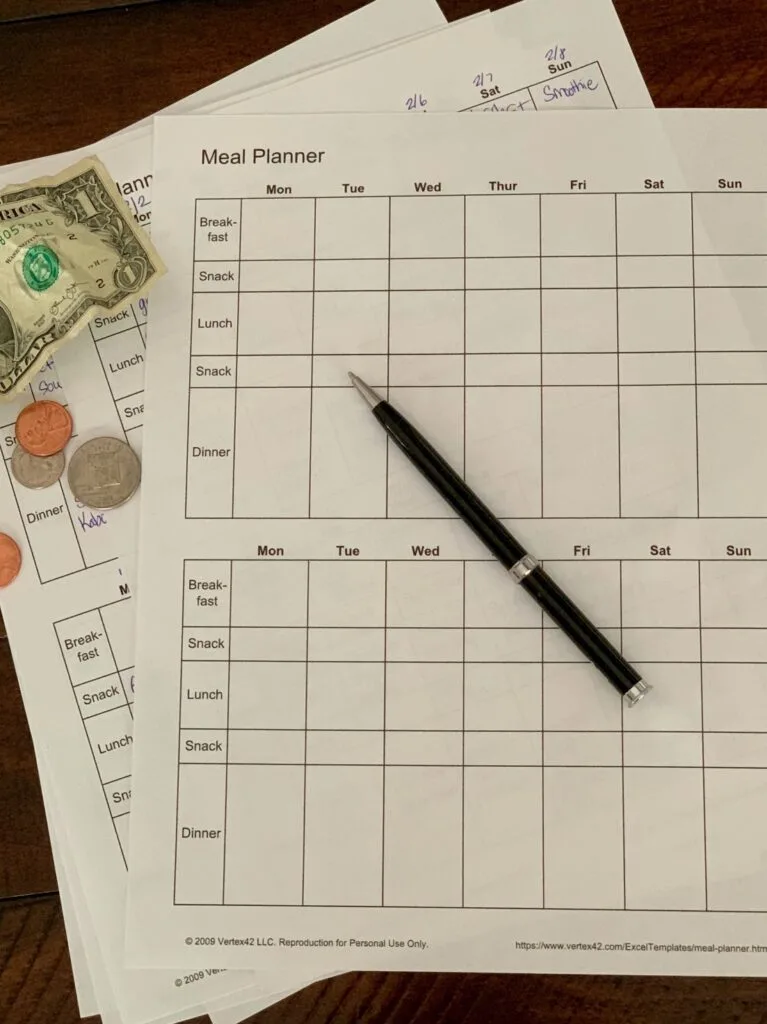 -Buy in Bulk
Buying in bulk is a great way to save money. I'm not talking about the bins in the local grocery store — those can literally be dangerous.
My Top 10 Bulk Item Purchases Are --
Restaurant-size containers of spices -- because spices equal meal options
All purpose gluten free flour
Eggs
Almond flour
Coconut Oil
Olive Oil
Cereal -- great for trail mix, a quick breakfast, or snack
Frozen Vegetables
Meat
Bragg Liquid Aminos
As a matter of fact the biggest "bulk" money saver for our family is meat.
We save money throughout the year to purchase 1 cow and at least 2 hogs each year. If that isn't an option for you, don't be afraid to visit your local butcher. Ask if they offer discounts for buying meat by the case or in larger quantities. Less work for them means more savings for you!
You can either portion out meat into freezer bags and vacuum seal it or can it.
In addition when you remove the weekly need to buy pork and beef, it leaves room to purchase fresh fruits, vegetables and specialty DF/GF items like condiments, ice cream, and milk.
Don't forget bulk warehouse stores can be another way for large families to save money.
A membership is required for stores like Sam's Club and Costco; however both now carry larger selections of dairy and gluten free items.
-Discount Grocers
Surprisingly, the second biggest key to saving grocery money is shopping at discount grocers. Not to mention this is how you can afford to stock your pantry and try new items you can't afford to pay full price for.
-Owning a Deep Freezer + Extra Fridge
Moreover it's necessary that a large family has space to store food. This also comes in handy if you're trying to save time and gas by not making a shopping trip every week.
-And LeighAnn's Bonus Tip
Make your own seasoning blends and also eliminate store bought seasonings that tend to have hidden gluten and dairy. For example -- store brand taco seasoning commonly has gluten in it.
Make your own and use it for more than just taco dishes. Did you know it's a great base for homemade chili too? Add some cayenne, coriander and some extra cumin and you're good to go! Here is my personal taco seasoning recipe I've been using for years.
Taco Seasoning-- mix the following seasonings together and store in an airtight container in a dry, cool location. Use approximate 1 tablespoon taco seasoning per pound of meat.
4 tablespoon chili powder
1 teaspoon garlic powder- granulated
1 teaspoon onion powder- granulated
1 teaspoon oregano
2 teaspoon paprika
4 teaspoon fine sea salt
4 teaspoon ground black pepper
2 tablespoon ground cumin
Lastly, maintaining a dairy and gluten free diet for a large family is possible! If we can do it, so can you! -- LeighAnn
Thank you LeighAnn
Wow -- I'm grateful for each of these allergen friendly tips for feeding a large family.
While I wouldn't consider my family of five large, I am all about budgeting, saving time, and being more organized in the kitchen. Needless to say your "Tips for Feeding a Large Family" will certainly benefit my family too. And -- who else is excited to try this homemade taco seasoning mix!?
Meal Ideas for a Large Family
Lastly
Would you please do me a favor -- if you're new to my website, please make yourself at home. You'll find a gluten and dairy free recipe for every occasion and also tips for navigating food allergies in your daily life.
Lastly let's connect; go ahead and follow me on Facebook, Instagram, and Pinterest now. You don't want to miss a new product review, recipe, or holiday Pinterest board. It's never been a better time to eat gluten and dairy free.
Eat well and feel well,
Jill