This rich and creamy no-churn fresh Peach Ice Cream recipe calls for two ingredients and only 20 minutes of your time. In return you'll be treated to a refreshing peach-flavored ice cream with bits of fresh peaches. It will quickly become one of your favorite recipes to beat the steamy summer heat.
It's so cold and luscious with little bits of peach chunks throughout the ice cream. Enjoy a couple of scoops in a dessert bowl or gluten-free ice cream cone for fun.
Trust me-- here is a fab, no-fuss recipe you wanna learn how to make today.
And now that it's fresh peach season it's never been a better time to make this recipe.
The Farmer's Market and grocery store aisles are overflowing with fresh peaches. So load up your bags with these good-smelling fruits.
For real--there's never been a better time to enjoy this cold treat.
You definitely won't find this flavor of gluten and dairy free ice cream at the grocery store. This is a seasonal treat you'll look forward to every year.
You only need two ingredients to pull off this homemade peach ice cream recipe.
Bonus-- you will also notice we've included links below for gluten and dairy free ice cream cones. Our kids go absolutely crazy over this ice cream in cones.
Keep scrolling to check out our ingredient suggestions and tips.
ingredients + kitchen essentials
fresh ripe peaches-- peel and slice peaches for the peach puree. Frozen peaches work too.
dairy free vanilla ice cream-- scroll down to see our safe recommendations
optional-- serve ice cream scoops with additional peach slices on the side
blender-- or use a food processor to create the peach puree
loaf pan-- this recipe needs a 9x5-inch loaf pan like this one; this is also the same size loaf pan we use in our quick bread recipes
sharp knife-- we use this razor sharp knife in the kitchen to slice the peaches without any hassle or messiness
ice cream cake cones-- these have been my favorite for years; this brand does contain soy
rolled sugar ice cream cones-- here are the classic pointed ice cream cones
recipe steps
Place 2 pints of dairy free vanilla ice cream on the countertop to soften.
Then peel and slice 6 ripe peaches. Transfer them to a blender or food processor and puree until small chunks remain. Or if you prefer, keep pulsing for a smooth puree.
Now combine the 2 pints of dairy free ice cream and peach puree in a large bowl until well blended.
Pour into a loaf pan and slice another peach into small bits. Use your hand to sprinkle bits over the top of the ice cream. Cover and transfer to the freezer.
Lastly, freeze the peach ice cream for 4 hours or overnight.
Allow to soften on the countertop for 10 minutes, scoop, and serve.
frequently asked questions
how do I ripen my peaches faster
Place your peaches in a brown bag on the kitchen counter. This will trap the ethylene gas peaches naturally emit as they ripen, causing them to ripen faster.
which safe ice cream brand can I use
We use the So Delicious Vanilla Bean for several recipes in our home. This is definitely our go-to brand. Another suggestion is Nada Moo Vanilla Bean. Look for these brands to go on sale and stock up.
will frozen peaches work too
Yes, allow the frozen peaches to thaw completely and remove any juice. However, we do prefer the taste of fresh peaches in this recipe.
can we eat this immediately
Unfortunately no. Allow this to freeze for 4 hours or overnight for the best results. Trust us-- it's so worth the wait.
how long does this last in the freezer
When covered, this ice cream recipe can stay fresh in the freezer for up to a month.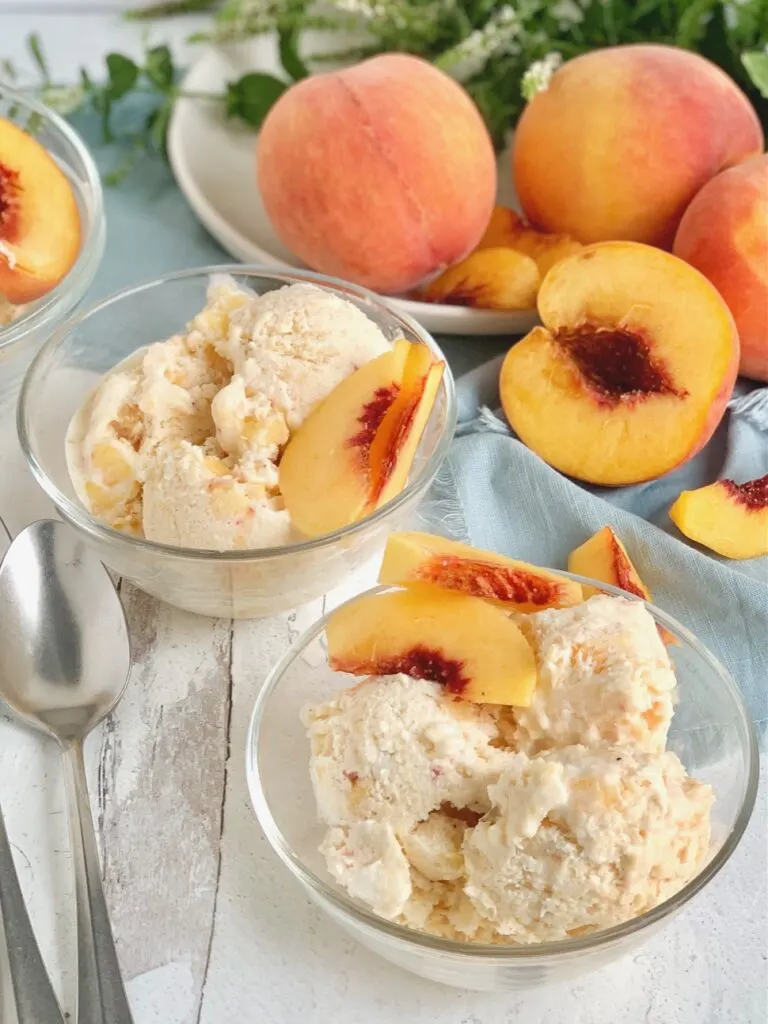 more recipes your family will love
And if ice cream is your thing, add this homemade Pumpkin Ice Cream recipe to your to-do list. Haven't tried pumpkin ice cream before? Do it. Trust me. It's so, so legit.
lastly
This gluten, dairy, soy and egg free Peach Ice Cream recipe will blow your mind.
And the recipe is so simple, meaning you can spend more time enjoying this decadent and refreshing treat on those hot summer days.
You'll find more delicious recipes on our website-- and they're all gluten and dairy free.
Have fun pinning new safe recipes for this upcoming week. And don't forget the desserts-- we have shared so many mouthwatering dessert recipes on our website just for you.
Also follow along on Facebook, Pinterest, and Instagram. Be sure to like and comment often so our posts stay in your social media scroll.
We don't want you ever to miss the best of eating gluten and dairy free.
Eat well and feel well,
Jill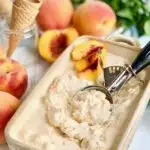 Print Recipe
Peach Ice Cream
Enjoy this mouthwatering two-ingredient no-churn ice cream recipe loaded with fresh peaches and little bits of peach throughout the ice cream. This is a refreshing summer treat to beat the heat.
Ingredients
7

ripe peaches, divided

pitted, sliced, and peeled

2

pints

dairy free vanilla ice cream

suggestion in post
Instructions
First, thaw 2 pints of dairy free ice cream on the countertop for 15 minutes.

While ice cream is thawing, slice and peel 6 ripe peaches.

Then place sliced peaches into the blender and pulse until small chunks remain. Or if you prefer, puree until smooth.

Now transfer the peach mixture into a large bowl and add in 2 pints of vanilla ice cream.

With a large spoon mix together until well combined.

Then place the peach ice cream in a 9x 5-inch loaf pan. Peel and cut the remaining peach into small bits and sprinkle by hand across the top of the ice cream.

Cover and freeze for at least 4 hours or overnight.

Optional-- serve peach ice cream with additional peach slices on the side,

For serving-- remove from the freezer and soften on the countertop for 10 minutes before scooping.
Keep scrolling to sign up for our exclusive emails below too!