Imagine sweetened juicy peaches on the bottom of a heated baking dish and topped with a buttery, biscuit-like topping sprinkled with granulated sugar and cold scoops of rich, dairy free vanilla ice cream. This Peach Cobbler will melt in your mouth and be a year-round favorite.
What used to be known as a favored dessert in the south has now become popular across the country.
And there's no doubt why-- this Peach Cobbler is loaded with sweet peaches and topped with a biscuit-like crust that comes together quickly.
The biscuit-style topping is soft on the inside and golden brown with a slightly crunchy outside leaving you wanting a second helping.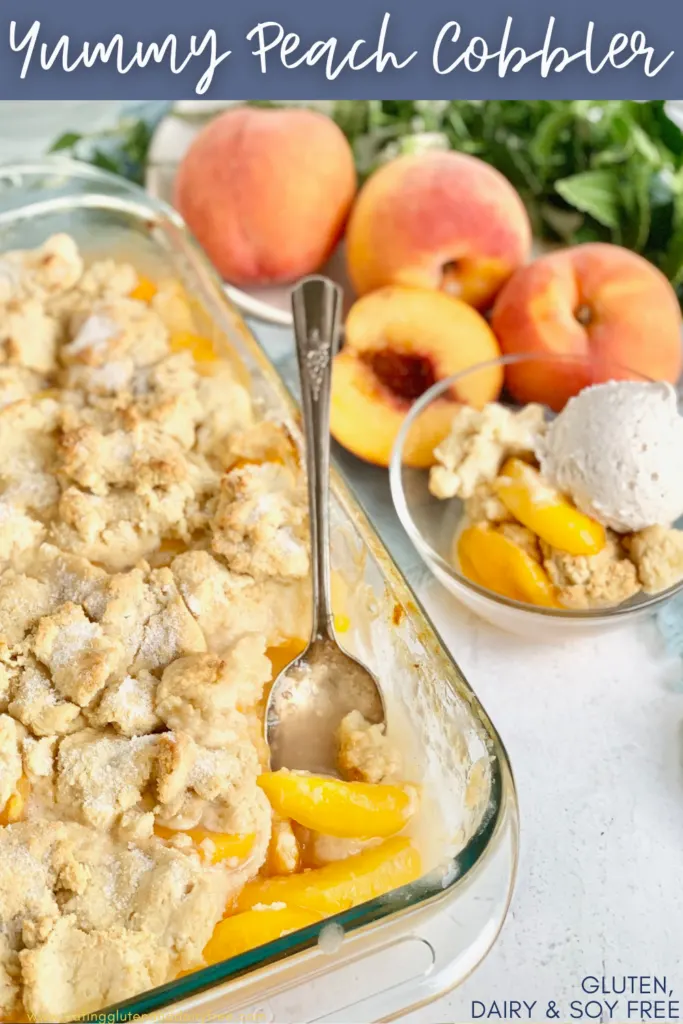 Let me tell you, the peach-to-topping ratio is spot on. As in perfect.
And we are always down for warm desserts topped with cold ice cream too.
By using frozen peaches you can enjoy this recipe year-round. And you'll notice this recipe uses simple ingredients you probably already have on hand in your pantry.
homemade peach cobbler ingredients
frozen peaches-- this is the fastest method, though fresh peaches can also be used-- but prepare yourself for a much more time-consuming dessert. We do not recommend canned peaches for this recipe.
fresh lemon juice-- fresh is always best
gluten free all-purpose flour-- we use Bob's Red Mill Gluten Free 1 to 1 Baking Mix; buy it in bulk here and save yourself some money
xanthan gum-- omit if your all-purpose flour contains this or guar gum
cornstarch or arrowroot powder-- this helps thicken the peach cobbler
baking powder-- this loses its potency after being opened for 6 months. We recommend always labeling with the date new containers when first opened.
dairy free butter-- refrigerated; our go-to is Earth Balance Buttery Sticks
shortening-- you want this cold so refrigerate it before using, vegetable or palm oil shortening
eggs-- room temperature
dairy free milk-- we use refrigerated Silk Unsweetened Almond Milk. Any dairy free milk will work.
optional-- dairy free ice cream or whipped topping
useful kitchen essentials for this recipe
9x13-inch baking pan-- (3 quart) we use our glass Pyrex baking dish for desserts and dinner recipes all week long. Keep in mind different kinds of baking dishes (aluminum, metal, glass) will change the bake time.
pastry cutter-- this is a kitchen must
turkey baster-- use this to remove excess liquid after the cobbler is baked, if desired
dessert bowls-- we love to serve this dish in fancy dessert bowls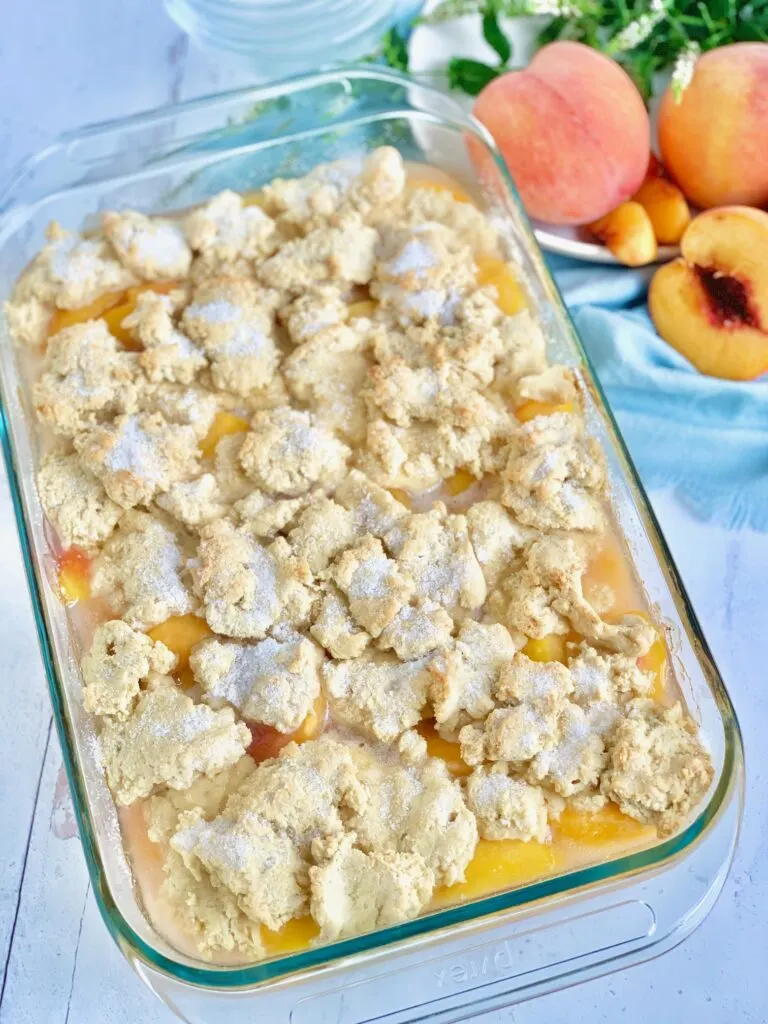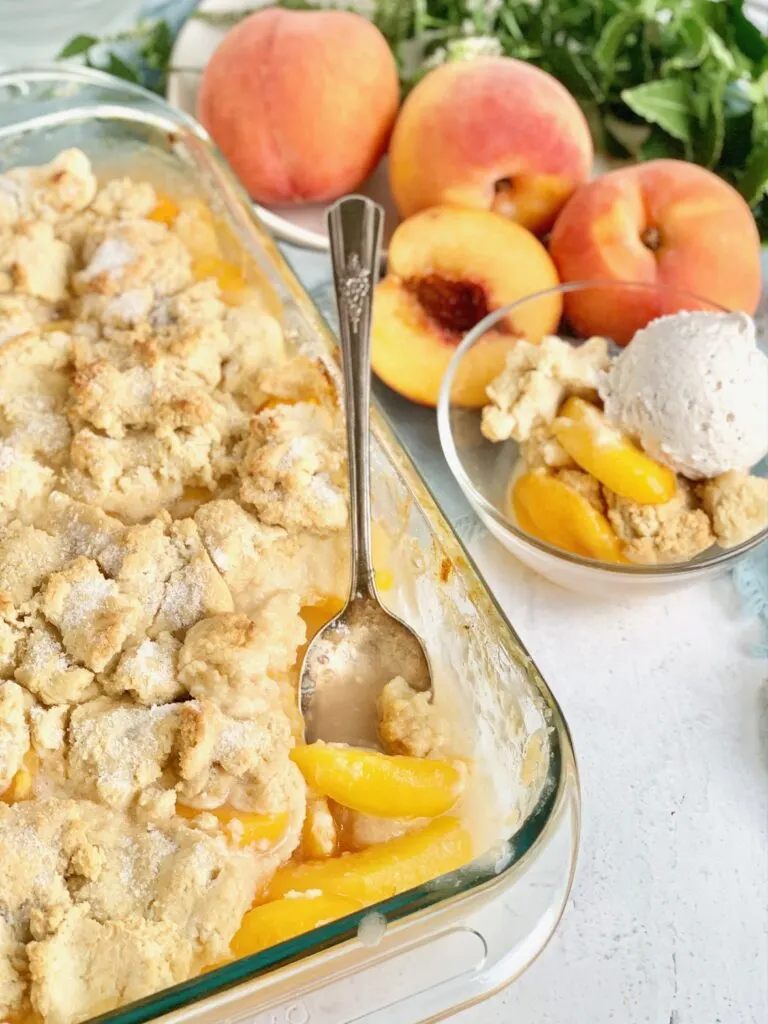 frequently asked questions
what are the best kind of peaches to use
We prefer using frozen peaches for this class recipe. You can use fresh peaches; however, keep in mind this recipe calls for 3 pounds of sliced peaches.
do we eat this immediately out of the oven
We prefer to allow this dessert to sit for 15 minutes after it's removed from the oven. This allows the juices to thicken upon standing.
what's the difference between a cobbler and a crisp
This confused me so much growing up. You too? A cobbler is a deep-dish baked fruit dessert with a thick dropped-biscuit, while a crisp is a baked fruit dessert topped with a crisp and crunchy layer of gluten free oats, brown sugar, and butter.
how do I store a peach cobbler
Cover and refrigerate any leftover Peach Cobbler leftovers. It will help keep the cobbler topping from getting too mushy. It will keep in the refrigerator for 2 days.
can I make this dessert ahead of time

Ideally, you should bake your peach cobbler shortly before you wish to serve it.
And you'll find a similar Peach Cobbler recipe by Pioneer Woman. I absolutely love her recipes and fun cooking show. We did slightly alter the ingredients to work better with our gluten and dairy free substitutes.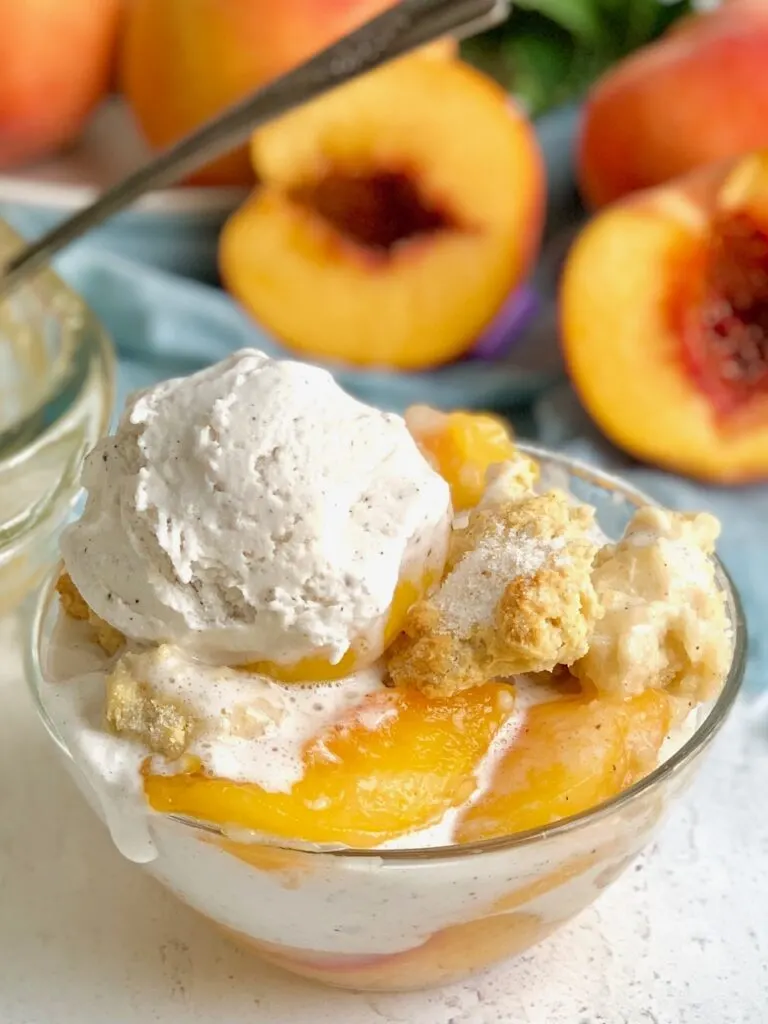 more dessert recipes everyone loves
lastly
This classic Peach Cobbler is a much-loved dessert. You will enjoy warm sweet peaches with a buttery, cobbler-style crust, perfect for your evening dessert.
Serve this with a scoop of ice cream or whipped topping and it's pure heaven.
And you'll find so many more delicious desserts on our website-- not to mention breakfast, lunch, dinner, and safe snack ideas too.
We love sharing our favorite homemade gluten and dairy free recipes with you.
To save you some time here is our Thanksgiving Day Roundup, Christmas Desserts (cookies, bars, cakes, everything you can think of to rock the Christmas dessert table!) and even our round up of favorite Super Bowl recipes.
Follow along on Facebook, Pinterest, and Instagram, too. Be sure to like and comment often so our posts keep showing up in your feed. We don't want you to miss the best of eating gluten and dairy free.
Eat well and feel well,
Jill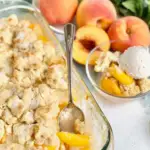 Print Recipe
Peach Cobbler
Ingredients
Peach Mixture
3

lbs

frozen peaches

2

c

granulated sugar

3

tablespoon

fresh lemon juice

½

c

gluten free all-purpose flour

suggestion in post

1

tablespoon

cornstarch or arrowroot powder

pinch of salt
Biscuit- Style Topping
2⅓

c

gluten free all-purpose flour

suggestion in post

1

teaspoon

xanthan gum

omit if your all purpose flour contains this or guar gum

1½

teaspoon

baking powder

6

tablespoon

granulated sugar

divided

pinch of salt

5

tablespoon

dairy free butter

cold and cut into small cubes, suggestion in post

3

tablespoon

shortening

cold, suggestion in post

2

eggs

room temperature

¾

c

dairy free milk

suggestion in post

optional-- top with a scoop of dairy free ice cream or whipped topping
Instructions
Preparing the Peach Mixture
Preheat the oven to 400°F.

In a large bowl, combine all of the peach mixture ingredients and evenly transfer to a 9x13-inch baking dish; set aside.
Preparing the Biscuit-Style Topping
In another large bowl, stir together the flour, xanthan gum, baking powder, and heaping tablespoons of sugar and salt.

Then add in the butter and shortening with a pastry cutter. Blend until the mixture is well combined.

Now add in the eggs and milk with a fork. The mixture will be thick and sticky.

Remove small golf ball-sized dough balls from the bowl. Slightly flatten dough with your hand and place on top of the peach mixture.

Keep in mind the peaches won't be completely covered-- it should have a "cobbled together" look.

Sprinkle additional granulated sugar across the top of the cobbler.

Transfer to the oven for 40-42 minutes. The peach mixture should be bubbling up along the sides of the pan like crazy and the biscuit-style topping should be soft on the inside and golden brown on the outside.

Remove from the oven and allow to sit for 15 minutes before serving with a scoop of vanilla ice cream or whipped topping.

If the mixture is too juicy, remove excess juice with a turkey baster.

Cover and refrigerate any leftovers for 2 days.
Keep scrolling to sign up for our exclusive information packed emails!