This Instant Pot Bread Pudding Recipe is going to become a new family favorite. Using leftover stale gluten-free bread and overripe bananas, your Instant Pot creates the most incredible dessert. Gooey with chocolate and vanilla goodness it is a simple dish to create at home.
Let's be honest, stale bread is one of those things that can be wasted so easily. But what if I said you could turn it into a banana chocolate bread pudding?
Not only will you not waste that bread but you can use overripe bananas that you might also have thrown away and a whole host of pantry staples you already likely have at home.
A delicious gluten free chocolate bread pudding is the ultimate comfort dessert that the whole family will love. This recipe is perfect for anyone who has food intolerances and allergies.
The great news is that the Instant Pot will give you the best result. A moist and gooey Instant Pot chocolate bread pudding that is ready in under an hour. Ideal when it is sweater weather season.
Hardly any prep is needed and it is certainly one the kids will love. What's not to like?
We love sharing amazing recipes with you. If you love a good pudding then you have to try this Banana Pudding. Rich creamy layers of homemade pudding with crispy layers and whipped topping.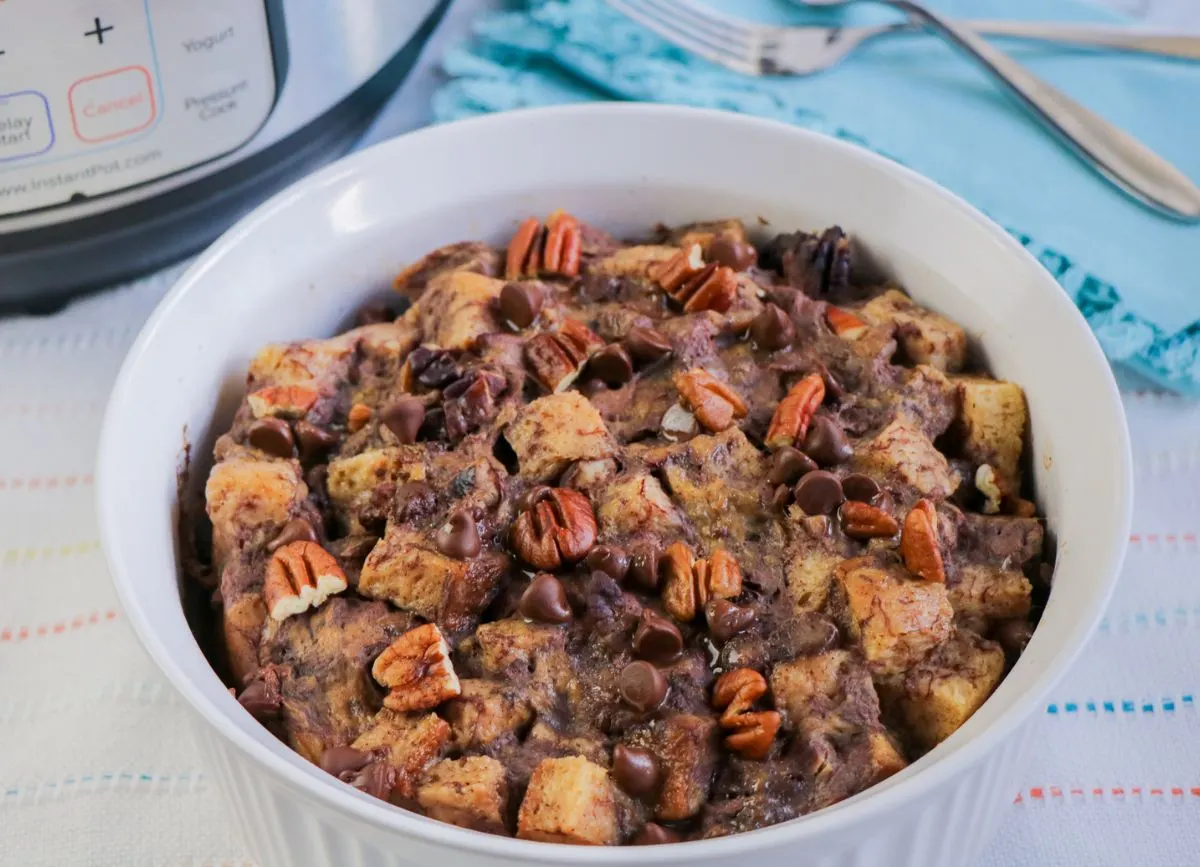 Why You'll Love This Instant Pot Bread Pudding Recipe
Kid-friendly - There is no denying the kids will love this Instant pot bread pudding.
Simple ingredients - You will likely have everything you need to make this, if not, get creative with what you have.
Safe to enjoy - Perfect for those with food intolerance and allergies.
Super easy to make - The Instant Pot does all of the hard work for you. This is such an easy recipe to follow, you can thank us later.
Reduces food waste - Uses up leftover gluten free bread and overripe bananas that may have been disposed of.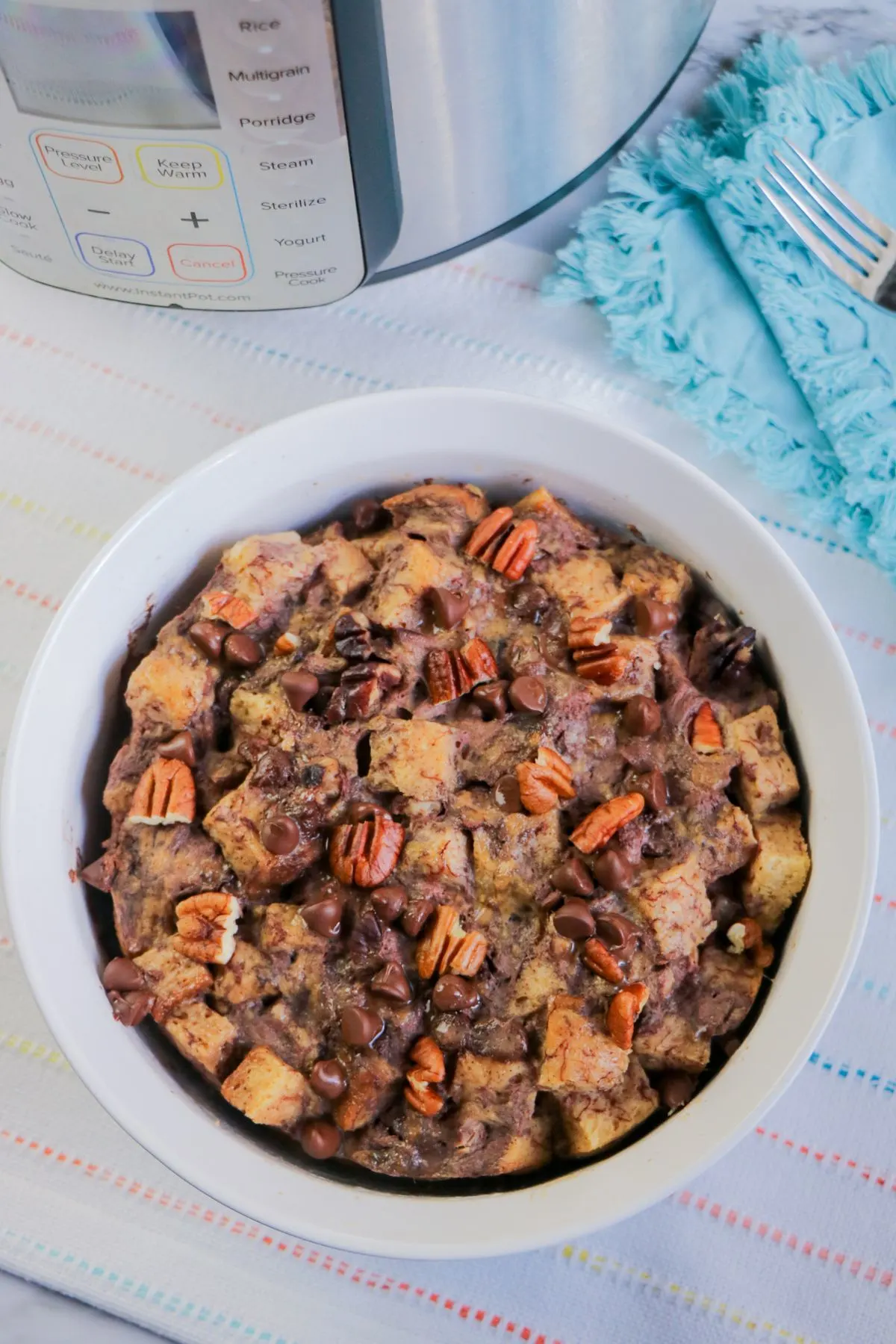 Ingredients Needed
Stale bread cubes - Just use your favorite type of bread that is gluten free.
Eggs
Sugar
Vanilla extract- we trust this brand to be gluten and dairy free, but you can use whatever you have on hand that is safe and delicious
Ground cinnamon- we use McCormick's because we know they're a safe brand to trust
Salt- we use kosher salt or iodized table salt, use whatever salt you prefer
Milk - Your choice of Dairy-free milk. We like to use Almond Milk, Cashew Milk, or Coconut milk.
Dairy free Butter- we like using Earth's Balance Buttery Sticks in all our recipes.
Bananas
Semi-sweet chocolate morsels - There are several wonderful brands of safe chocolate chips perfect for this recipe. Our top favorites are Nestle Toll House Semi-Sweet Allergen Free Chocolate Chips we purchase at Walmart, as well as the Enjoy Life Semi-Sweet Mega Chunks and Mini Chips
Chopped pecans, optional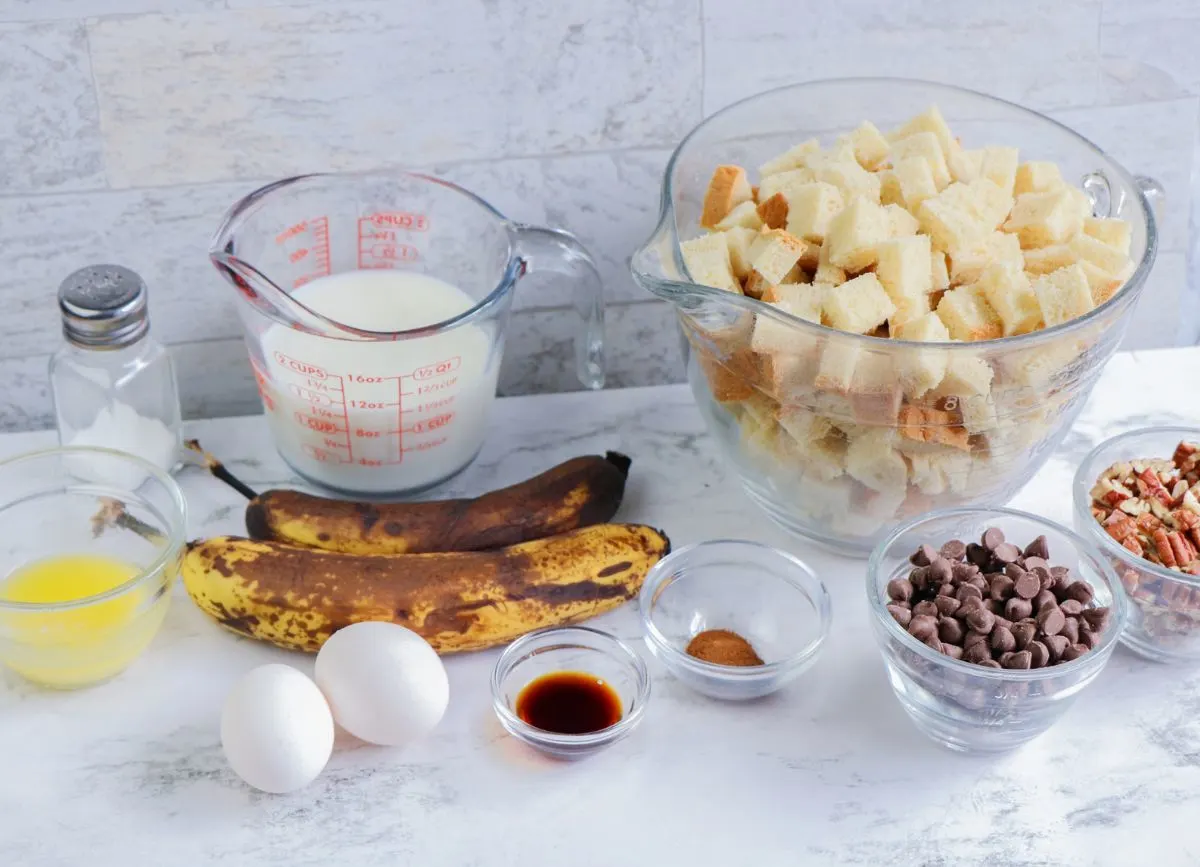 Helpful Tools
Mixing bowl
Instant pot
Casserole or baking dish
Aluminum foil
Nonstick cooking spray
Measuring cups and spoons
How To Make The Instant Pot Bread Pudding
Get your 2 ½ quart casserole dish (for an 8- qt Instant Pot- adjust for other sizes) and spray it with nonstick cooking spray.
Place the cubed gluten free bread into the sprayed casserole dish. Sprinkle with the dairy-free chocolate chips and pecans (if using) letting them fall into the cracks between the cubes of gluten free bread.
In a large mixing bowl, whisk together the remaining ingredients and pour over the gluten free bread, soaking all of the bread cube mixture. Press the bread down into the mixture if needed. You will want the bread to soak up all of those lovely flavors of the mixture.
Spritz a piece of aluminum foil with nonstick baking spray and cover the casserole dish with it.
Place a trivet into the Instant Pot and add the manufacturer's recommended amount of water. Fold a sheet of aluminum foil into thirds to create a sling and use it to lower the casserole dish into the Instant Pot.
Place the lid on the Instant Pot and set the valve to seal. Press "manual" or "pressure cook" for 30 minutes.
It takes the Instant Pot a few minutes to gets up to temperature. Once it has completed the cooking time, allow the pressure to manually release for 15 minutes before performing a quick release of the remaining pressure. Carefully remove the casserole dish from the Instant Pot using the aluminum foil created sling. It will be HOT- be careful!
Serve with dairy free whipped topping, maple syrup, dairy-free chocolate or dairy free caramel sauce, and/or dairy-free vanilla ice cream. Enjoy!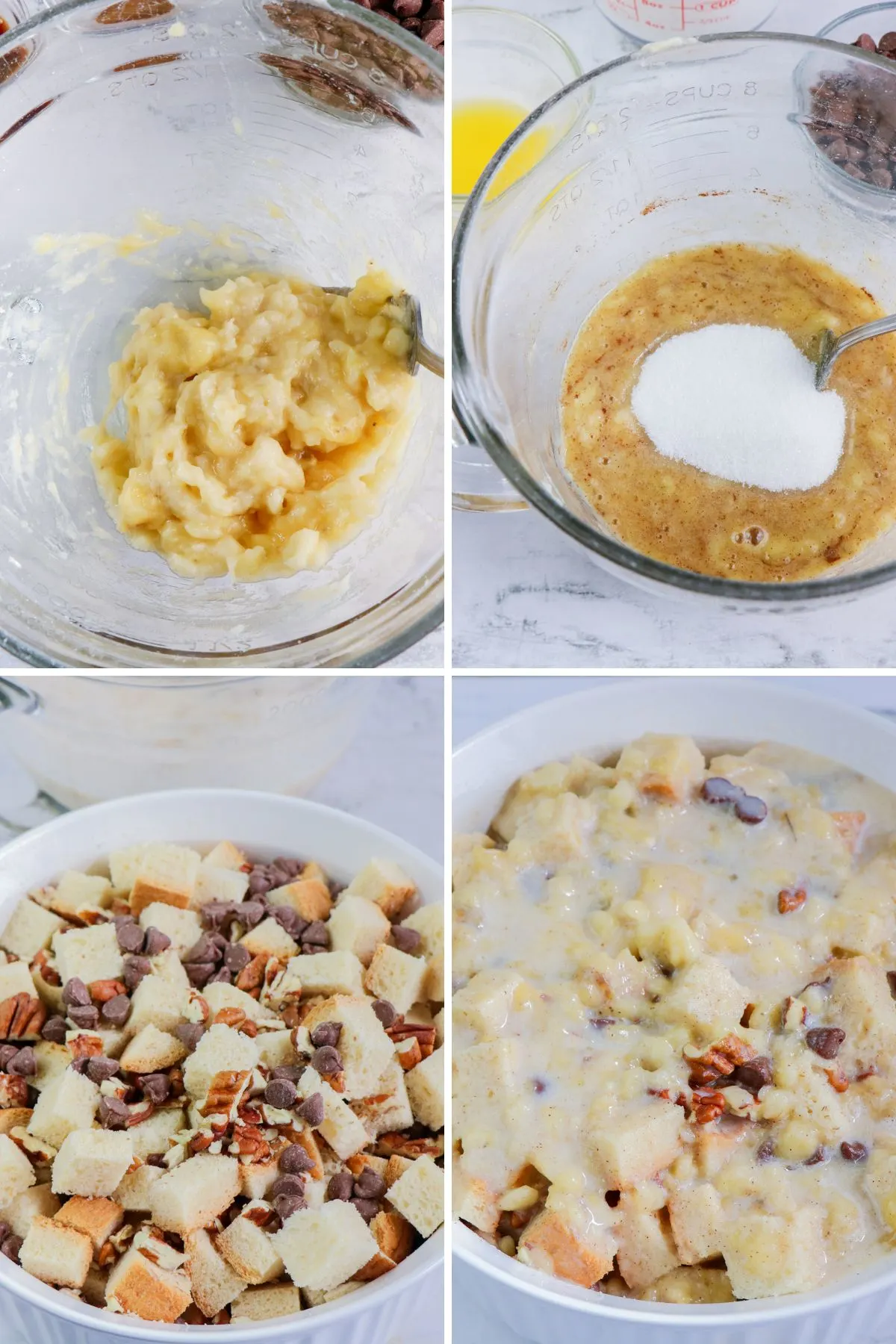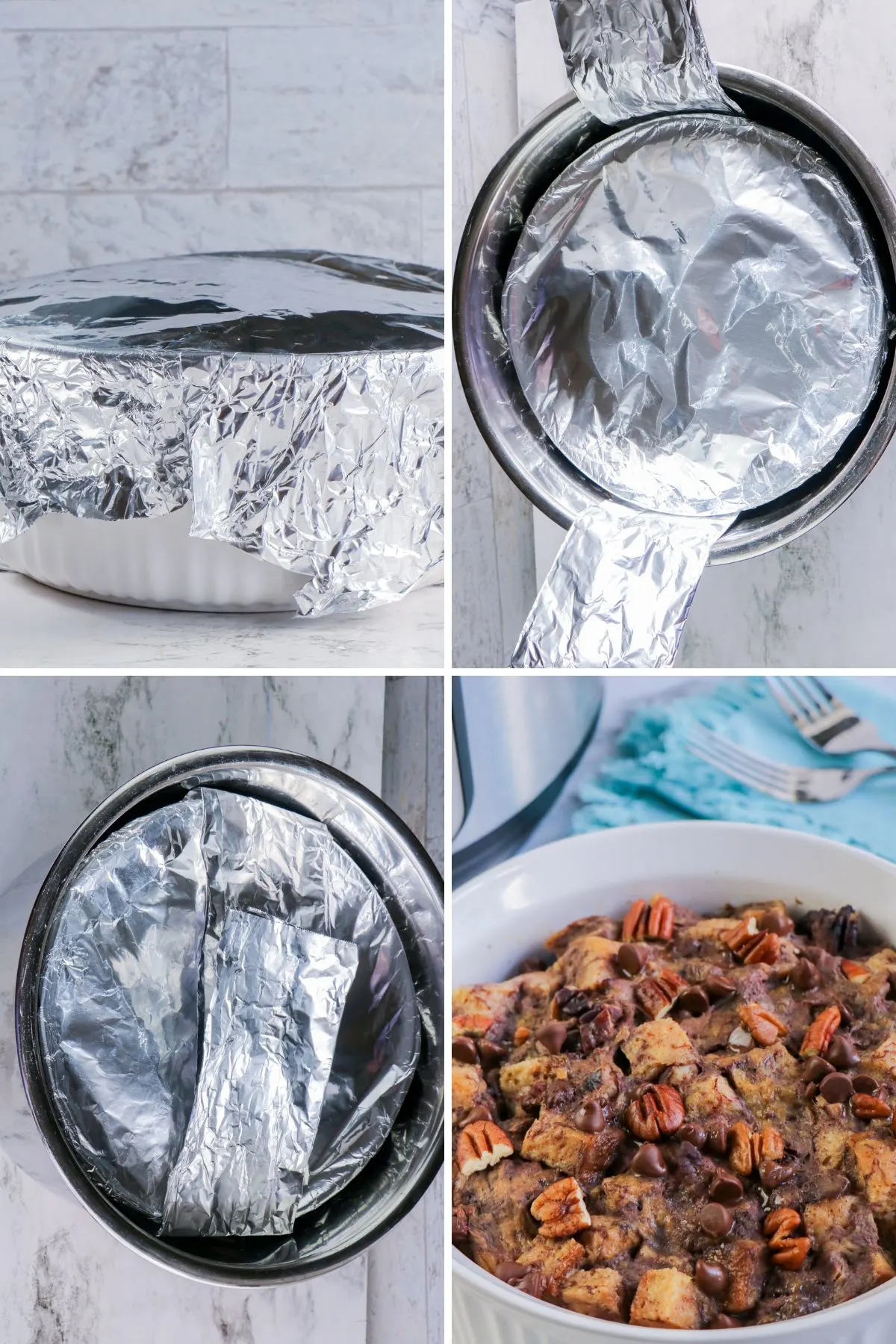 Recipe Variations
Make it coconut-ty. Instead of using standard sugar why not add a little flavor and use coconut sugar instead? You could also use coconut cream or coconut milk as perfect variations.
An adults-only version. This homemade bread pudding lends itself well to having a little bit of alcohol added to it. Add your favorite liqueur or alcoholic spirit. Rum would work well.
Skip the chocolate. Instead of dairy-free chocolate, why not add raisins or other dried fruits instead?
Change up the bread. You could use any stale bread you have. Perhaps your own bread you have made, some cinnamon raisin bread for a twist, gluten-free brioche, or gluten-free bagels will all help to make a delicious bread pudding.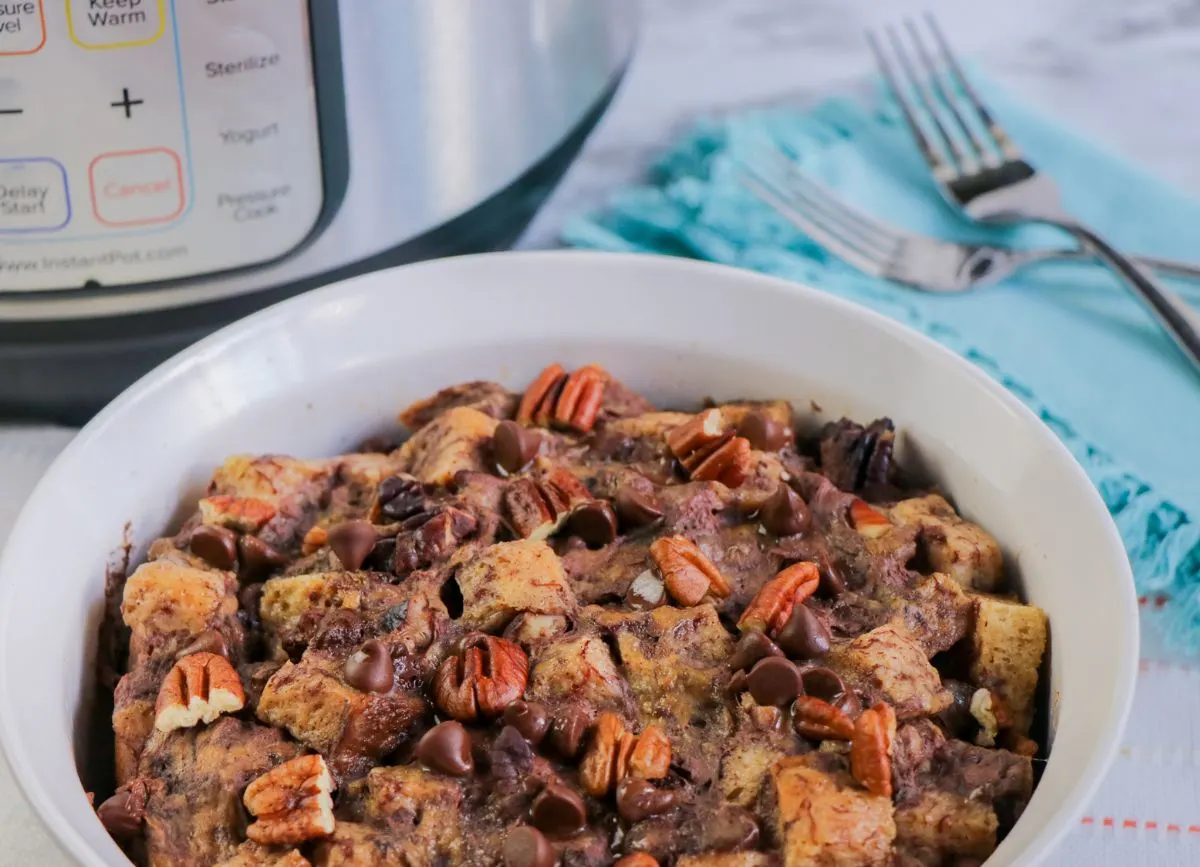 Tips & Tricks
The aluminum sling is the best way to remove the dish from the pressure cooker. It helps you avoid burning your hands as the cooker itself will be very hot.
Letting the pressure release naturally allows the homemade gluten free pudding to continue cooking.
You can enhance this easy dessert by sprinkling some light brown sugar on the top and putting the casserole dish in the oven to broil for a few minutes to crisp up and turn golden brown.
Storage
If you have any leftovers from this gluten-free bread pudding recipe then you will want to let it cool completely before adding it to an airtight container, or covering the dish it was cooked in with plastic wrap. Store in the refrigerator for up to three days. You can warm it up in the microwave.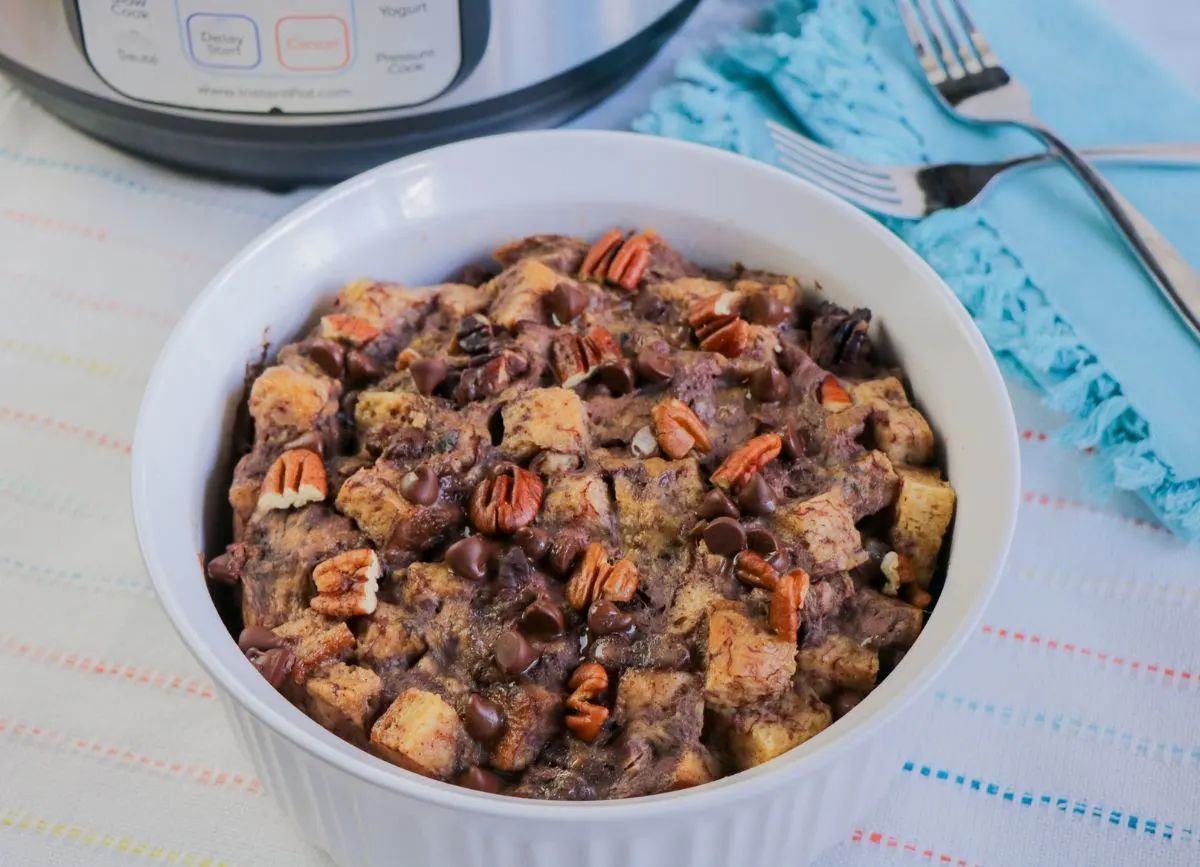 FAQ
Why is my bread and butter pudding soggy?
This is entirely down to the amount of liquid you use. It is one of those delicious recipes that is soft in texture, but if it is too runny or soggy then it is because you have added too much liquid. It will still be enjoyable.
What bread is best to use?
You will want to use leftover stale gluten free bread for this recipe. But if you want to try it and have no stale bread to hand, leave some slices of bread on the countertop overnight or toast some bread pieces and then follow the recipe above.
Other banana recipes
Banana Oat Muffins - These delicious Banana Oat Muffins are soon going to be part of your baking routine. A great way to enjoy oats and use up overripe bananas.
Banana Bread with Cream Cheese Frosting - Banana Bread with overripe bananas is one of the most famous quick bread recipes there is. This gluten-free and dairy-free Banana Bread with Cream Cheese Frosting will become your new family favorite for breakfast.
Chocolate Banana Bread - You will want to bake this moist, tender Chocolate Banana Bread now bursting with semi-sweet chocolate chips, Dutch-processed cocoa, and mashed bananas. This sweet quick bread is so good!
Make sure to follow us on Instagram and Pinterest to keep up with all our new recipes. Tag us if you make the recipe on IG or share your thoughts by commenting on the pin on Pinterest. If you try this recipe, feel free to give it 5 🌟 below
Eat Well and Feel Well
Pin It For Later