Making a dessert that's both gluten and dairy free can be tricky. But with the right recipes, you can make tasty treats like Macaroon Brownie Bars that are sure to satisfy any sweet tooth!
These delicious bars have a crisp, chewy texture with a rich chocolate flavor and an even sweeter coconut topping.
Enjoy them as an after-dinner treat or pack them up for your next picnic or potluck. Whatever the occasion, these macaroon brownie bars will hit the spot!
When you're downie, eat a brownie.
Or in this case eat a gluten and dairy free macaroon brownie bar. ♥

This macaroon brownie bar is not only chewy, but also fudgey. It's everything you'd dream of from the perfect brownie. If you're feeling downie or need a quick, mouthwatering dessert, pin this now.
The ingredients for this dreamy gluten and dairy free macaroon brownie bar include:
chocolate fudge cake mix (I use King Arthur Chocolate Cake Mix) They're dairy free, gluten free, and more and share about their process to prevent cross contamination by using proper equipment clean outs, testing, and more- here. In that link, you'll also so their allergen statement.
gooey sweetened condensed coconut milk, Nature's Charm (found here). This is the star ingredient!
crunchy chopped walnuts
melted chocolate chips -- Enjoy Life melts smoothly for this recipe. (Order your 5 lb bag in the link and save money!) They're top 9 free and work nicely. We also like the Brand New Dairy Free line from Guittard. They're made on a dedicated dairy free line.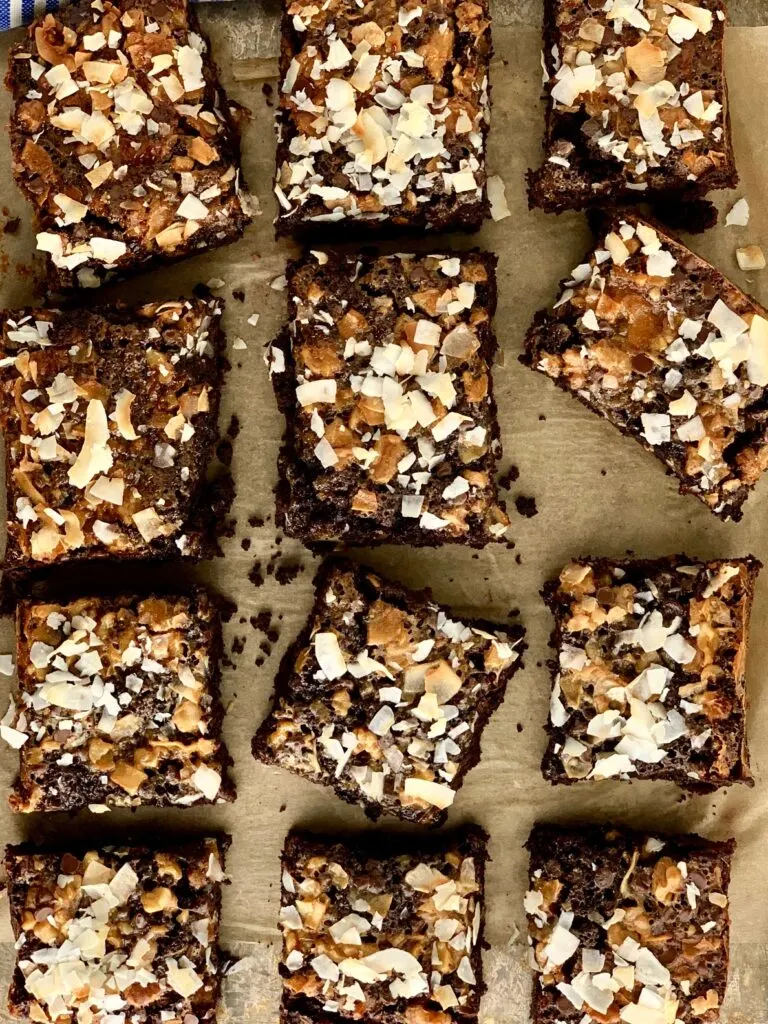 And this macaroon brownie bar is gluten and dairy free!
This recipe is brilliant.
I think this bar is reminiscent of a 7 layer bar.
At least you'll find this brownie bar much faster to make than the classic 7 layer bar recipe. Not only is it faster to make, but it also still has the iconic 7 layer taste.
Print Recipe
Macaroon Brownie Bars
Ingredients
1

box

gluten and dairy free chocolate cake mix

⅓

c

dairy free butter alternative, softened

3

eggs, lightly beaten at room temperature, divided

11.25

oz can

sweetened condensed coconut milk

1

teaspoon

vanilla extract

1 ½

c

flaked sweetened coconut, divided

1

c

chopped walnuts

2

c

semi-sweet chocolate chips, any size
Instructions
Preheat oven to 350 F. Line 9 x 13 baking dish with parchment paper.


Place cake mix, butter, and 2 eggs in large bowl and mix well. When the mixture is crumbly press into bottom of baking dish.


Combine sweetened condensed coconut milk, egg, and vanilla in medium bowl. Mix until well blended. Stir in ½ cup shredded coconut, walnuts, and chocolate chips.


Spread sweetened condensed coconut milk mixture evenly over cake layer in baking dish.


Bake for 25 minutes. Remove from oven and place 1 cup of shredded coconut flakes on top of macaroon brownie bar.


Return to oven for 3-5 minutes until bar is set in the middle.


Remove from heat and allow to cool.


The gluten and dairy free bars are best when served within a day or two. Keep in an air tight container.

These gluten and dairy free macaroon brownie bars are everything you need to curb a sweet tooth.
Another reason to bake these bars is the simplicity of this recipe.
I saw a similar recipe on Instagram by Diane Morrisey. I was intrigued by her mouthwatering and drool-worthy Insta picture.. AND how easy the recipe looked. I just knew I needed to replicate a gluten and dairy free version.
Y'all, with three young kids and school still in session, I crave easy. This recipe didn't disappoint in any way.
If you're looking for gluten and dairy free dinner ideas, consider this dreamy and creamy ricotta stuffed shells recipe. Click here for your recipe download. The tender shells are stuffed with ricotta, spinach, and shredded mozzarella. Next they're nestled in a pan of flavorful ground beef and Italian sausage marinara sauce.
In fact, the flavors of this homemade Italian dish are spot on.
Finally, serve this ricotta stuffed shells dinner with warm garlic bread. You won't believe gluten and dairy free can be so good.
And I haven't seen this gluten and dairy free meal option on a restaurant menu anywhere!
It is creamy and delicious. There are many more gluten and dairy free recipes on my blog here.
Now you have two mouthwatering gluten and dairy free recipes to pin and try.
Please leave a comment below about how you fancied these macaroon brownie bars.♥
Eat well and feel well,
Jill