Just like you I'm always on the search for quick, easy dinner meals. And as a matter of fact this cornbread sloppy joe skillet is easy to prepare and on the dinner table in under 40 minutes. #boom You will want to serve this meal tonight.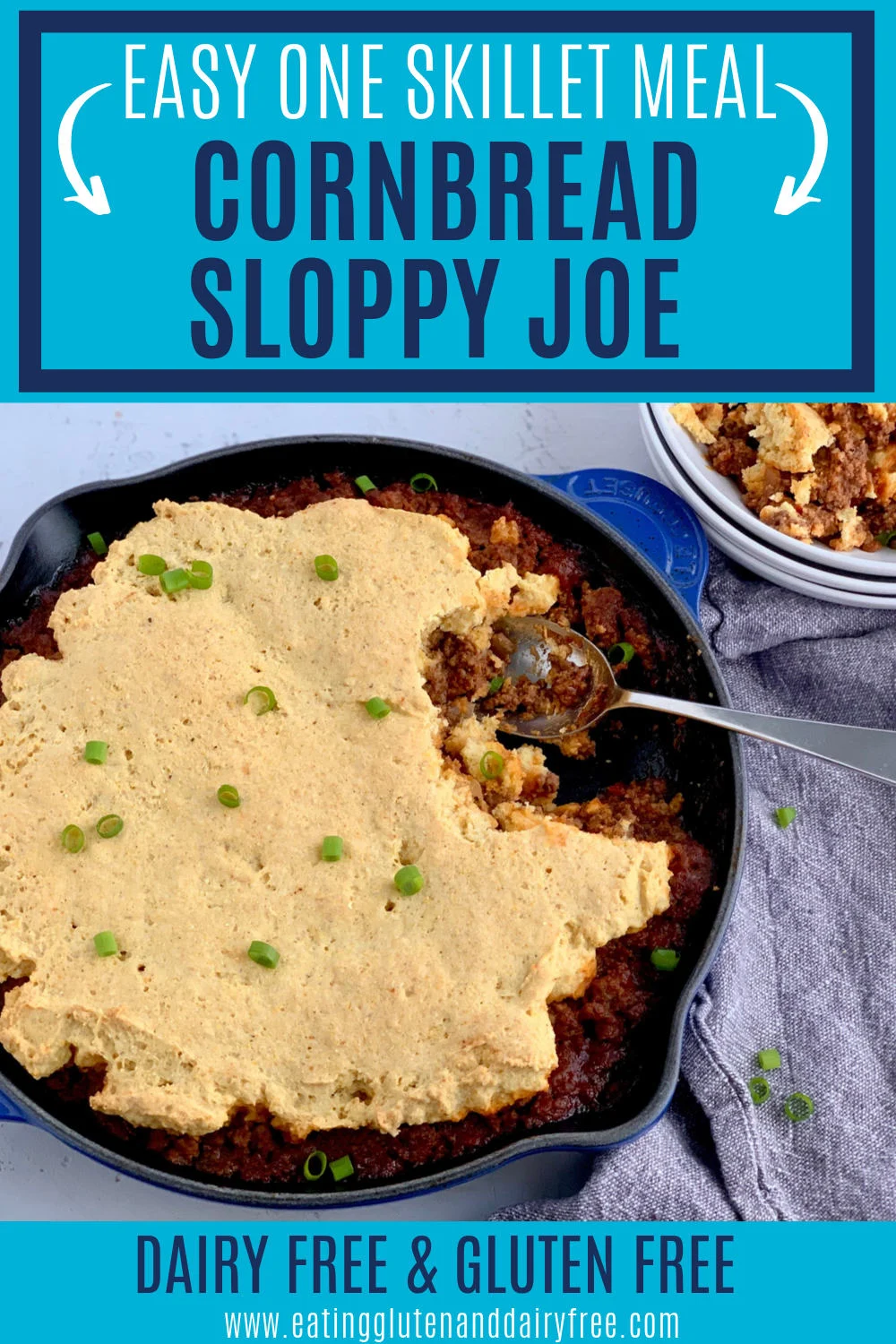 First it was my family's love for sloppy joes and cornbread that inspired this mouthwatering recipe. What's not to love about perfectly flavored ground beef and golden, moist cornbread? They are an ideal food combination on chilly nights. Everyone around the dinner table looks forward to this meal. It's no surprise every bite is as delicious as it sounds.
Not only do we love sloppy joes and cornbread, but I also like how quick and easy this meal is to prepare. In reality if I've faced a busy day, the last thing I want to do is spend an hour preparing a meal for the oven. Instead I look forward to coming home to this quick dish all day.
With that in mind here is your ingredient list:
cornbread sloppy joe skillet ingredients
ground beef
onion
green bell pepper
ketchup
gluten free Worcestershire sauce. Lea & Perrins is a gluten and dairy free US brand; in Canada try French's.
brown sugar
mustard
water
salt and pepper
gluten free cornbread mix. We use Bob's Red Mill Gluten Free 20 oz Cornbread Mix. If using this brand, prepare the entire 20 oz bag. Plan to use 1 cup of the mix for cornbread muffins. I find using the entire 20 oz bag is too much cornbread for this recipe, but 10 ounces isn't enough. Other cornbread brands work too; adjust the mix size as needed.
also additional ingredients include eggs, unsweetened almond milk, and dairy free butter for the cornbread
optional shredded dairy free cheese. If you've found a brand you favor, add it in to the meat mix.
garnish with green onions
recipe tip:
It's important to note this recipe makes a large meal. Personally this meal size works well for my family of 5, and I can always count on having leftovers. However, this recipe can easily be made into a smaller meal size. Simply prepare half the sloppy joe sauce and cornbread mix. And place ingredients in a 9 x 9 inch skillet or baking dish.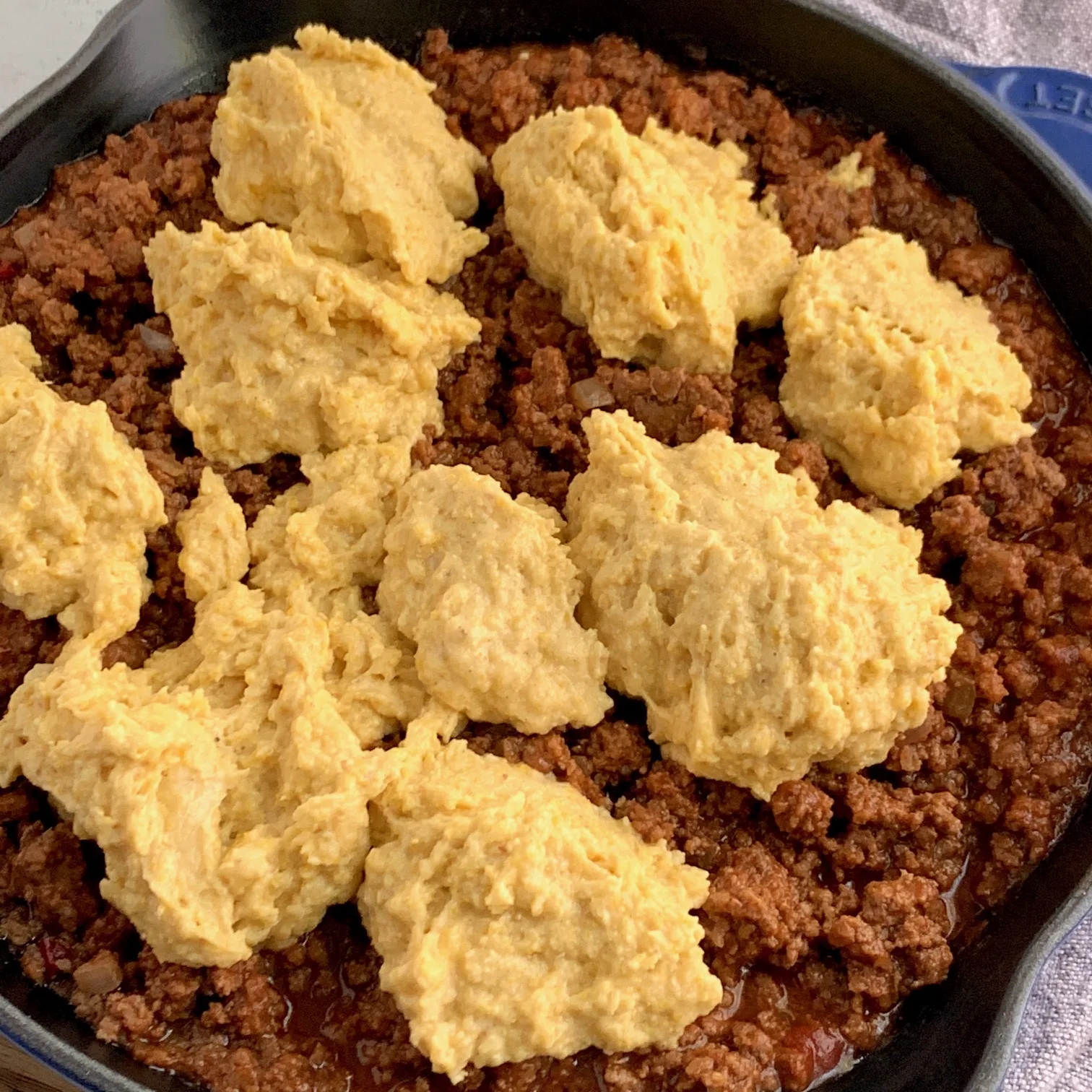 want to try more quick and filling skillet recipes?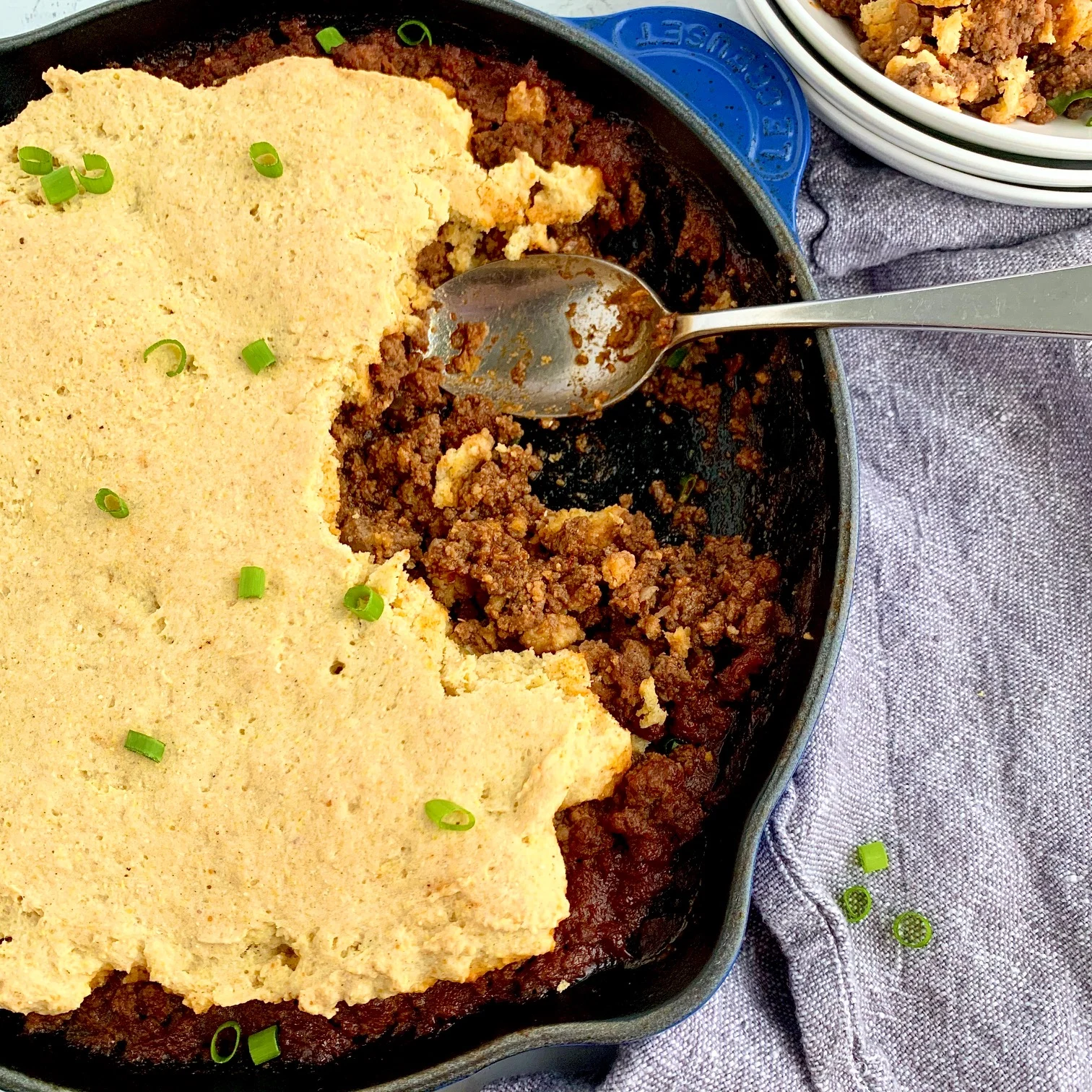 Well, it's farewell for now. Stay tuned for another delicious gluten and dairy free recipe soon. Be sure to follow me on social media and Pinterest. I don't want you to miss out on one recipe, meal idea, or new product alert.
After you've enjoyed this allergen friendly meal, please come back and give this recipe a 5-star rating.
Eat well and feel well,
Jill
Print Recipe
Cornbread Sloppy Joe Skillet
Ingredients
Homemade Sloppy Joe Sauce
2

lb

ground beef

½

onion, diced

½

c

water

1

green pepper, diced

½

c

ketchup

4

tablespoon

gluten free Worcestershire sauce

¼

c

brown sugar

3

tablespoon

mustard

1

teaspoon

salt

½

teaspoon

pepper
Cornbread Mix
1

20 oz bag

gluten free cornbread mix prepared according to the package directions, Bob's Red Mill gluten free mix works great

optional: favorite shredded dairy free cheese added into the sloppy joe mix

optional: garnish with green onions
Instructions
Over medium heat cook ground beef, diced onion, and bell pepper in a 12 inch skillet. Drain excess grease when cooked through.

Stir in remaining sloppy joe sauce ingredients. Cook on low 5 minutes. Remove from heat.

In medium bowl prepare cornbread mix as per the package. If your cornbread seems dry add another tablespoon or two of unsweetened almond milk. Mix well..

Measure out 1 cup of cornbread mixture and set aside. Use this to bake cornbread muffins for later.

Spread remaining cornbread mix over sloppy joe. Keep in mind too much cornbread mixture on the skillet gives it a different bake time and ratio of sloppy joe mix to cornbread.

Place in the oven for 25 minutes.

Remove from oven, garnish with green onions and serve.

Place leftovers in an airtight container for up to a few days in the refrigerator.
Notes
If you'd prefer to prepare a smaller meal size prepare a 9 inch skillet or 9 x 9 baking pan. Cut sloppy joe sauce ingredients in half. Use only 10 oz of cornbread mix and cut cornbread add in's in half. Again I would not add all of the cornbread mix to the sloppy joes. Baking temperature will remain the same. I bake this meal for 20 minutes or else the cornbread dries out.