This post may contain affiliate links. Read the full disclosure here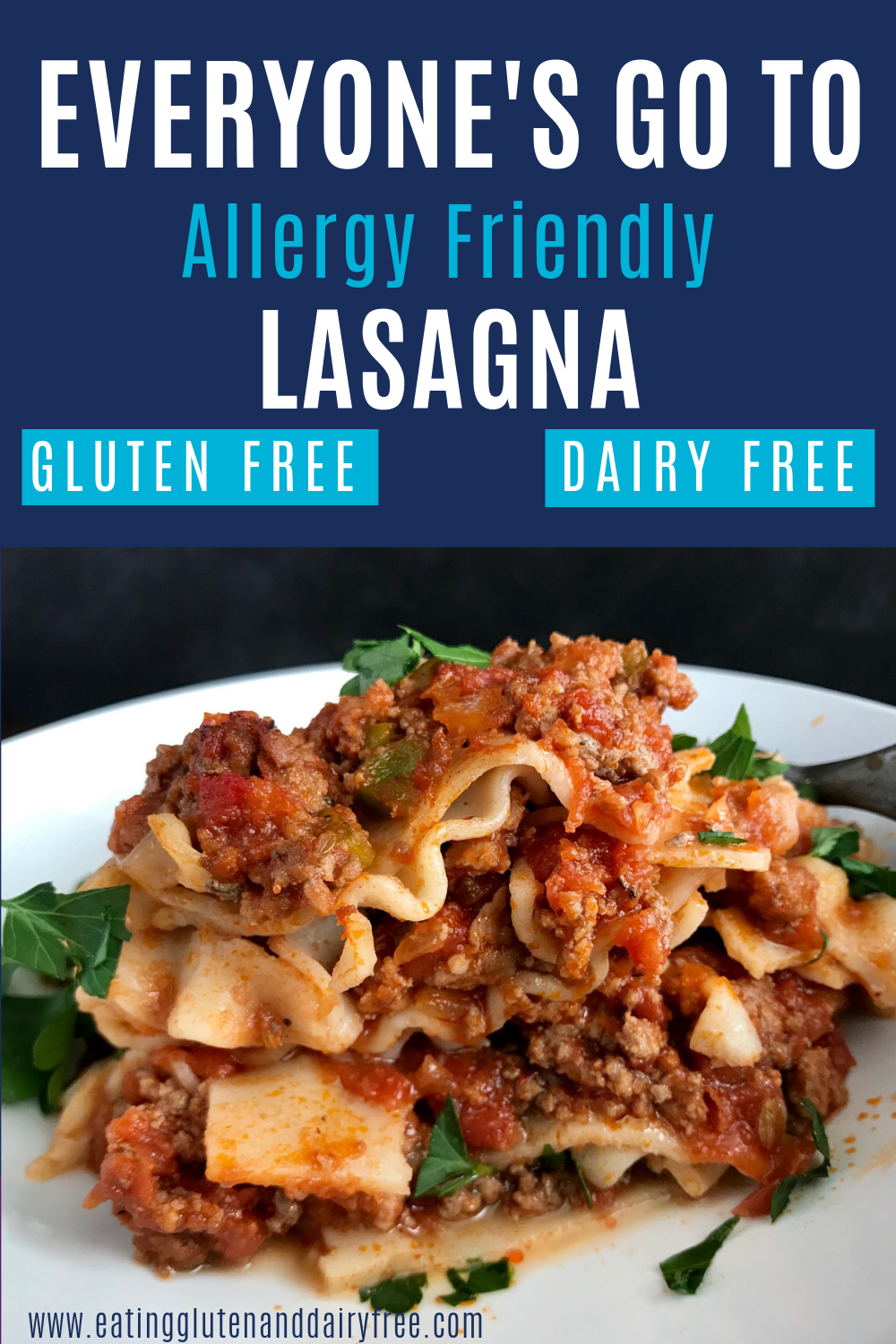 This gluten and dairy free Lasagna recipe is crazy good layers of tender lasagna noodles, a hearty meat sauce, and an optional ricotta mixture then topped with fresh basil. Yum!
I recently posted on Facebook an image of our dinner for the night. An easy gluten and dairy free lasagna.
And then, a Facebook follower asked for the recipe.
I laughed and had an "uh…" moment because I don't follow a lasagna recipe… it's that easy.
And from the way it tastes your family will think you spent hours in the kitchen.
The Italian sausage and ground beef combo is like a knockout punch. We've experimented with the amount of Italian sausage used. We find more than 1/4  pound is too spicy for our kids.
But if spice is your thing… try adding more Italian sausage and less beef.
easy gluten + dairy free lasagna recipe tips
Allow let the meat to brown slowly
The longer the meat and pasta sauce sits the more flavorful it is. So when we can, we like to prepare the sauce a day or two ahead of time and refrigerate until it's time to assemble with the lasagna noodles.
The lasagna can also be prepared in the morning, refrigerated, and then baked right before dinner.
We use Tinkyada Brown Rice Pasta "Lasagne" noodles
Optional add-ins– VioLife Cheese Shred's,  Kite Hill Ricotta , or fresh spinach
Serve with a side salad and warm gluten and dairy free French baguettes from Udi's or My Bread Bakery. Both of these brands are wonderful and highly recommended for the gluten and dairy free comminuty.
more lasagna recipes
lasagna soup— a one-pot soup with the flavors of homemade lasagna without all the work. You'll find your favorite Italian ingredients perfectly simmered and ready to serve with fresh basil and topped with a dollop of dairy free ricotta to add creaminess to this soup.
lasagna skillet— another one dish meal with tender lasagna noodles in a delicious meaty sauce topped with your favorite dairy free cheese or a dollop of  ricotta
gluten + dairy free recipes you'll love
lastly
I hope you enjoy this classic gluten and dairy free lasagna recipe. With tender sheets of lasagna noodles, and a delicious meaty tomato sauce make this the perfect dish.
Feel free to add in more favorites or keep it simple. Our family loves the sausage and ground beef combo in the recipe. How about you? Let me know in the comments.
Will you be camping soon or need kid snack ideas? Here's our food camping guide and 50+ kid snacks ideas.
Plus pin this easy playdough recipe that lasts for weeks.
Please do us a favor. Let's connect on Facebook, Instagram, and Pinterest. You'll find we're posting recipes, new product info, and anything else related to eating gluten and dairy free.
Like and comment often on our social media pages to keep seeing our post in your feed.
Eat well and feel well,
Jill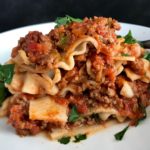 Print Recipe
Easy Gluten and Dairy Free Lasagna
This easy lasagna is full of flavor. You won't believe it's gluten and dairy free!

Ingredients
1/2

lb

ground beef

1/4

lb

Italian sausage

1/4

onion, diced

1/2

green bell pepper, diced

optional

1

clove

garlic, minced

1-2

24 oz jars

marinara sauce

1

tsp

brown sugar

9

noodles

gluten free lasagna pasta noodles

suggestion in post

2

snips

fresh parsley, chopped

to garnish

optional-- Violife cheese shreds, Kite Hill Ricotta
Instructions
For the sauce, combine the ground beef and Italian sausage in a large sauce pan. Cook until meat is brown and drain.

Stir in onion, garlic, and green pepper. Add most of marinara sauce. Leave enough sauce to lightly coat the bottom of a 9 x 9-inch baking dish. Add brown sugar to sauce and let the sauce simmer, covered.  The longer the sauce sits the more flavor it will have.

Meanwhile, cook gluten free noodles for 10-12 minutes. The noodles should be tender, but firm. Drain noodles; rinse with cold water.


Place a thin layer of marinara sauce on the bottom of a 9 x 9-inch baking dish. Then layer noodles and sauce. Top with marinara sauce. The lasagna noodles need to be cut down to fit the baking dish. Optional--add in Kite Hill Ricotta or Violife Cheese Shreds in-between layers.

Bake at 375° degrees for 30-35 minutes. Let it stand for 10 minutes before serving. Garnish with fresh parsley.
Notes
Optional-- add in VioLife Cheese Shred's and Kite Hill Ricotta for an even creamier taste.